Meet the LaFace Family of RIPA & Associates, presenting sponsors of Big John the Triceratops
More likely than not, you've dabbled in dinosaur fascination. Perhaps the dinosaur extinction about 66 million years ago fuels our ongoing interest with these beings that ranged in size from diminutive to gargantuan. If your dinosaur fascination was temporarily dormant, parenthood surely enlivened it (at least when stepping on that T-Rex tail while walking to the bathroom at 2 a.m.).
Now, you can bring your Ross Geller paleontologist dreams to life when you visit Big John, the world's largest triceratops, who stands 10 feet tall and nearly 26 feet long in downtown Tampa's Glazer Children's Museum. While Big John was purchased by a Tampa family and loaned to the museum for three years for public display, it took many more generous donors in our community to make the exhibit come to life.
Instrumental in Big John's journey to the Glazer Children's Museum is the LaFace family.
Chris LaFace, president and CEO at RIPA & Associates, along with his wife, Angela (a critical care surgeon who recently paused her career for increased family time), made a groundbreaking donation and support the Big John exhibit as presenting sponsors. The couple, parents to son, Cole (5), share their thoughts on dinos, museums and Tampa Bay.
What are your thoughts on ensuring all kids have access to museums?
LaFace Family: It's important to us that every child has access to places like Glazer Children's Museum so that they grow up with a curiosity about the world around them. As they grow, they will graduate to other types of museums and educational institutions—creating a lifelong love of learning that leads to creativity and innovation. That's what we want for the next generation.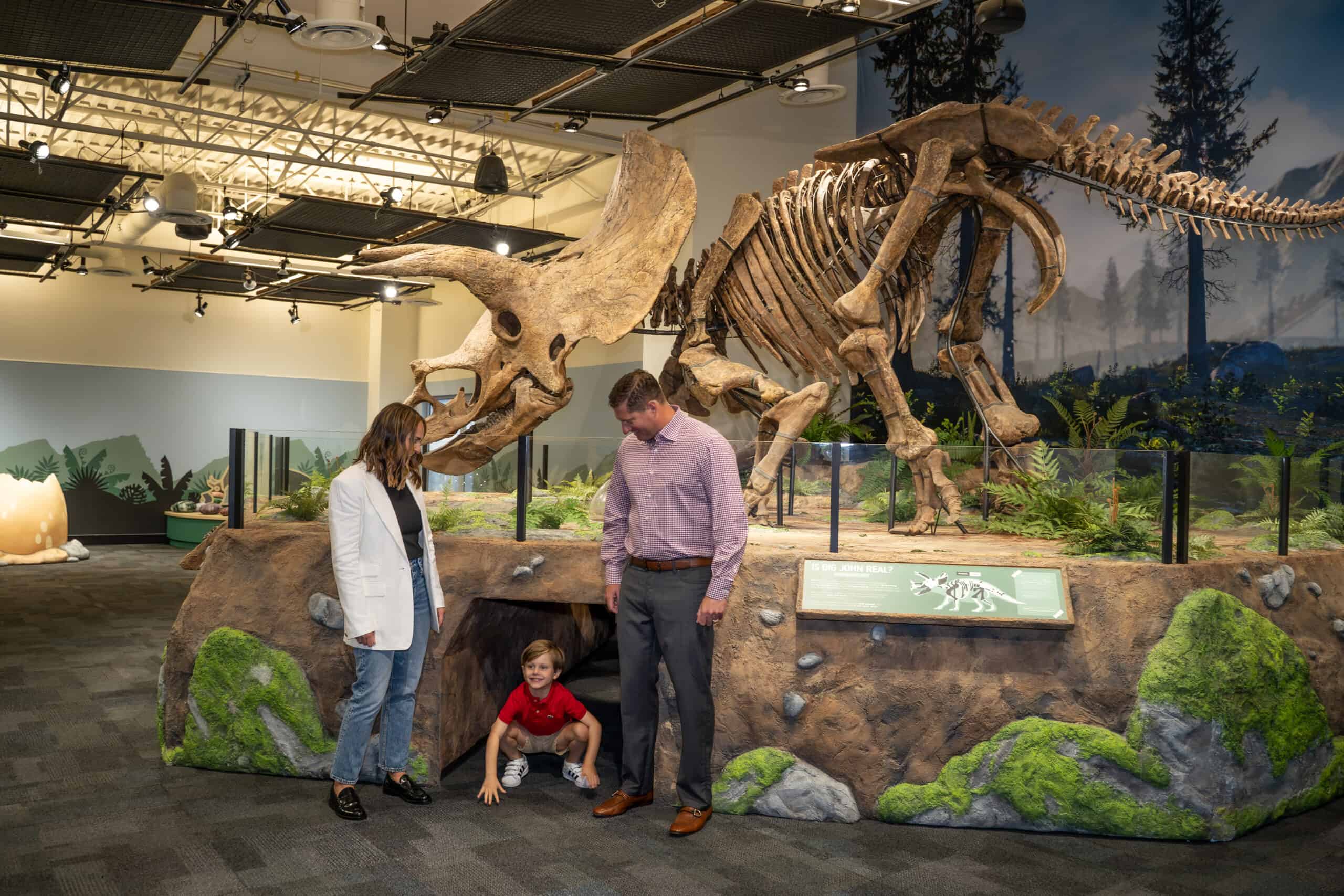 What can you share about the decision to become presenting sponsor for the Big John exhibit?
LaFace Family: We believe in the Glazer Children's Museum's mission and its impact on our community. We have seen firsthand, in our own family, how much children discover through play. We want that for all children in Tampa Bay. When the Glazer Children's Museum presented us with the opportunity to support the Big John exhibit, we were extremely excited to be part of something so impactful for our community.
What's been the most exciting part of the Big John project?
LaFace Family: We were in awe the first time we saw Big John, on that platform, at the Glazer Children's Museum. Not just at his size, but at the history of those bones. They took an incredible journey from the Late Cretaceous to their new home at the Glazer Children's Museum. We couldn't't help but reflect on what that journey tells us about the history of our planet and how it prompts as many questions as answers. From that moment, we knew that Big John would spark an interest in science for so many children.
What will your presence in the Big John project look like during his residence at the Glazer Children's Museum?
LaFace Family: The team at the Glazer Children's Museum has done the heavy lifting, but our family will be in the Big John exhibit every chance we get!  Our son, Cole, especially loves the tunnel with the pop-up bubbles so you can see Big John from underneath.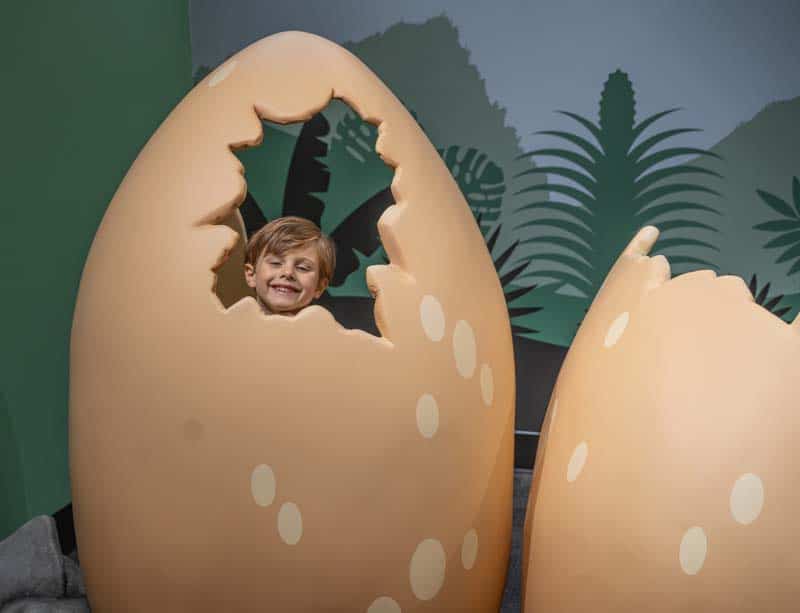 Why do you believe Tampa Bay is the best place to raise a family?
LaFace Family: Tampa Bay is a fantastic place to raise a family. We have state-of-the-art museums, like the Glazer Children's Museum. We have a strong business community to support parents' careers. We also boast an exciting and vibrant new downtown as well as highly successful, professional sports teams. The water and climate make for perfect outdoor play. What more could we want?
Whether in the Tampa area or elsewhere, what have been some of your family's favorite museums?
LaFace Family: When traveling, we often end up checking out other cities' natural history museums and aquariums.
If you had a time machine, would you travel to the future or back to the past?
LaFace Family: Future! We already know the past!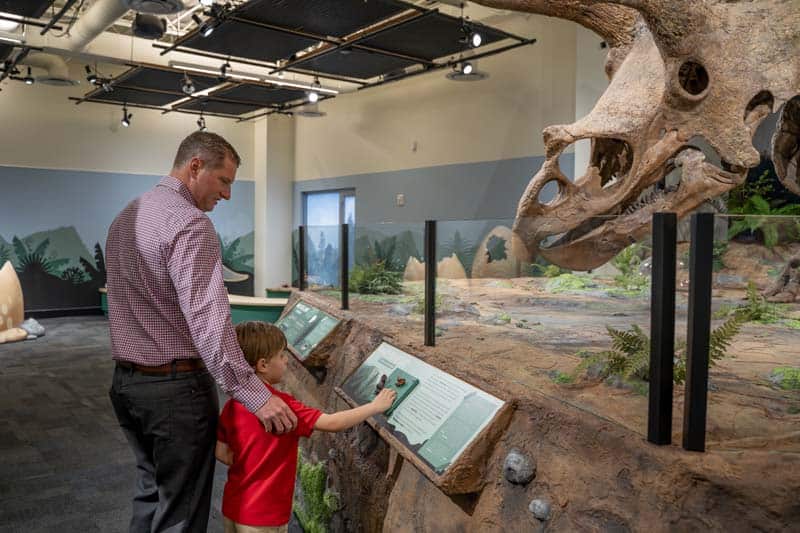 WHY VISIT BIG JOHN?
This is a chance to join your children through a journey back in time that is sure to support a love for science, history, and learning in the present. Big John, Tampa Bay's first large, fossilized dinosaur skeleton on long-term display, aligns with Glazer Children's Museum's mission to create and foster engaging, impactful PLAY experiences for children and families to learn and thrive. Play with purpose while going nose-to-nose with Tampa's triceratops, Big John.
HOW BIG JOHN MADE ITS WAY TO TAMPA BAY
Guinness World Record holder for the largest documented triceratops skeleton, Big John was discovered by paleontologist and professional fossil hunter Walter W. Stein in South Dakota's Hell Creek geological formation and made its way to Tampa after Sidd Pagidipati purchased the record-breaking dinosaur at an auction. He told us it was his intention to bring the dinosaur to Tampa Bay for all to see. "We want to inspire thousands of families here to activate their interest in science. We want to do our small part in making Tampa Bay the best place to raise a family in America."
Click HERE to read our full interviews with Stein and Pagidipati.
---
Originally published in June 2023 of Tampa Bay Parenting Magazine.