The Best Laundry Tips to Keep School Clothes Looking New
We've all been there. You start the school year off with a closet full of fresh, new clothes for your child, only to discover a week later that half of them are marked with unidentifiable stains.
No matter how careful your kid may be, they'll still inevitably end up as victim to markers, dirt, grass and the dyed blue raspberry applesauce from the cafeteria. Whether your child has an open dress code or wears a uniform every day, we've rounded up some helpful hints to keep those clothes looking new.
How to Protect and Pre-Treat Kids' Clothes
It's an extra step, but pre-treating stains before washing can make a huge difference. What's great about pre-treating stains is that you don't need a fancy product to do so.
Simple products like Purex Fels-Naphta bars and OxiClean have been around for ages and never fail to remove most tough stains. Some products to remove stains don't even need to be purchased separately since they're probably already in your pantry.
Got a stubborn stain? Baking soda and Dawn Dish Soap are staples when it comes to removing stains and rubbing alcohol can work wonders.
However, not all stains are created equal. I have some helpful tried and true tips straight from the mouths of moms.
Easy stain-removal tips for clothes:
Food grease (French fries, pizza): Dawn Dish Soap/baking soda—apply baking soda to the stain to absorb as much of the grease as possible. Add soap to the stain using a clean cloth or toothbrush.
Tomato sauce: Vinegar and dish soap—run under cold water. Apply vinegar and dish soap to the stain and let it sit.
Marker/ink: Rubbing alcohol—add  some to a clean, white towel or paper towel and blot stain until removed (be sure to put a towel or barrier underneath the side of the clothing you're blotting so it won't bleed through to the non-stained part of the item). This goes for permanent marker too! Fun fact: Rubbing alcohol can also remove sticker residue on clothes that have been through the dryer! 
Grass: White distilled vinegar—apply with warm water and vinegar and let sit.
Blood: White distilled vinegar/detergent/hydrogen peroxide—if the garment is colored, use a mixture of vinegar and detergent to pre-treat. If it's white, use hydrogen peroxide.
Sweat: Lemon juice—scrub sweat stains with equal parts lemon juice and water and let sit.
It's important to check the labels of your items before pre-treating them. Fabrics like cotton and polyester can be pre-treated and washed. However, more delicate fabrics such as wool or silk should be professionally cleaned.
It's also good to air-dry the stained item after the first wash to ensure the stain is removed completely and it doesn't need to be re-treated.
Another mom tip – most fabrics can also be protected with Scotchgard, particularly heavier fabrics like school uniforms. Before using, check the FAQ on their website and test a section to ensure it's safe to use.
Check the water temperature when washing clothes
There's a reason the tags say, "Wash with like colors." Cold water is good for delicate fabrics, sweaters and clothes that might shrink, such as denim.
Clothes that are dark or bright colored should also be washed in cold water to prevent bleeding. Hot water can be used for white clothing (also, bed sheets and towels).
Pay attention to the symbols on the backs of the tags as well. Though some will have labels, most of the time, they don't.
The most common are machine wash (crown-shaped symbol), tumble dry (square with a circle in the center), do not tumble dry (tumble dry symbol with an X over it), dry clean (circle) and bleach (triangle).
Full laundry care symbol guides can be easily found online. Printing one out and hanging it up in the laundry room is a great idea for a quick reference (or, if you want an aesthetically pleasing one, places like Michael's or Etsy will have you covered).
Happy new school year!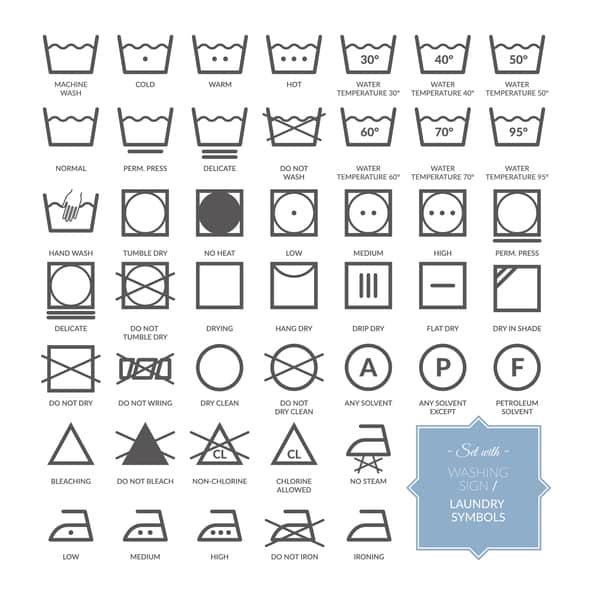 ---
Originally published in the August 2022 issue of Tampa Bay Parenting Magazine