Living Authentically You: The Zubrick Magic Story
 A life created when dreams are actualized is pure magic. Ryan and Chris Zubrick, entrepreneurs, magicians and fathers to 5-year-old Oliver, brought their magic to St. Pete.
They founded The Zubrick Magic Theater, located at 1211 1st Ave. N. in St. Pete's EDGE District, which recently celebrated its one-year anniversary.
They chose St. Pete because of its vibrant arts community, year-round tourism and LGBT friendliness.
Ryan and Chris' story embodies the message that love is love and demonstrates that the magic created when choosing to live life authentically is no illusion.  
Tara: You spent over a decade living and performing on the island of Guam. How did your families react when you decided to move overseas?  
Chris: We couldn't have moved farther away, but video calls helped bridge the distance gap. Our families were overwhelmingly supportive. Once Oliver was born, being overseas was challenging because parenting takes a village. We relied on each other tremendously and had Oliver's crib in our dressing room so we could be with him between routines.     
Ryan: If Oliver decides to go abroad, we'll support him. He's been traveling since he was two weeks old and has already been to Japan. We encourage experiencing different cultures.  
Tara: How did you know you wanted to become parents? 
Ryan: We wanted children, independently, before we met. I proposed to Chris, and we pursued the adoption route. Eventually, my sister offered to carry our baby. Then, a friend offered her eggs. Navigating the intricacies of surrogacy, from lawyers to therapists, was challenging with all of us in different parts of the world.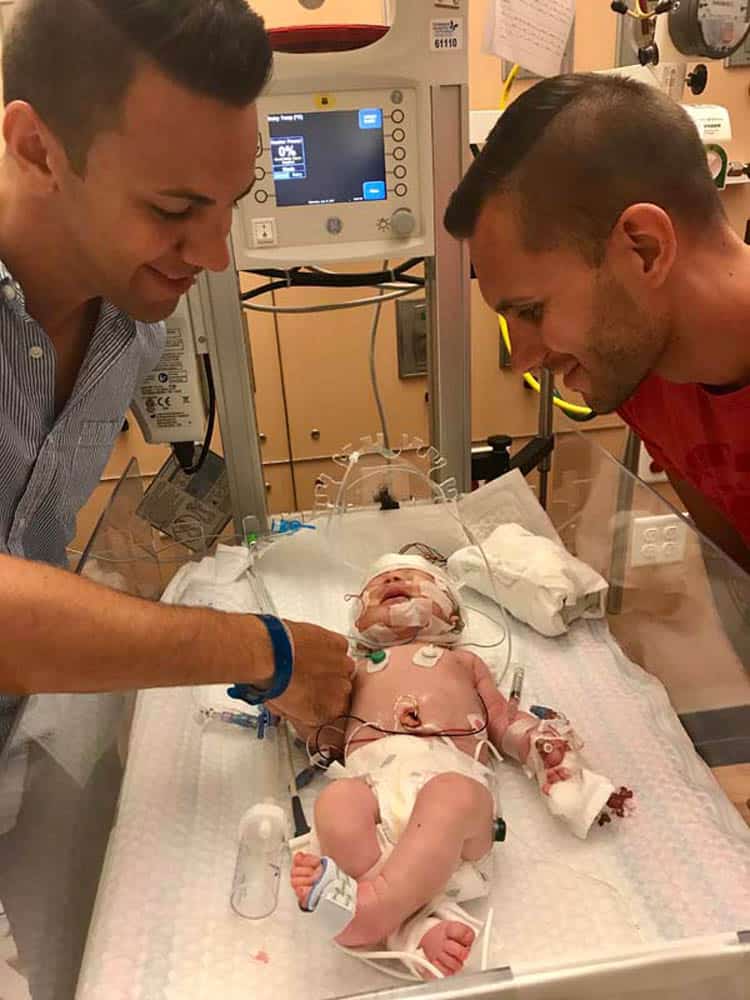 Tara: Does Oliver know his birth story? 
Chris: We're transparent with him. We regularly read a photobook so that he knows his family dynamic. Having two dads is normal for him, but he knows Auntie Kim carried him and that he has half siblings. As questions arise, we'll respond in age-appropriate ways.  
Tara: How have audiences responded to your authenticity?  
Ryan: Positively. The show isn't about our romantic relationship, but we wanted to create the show authentically. We are a family. We use terminology adults understand—like, we tied the knot instead of we're married.  
Many express gratitude for the representation we bring the community. Some claim we spew propaganda, but it comes with the territory. We are who we are.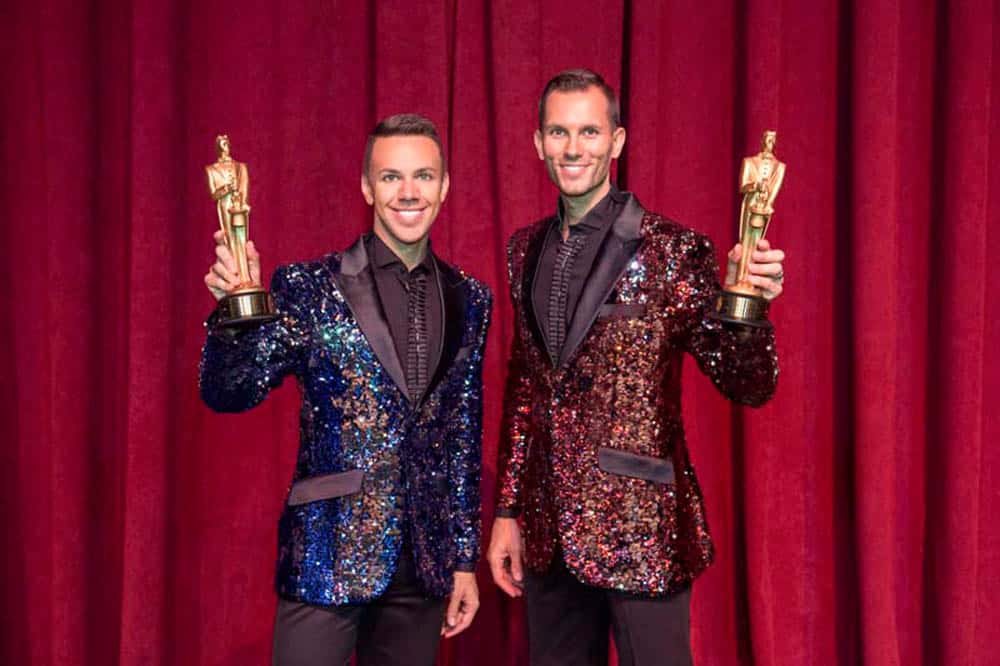 Tara: Have you received insensitive questions? 
Chris: We've heard, "So you guys are brothers, right?" We've also been asked where Oliver's mother is.  
Tara: How do you maintain a healthy relationship when you also work together? 
Chris: We're always together. We knew that if our relationship could survive 13 years on a tiny island, we could make our marriage survive. He's my best friend, my business partner and my rock. We live so harmoniously.  
Tara: What do you respect most about each other on stage and at home? 
Chris: I appreciate Ryan's drive to make every show better. He's such a patient, gentle person—it's heartwarming.   
Ryan: I appreciate Chris' risk taking. I would have never opened a theater alone. We're good at meeting in the middle.  
Tara: What value does Zubrick bring the bay area?  
Chris: There was a need for family entertainment after the sun set on the beaches, and the show is multi-generational. We created a space where families put down electronics and experience childlike wander. 
Tara: How have you established a support system in St. Pete?
Ryan: We found Different Church, which is LGBT inclusive. We, including Oliver, have made great friends there. We've also formed friendships with other business owners.  
Tara: What do you believe schools can do to support LGBTQ inclusivity? 
Chris: Support acceptance. We finish every show with, "If you can be anything, be kind." There's much turbulence over the LGBT community and our rights. It breaks our hearts that Oliver won't necessarily be able to go to school and talk about his dads. Just acceptance.
We are no different than anybody else. We have the same trials and tribulations that heterosexual couples have. There are many kinds of families: single parents and even grandparents who are raising kids. It all comes down to love. Children just need love and acceptance.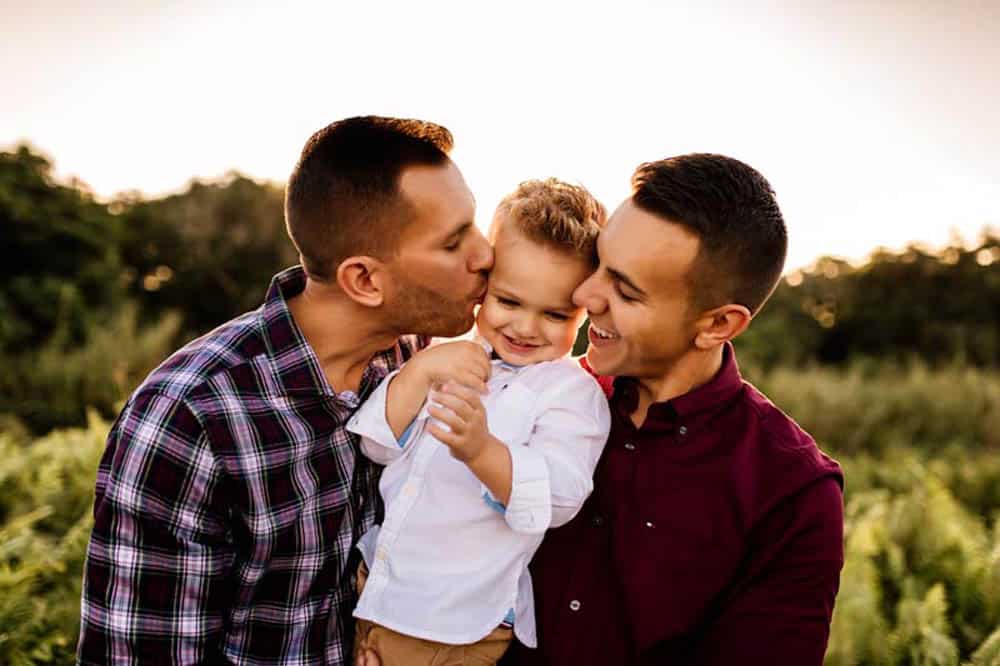 Tara: How are you teaching Oliver to be a kind human being? 
Ryan: We made a conscious decision to live as ourselves—authentically and unapologetically. It was a risk I'm glad we took because we want Oliver to see that we're not hiding. I hope he learns from that example.  
Tara: You didn't follow a traditional career path. Does your traditional education support your artistic work?  
Chris: I never went to college. I knew that if I had a degree to fall back on, I'd use it as a safety net and I'd fall back on it. I told myself that magic would be my career—that I had to make it. I can't imagine doing anything else. I do believe magic teaches hand-eye coordination, interpersonal skills and public speaking. It's nice seeing kids putting down video games and learning through magic, 
Ryan: After one semester as a chemical physics major at Michigan State University, I knew I wouldn't be fulfilled. I switched to technical theater. I fell in love with lighting, set design and all aspects of production. Now, I program the entire show and we purchase all the equipment; there's no stage crew. 
Tara: What is your creative process like? 
Ryan: Constantly evolving. We aim for new routines every four weeks but, depending on the audience, we put things in on the fly. We aim for perfection.   
Hard work and authenticity are a powerful partnership. Zubrick Magic Theater's commitment to both earned them TripAdvisor's 2022 Travelers' Choice Award. Ryan and Chris' life is no act. It is testament to the magic of being YOU.  
Learn more about Zubrick Magic Theatre at ZubrickMagic.com.
---
 Books on LGBTQ history for humans of all ages:
"The StoneWall Riots: Coming Out in the Streets" by Gayle E. Pitman 

 

"This Day in June" by Gayle E. Pitman

 

"Trouble Maker for Justice" by Jacqueline Houtman, Walter Naegle, and Michael G. Long 

 

"Rainbow: A First Book of Pride" by Michael Genhart 

 
*This article was originally published in the September 2022 issue of Tampa Bay Parenting Magazine.