Local meteorologist Denis Phillips celebrates the holiday season with Christmas cheer and cocoa for a cause
It might not snow in Tampa, but local weatherman Denis Phillips certainly knows how to create a whimsical winter wonderland. The local ABC Action News meteorologist is known for his cheery persona, signature suspenders, and love of Diet Dr. Pepper.
During hurricane season, his famous slogan "Rule #7" can be heard on repeat from residents referring to his lists of storm updates (for those not in the know, "rule #7" means no freaking out about the storm unless he tells you to).
When the holiday season kicks in, Denis and his neighbors at Indian Trails in Palm Harbor, produce a dazzling display of lights and holiday decorations. Along with the festive scenery, the Phillips family also seizes the opportunity to benefit the community.
During the Christmas season, Denis, his wife Robyn, and their six children ranging from ages 7 to 28, sell hot chocolate and popcorn to raise money for charity. Although their neighborhood has been donning over-the-top Christmas decorations for nearly 40 years, the Phillips family added fundraising to the festivities five years ago when their son, Jake, was setting up a fundraiser as a project for school.
They have kept the tradition going, with proceeds going to the Children's Miracle Network and Feeding Tampa Bay. Even though last year looked different due to Covid, they still had cars lined up for 45 minutes to see the lights and give donations.
This year, Denis said he's excited to welcome visitors back in person. They will have hot chocolate and popcorn for sale, as well as 200 "Rule #7" themed tumblers and windshield decals, which were both created by Robyn. "The proceeds from all the sales will go towards the charities."
Weatherman extraordinaire-turned-Clark Griswold
The lights and decorations are up all season, but the fundraiser takes place over two Saturday nights in the middle of December. Visitors come from all around the Tampa Bay area to take in the enchanting scenery and get into the holiday spirit.
While some choose to drive by, many people prefer to park and walk around. "It's more enjoyable to take the time out to stop and see it," Denis said.
It's also a community effort. Neighbors donate hot chocolate to be sold, Pinellas County Sheriff's Office helps control the flow of traffic, and volunteers help run back and forth to the cars to deliver hot chocolate and collect donations.
And it's not just the Phillips' house that's covered top to bottom in holiday cheer. The whole neighborhood participates, turning the suburban neighborhood into a festival of lights.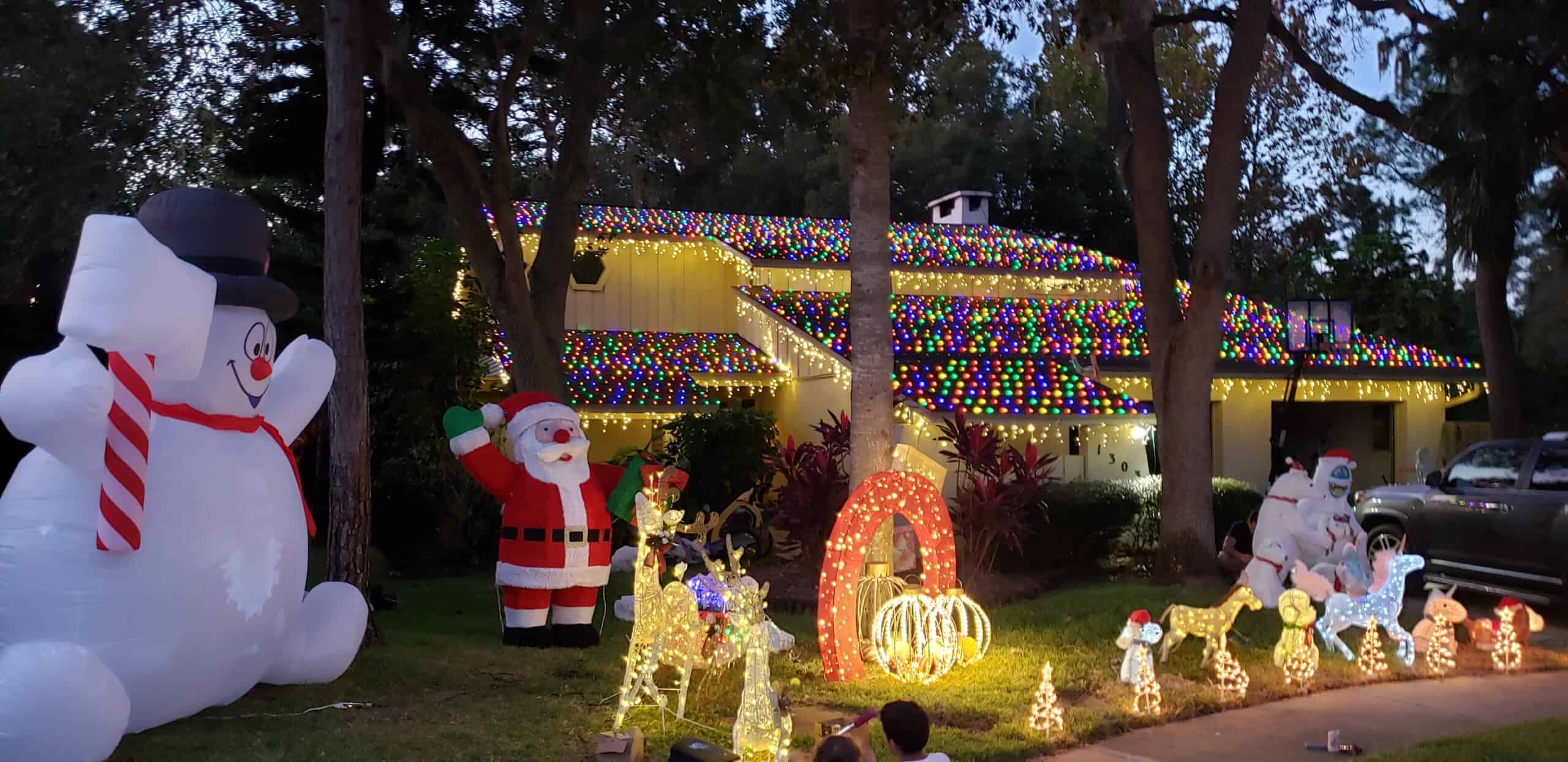 While the street may look like quite the spectacle, Denis said they don't do it for the attention. "We just love Christmas. Everybody's got a smile on their face. It's the highlight of my year."
He welcomes visitors to come up and say hello, take a selfie, and cheers with a cup of hot chocolate. The lights on the Phillips house are synced to music and there are decorations up and down the street for people of all ages to enjoy all month long. However, weekends can still be quite busy.
"If you want to avoid the traffic, definitely come during the week," Denis said.
Phillips Family Tradition
Though Christmas is obviously a big deal in the Phillips household, Denis said his favorite holiday tradition takes place on New Year's Eve with a tradition carried down from his dad.
"At midnight, everyone takes a penny from the previous year, has a cracker with a sardine, and a glass of champagne. The pennies are then taped to the outside of the door in hopes of good fortune and prosperity."
This year's hot chocolate fundraiser takes place on December 11th and 18th from 6:00 p.m. to 10:00 p.m. in the Indian Trails neighborhood off Alderman Rd. and Omaha St. 
*Originally published in the December 2021 issue of Tampa Bay Parenting Magazine.
---
Related stories we think you'll LOVE: