The Family's Anchor: Life after TV News is Beautiful for Maggie Rodriguez
Before becoming a mother, I envisioned easily leaving my children at daycare so that I could be an out-of-the-house, full-time-working mom. After bearing children, it became clear that, while I needed my professional role, I also needed to find the best blend of mothering and working. I was stunned by how skewed my before-children vision was and how stupendous I found mothering.
As parents, immersing ourselves in dialogue about complex topics can be difficult, and time for conversation is scarce. I'm grateful for time spent with Maggie Rodriguez, former host of CBS's "The Early Show," who retired in 2010. Read about her experiences and perspectives on blending mothering and working.
Rodriguez' television career started when she became a reporter for Univision in 1991. By 2001, she was the main anchor of Miami's CBS station and remained there until 2007 when she moved to New York City. In New York, she worked alongside Julie Chen and Harry Smith.
"I was at the pinnacle of my career," Rodriguez says. "It fulfilled me completely."
However, Rodriguez remembers her then 4-year-old daughter hugging her one morning and asking: "Mommy, can't you be my nanny?" Daniella's definition of mother was off, and it hit Rodriguez at the core: "She saw lover and nurturer as the nanny's jobs."
Ultimately, despite offers to host CBS Evening News' weekend edition and contribute to other high-profile programs, resigning was easy. "I had no trouble walking away," says Rodriguez. "Those opportunities, while fantastic, would take me further away from my family and my desire was to be closer. It was a no-brainer."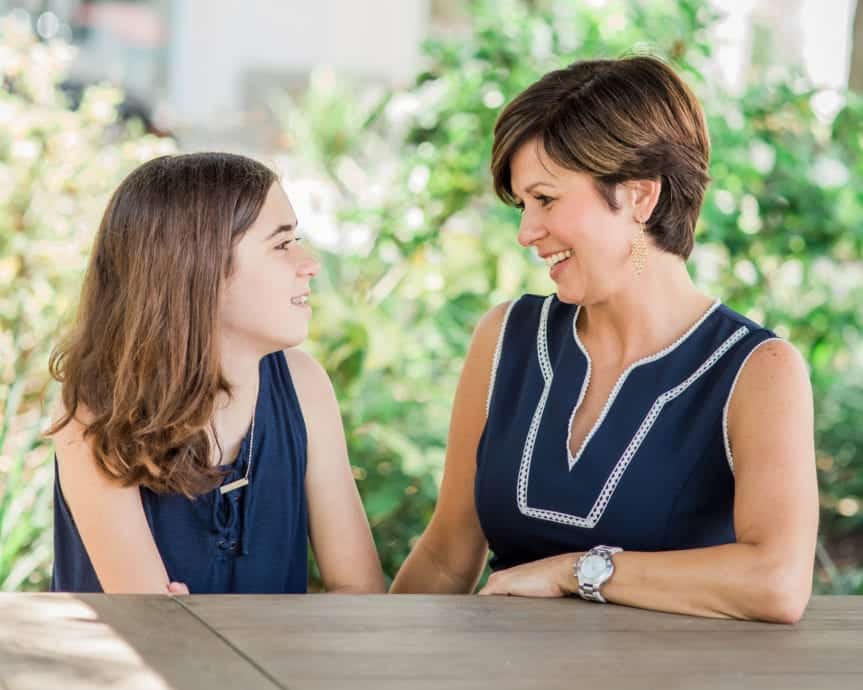 The day after resigning from CBS, Maggie took her daughter to school for the first time—something her early morning work schedule never allowed. "She was so happy during that ride, and I could see the pride on her face as I walked her to the door."
New Routines
During her television career, Maggie's family saw her for the first time each day by tuning in to her newscast. Now, Maggie, her husband Mike, and their two children (Daniella, 13, and Mikey, 8) live in Tampa, and she starts each morning exercising with her husband and getting the kids ready. "I don't take these simple pleasures for granted," she says.
With her previous schedule, early mornings often meant turning in for the night as her husband returned from work. Now, she picks the kids up from school, takes them to activities, and both prepares and eats dinner with the family. Does she miss her career? Sure. But she won't consider another position unless it allows her to remain "all in" for her children.
"I may not work in journalism any more, but I'm still a journalist who craves and consumes news voraciously," she says. Though family life is full, she also fills her bucket by sharing time with friends, volunteering with local charities, and writing. "I only feel gratitude for having been able to have a dream career and still be able to raise my children."
Shared Vision
Transitions like Rodriguez's can breed resentment. Significant others must be intentional, through transparency and authenticity, in keeping resentment at bay. Resentment hasn't crept into Rodriguez' marriage—partly because she and her husband have a shared vision of what's best for their family.
They're in step about the responsibility and privilege of being involved in their kids' lives. They share a view of success, and it's defined by closeness in marriage and happiness in children—not by salary.
For Maggie, life's meaning is found in moments she can now regularly share with her family: from her son detailing sports feats and jokes to her daughter opening up about the good and bad of middle school. Seemingly mundane moments for some parents are ones other parents long for.
Sometimes, families need to shift perspective: Ordinary just might be extraordinary, and often, the ordinary is priceless.
Pie in the Sky
Adopting a mindset to find flowers among weeds doesn't mean a person never has bad moments. Rodriguez acknowledges that "mom errands" aren't always as exciting as those from her news days. "I gave up a stimulating, lucrative, high profile job for a role that doesn't pay the bills and is often thankless," she admits.
But she says that transitioning into stay-at-home-mom-life has given her the most meaningful rewards and deepest fulfillment to date. Shifting from a dual to single income household entailed some adjustments. Shifts in lifestyle haven't been too drastic as the couple has always believed in living below their means, a philosophy that allowed a decision like her retirement.
The great Dolly Parton famously said, "Don't get so busy making a living that you forget to make a life." Create a shared family vision. Be authentic in the process. Be intentional in making the vision your life's story.

The Rodriguez Family Takes On Tampa
Tampa has the most kindness and least traffic of anywhere the family has lived! Here are their top three activities:
The Riverwalk, kayaking from Urban Kai in St. Pete, and day trips to places like Siesta Key and Crystal River.
For spontaneity: hop on bikes and cruise to new parks and lunch spots.
Advice: Live like tourists. Do the same kind of research you do when vacationing and take full advantage of all Tampa Bay offers.