Weighing in on the FUN at the 'Measurement Rules' exhibit at Glazer Children's Museum
Numbers can seem really intimidating and oftentimes scary, but they don't have to be! Measurement Rules, Glazer Children's Museum new traveling exhibit introduces little ones (and big ones) to not-so-traditional ways to measure different objects in everyday life. From now to April 14, 2023, you and your little ones can PLAY in this exhibit, and find out just how many chickens you weigh or how you measure up next to some of the largest and smallest sea creatures!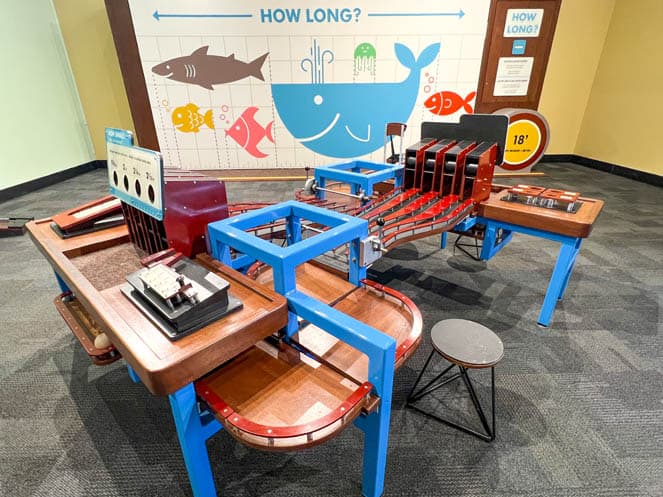 Measurement Rules introduces units of measurement in a different and FUN way, making them life-sized and exciting for children to discover and measure different parts of their busy little lives. When I experienced Measurement Rules, never in my wildest dreams did I think I would find out that I weigh 20 chickens or that I am as tall as 15 apples!
By playing in this exhibit, you and your child can explore math and measurement using common household items you probably have at home right now. You and your child can build a ramp and see how different obstacles can affect speed and distance, or next time you go on one of those long road trips, play a song and challenge your child to find out how many "Mississippis" are in their favorite tune.
Measurement Rules doesn't just encourage you and your little ones to learn about different units of measurement in not-so-traditional ways, but it allows children to learn a little bit more about themselves.
Children are introduced to volume, length and height, which all play a role in understanding how their bodies take up space and can even be used as a measuring tool. The exhibit features spaces where your child can use their own body and strength to see just how powerful and incredible their own bodies are! This is not only super important but SO much fun.
For example, children can use their own feet to measure how far or how tall something is, or play in the "See Your Volume" area to see how much space their bodies take up. When I saw how many cubic units I took up, I was shocked! Children are also introduced to the power and energy that their bodies have. By walking on the treadmill or pulling our suuuper long measuring tape, little ones can see that their bodies are strong and powerful, encouraging self exploration and confidence in themselves.
While the concept of measurement may seem advanced and difficult for children to understand, there are many activities that you can try at home to practice measuring in a fun and exciting way. Take some time out of your day to go on a walk with your child and measure the steps it took to get from one place to another or measure how many milk cartons you measure up to!
Glazer Children's Museum is excited to invite you for a day of purposeful (and measurable) play in the Measurement Rules exhibit and don't forget to show us your moments of PLAY with us on our social media!
Once this exhibit wraps up, a very exciting NEW exhibit will open on the third floor! Big John the world's largest triceratops officially goes on display Memorial Day weekend!