A Tampa Mom's Meditation Focused Podcast Downloaded 100 Million Times
Katie Krimitsos puts her two young daughters to bed. She feels exasperated and exhausted, but she doesn't take a rest. Instead, she heads to her bedroom closet—where the acoustics are perfect—sits down, opens her computer, and records her podcast after one last ritual:
"I close my eyes for a solid minute or two, I take some deep breaths, and I always think of the one woman who needs to hear what I have to say."
Since starting The Women's Meditation Network just five years ago, Krimitsos has recorded 14 podcasts that have been downloaded more than 100 million times.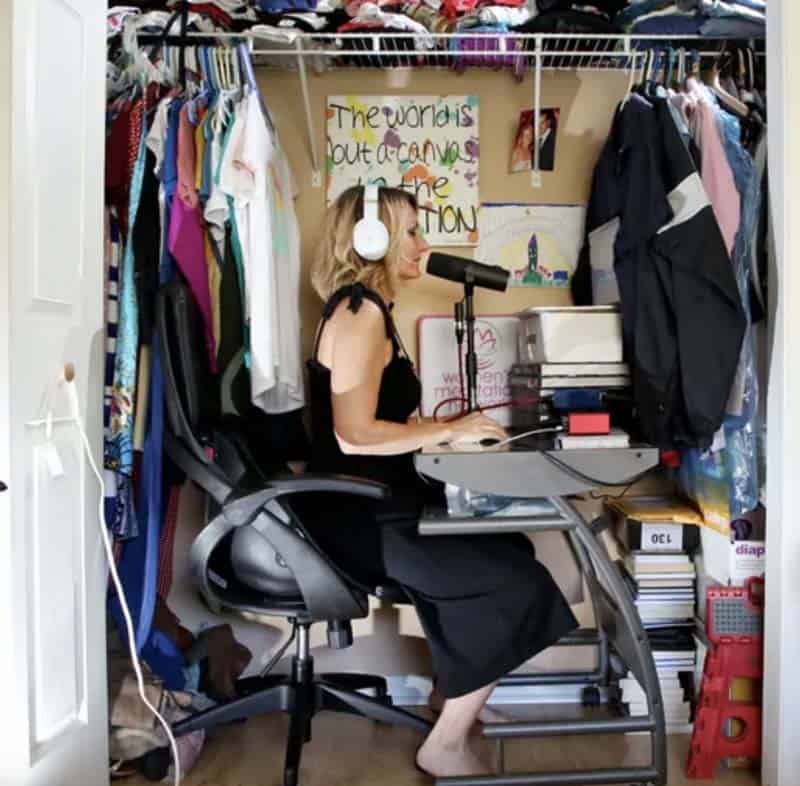 How would you describe your podcasts to someone wondering, "Should I take a listen?"
Krimitsos: They're for any one of us who wants to feel more calm, release anxiety or sleep better. And it's super easy to listen, just find one you like on your favorite podcast player or ogle.com/url?q=http://WomensMeditationNetwork.com&source=gmail&ust=1686688006408000&usg=AOvVaw2eCg4hRzYruawQpxlP_py8″ data-mce-href="http://womensmeditationnetwork.com/">WomensMeditationNetwork.com and press play!
Every single one of them has a different audience… but ultimately, for all the guided mediations, my goal is really to infuse the women listening with some sense of connection to herself and some clarity on who she is, what's important to her and how she can go about her day living the most authentic way that she can.
You were pregnant with your second daughter when you started recording your podcasts: a job that you could do at home and that allowed for plenty of time with your kids. It seems perfect for a mother of two young girls. Did that factor into your decision?
Krimitsos: That was one of the top reasons why I did it. When I got pregnant, the business I had at the time was also a work from home company … but the freedom that it didn't give me is that in order for that business to make money, I had to show up for meetings.
I didn't want to have to show up at any given time so … probably one of the top two reasons I made the decision is because I wanted the time and freedom to be the type of mom I wanted to be.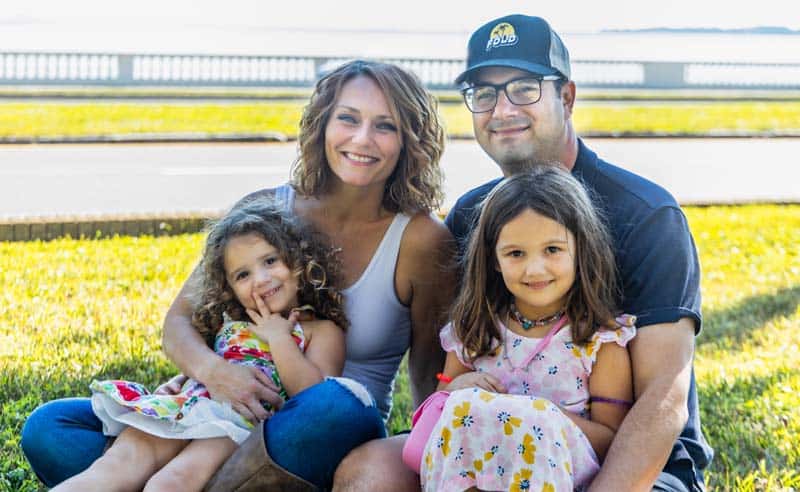 You didn't know if it was going to work out, but boy did it. What do you think is the appeal?
Krimitsos: Within the podcasting space in 2018, there were surprisingly few meditation podcasts for women.
I just saw the gap in the industry and thought, "I have something to contribute here." I also think the world has gotten a lot more full of anxiety and stress and fear over all of these past years, and I feel like I just happened to be there at a time when a lot of people are seeking out ways to calm down and feel less stressed… and feel like they want to be more empowered to live lives that are meaningful to them.
And the last piece is that the meditations themselves are not like your typical meditations. I humbly pride myself on being a really impactful writer who's writing these scripts to be something meaningful for women, to share messages with women that can help them really connect to themselves and see that they can totally surrender and be confident in who they are and make decisions for themselves for their lives.
What do you say to the busy mom who says that she doesn't have time to meditate… like me?
Krimitsos: Start with a baby step that I call "mini moments of mindfulness."
[For example], if you've just dropped off the kids at school and you've just pulled back up to your house, instead of immediately getting out and doing your checklist, take five deep breaths while you're in the car—very conscious breaths, count to five as you're taking them—and use that moment to come into a space of mindfulness.
I love using mini moments of mindfulness because it doesn't need to feel as structured or like another thing on your to-do list. These little moments are really big baby steps we can take to get out of our heads and into the present moment.
And now, we have a podcast just for moms, called Meditation for Moms, where you can find a meditation that calls to you in any season of motherhood you're in. 
Has meditating made you a better parent?
Krimitsos: Oh 1000%! It's allowed me to practice taking a pause between my ego reaction to something and then allowing myself to decide how I want to react.
It allows me to not be a reactionary parent …. to breathe and see things a little clearer. In addition to that, it's allowed me to become a more conscious parent, to think ahead about how it is important for me to raise my girls, what kind of parent do I want to be, what are the values that I want to make sure to instill in my girls.
These are all things that happen when you become accustomed to taking a pause, becoming present and connecting with yourself instead of always running in the race.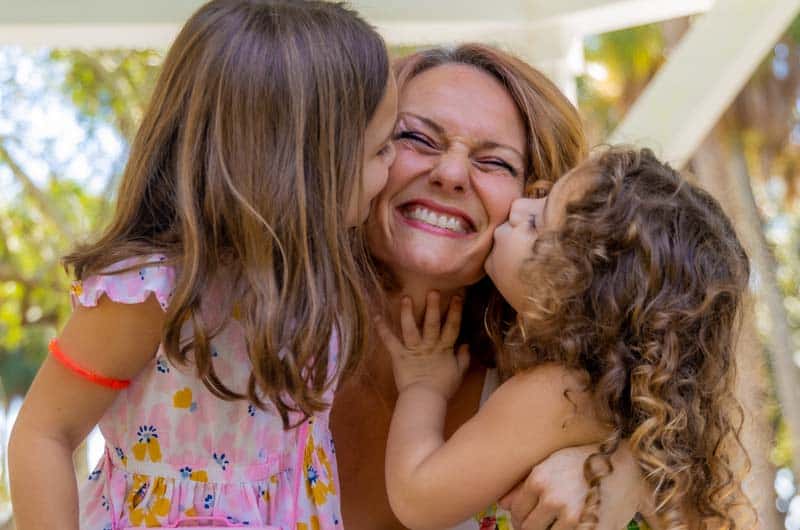 ---
THIS ONE'S FOR YOU, MAMA 
Excerpt from a meditation on the Meditation for Moms podcast
Through exhaustion and pain,
Through laughter and tears,
You show up.
Through confusion and stress,
Happiness and fears,
You show up.
When you've yelled too loud,
And pushed too hard.
Oh, those moments that choke you up.
When you do it all wrong,
But come back again,
For hugs that always fill your cup.
This one's for you, mama.
The imperfect soul you are,
Who keeps showing up every day.
Sometimes bright and cheery,
Sometimes dim and weary,
But always in your own special way.
---
*Originally published in the July 2022 issue of Tampa Bay Parenting Magazine.  Updated in June 2023.