5 Reasons We LOVE Minnie's Halloween Dine for Disney Character Dining
When it comes to Walt Disney World Character Dining you have lots of choices. The challenge is that many of the Disney character dining restaurants book up. It is nearly impossible to get reservations. That's where Hollywood and Vine character dining at Disney's Hollywood Studios comes in.
Because it is not located at the popular parks like Magic Kingdom and EPCOT, Hollywood and Vine usually has plenty of availability. And best of all? This character dining changes based on the season, including Minnie's Halloween Dine running from early August to early November.
5 Reasons We LOVE Minnie's Halloween Dine for Disney Character Dining
It's open for breakfast, lunch, and dinner
Mickey, Minnie, Pluto, and Goofy appear in adorable Halloween outfits
Delicious comfort food
Spooky kid-friendly atmosphere
Kids' buffet with easy access and kid-friendly food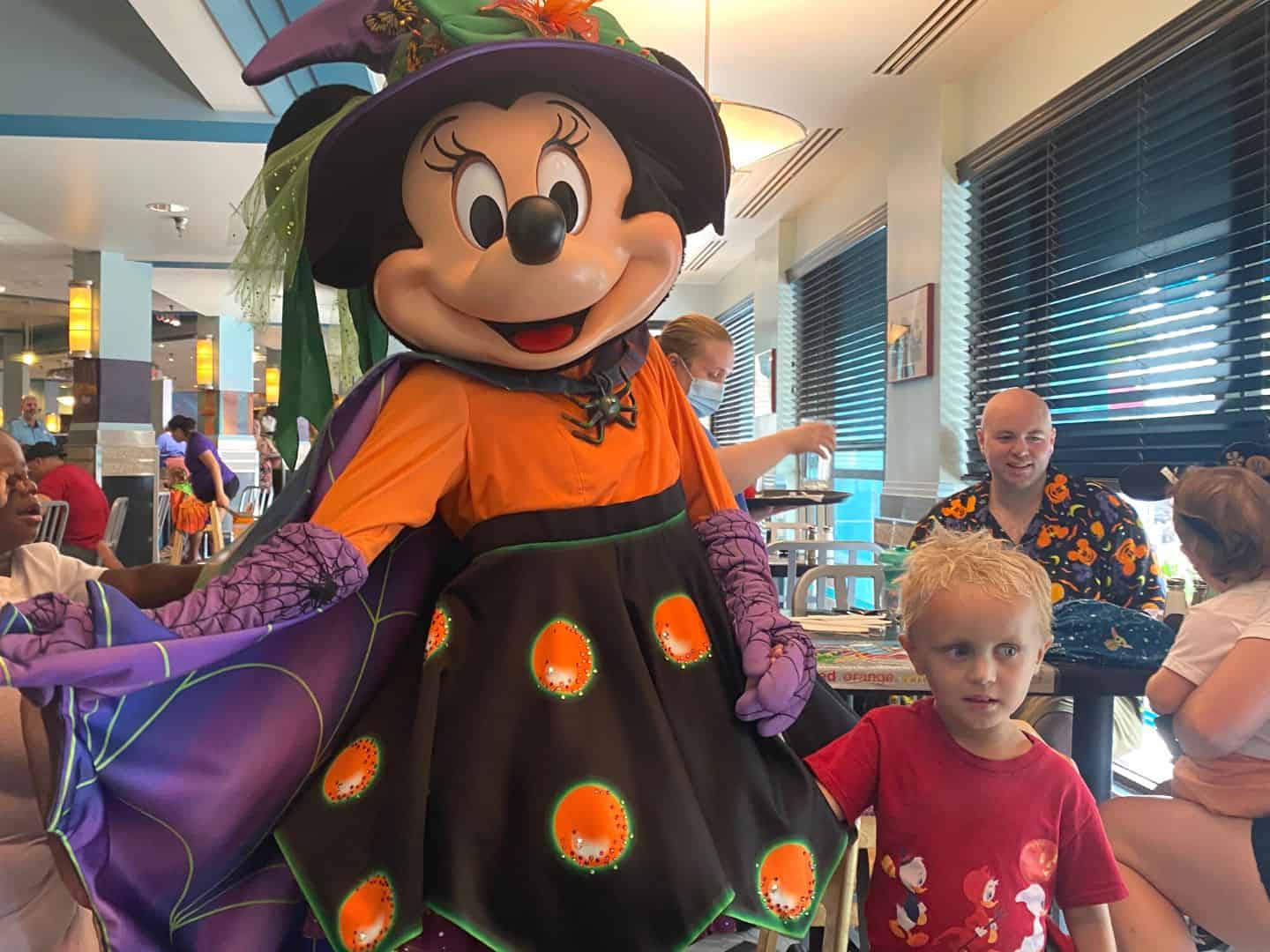 Important Info about Minnie's Halloween Dine Character Dining
When is the best time to go to Minnie's Halloween Dine? Lunch is the busiest time while early breakfast puts you near popular attractions at the start of the day. Dinner is a great way to end the day.
What is the walking time from the park entrance? It takes just 5 minutes to walk from the park's entrance to Minnie's Halloween Dine. It's near the front of the park.
Minnie's Halloween Dine Breakfast Price: $27 per child ages 3-9 and $42 per adult
Minnie's Halloween Dine Lunch and Dinner Price: $36 per child ages 3-9 and $55 per adult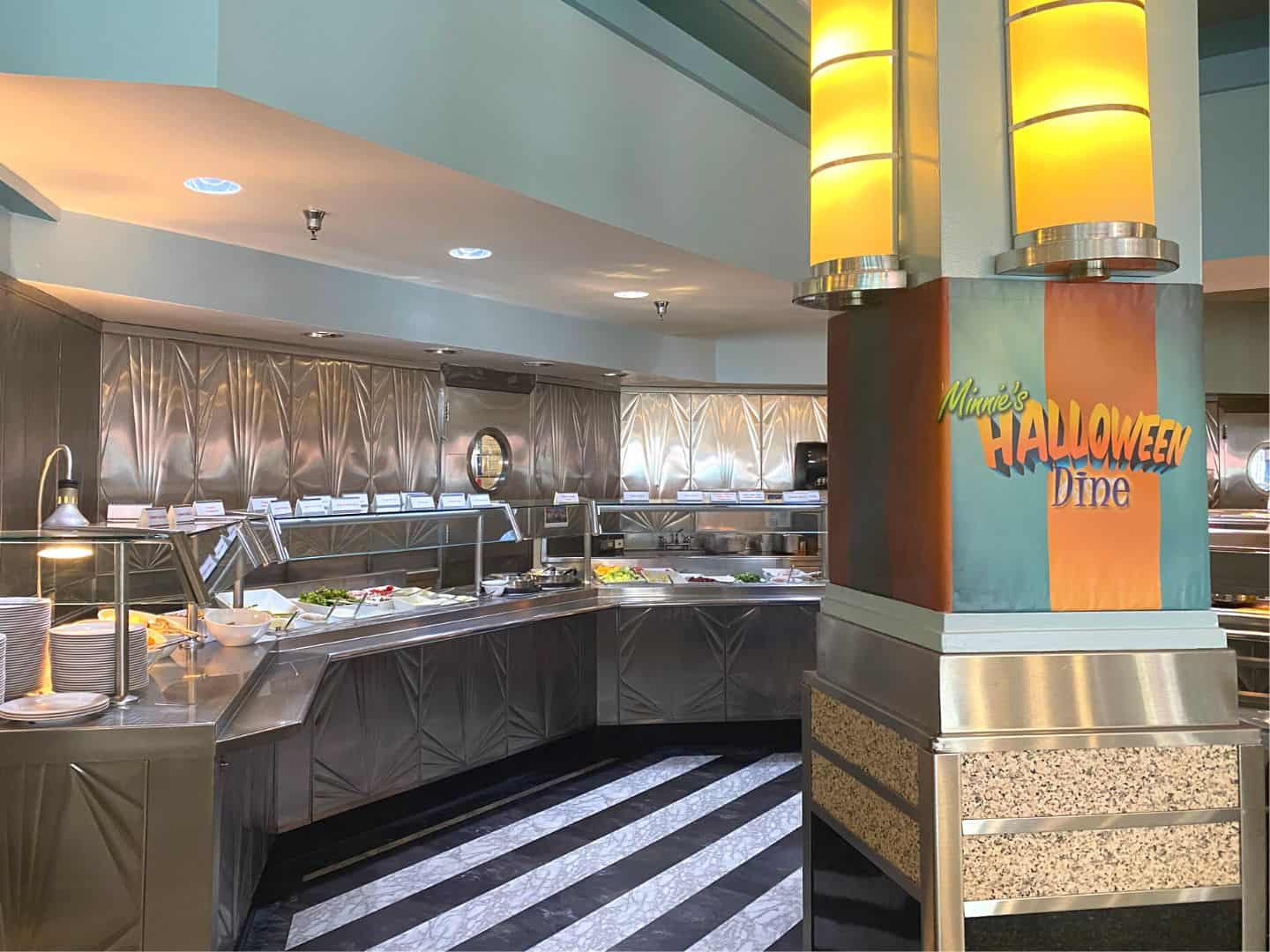 Minnie's Halloween Dine Characters
Get ready for visits and hugs with Mickey, Minnie, Pluto, and Goofy. Each character dons a fantastic Halloween outfit to fit the friendly spooky vibes. This is such a unique Disney character dining experience.
And each character comes around to each table individually. You can see the characters coming, but it goes by quickly.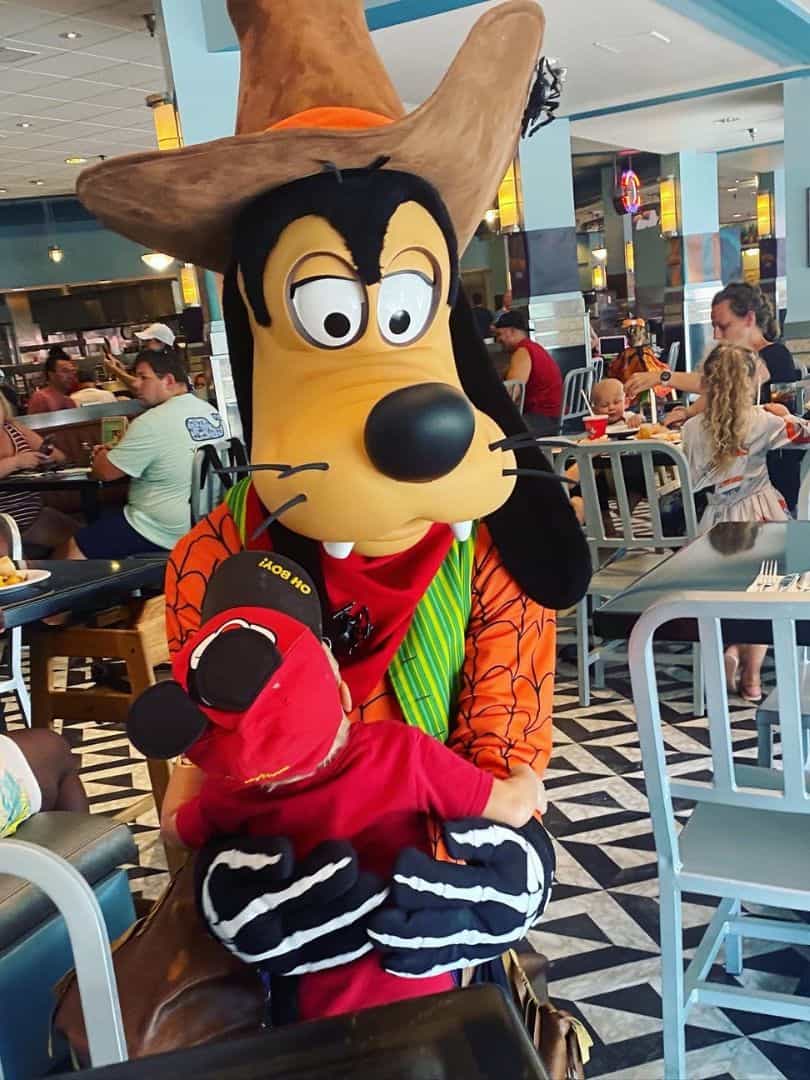 Our family loved the Halloween-inspired music. Some songs and sound effects are from Mickey's Not-So-Scary Halloween Party. This dining experience felt like a fun daytime alternative to the late-night party.
Parenting pro-tip: Have one parent sit facing the dining room so they can keep an eye out for the characters. That way you can let your kids know who is on the way and get ready.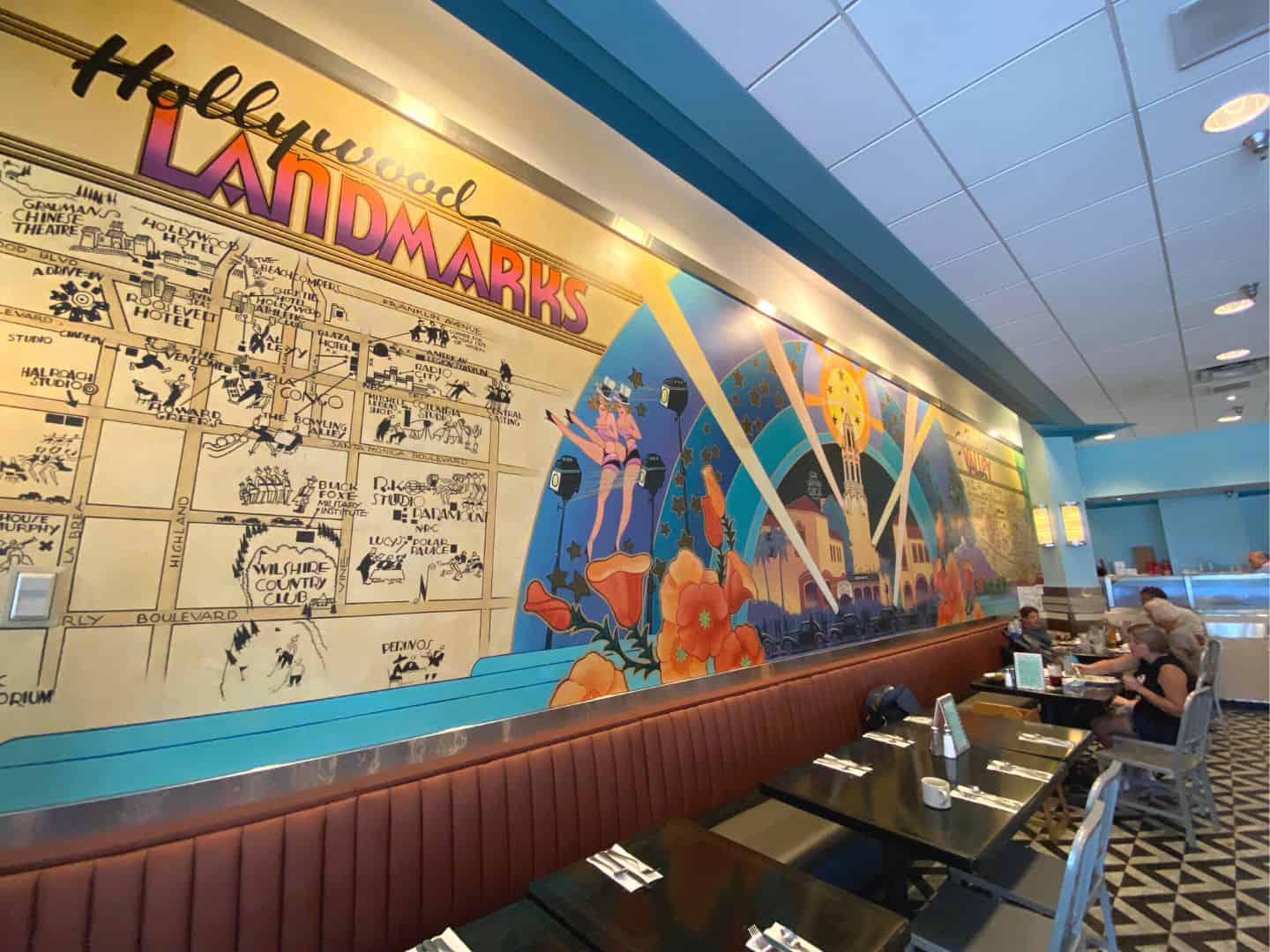 If your child needs to use the restroom and you're afraid they will miss a character, let one of the character attendants know. They will be fairly easy to spot with khaki pants and a light blue button-up shirt – different than your server's outfit.
What to Expect
When we arrived for lunch at Minnie's Halloween Dine, Goofy came by before we headed to the buffet for our first round of food. Goofy spent about 2-3 minutes with us and gave our son hugs. I popped up to get a photo, and that silly goof took me by the hand for a Goofy pose.
About ten minutes later Minnie Mouse came by. She too spent about 2-3 minutes with us and our son. She twirled and showed off her adorable Halloween costume.
Pluto came by towards the end of our meal, while we nibbled on delicious desserts.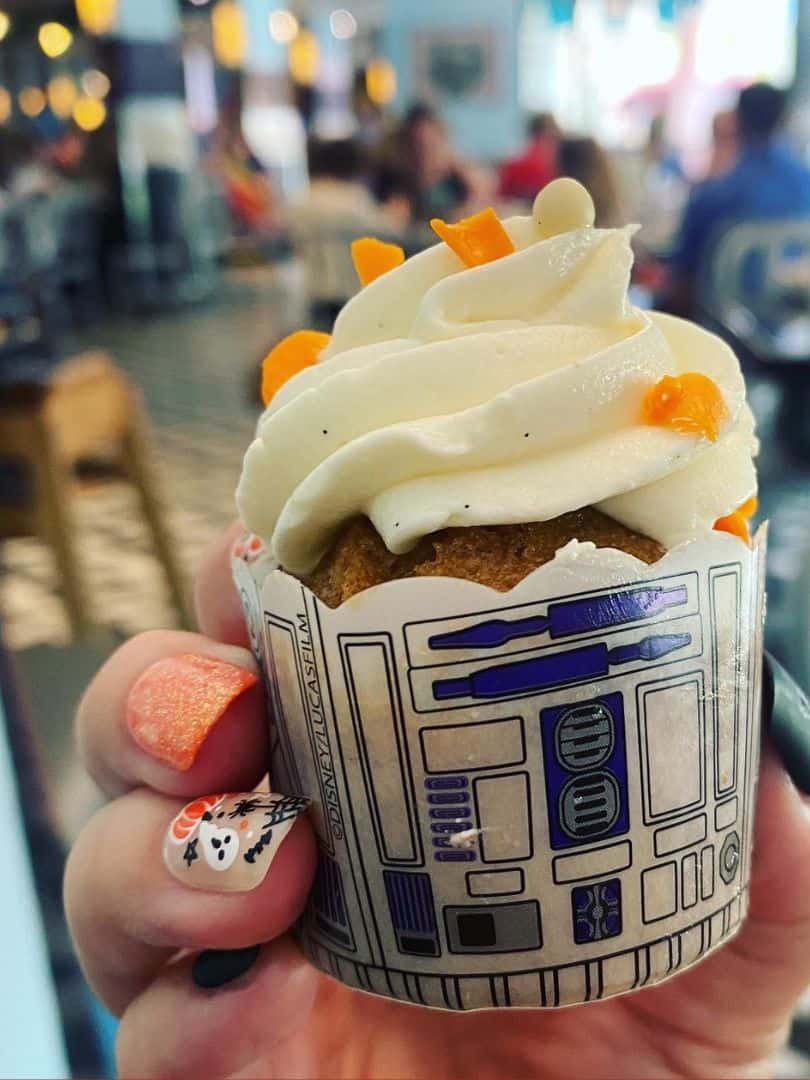 We missed Mickey due to a needed visit to the restroom. But we talked with a character attendant and he kindly helped us see Mickey before our visit was through.
Food at Minnie's Halloween Dine (Lunch and Dinner)
All meals are served on a buffet. There are two carving stations during lunch and dinner, plus a kids' buffet. The kids' buffet is in the center and is on kid-level so they can serve themselves if you wish.
Fresh fruit
Make your own salad
Seared Salmon with Nuerre Blanc
Sour Cream and Chive Whipped Potatoes
Carmelized Brussel Sprouts
Oven Roasted herb Chicken
Plant-based Roasted Mushroom Farro Risotto
Crispy Tofu with Vegetables
Spicy Mustard Pork Loin
Carving Station
And kids' buffet with macaroni & cheese, green beans, chicken nuggets, and more
My son has food allergies and we were given a guide to show us which foods were safe for him. He went with white rice, chicken nuggets, green beans, and baked chicken legs.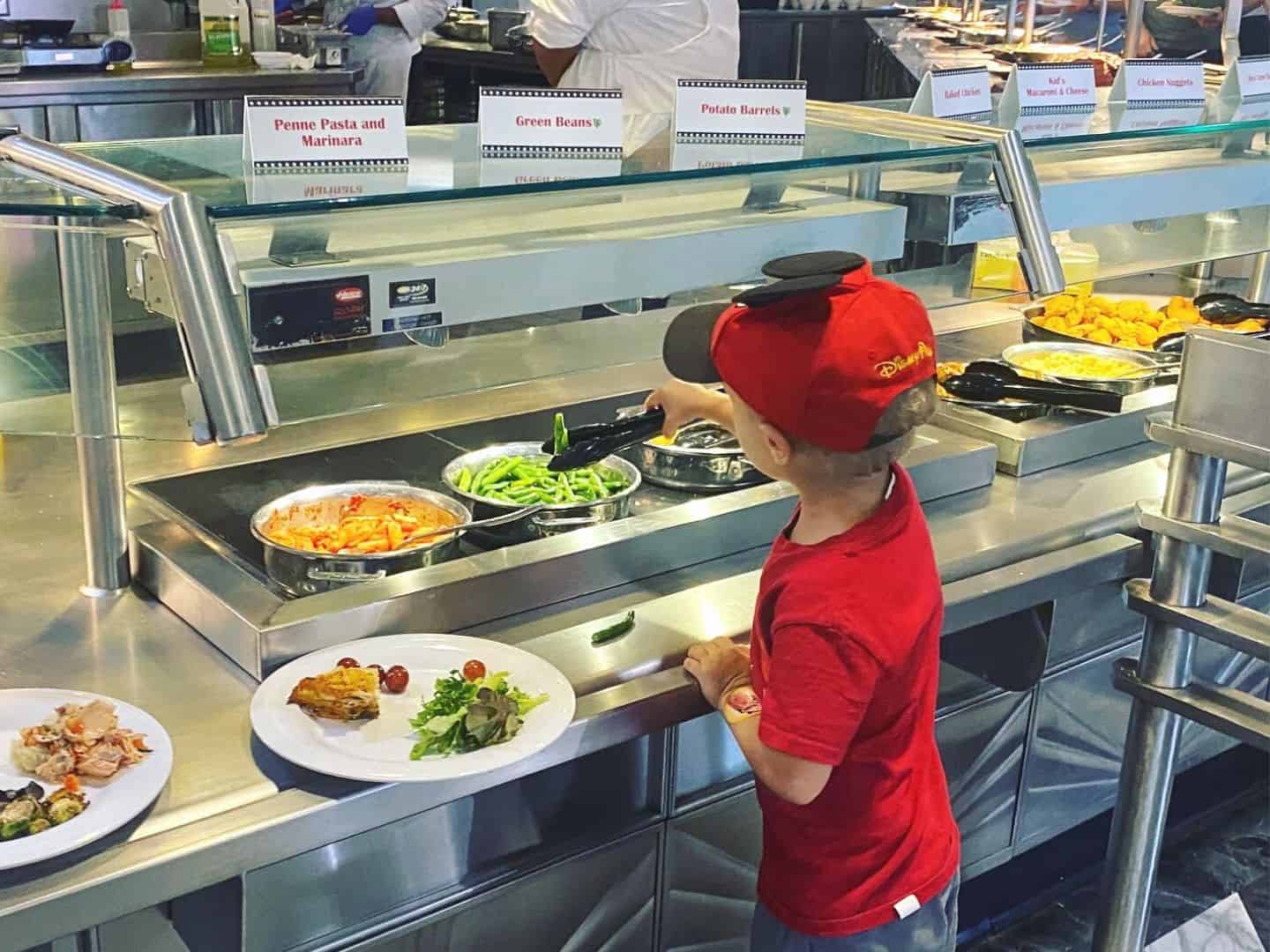 Tips
Check in for your meal at the host stand at the front of Hollywood and Vine
Make sure your phone number is provided to be texted when your table is ready
Turn on your notifications for the MyDisneyExperience app to be notified that your table is ready
Strollers need to be parked outside just before entering the restaurant
Make sure your kids are comfortable and ready to interact with the characters
If they've never interacted with characters before try to walk them around first so they can see the other interactions taking place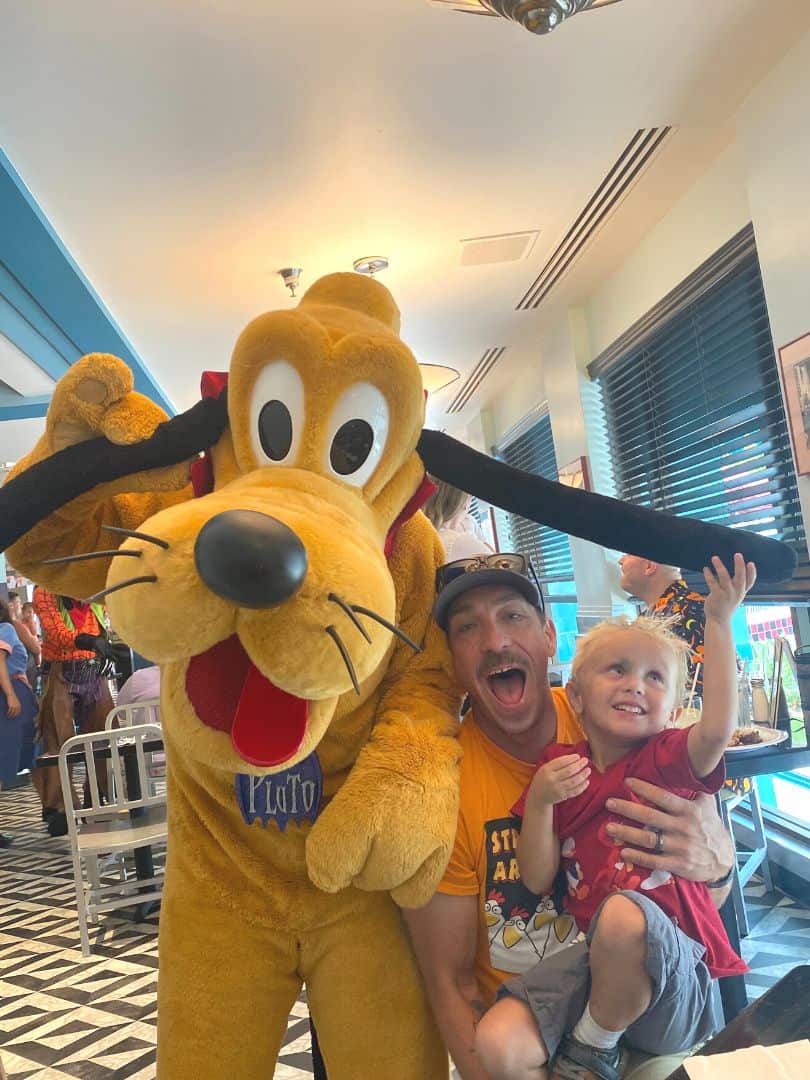 We've got more Halloween Fun for Families in Tampa that we think you'll LOVE.