Moms to Know: Kristen Brown, TRIBE Seminole Heights
From the grind of the corporate marketing world working alongside brands with big budgets (like Absolut, L'Oreal, and Target) to enhance their global market presence to life in yoga pants serving inner-city schools to guide young people as they discover their purpose, Kristen Brown is the brave face of a social entrepreneur that has stepped into her calling like nothing I've ever seen before.
When it comes to doing good and making the world a better place, Kristen has a vision that is changing lives every day in Tampa Bay. From her staff of 100 volunteers and 1,800 families served in 2020, to the 2,500 students that are invited to be a part of the after-school programming TRIBE offers every quarter, thousands of people will agree that Kristen is a mom you need to know.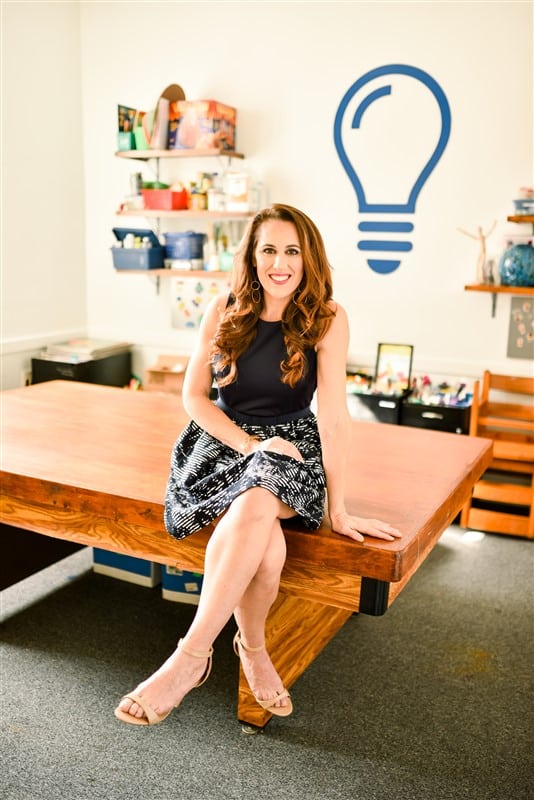 Julie Tingley: So often we hear about TRIBE, the organization, the place, its beneficiaries. Let's hear about you. What is your story? What ultimately inspired you to flip the switch in your professional career, and how does TRIBE represent you as a woman and mother?  
Kristen Brown: It has been "we" from the very beginning.. At some point I decided "we" included the majority of the people I had met in my lifetime, in one way or another. My life story is completely intertwined with TRIBE. Every job I've had, every person I've worked with, all of the knowledge I garnered in the very different professional roles I have held, all led me to TRIBE. It was combining those relationships and experiences that positioned me to answer this calling, when I felt it. That came during a long and intense health battle, at a point where I was evaluating my contributions to the world, and I wasn't happy with how the math was adding up.  
I had always dreamed of a place where children could make art, learn music, be active, and find themselves. When I became a mother, I was frustrated by how difficult it was to find variety, ease, and affordability in children's activities, and knew how much more difficult those challenges must be for families living near poverty. I saw an opportunity to start small by making a change for the children in my neighborhood. I felt like I had the experience and ability to figure out a way to create a unique program, and I had a once in a lifetime opportunity to use my illness as a do-over button, and go for the big dream! Even then though, I never felt like it was a project that I was meant to do, or could do, by myself, it was always about community..  
From the moment that I mentally accepted the assignment, I started to gather the people. I suppose that's why I feel like my story is insignificant, I represent just one small part of TRIBE. Though I am the founder, many people contribute to our organization, around 100 volunteers at any given time, 50 of whom lead the activities we provide for children.  
Julie Tingley: I can only describe TRIBE as a portal that transports children into a place that is pure magic. I don't attribute that to the location alone, because it's more than a space. It's a feeling. It's the people. It is pure heart and soul. What inspired your vision for TRIBE, and how do you explain the energy to people that have yet to visit?  
Kristen Brown: I've been a single mom since my son was under a year old, but even as a fortunate, working mother, I didn't understand why children's activities were so difficult to find, navigate, and participate in, and why they had to be so expensive? I felt strongly that more kids would be able to find their passions, and explore new interests, if we gave them easier access, and I wanted that access to be available to all children. Our  
programs are drop in, and pay as you go, and that provides equity in ways that other programs, even if affordable, just don't.  
The energy at TRIBE depends on the day! On Mondays percussion plays so loudly that ukulele class wants to play over them, so it feels intense, almost electric, while the Pokemon kids talk battles and the Tiny Tigers run around! Tuesdays are way more chill, because we have sewing, baking, and gardening, so the energy feels more nurturing, even though it gets a little loud once all the preschool music classes start! Wednesdays have a very focused feel to me, starting with ninja training, and then we have some study groups, science classes, and art, before yoga (led by Mary Torres, Mariposa Yoga), which is always the best part of our week! The energy on Thursdays is all over the place, as we've been trying out lots of new programs, Bollywood dance, creepy crawlies and ballet are the big hits so far, but we also quietly have chess and pottery painting setting a more serious tone, so we will see!  
We are always experimenting to see what kids get excited about, and what programs we can add to help get them inspired, so our schedule changes often, and is mostly based on volunteer availability. This idea of "powered by community": also means there is a diverse enough group of people at TRIBE at any given moment that most anyone can feel comfortable. Our spaces have been created with the activity they will be used for in mind, and so the funky retro vibe is offset by touches clearly reflecting a particular class, punctuated throughout. All of our furnishings, decor, equipment and supplies have been donated, but the eclectic and stylish way we have arranged them can best be described as homey and comfortable (lived in!), like hanging out at a friend's house….. that has kids.  
Julie Tingley: How does TRIBE select its programming both within its 2500 square foot headquarters and out in the community? What ultimately leads your efforts and presence, and how has that changed in the pandemic where children have been impacted the most both at home and at school?  
Kristen Brown: Everything at TRIBE starts with what we have. Our programming is determined by volunteers who are excited and passionate about leading an activity, and our projects are selected largely based on what supplies we have received and need to use. Leveraging resources is probably the most important thing we do at TRIBE, and how we have been able to accomplish much of our work, without a great deal of money.
We often use things that would otherwise go to waste, to powerfully help the children in our community. All of the supplies, equipment and furnishings in our community center have been donated, most used. We waste as little as we can, and will find a creative use for anything we are given! We receive significantly more in-kind donations than monetary support.  
Our work has become more difficult since 2020, and therefore our creative use of resources has been key to our organization's continued growth. We lost a significant amount of momentum, and many of our volunteers, when we were forced to close for  more than 6 months due to the pandemic.
Though I am extremely proud of the work that we did during that time to uplift our community (check out our large scale art installations!), like most other businesses and nonprofits, it caused a setback for our organization. At the same time, the needs for our programs, and of our families, have continued to grow. That has challenged us to continue to find new and creative ways to provide services, and the mentality of starting with what we have, has been an integral piece of that strategy.  
Julie Tingley: In a month that focuses on the spirit of giving and gratitude, I believe that your grassroots efforts are among some of the most efficiently executed yet significantly underfunded. TRIBE is changing the trajectory for and the lives of our next best generation, and I feel like you are still Tampa Bay's best kept secret.  
How can local businesses get involved with your mission? What resources are needed most today? And, what are you most grateful for in 2021?  
Kristen Brown: I think our low profile is a result of being so under-resourced! At the end of the day, we are two part time staffers, on paper. We are an army of 100 volunteers behind the scenes, but most people volunteer one hour per week, and there is only so much we can do with volunteers. That's our pain point right now. Our greatest needs are financial support in the form of funding, major gifts, corporate sponsorships, and other sustainable sources of income, and volunteers at every level. We need folks to assist in classrooms, help fundraise, and we need strategic partners that are committed to our long term success. When I formed this organization, the world was a different place and while our resources continue to dwindle, our families need more from us, and we have our eyes on a big vision. Individuals and businesses that want to get involved are encouraged to visit our website: tribeseminoleheights.com . We have done our best to lay out ways that people can contribute their time, talents, or support in whatever form they have to offer.  
One of the greatest compliments I've received was recently, when a board member remarked, "I've never seen an organization do so much, with so little." As powerful as that statement was, and it meant a great deal to me, it also represents our greatest challenge. Our work is not sustainable without the resources that most organizations have, and in order to acquire them, we need a level of support that is consistent and we can count on.  
This year I am most grateful to the Vinik Family Foundation. In February, I was honored as one of their "Community Heroes", and they provided us with a grant for our most significant source of funding to date, and allowed us the freedom to continue our work. Additionally I am extremely grateful to our volunteers, without whom none of our work would be possible. They are an amazing group of people, and their extensive collective of gifts inspire me everyday!  
Julie Tingley: Mom to mom: have you ever felt like giving up as the visionary and founder of this movement? What keeps you focused and helps you overcome the hard days that are inevitable with entrepreneurship? For women that have felt called to serve and lead in the nonprofit world, what is your best advice to them?  
Kristen Brown: YES! Of course I feel like giving up. I am a 45 year old single mama, and I am beat! Did I mention that TRIBE is on the 3rd floor? So. Many. Stairs. Right now, my work is really difficult. It's physically, mentally, and emotionally exhausting and every day is a scramble from start to finish, and I start early. Not only do I think about giving up all the time, sometimes people even tell me I should give up, and close TRIBE. That I should stop working so hard, and such long hours, and practice more self care.  
I don't give up because I KNOW our work is not done. What we have accomplished so far, is just too amazing for this to be it. I know that if we just continue to work hard and push on, we can grow and thrive. The funding we need to obtain is not impossible, and neither is the work we have to do. When I feel ready to give up, I think about all the people who have shared how much they wish that their community had a place like TRIBE. My encouragement to them is to create one, and I'm working as hard as I can to help build a template that other moms can use to replicate our work in their community.  
Julie Tingley: What is your favorite thing to do with your son in Tampa Bay?  
Kristen Brown: MY favorite…there honestly has been no greater joy in my lifetime, than seeing my own child enjoy the programming at the community center I created. Now that he is in middle school, he serves as my inspiration to expand the programs we offer to include more for adolescents. I love to spend time outside, you can find us sticking close to Seminole Heights most of the time, please say hi if you do, he hates that!  
More Moms to KNOW
---
Originally Published in the November 2021 issue of Tampa Bay Parenting Magazine.