Monster Jam Returns to Tampa's Raymond James Stadium this Weekend!
Monster Jam is roaring back into Tampa Bay at Raymond James Stadium for two days of action-packed, unforgettable competitions that will leave every kid and kid at heart in absolute awe on February 4 and 5, 2023. If you haven't been, it's a must experience! We've taken our kids to three Monster Jam and Triple Threat shows over the years and they have LOVED every minute of it.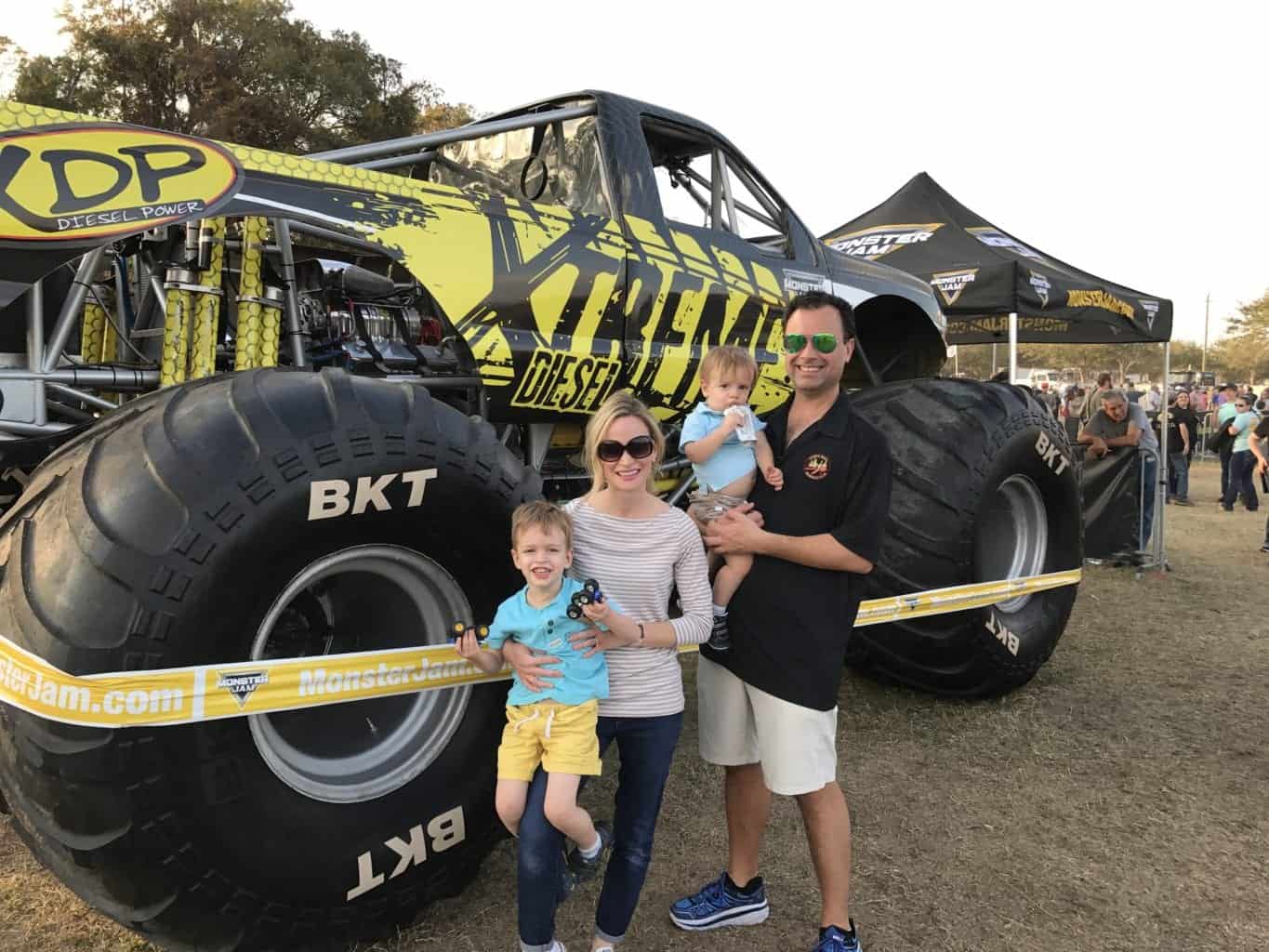 A Little Bit About Monster Jam
Monster Jam is a real competition. Nothing is scripted, so anything can happen! You'll watch in awe as the 12,000-pound Monster Jam trucks push all limits in Freestyle, Skills, and Racing competitions while doing backflips, vertical two-wheel skills, and racing at speeds up to 70 miles-per-hour.
It's pretty exciting to watch whether you're a Monster Jam fan or not. One of the coolest parts of the competition is the guest interaction. YOU have the power as a fan to vote for your favorites during the competition.
The Pre-Show: Monster Jam Pit Party
We highly recommend attending the pre-show Monster Jam Pit Party! This is also a good option for young fans who may not be able to stay up late for the entire 7pm show.
The Pit Party is a chance for you and the kids can get up close and personal with the trucks and even meet the drivers which is always a hit for the youngest fans! There are plenty of awesome photo opportunities as well, so keep that phone ready.
You can purchase Pit Party tickets which start at $20 + fees with your Monster Jam show ticket or after you've already bought your tickets. Buy Pit Party Tickets here.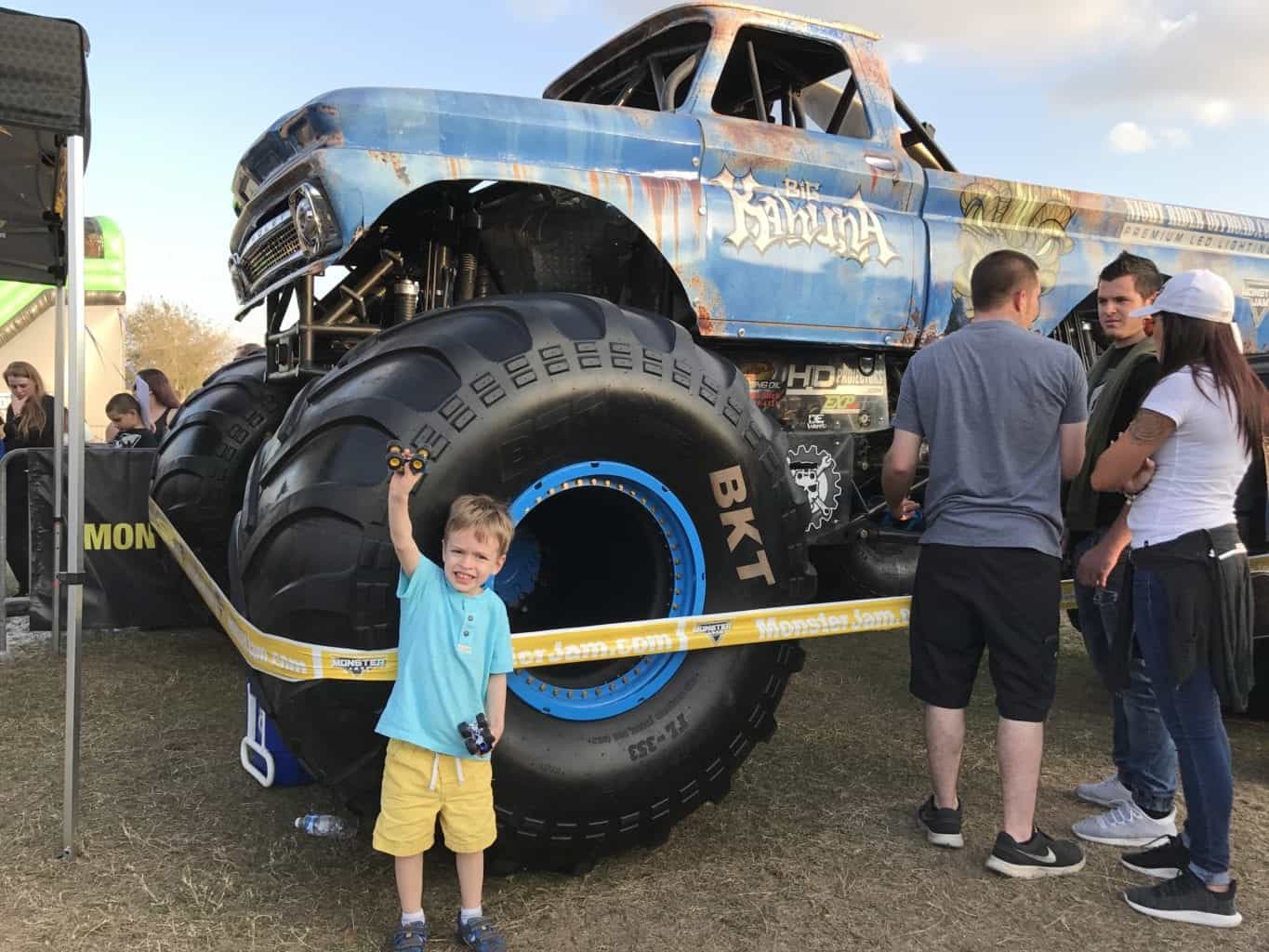 Monster Jam: The Tampa Show
The Tampa show will feature some fan favorites including Grave Digger, Max-D, Bakugan Dragonoid, Kraken, and Velociraptor will be competing! We're super excited to see Soldier Fortune driven by Kayla Blood. Girl power!!! You can also read our interview with the father-son duo competing in the Tampa show here: Meet Matt and Nick Pagliarulo, drivers of Jester and Kraken 
Monster Jam and Hot Wheels
Another really cool thing was watching our kid see his Hot Wheels Monster Truck in real life! You probably have a growing collection of the Hot Wheels trucks, so bring them with you! The kids will get a total kick out of it. If you forget…don't worry because they'll have plenty for sale at the event!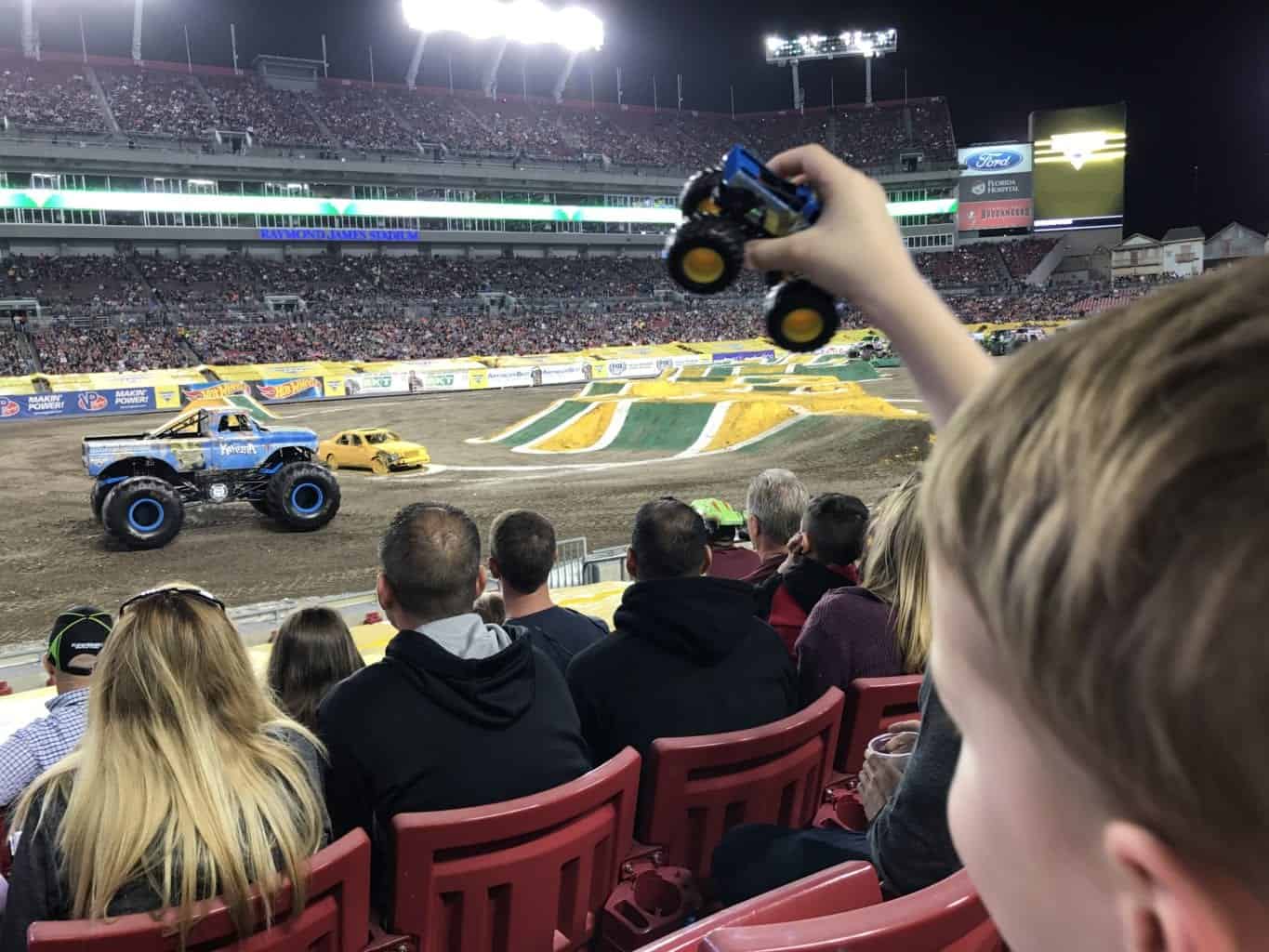 Do you need hearing protection at Monster Jam?
You'll definitely want to invest in some of those noise reducing headphones for your kids because it can get loud (obvi). You can purchase them at the show or bring your own. The little foam inserts work great too and are much more cost effective.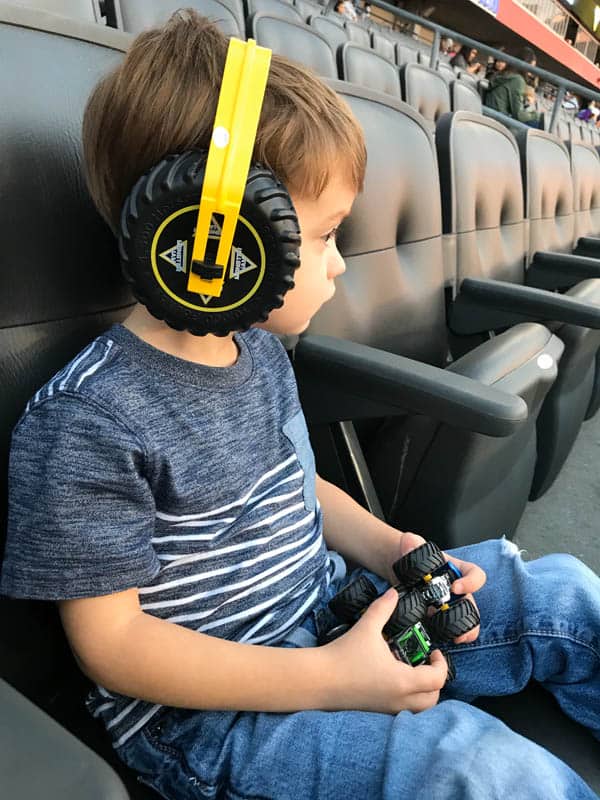 Tampa Monster Jam Dates and Times:
Saturday, February 4, 2023
Pit Party from 2:30pm – 5:30pm
Doors Open: 5:30 pm
Trackside: 6:00 pm
Show begins at 7:00pm
Sunday, February 5, 2023 
Pit Party from 11:30 am-1:30 pm
Doors Open: 1:30 pm
Trackside: 2:00 pm
Show begins at 3:00pm
How to purchase tickets for Monster Jam in Tampa
All fans ages 2 and older are required to have a ticket. You can purchase tickets directly through the Monster Jam website or by visiting Ticketmaster.com.
Monster Jam Show Tickets start at $20 + fees
Pit Party Early Access starts at $35 per person + fees
General Pit Party Passes start at $20 each + fees
Tampa Monster Jam Location for the GPS:
Raymond James Stadium
4201 N. Dale Mabry Highway Tampa, FL 33607
Where to Park for Monster Jam in Tampa
The lots around Raymond James Stadium are open for parking. There is typically a fee to park which is cashless and contactless. You can learn more about the parking lots at Raymond James Stadium here.  You can pre-purchase parking too.
It's non uncommon for people to arrive early and tailgate just like they would for a Bucs game, so feel free to pack a pre-show lunch for a tailgate picnic.
Can I bring a purse to Monster Jam in Tampa?
The same bag policy applies for all events at Raymond James Stadium:
"A NO BAG POLICY IS IN EFFECT FOR ALL EVENTS AT RAYMOND JAMES STADIUM. GUESTS ARE ONLY PERMITTED TO BRING IN ONE CLUTCH PURSE NO LARGER THAN 4.5" BY 6.5". PLEASE RETURN ALL OTHER BAGS TO YOUR VEHICLES OR TAKE ADVANTAGE OF THE STORAGE LOCKERS AVAILABLE FOR RENT ON TOM MCEWEN BLVD, SOUTH OF GATE C."
You can learn more about what's allowed and what's prohibited at Raymond James Stadium here.