Check Out the New Weird and Wonderful World of MORPH'D at The Florida Aquarium!
Up on the second floor of The Florida Aquarium, you'll discover a new area that has now been transformed into something weird, wonderful, and wild. On July 1st, a new highly interactive experience called MORPH'D will give you the chance to get up close and personal with some of the aquarium's most unique residents!
The transformation has been in the works for a year, with the aquarium deciding to utilize the ballroom space on the second floor.
"I think this became a glimmer in the aquarium's eye roughly a year ago," said Eric Hovland, Associate Curator for The Florida Aquarium. "About a year from concept to conception, that's a pretty rapid pace to transform what was a glorious ballroom, a great meeting space, and a pretty place to have a party, but not a place that celebrated live animals in the way that this does."
What Exactly Is MORPH'D?
MORPH'D is an interactive gallery that features 18 uniquely adapted species from around the world. "Having a changing gallery where we've got different habitats and changing out every couple of years or so in the ballpark of that, it offers something new, something fresh to all of our Florida Aquarium guests.
Year after year, we've got a lot of expansions going on, but this room will be ever in metamorphosis if you will, so our first iteration is morphed and it's all about animals that have changed and adapted to their environment," said Hovland, "It's also fun to say – 'morphed!'
But every animal in here has something really unique and special and weird and wild and wonderful about it. Any one of these could take you down a whole science rabbit hole of curiosity."
The gallery is filled with bright colors and interactive activities. Projected above each aquarium, you'll see the animal's name transform back and forth into its species name. Each exhibit also has an interactive digital touchscreen that you can scroll through and learn facts about each animal. There's also a QR code that you can scan, and the same interactive screen will pull right up on your phone!
Axolotls and the other amazing creatures you'll see in MORPH'D
Get ready to come face to face with some truly amazing creatures! You'll see the unique American paddlefish which one of only two paddlefish species found on Earth! The archerfish are also known as "spitting fish" since they're known for spitting at their prey in order to catch them.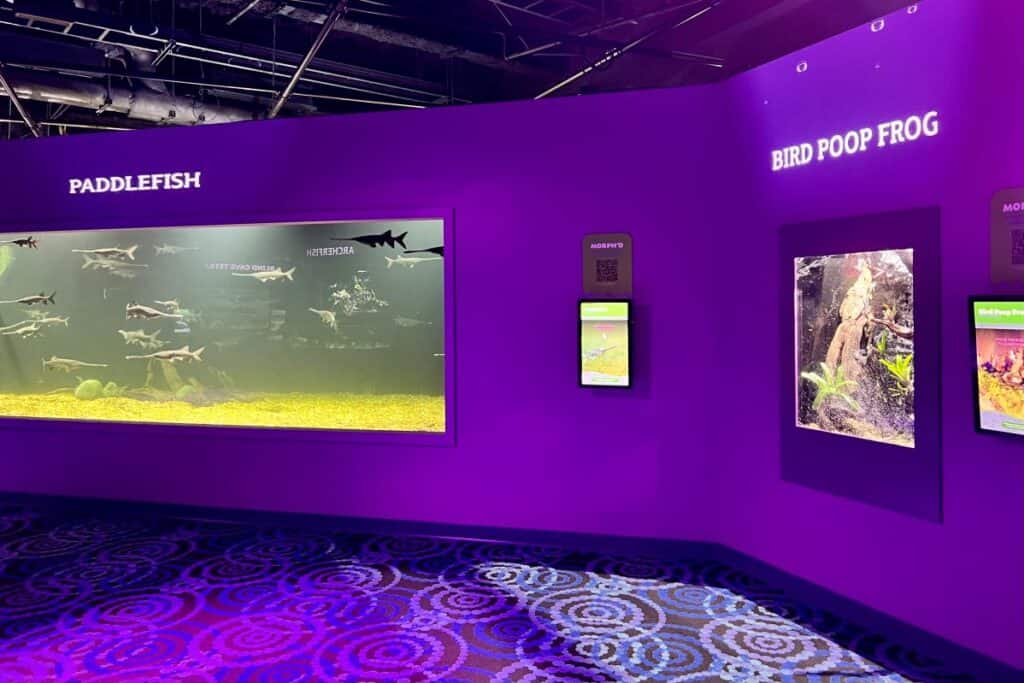 Kids and adults will get a kick out of the bird poop frogs which are tiny frogs that look exactly like – you guessed it – bird poop! The brightly colored chameleon is fascinating to watch as he changes his colors to adapt to his surroundings.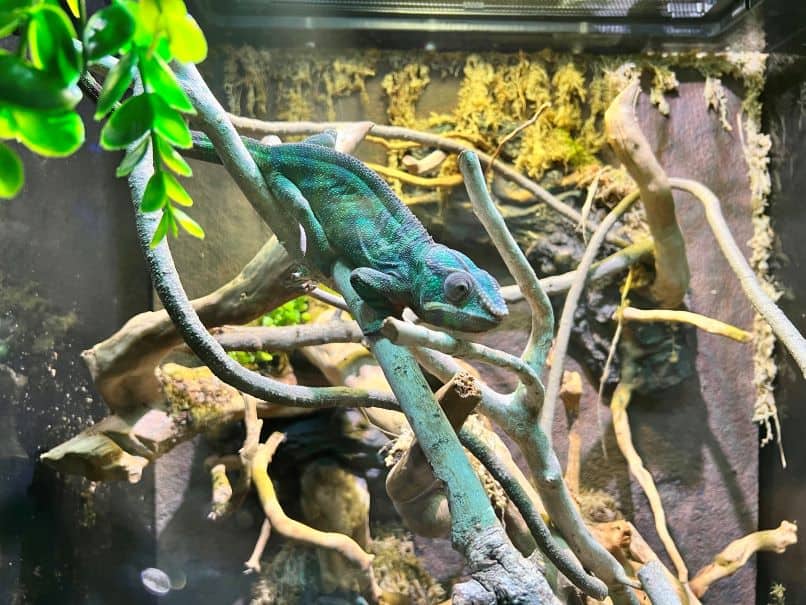 One of the highlights (and probably the cutest creatures you'll come across) are the axolotls. Axolotls are part of the salamander family however, they never mature and exit the water. What makes them unique is their ability to grow back their tissue and limbs. Wonder why they're so popular with kids? It's probably thanks to their Minecraft counterpart!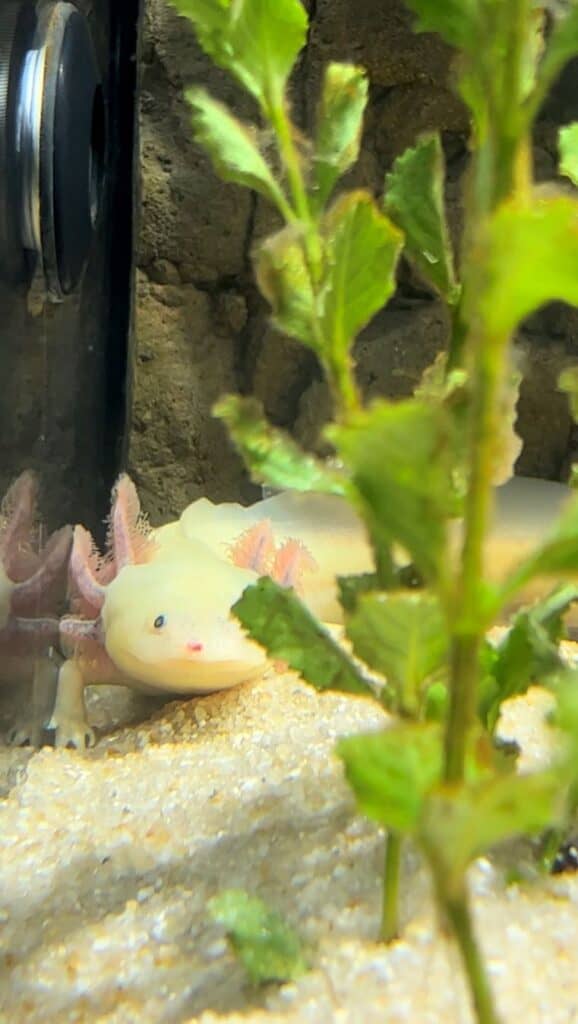 You'll also encounter other cool creatures such as mudskippers, four-eyed fish, and blind cave fish.
"Everything in here has got something really unique and wild about it," said Hovland, "From an octopus that is really good at transforming and blending into its environment. Both as a hunter and not to be a prey item, you see that theme in a lot of ways, like the bird poop frogs. They just look like a lump of poop on a log. And that's so a predator, a bird, a snake – whatever may just pass right by -that frog can go just about. Then we've got some that have adapted to unique environments like the electric eel."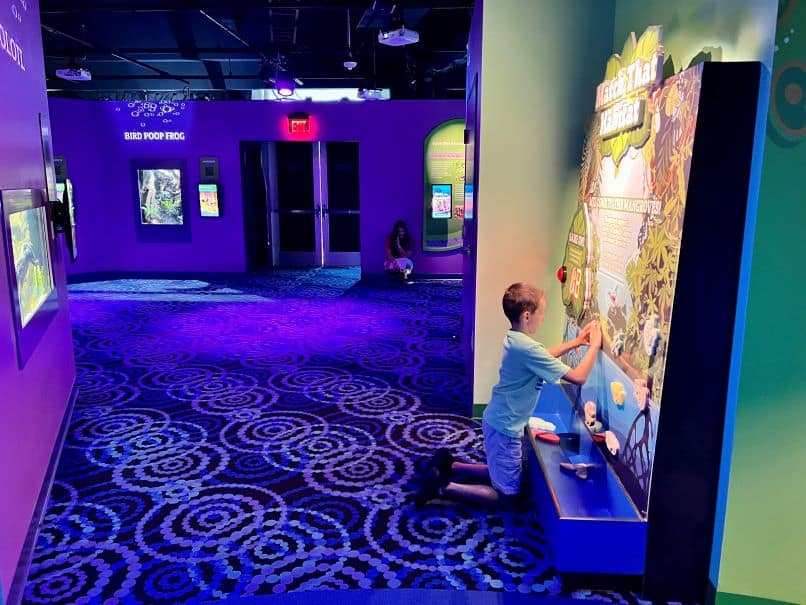 In addition to the animals, there are also several interactive activities to check out like a matching habitat game, digital globe, and a picture wall. Snap a pic, decorate it with fun ocean-themed emojis, and you can email or text it to yourself as a fun keepsake!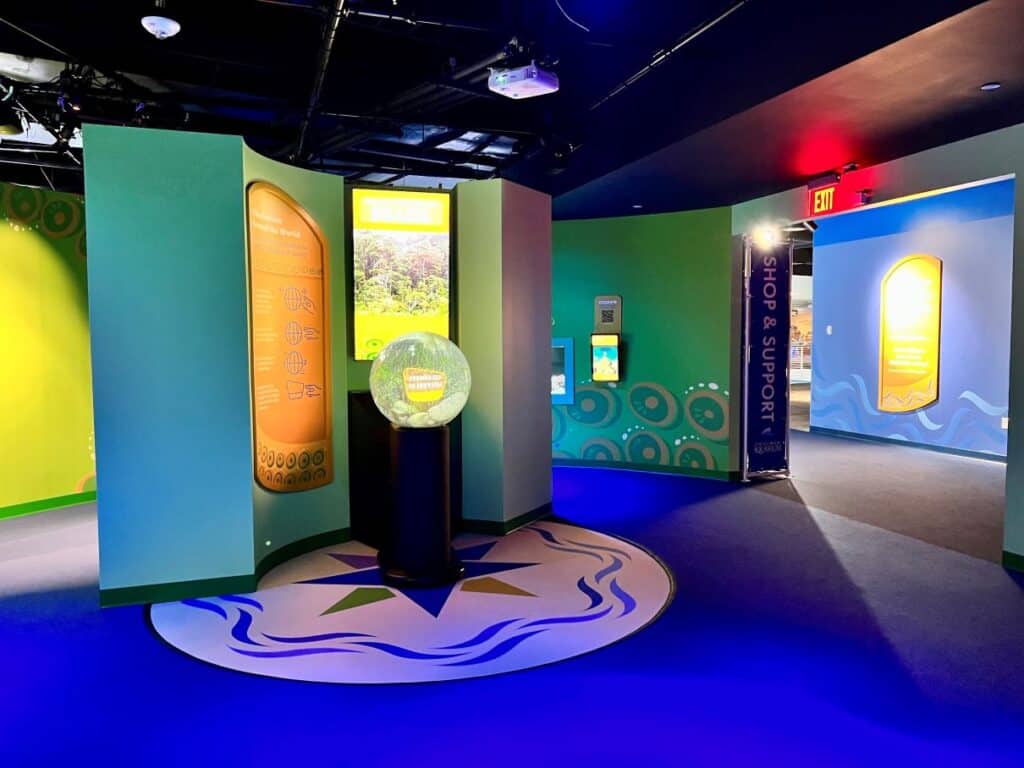 How Can You Experience MORPH'D?
MORPH'D opens to the public on July 1st and is included with general admission. It's located on the second floor in the Mosaic Exhibit Hall.
The Florida Aquarium is open every day from 9:30 am-5 pm (closed on Thanksgiving and Christmas Day). Single-day tickets and memberships are available.
Paid parking is available and you can also get to the aquarium via the TECO Street Car System or the Pirate Water Taxi.
For more information, visit flaquarium.org.
Looking for more fun things to do? Check out 20+ Awesome Things to Do this Weekend in Tampa Bay 
All images provided by Brie Gorecki