5 Adorable Mother's Day Craft Ideas with @craftingafunlife
Mother's Day is a special holiday for so many people, and who doesn't love getting a handmade craft that kids have poured their hearts and souls into?
Here are three fun Mother's Day craft ideas that children can make for their mom, grandmother, or caregiver.
Related:
---
Mother's Day Handprint Bouquet

Supplies
White cardstock
Non-toxic paint (3 colors for the handprint flowers)
Foam brush
Paper plate
Scissors
Jumbo green craft stick
Green cardstock
Decorative tissue paper
Ribbon
Wooden dowel
Green acrylic paint
Glitter (optional)
Directions
Add drops of paint to a paper Use at least 3 different colors.
Use a foam brush to apply paint from the paper plate to your child's Then place your child's hand on white cardstock. You will need at least six handprints for your bouquet. Set cardstock aside to dry.
Paint your wooden dowels green to create the Set aside to dry.
Cut out the handprints, and then tape a stick to the back of each Cut out leaves from green cardstock, then tape to the dowel.
Finally, use decorative tissue paper to wrap the handprint bouquet, then tie with
---
Paint Resist Mother's Day Card

Supplies
White heavy cardstock or poster board
Paint
Clothespin
Cotton balls
Paper plate
Foam alphabet stickers
Directions
Fold your cardstock or poster board in half to create the
Use foam alphabet stickers to spell the word, MOM (or the name of your choice) on the front side of the card.
Add a few drops of different color paint on a paper
Clip a cotton ball with a clothespin to create your painting
Paint over the entire front side of the card, including the word spelled Once your child is finished, set the card aside to dry.
Finally, remove the stickers to reveal a beautiful Mother's Day Your child can write a special message inside the card.
---
DIY Photo Cube for Mom 

Supplies
Wood block (3" or 4")
Acrylic paint (mom's favorite color)
Foam brush (2)
Decoupage glue
5-6 photos of child(ren)
Scissors
Ruler
Pencil
Directions
Use the foam brush to paint the wood block with acrylic paint on all Set it aside to dry.
Measure each photo so they are about half an inch smaller than each side of the block, then cut.
Coat the back of each photo with a thin layer of decoupage glue then press onto the wood block.
Finally, apply another coat over the images and wait for it to
---
DIY Mother's Day Card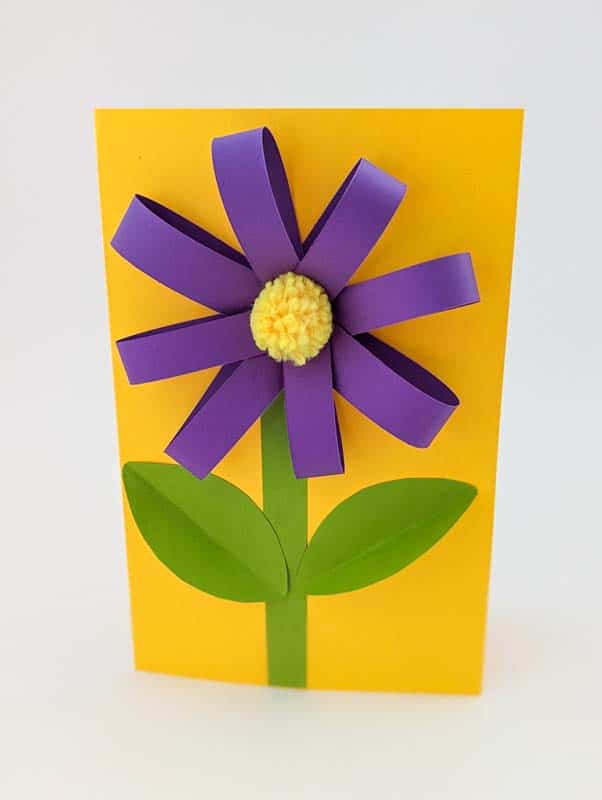 Supplies:
Colored cardstock (2 per card)
Scissors
Glue
Pencil (optional)
Pom poms (1 per card)
Directions:
First, cut four strips of colored cardstock for your flower. You will also need to cut out leaves and a stem from green cardstock.
Next, take two of the paper strips and glue them together to form a cross. Glue two more strips together to form another cross.
Glue both crosses together.
Take the end of one of the strips and glue it to the center of the cross. Repeat until all the strips are glued to the center to create your flower.
Now it's time to glue the pom pom into the middle of the paper flower.
Fold your second colored cardstock in half to create a card. Then glue the green stem onto the bottom of the card.
Glue the paper flower on top of the stem.
Fold the leaves in half and glue them to the stem.
Finally, write a beautiful message inside the card for the most important woman in your life.
---
DIY Mother's Day Paper Flower Bouquet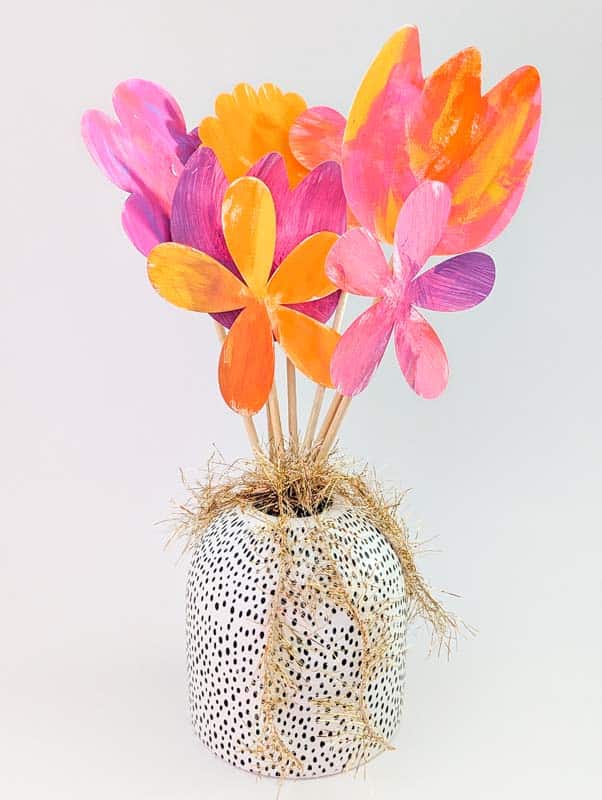 Supplies:
White cardstock
Paint (spring colors)
Paper plate or paint palette
Hot glue gun
Wooden dowels (3/16-inch dowels 12 inches long)
Foam brush
Vase
Yarn
Directions:
First, cut out different flower shapes for your bouquet on white cardstock.
Next, paint your paper flowers. You can blend different colors or use one color for each flower. Set it aside to dry when you are finished.
Once the paint is dried, use a hot glue gun to attach the flowers to a wooden dowel rod.
Finally, use yarn to tie the flower bouquet. Add them to a vase.
---
*Craft ideas originally published in the May 2022 and May 2023 issues of Tampa Bay Parenting Magazine.