Okalani Octopus Helps Teach Children Life Lessons in A Colorful Way
In honor of World Oceans Day on June 8, we'd like to introduce you to Okalani the Octopus!
St. Petersburg resident, Shelly Augsbury, wanted to find a way to make people smile during the pandemic. Shelly is a former teacher who has spent most of her life in the creative industry. She used her artistic talents and love of the ocean to create a sea life-themed mural with a giant octopus as the centerpiece along her 80-foot fence. It wasn't long before neighbors and surrounding residents were flocking to check out the artwork, with local and national news stations also taking interest.
The success of her mural inspired her to want to give back even more. A had friend suggested that she should create children's books, using the octopus from her mural as the main character. Ready for another creative challenge, Shelly took the idea and ran with it. "I always did acrylic large-scale paintings, I never did watercolor," she said, "So I said, 'let me try watercolors' and it just came together." To bring her characters to life, she also used fun embellishments such as googly eyes and seashells.
Introducing Okalani
The star of her series of books is an octopus named Okalani. "Her name is Hawaiian. It means 'from heaven' since her parents were so happy that she was born." She devotes each book to specific topics such as friendship, family, saving money, and responsibility, with a unique sea-life spin on each story. "I thought, it's not as intimidating because it's a cutesy creature, and it's a cute animal, so I think kids may pay a little more attention to that than they would if it was a book about a human".
Her first book was a counting book. "I started thinking that I could teach kids about other things too because the counting book was very rudimentary. I thought I could teach them basic skills; you know, social skills and how to be nice people."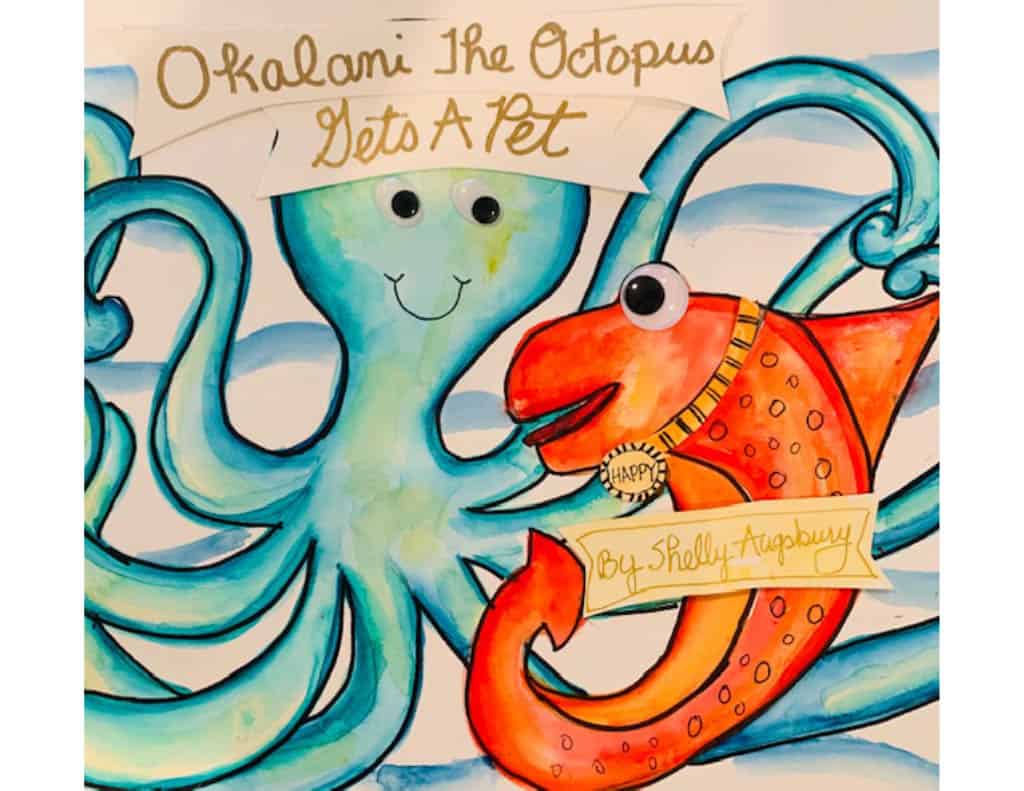 In Let's Be Friends with Okalani the Octopus, she discusses how friends come in all shapes and sizes. "But one thing they share is a warm heart full of love for one another, and sometimes three hearts like Okalani." In Okalani the Octopus Gets a Pet, Okalani learns pet responsibility after she adopts her dogfish, Happy, and must take him to see the nurse shark at the vet. Shelly also touches on personal life subjects such as growing families. Growing Your Family with Okalani the Octopus discusses how families can grow in different ways, including adoption.
Protecting Tampa Bay sea life is something that Shelly is passionate about. That passion inspired her book Help Okalani the Octopus Save the Ocean. Geared toward kids ages 7-12, it teaches them about the ecosystem, ocean acidification, and how those who call our oceans home, such as manatees and lionfish, are affected. "You learn about the turtles, and then you learn about the blacktip sharks that are swimming up north because the water is getting warm in Tampa Bay, so they can't make families."
How Okalani Gives Back to Others
Shelly also does readings at local camps and schools and donates books to local charities. "I do Zoom with All Children's Hospital through the Sunshine Program," she said, "I do that twice a month and read them the Okalani books." She began the Okalani Cares program and donates books to places like the Ronald McDonald House and Guardian ad Litem Foundation of Tampa Bay. But what's most important to Shelly is that her books make people smile. "That's why I did it, because I want to help kids and give back."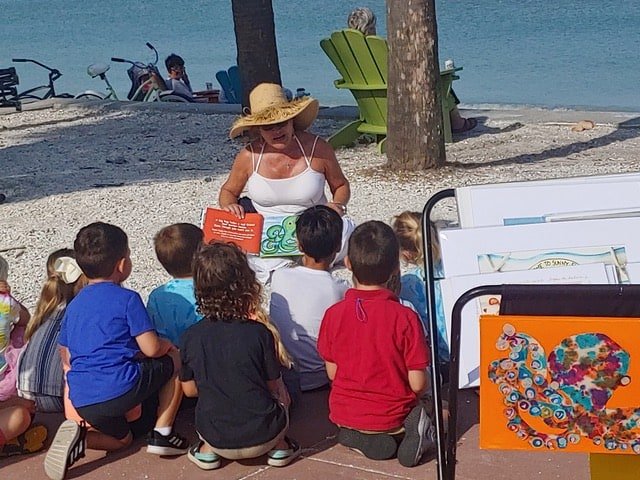 To purchase Shelly's books, find out how to donate books, and learn more about Okalani, visit okalanitheoctopus.com. You can also follow her on Facebook to stay up-to-date on the adventures of Okalani.