Our Favorite Things to do With Kids During a Sanibel and Captiva Getaway
This article was originally published in July 2022, just two months before Hurricane Ian hit the islands of Sanibel and Captiva. All info is updated as of May 2023 to reflect what is available to do and what is still being repaired. 
Just south of Fort Myers tucked away to the west, sits the 15-mile-long island of Sanibel. Founded in 1888, Sanibel is about as quaint as they come. It's the perfect getaway if you're looking for a place to relax but also want to sprinkle in a little bit of fun and adventure.
Sanibel is an easy escape from Tampa. About 2.5 hours south, it's a straight drive down I-75. Once you reach the island, you'll find an array of laid-back restaurants, local shops, and miles of sandy beaches. You'll also notice that no building is over 4 stories tall – a requirement by the city to align the buildings with the palm trees.
One of the best things about a Sanibel trip is how family-friendly it is. From discovering wildlife to exploring the island's past, here are some fun things to do if you decide to make your way down.
This wildlife refuge is part of the United States National Wildlife Refuge system. It's a non-profit Friends of the Refuge organization that supports environmental education and services. It's world famous for its migratory bird populations (245 bird species, to be exact!). Guests can stop by the free visitor and education center for information and brochures before heading out to walk, bike, or drive the four-mile Wildlife Drive or the Bailey Tract. There are several lookout towers to climb and it's also a great spot to create a wildlife scavenger hunt!
Post-hurricane: The wildlife refuge is back open and running as usual!
Check out what life was like in Florida over 100 years ago. The Sanibel Historic Museum and Village features 10 buildings that have been restored to preserve the island's history. Explore places such as a schoolhouse from 1896, a post office from 1926, a packing house from 1900, and a general store from 1927.
Post-hurricane: The Village is back open and available to tour on a limited basis. Please visit their website for updated hours and info.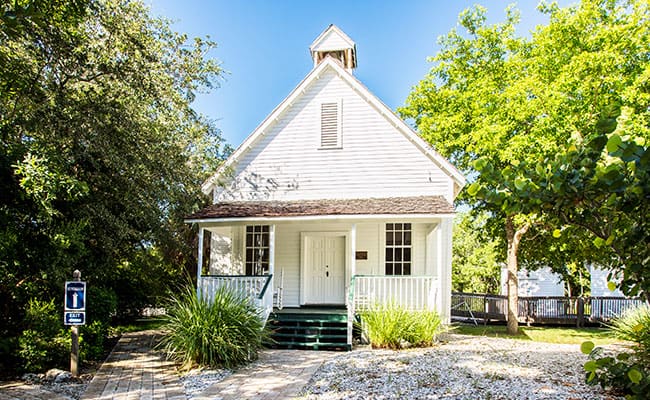 Create a Beach Scavenger Hunt!
With Sanibel being home to some of the best shells and sea life, creating a scavenger hunt of your own along the beach can be a ton of fun! However, if you come across shells with animals in them or live sand dollars and starfish, they're fun to hold but make sure you put them back in the ocean! Not sure how to tell if a sand dollar is OK to keep? Live sand dollars will be dark and prickly and will turn white when they're not alive.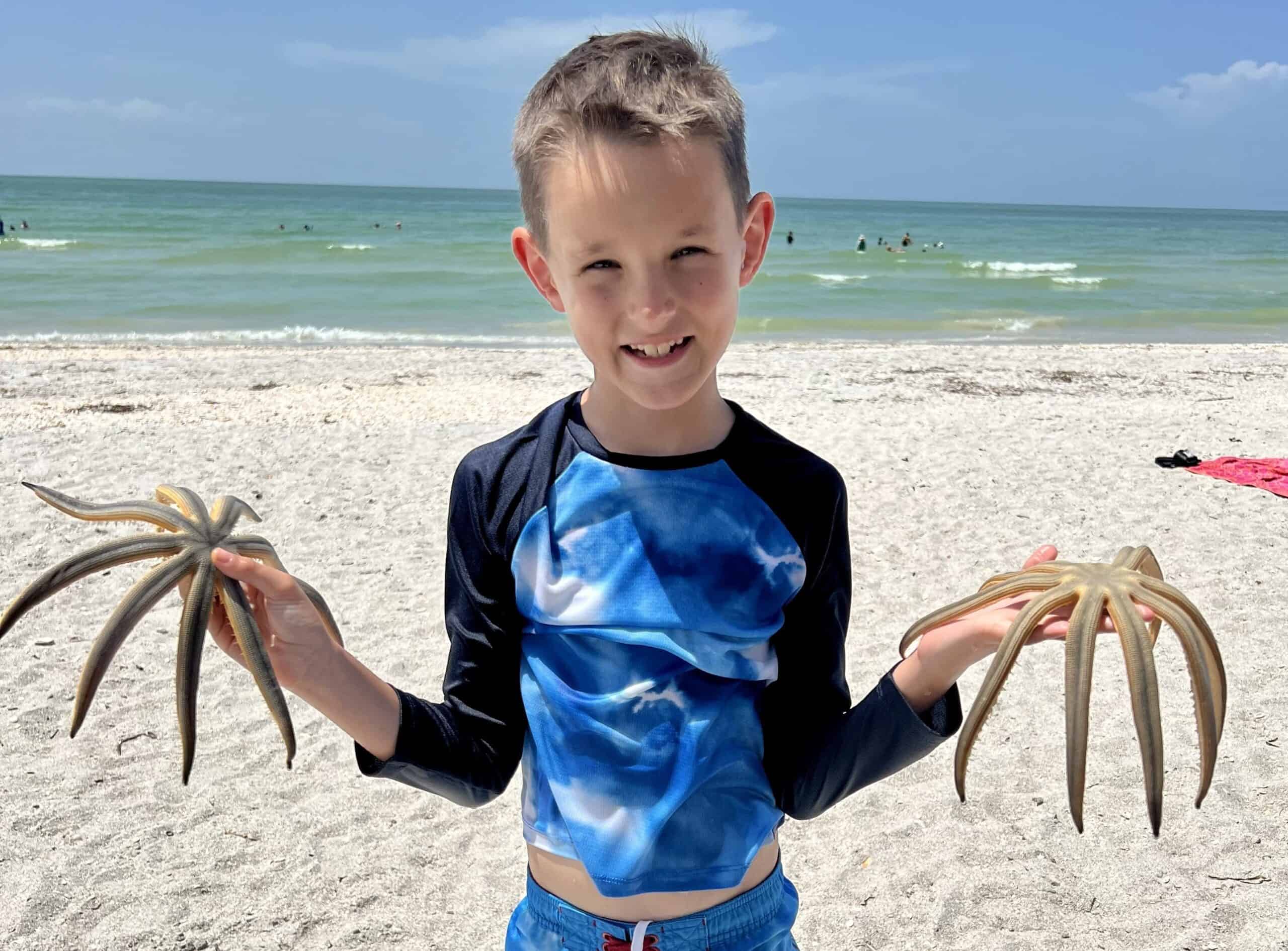 Hang Out at The Sanibel Fishing Pier and Visit the 19th Century Lighthouse
The Gulf is home to tons of tropical fish. Though you'll see people standing along the beach with their fishing poles, one of the best places to go is the Sanibel Fishing Pier. The t-dock pier is the perfect spot to cast your fishing rod while watching for dolphins, manatees, and pelicans. Right next to the pier is the Sanibel Lighthouse. Erected in 1884, it's still a working lighthouse today and is on the list of National Register of Historic Places. Before you go, make sure you purchase your saltwater fishing license. Annual licenses start at $17 and there are optional licenses for kids ages 8-15.
Post-hurricane: While the lighthouse received considerable damage, it is in the process of being repaired and visitors are welcome to visit and take pictures.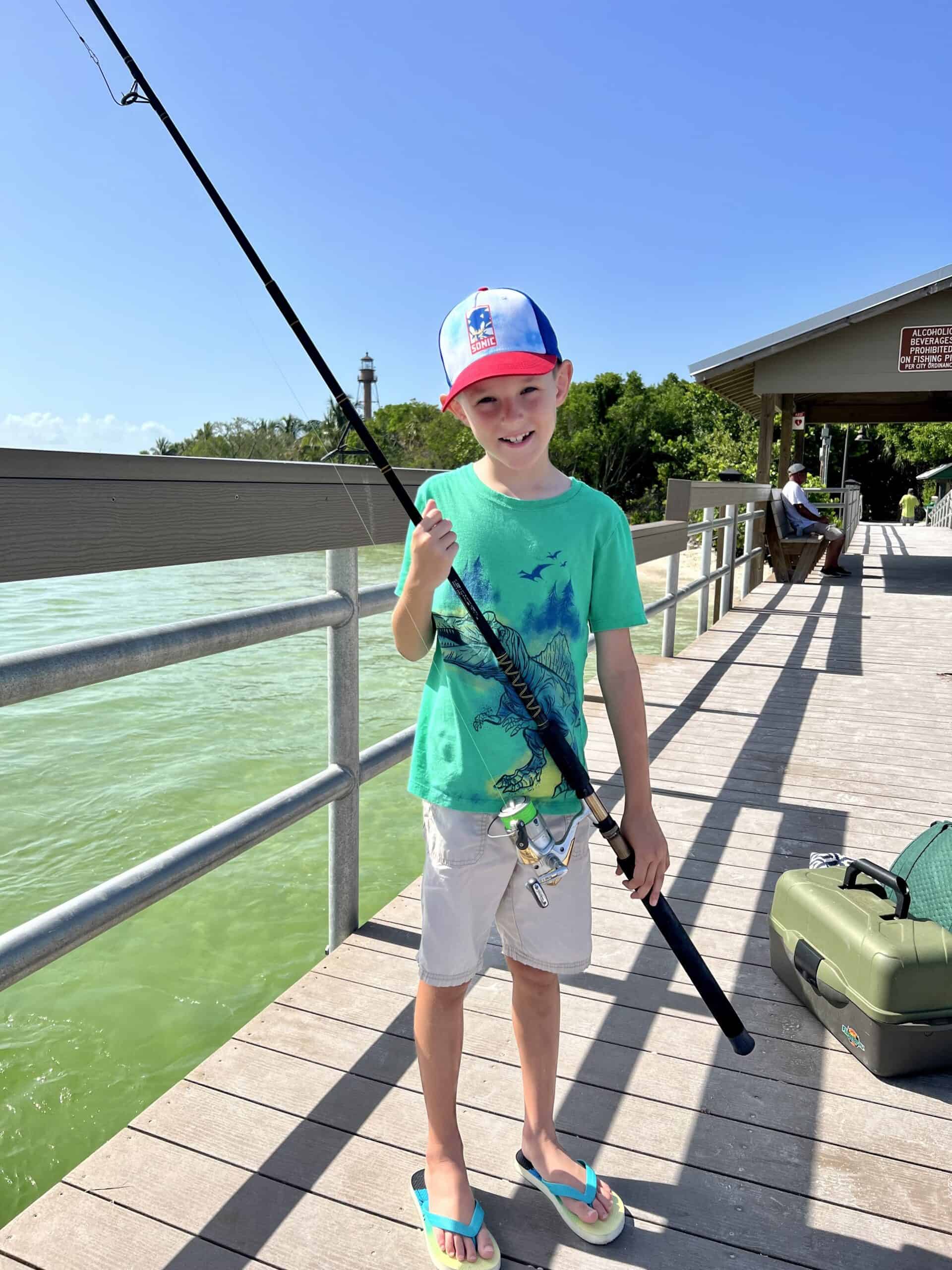 Go Kayaking or Jet Skiing
There are so many great spots to go kayaking on Sanibel! Many rental spots will even directly deliver them to you if you're staying in a beachfront spot. Estero Bay Aquatic Preserve, J.N. Ding Darling Wildlife Refuge, and Lover's Key State Park are great places to kayak with kids to see dolphins, manatees, and other marine life.
Jet Skiing is another fun option for kids who want something a little more adventurous. There are tons of watersport rental spots around Sanibel, Fort Myers, and Cape Coral. You must be 14+ to operate the jet ski with adult supervision and most places will also require a temporary boater's test.
Post-hurricane: Most rental spots are back open with limited to regular hours.
Rent a Bike or a Scooter
With Sanibel being such a small island, it's easy to get around by bike or scooter. Lots of places around the island will rent out bikes and scooters for an hourly or multi-day rate. It's a great way to explore while making some fun pit stops along the way for some local cuisine, ice cream, or to catch the sunset.
Post-hurricane: Most places are back up and running.
Explore Captiva
If you drive north, you'll cross over to Captiva, a smaller island that has Tampa ties to its name. According to legend, Captiva was a respite for pirates in the 1800s. Jose Gaspar (yes, THAT Jose Gaspar of "Gasparilla"), would supposedly hold his female prisoners captive on the island, which led to its name, "Captiva." Like Sanibel, Captiva is lined with breathtaking beaches, quaint shops, fabulous restaurants, and bright pastel-colored cottages.
Post-hurricane: While a few businesses are being rebuilt, there are many spots that have reopened. Make sure to check here to see all the places you can currently explore.
Catch a Sunset Like No Other
Captiva is one of the best spots to catch the sunset. While we have some amazing views here in Tampa, nothing beats a Captiva sunset. A great spot is at one of the island's staples – The Mucky Duck (reopened for post-hurricane business). This beachfront restaurant has a fantastic outdoor area where the kids can play in the sand while mom and dad enjoy a cocktail and watch the blend of orange and yellow hues take over the sky.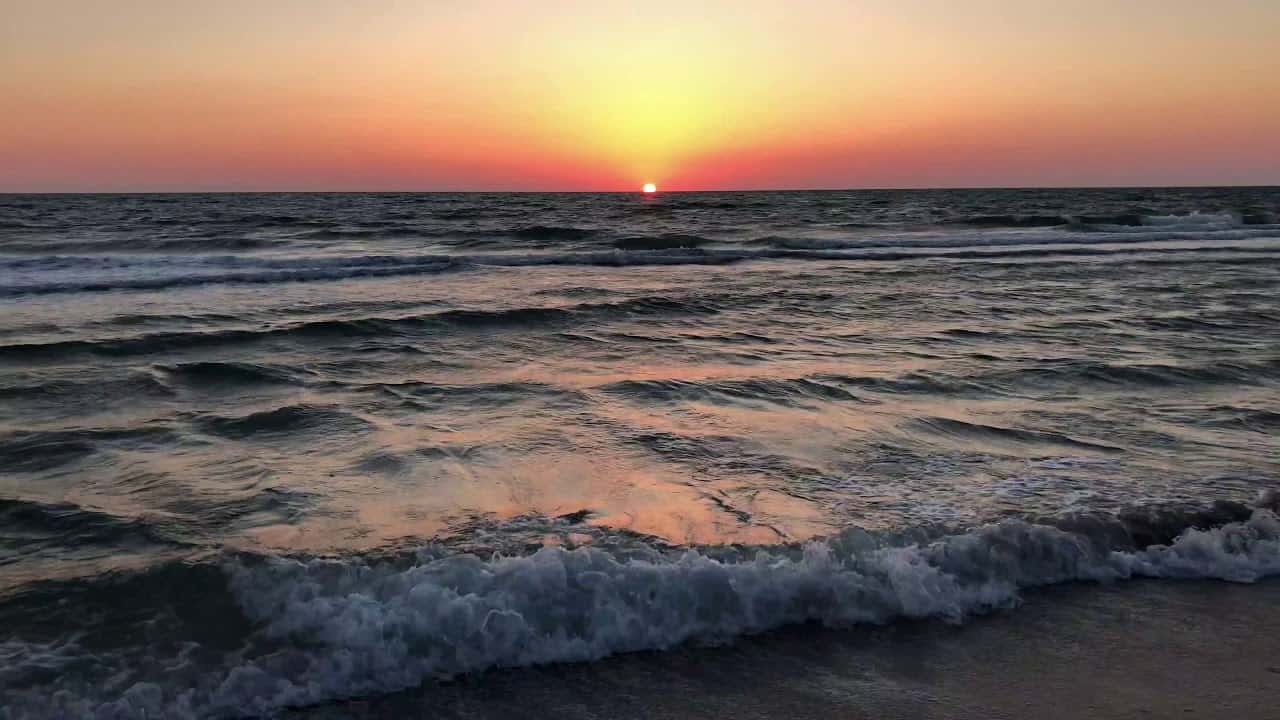 Currently closed for post-hurricane repair:
Be sure to check websites for updated re-opening info.
Post-hurricane: They are in the process of repairing the museum. An opening date will be announced soon.
This is the only accredited museum in the U.S. devoted entirely to shells and mollusks. Sanibel is known as one of the best shell-collecting spots in the world, and what better way to display all it has to offer? The museum boasts exhibits such as aquariums and touch pools, the Great Hall of Shells, and rotating exhibits such as shell art and ocean photography. Kids can take part in a scavenger hunt (complete with prizes!), listen to keeper chats, and Girl Scouts can even earn their Shelling Patch with their hour-long Shelling Patch Program.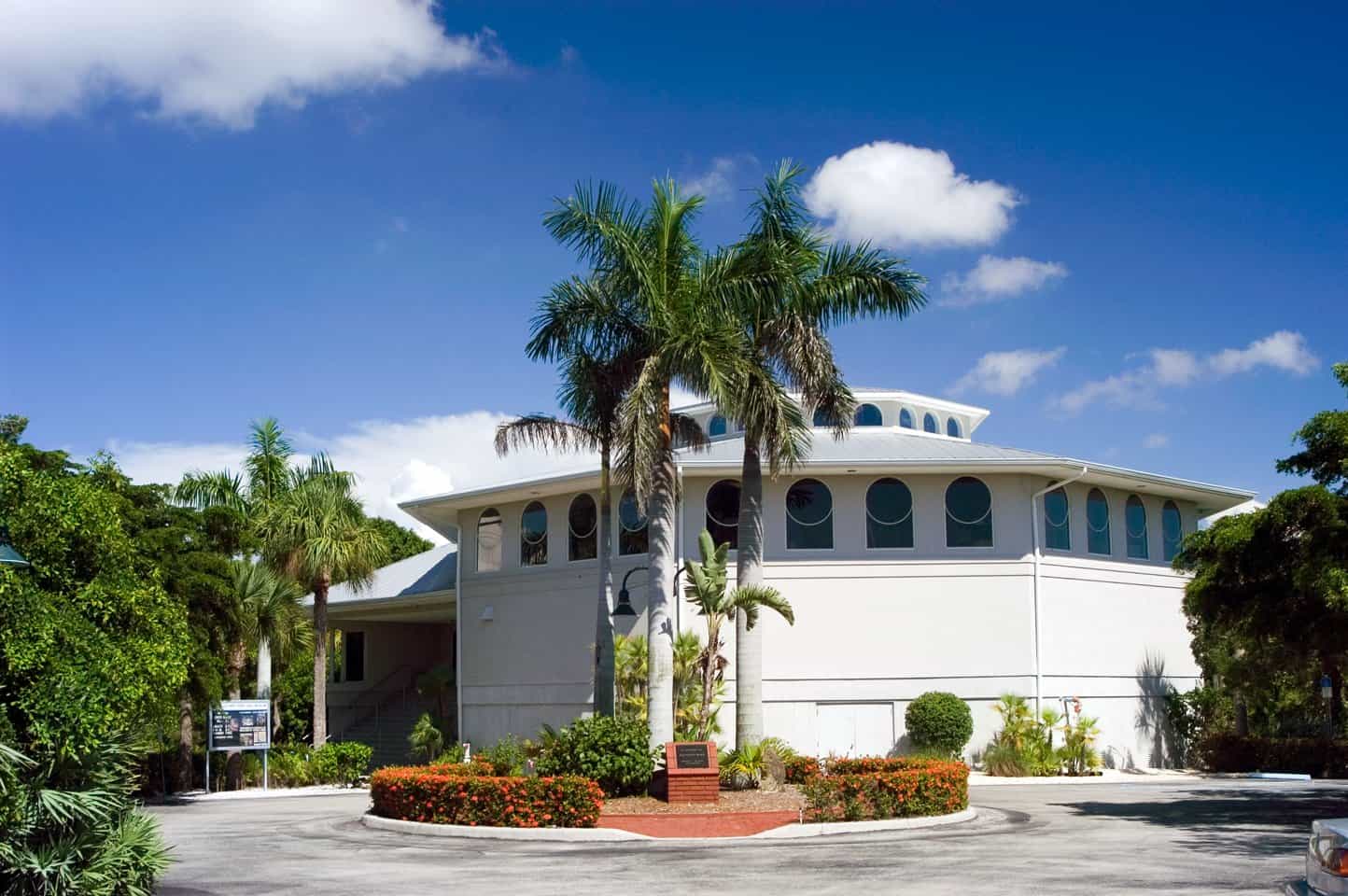 Post-hurricane: Desserts can be purchased Fridays-Sundays from 11am-2pm at the back side of the Broadway Palm Dinner Theatre in Fort Meyers. They are still in the process of repairing their restaurant. An opening date is TBD.
If you talk to someone who has visited Sanibel and Captiva, there is no doubt that they'll mention The Bubble Room. Since 1979, this multi-theme restaurant features vintage paraphernalia from the 1920s-1940s. Their catchphrase "it's always Christmas at The Bubble Room" is celebrated with year-round Christmas lights, vintage Christmas decor, and an Elf Room filled with animatronic elves. The ambiance alone is enough to mesmerize both kids and adults. When you're seated, you're greeted by your "Bubble Room Scout" and are served a basket filled with cheesy Bubble Bread and sticky buns. Their menu has something for everyone, from seafood to vegetarian options. Be sure to leave room for one of their ginormous pieces of freshly baked cakes!