Friends Forever: Pediatric Cancer Diagnoses Lead to a Special Childhood Friendship
This is the story of two friends who found each other. Four-year-old Bjorn and 5-year-old Ryan had never met. But in August of 2021, both were taken to Johns Hopkins All Children's Hospital with troubling symptoms.
Pediatric Cancer Diagnosis
Within the same week, both received the same devastating diagnosis: acute myeloid leukemia.
"The moment I was told Bjorn had leukemia was the worst day of my life," says Per, Bjorn's father. Ryan's mother, Michelle, experienced a similar reaction to the news about her son.
"We were heartbroken," Michelle says. "We didn't even know how tomorrow was going to happen."
Indeed, a cancer diagnosis changes the lives of not only young patients, but also their families.
Jennifer Mayer, M.D., specializes in pediatric hematology/oncology at Johns Hopkins All Children's Hospital. She's been treating cancer patients for decades, and she understands the toll it can take.
"We try very hard to instill our hope and our knowledge," Mayer says. "Here, we have all of the programs, all of the teams, all the subspecialties that a child will need for the treatment of their cancer."
Johns Hopkins All Children's Hospital has been ranked as the top children's hospital in Florida for 2023-24 and has the only pediatric cancer program in Florida to rank among the top 50 nationally.
But chemotherapy is not easy, especially for little ones who would rather be elsewhere. Treatment often involves cycling in and out of the hospital over the course of a year or more, with each stay lasting about 30 days.
If cancer units are typically thought to be quiet, sterile, somber places, the one at Johns Hopkins All Children's frequently breaks the mold. Here, fun and play are highly encouraged.
"Every morning, the boys would wake up and one of them would knock on the other's door," Michelle says. "They'd ask, 'Can you come out and play?'"
The boys would take over the play room, which was filled with toys and games, or they would commandeer tricycles and tear down the hall, turning the cancer floor into their own temporary speedway. Mostly, they were there for each other in hard times—on the days they didn't feel like playing.
"They could relate to each other," Michelle says. "If one was not feeling well, the other understood."
Finally, the day came when Bjorn could ring the ceremonial bell to symbolize the end of his cancer treatment.
"The staff even came in on their day off to see him ring the bell," Per says. "The doctors and nurses clearly care. They were phenomenal."
Ryan's leukemia cells required a bone marrow transplant. He powered through it like a champ.
"He's come so far," Michelle says. "I'm so grateful for everyone on the oncology team and the bone marrow transplant team."
While Ryan continues to receive therapies at Johns Hopkins All Children's, both boys remain in remission. Their shared experience has given them a special bond that continues outside of the hospital.
They are friends forever.
"I'm extremely grateful to All Children's," Per says. "They cured my son."
---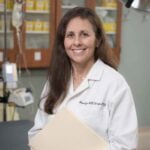 Dr. Jennifer Mayer is a pediatric hematologist-oncologist in the Johns Hopkins All Children's Cancer & Blood Disorders Institute. She specializes in the diagnosis and management of patients with acute lymphoblastic leukemia (ALL), acute myeloid leukemia (AML), chronic myeloid leukemia (CML), Hodgkin lymphoma and non-Hodgkin lymphoma. She is also the medical director of the Vascular Anomalies and Birthmarks Program at the hospital. She cares for patients with benign and aggressive vascular tumors, lymphatic and venous malformations, and overgrowth syndromes.
---
*Presented by Johns Hopkins All Children's Hospital | Originally published in September 2023 of Tampa Bay Parenting Magazine.