Inspirational Playroom Makeover Ideas You Can Do at Home with Your Kids!
*Story updated from 2021.
LANDEN AND CORBEN'S PLAYROOM
Seven-year-old Landen, who was diagnosed with T-cell acute lymphocytic leukemia (T-ALL), loves Zelda and Minecraft, games and playing with his little brother, Corben, 3.  Corben and Landen share a bedroom, so our interior design team had extra space to create a playroom full of stylish storage solutions where the boys could play, dream and house their pet, Spider-Man, a shy and fuzzy tarantula.
In 2020, our team designed a room for Finn, who was fighting a battle against Ewing's Sarcoma, and his brother, Declan, of Lutz. Tragically, Finn passed away last month after bravely fighting so hard. The foundation set up by loving family and friends, Finn's Fighters, is part of his legacy, helping raise awareness for pediatric cancer and supporting other families with children facing a medical crisis.
Savvy giving by design's mantra for creating a space with toys is "organization that looks incredible, too."
Here are playroom tips and some of the best storage secrets:
ACCESSIBILITY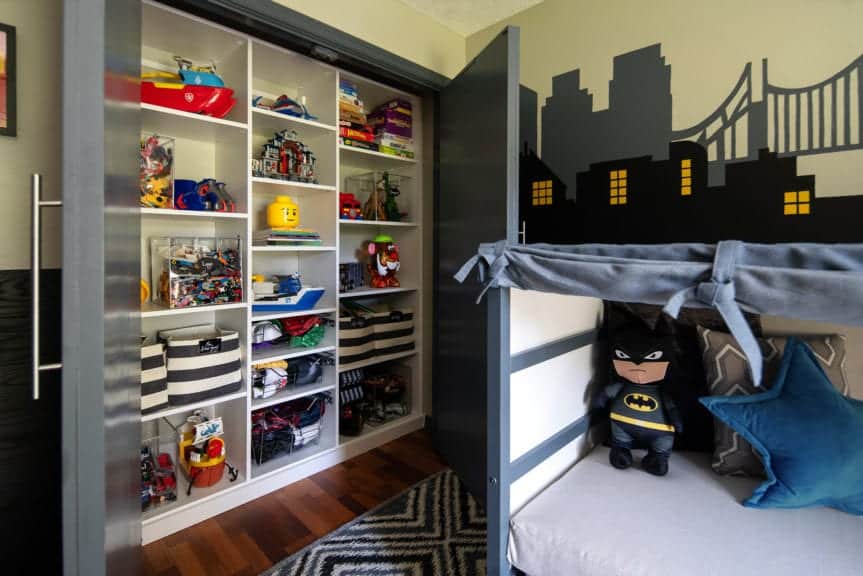 New closet shelving replaced old wire racking in Landen and Corben's playroom. Solid shelves give more stability and adjustable heights allow for an organization system that can grow and change with the boys' hobbies. Our incredible millwork team transformed some ordinary bi-fold closet doors into a barn door inspired full-closet opening that allows the boys to see all of their toys at once. Keep the most used items at their level, and store smaller pieces and messy items like crafts up high, so they need you to access them.
TOY ROTATION
"If you notice they haven't been playing with something, move it up to a higher shelf so another toy can be accessed," Laura Frasor with Neat Method Tampa recommends. "If they don't ask for the toy in months, it might be time to part with it." This method makes room for new toys. Smaller wall shelves can house storybooks that can be rotated with new books.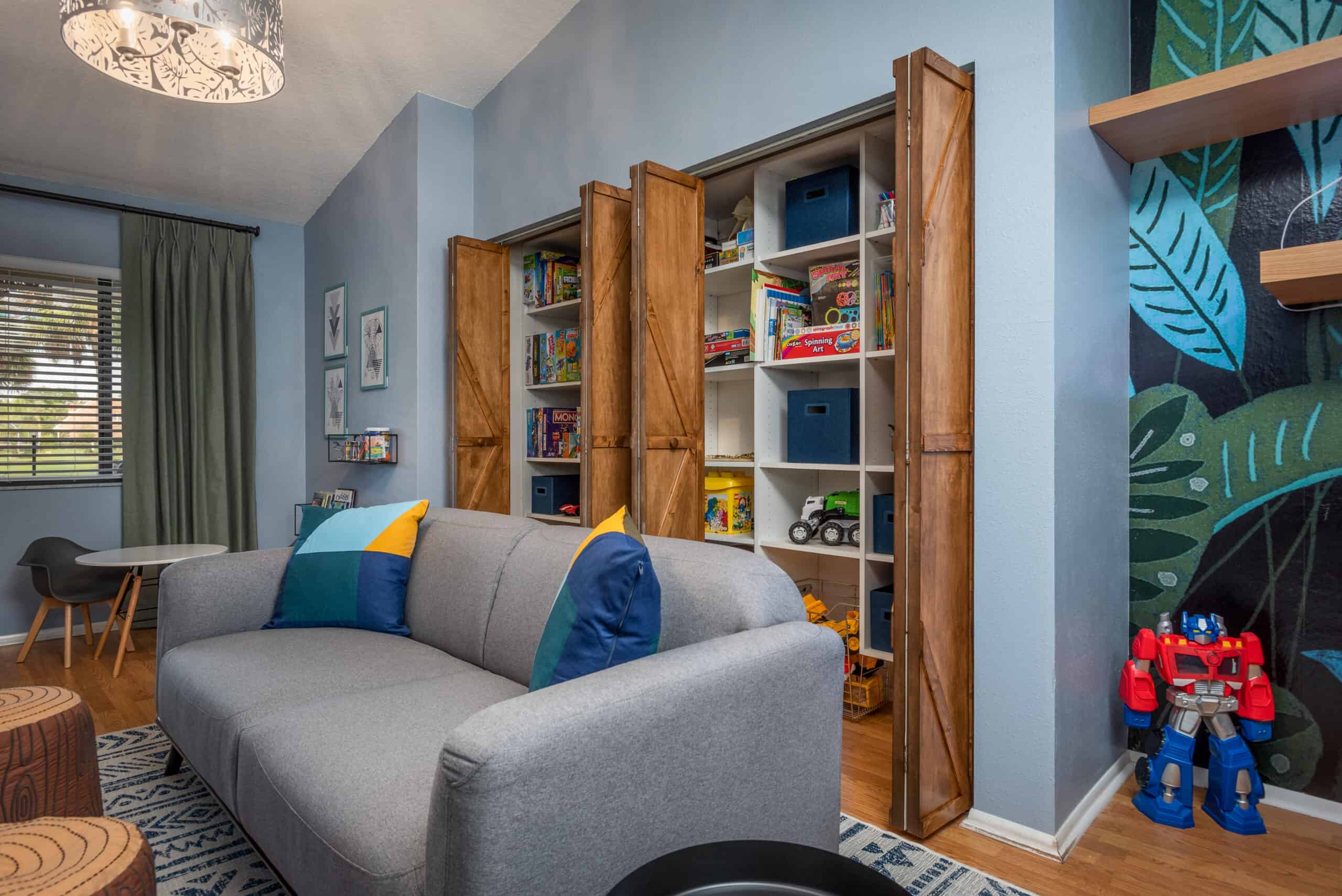 KNOW YOUR MEASUREMENTS
Most kids' toys need a variety of sizes for storage. Measure existing shelves before heading to the store and do toy inventory to gauge the sizes required. Larger colorful fabric bins are good for action figures or mid-size cars and trucks. Barbies and dolls also fit well in these fun striped storage bins from The Container Store in Finn's room. We love clear plastic buckets for toy storage so kids can see what they want to play with. Bins with multiple compartments are good for your organizer personality and for kids who love Legos and toys with small parts.
ROOM TO GROW
Frasor uses her Neat Method know-how to organize these beautiful playrooms. "We recommend to never fill your space to more than 80% capacity," she says. Just because you have space doesn't mean you have to fill it. Organized toys need space! The ability to move things around and access toys easily is key, without having to move multiple items to get to something in the back.
FEATURE TOYS AS ACCENTS
Look for larger-scale toys to fill larger shelves or cubbies. Large colorful trucks, ships or dollhouses can be accent pieces. Mr. Potato Head and Lego Heads are a great visual that also houses smaller parts.
---
DESIGN TEAM Kylie Ponton and Alexia Stalpes with Ponton Interiors and Laura Frasor with Neat Method Tampa.