Preparing for Your Child's Surgery: Top 5 Questions Answered
If or when your child needs surgery, it can be a very stressful time. However, knowing what to expect can be helpful for parents and caregivers. Raquel Gonzalez, MD, MHCM, pediatric and surgical critical care surgeon at Johns Hopkins All Children's Hospital and program director for the Surgical Critical Care Fellowship, provides several pointers that can make the experience a little bit easier.
What should I expect several days before the operation?
Before the operation, the preadmission team will call with information on your arrival and surgery time, and provide instructions on when your child should stop eating and drinking. Your child should have an empty stomach several hours before the operation to make sure that the process of falling asleep with general anesthesia is safe. Clear liquids, which are see-through liquid substances, are usually allowed about three hours before the procedure.
Are my child and I required to get tested for COVID-19 before the operation?
Many facilities do require COVID-19 testing prior to surgery. At Johns Hopkins All Children's, guardians are not required to be tested for COVID-19 before the operation; however, your child does need a COVID-19 test within three days of the operation. This will be arranged by the preadmission team and can be done at our facility, or at a facility of your preference. We typically need results within 24 hours of the operation.
What should I bring to the hospital?
Your ID and health insurance card
A sweater/comfortable clothes (it can get cold in the hospital waiting area)
A book/magazine (especially if the operation is scheduled for several hours)
Phone charger
Your child's comfort item
Water bottle for yourself
How do I explain to my child what to expect before and after surgery?
The surgeon will help explain the process to you and your child during the initial surgical clinic visit. During the preoperative assessment, the team will continue to explain the process to your child. Some facilities like Johns Hopkins All Children's also have Child Life specialists, who are specifically trained to help. Sometimes they are present in the preoperative suite, using several resources such as books and toys to help your child with understanding the process.
What should I do if I suspect any issues after surgery?
At Johns Hopkins All Children's Hospital, families receive a summary of the operative visit, which includes the surgeon's team's contact information and general reasons to call such as fever, worsening pain or swelling, unusual bruising or bleeding and concerns about the incision. Caregivers should call the number provided with any questions or concerns. If the child experiences chest pain, trouble breathing, or any other pressing issues, parents should call 911 immediately.
For more information about preparing for surgery, visit HopkinsAllChildrens.org/Surgery. You also can download our free Pocket Doc app, which features a symptom checker, parenting advice and other tools for staying in touch with us.
---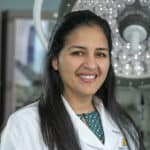 About Dr. Gonzalez: Dr. Gonzalez is a pediatric and surgical critical care surgeon at Johns Hopkins All Children's Hospital. She joined the hospital staff in 2017. Dr. Gonzalez is the Program Director for the Surgical Critical Care fellowship. She was previously the surgical critical care fellowship program director at the Detroit Medical Center and also served as a member of the American Pediatric Surgical Association Surgical Critical Care Committee. Dr. Gonzalez received her medical degree from the University of Puerto Rico School of Medicine and trained in general surgery at Saint Barnabas Medical Center in Livingston, New Jersey. Dr. Gonzalez then completed a surgical critical care fellowship at University of Michigan Health Systems & CS Mott Children's Hospital and a pediatric surgery fellowship at the Children's Hospital of Michigan. She subsequently completed a Master's in Health Care Management at Harvard T.H. Chan School of Public Health. She is fluent in Spanish.
---
*Presented by the Johns Hopkins All Children's Hospital | Originally Published in January 2022