Q&A with Kendra Scott: Style Trends, Advice for Moms, and Her Passion for Giving Back
Kendra Scott is an icon in the world of fashion. The Austin, Texas-based entrepreneur is known worldwide for her jewelry designs, from statement pieces to everyday staples.
The mom of three started creating her jewelry by hand in a spare bedroom after her first son was born. Since then, she's created a fashion empire, with free-standing stores in cities all across the country along with her pieces being sold in high-end department stores.
Jewelry isn't the only thing Kendra is passionate about, though. She's also created the Kendra Scott Foundation with the intention of empowering women and youth. Her in-store Kendra Gives Back events allow local organizations to organize select shopping hours where they receive a portion of the profits made during that time.
Kendra recently visited Tampa, giving a keynote speech at USF and visiting her Hyde Park retail store, which hosted a "Kendra Gives Back" event in support of Breast Cancer Awareness Month. We had the chance to chat with her about her new collection, her passion for giving to others, and her style tips and advice for busy moms.
---
TBPM: Tell us about your new collection with Nasreen Shahi in honor of the Breast Cancer Research Foundation.
Kendra: I'm so excited for this collection. Nas and I have been friends for a long time, and she's always supported all different women's organizations but especially breast cancer research. I sit on the board of Breast Cancer Research Foundation. I lost my best friend Holley in 2016, and so I'm really trying to be her voice. Nas was one of those influencers that really wanted to spread that message. She went through her own battle with breast cancer and we connected even more at that point.
Together, we were like 'We can do a lot of good.' She was so excited to do this collection for this month to give back for breast cancer research and just expand upon the idea that we don't want other women to have to die from this disease anymore.
It's women like Nas that are really making this possible by their dedication and commitment to finding a cure. As for the proceeds, every year we do a piece of jewelry that will give 20% back. But what's so cool this year is that Nasreen designed five pieces which are stunning.
She worked so closely with our design team and really put her personal story into it and all five pieces give 20% back to the Breast Cancer Research Foundation. It's really exciting – there's a lot of variety and so many special pieces in the collection.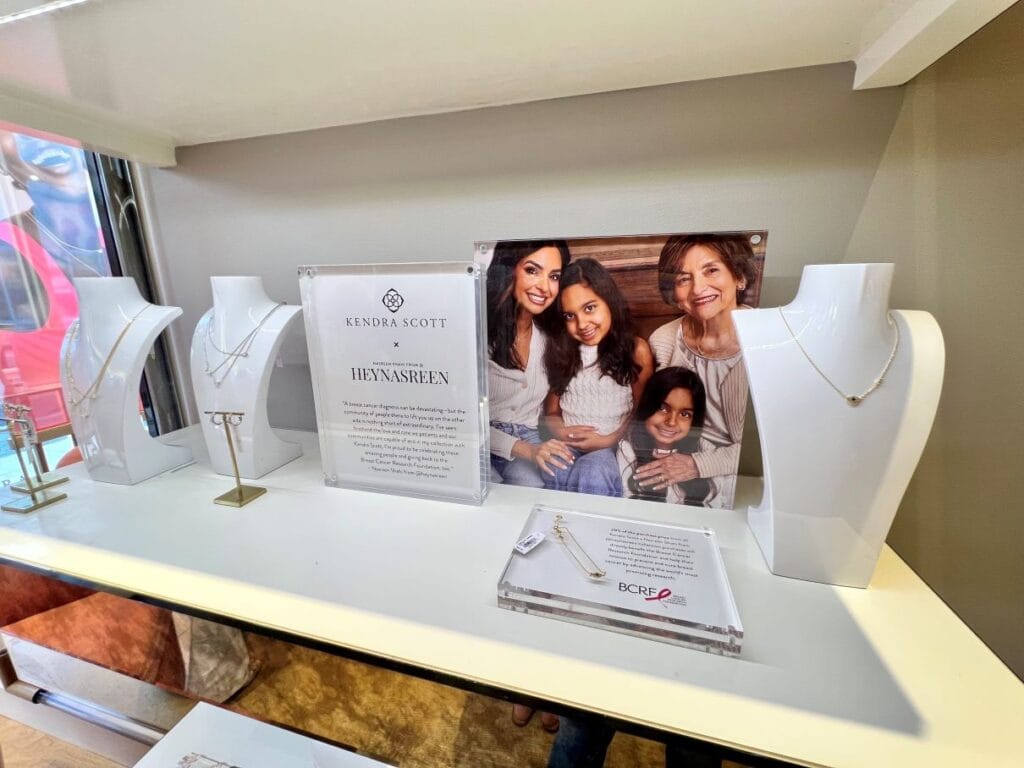 TBPM: Tell us about the Kendra Scott Foundation and why you started it.
Kendra: I started this company as a fashion-meets-philanthropy brand. My stepfather died of brain cancer, and I felt like I wanted to use the gifts we were given to make an impact.
So, twenty-one years ago I was like, 'We're always going to have something to give.' We have been really involved in engaging the community, but being able to really form it into our own foundation is so exciting.
We're focusing on women and children, charities really focusing on education, health, wellness, empowerment, and entrepreneurship. Those are the categories of focus and it's allowing us to do even more than we've ever been able to do before.
TBPM: Speaking of entrepreneurship, you started your company in a spare bedroom in your house when your son was a baby. What advice would you give to other women who are starting their own business or who are thinking of taking the leap?
Kendra: First of all, don't listen to what other people will sometimes tell you. I heard so many times 'Oh, there are so many jewelry designers out there, what's going to make you different?' People will just make you feel like you can't do it and I'm living proof that you can do it, that anything is possible.
Look for the right space in the market, be disruptive, don't do what everyone else is doing. You've got to put your own fingertip on it. Listen to your customers and do something you love because entrepreneurship is hard. You have to have a passion for what you're doing because at the end of the day, that's the only thing that will get you through all of the hard times and there are a lot of them when you're an entrepreneur for sure, but you can do it.
I'm a mother and I was a single mom in the early days of my business. I created a village of women around me that lift each other up and support each other. And when we hold hands as women, we are unstoppable.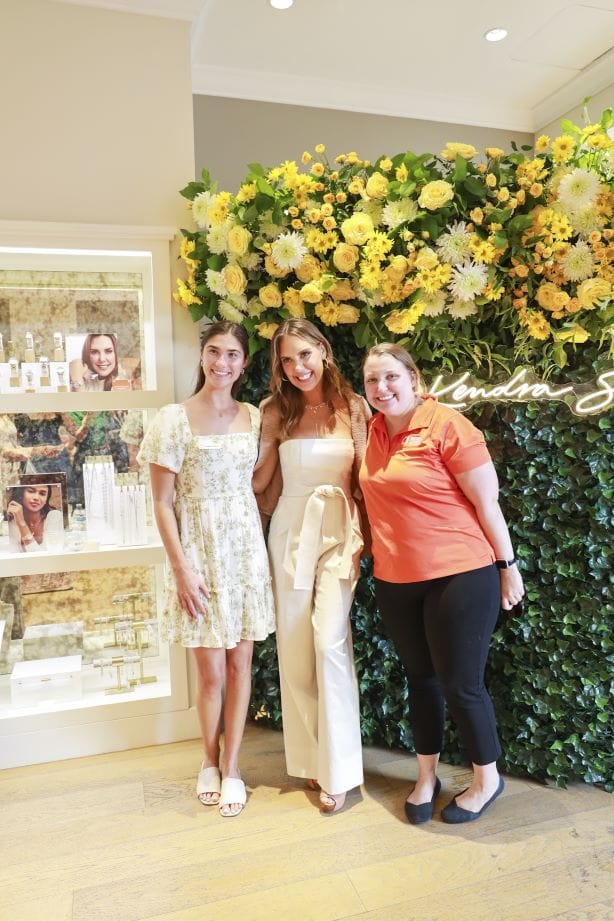 TBPM: Tell us about the new fall trends and what we can expect to see.
Kendra: I'm so excited about where jewelry is right now. As you know, I've been at this for twenty-one, twenty-two years. I've always loved color, I've always loved statements and both of those things are back with a force and I'm so thrilled.
Big statement earrings, layering – you can layer and make a statement with even delicate layers. But also, big statement pieces are great and jewel tones are never out of style. It's what the royals wore. You can wear that all year but especially this holiday season, the gorgeous burgundies, the emerald greens, the deep teals. All gorgeous and all represented in our collection. I'm just in love with where we're at right now with jewelry.
TBPM: Finally, what kind of advice can you give to busy moms on the go who may want to add a touch of glam to their everyday style whether they're going to the playground or going to a meeting?
Kendra: That's me! I can tell you exactly what I do. I can be in jeans and a t-shirt, but I'll put on a great pair of earrings, and I feel put together right away. I feel like, 'OK, I can do this. I can walk into a parent-teacher meeting, or I can go to the soccer field.' Sometimes your accessories can make a difference.
Sometimes I leave a statement pair of earrings in my glove compartment so if I'm going from one thing to another, I literally switch them out and it's that simple.
And also, moms – you look fabulous no matter what. If you've got spit up on you, if you've got butter running down your pant leg, we all understand it. We all love it. And I think being vulnerable and loving each other when you see your mom friends out there, make sure you compliment them. Make sure you tell them that they look beautiful today because I promise you, they need to hear that, and it will make their day so happy.
You can shop for Kendra's limited-time collection with Nasreen Shahi and learn more about the Kendra Scott Foundation here.
20% of the purchase price from the entire Kendra Scott x Nasreen Shahi from @heynasreen collection will go to the Breast Cancer Research Foundation.
---
Featured image credit: Carly Snook