A Parent's Guide to the New TRON Lightcycle/Run NOW OPEN at Magic Kingdom!
The wait is over for Disney's long-awaited ride, TRON Lightcycle / Run presented by Enterprise! This futuristic attraction is the fastest coaster at Walt Disney World and is now officially open to the public. Besides being super-fast it is a multi-sensory experience. So, what will your kids think of it? And what do parents need to know about Disney's new TRON coaster? Our guide, from a parent's perspective, covers everything families need to know. 
Before the ride officially opened to the public, we were able to get a first look! Keep reading for all you need to know about this thrilling new ride before you launch into The Grid including what to expect, how to reserve a spot, and if it's OK for kids.
A quick overview to know before you go:
TRON Lightcycle / Run uses a virtual queue
Individual Lightning Lane passes will be available
A regular standby line will NOT be available upon initial opening weeks or months
Minimum height requirement is 48″
This is a thill ride and is the FASTEST ride at Magic Kingdom (and fastest coaster at Walt Disney World)
It's based on the 2010 movie TRON: Legacy, the sequel to 1982's TRON which both take place in a digital world known as The Grid. While watching the movies beforehand can give you a better idea of what you're about to experience, it certainly is not necessary. Those who love high-action thrills, energy, and speed are definitely in for a treat.
Parenting Pro-tip: Much of the queue is in direct sunlight. Apply sunscreen and have water with you. There is a convenient water bottle refill station near the restrooms that are part of the plaza at the ride's entrance and queue.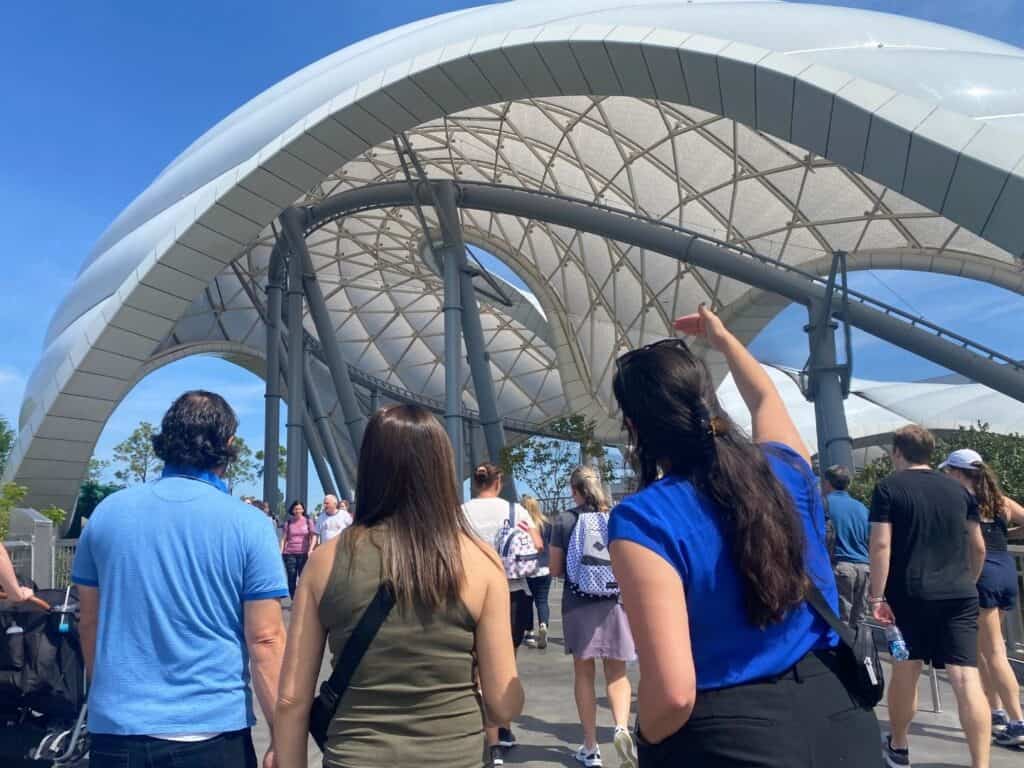 How can you reserve your spot?
First things first – how can you claim a coveted spot on one of the Lightcycles? With newly anticipated rides you should also anticipate longer than usual wait times. A standby line is not available during the initial months of TRON Lightcycle Run's opening. So, guests have two options – virtual queue or Lightning Lane.
Guests can request to join the virtual queue using the My Disney Experience app. Each guest can request to enter the virtual queue no more than once per day during regular park hours. Boarding groups for the virtual queue are limited and subject to availability and not all groups may be called to return, based on the availability of the experience.
What to know before joining the virtual queue:
Download and set up your My Disney Experience app before your trip.
Make sure those who are riding with you are listed on your Family & Friends list under "My profile."
Tickets and Magic Kingdom Park Pass Reservations are required before you can enter the virtual queue.
The morning booking window is 7am (guests do not need to be in the theme park to join but must have a park reservation for Magic Kingdom).
The afternoon booking window is at 1pm (guests must be in the Magic Kingdom to join).
Individual Lightning Lane entry passes are also available for purchase but are limited in availability, subject to change or closure, and are not guaranteed.
Extended Evening Theme Park Hours – Select Nights Starting April 5, 2023
An additional opportunity to request to join the virtual queue will be available at 6:00 PM on select dates during extended evening theme park hours––a benefit for registered Guests staying at a Disney Deluxe Resort, Disney Deluxe Villa Resort or other select hotels. Guests with this benefit do not need to be in Magic Kingdom park to request to join at that time.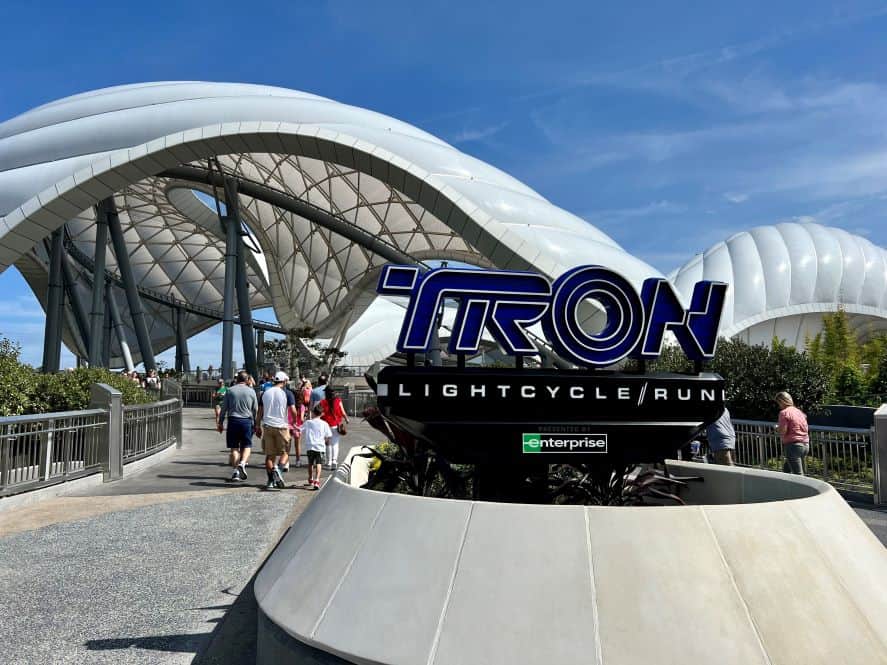 What is TRON Lightcycle/Run?
TRON Lightcycle/Run presented by Enterprise is located in Tomorrowland under a giant white canopy. This high-speed rollercoaster launches you 59 miles per hour upon takeoff and on a thrilling race throughout a futuristic digital world called The Grid.
We spoke with Diego Parris of Walt Disney Imagineering during our preview. Diego explains, "it's right next to Space Mountain which was the first computer-controlled roller coaster in the world, and now that takes us into the next era. Having TRON Lightcyle/Run right next to Space Mountain is special and a great transition for our guests."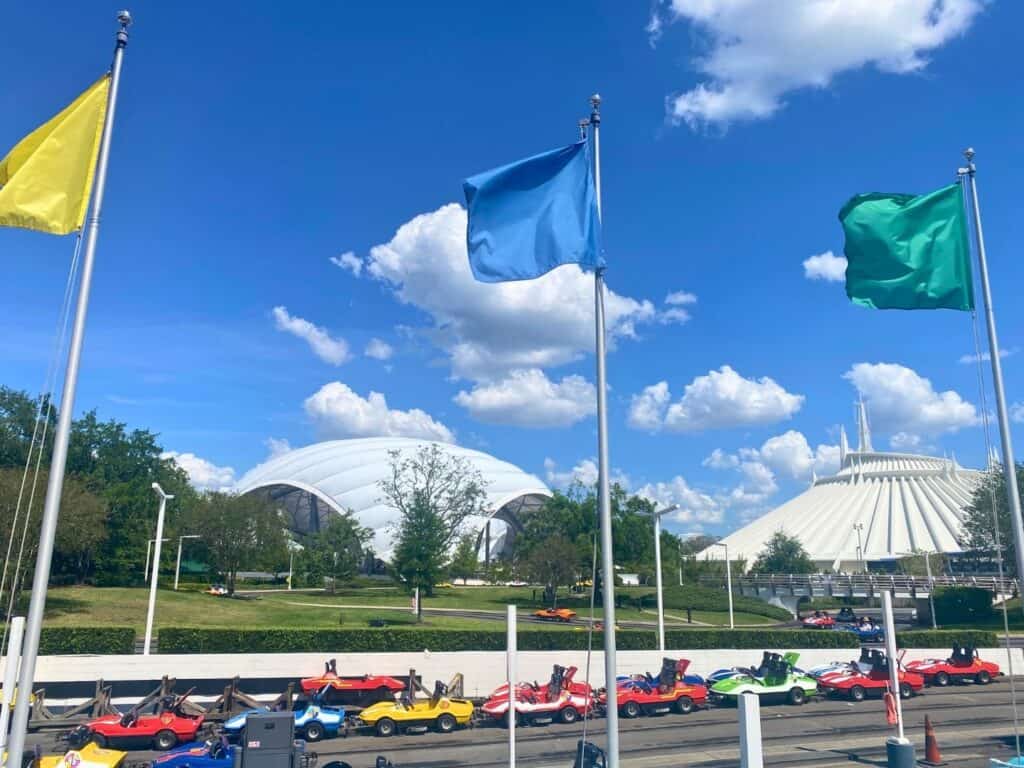 The premise of the ride is simple: riders play a racing game on Team Blue while passing through a series of energy gates and "take out" your opponents. One of the most unique features of the ride is that it takes riders both inside and outside.
Fun fact: The original TRON ride – TRON Lightcycle Power Run – opened in 2016 in Shanghai Disney.
What is the experience like?
Much of the queue is outside, however, once inside the building you're in for some awesome immersion. The lighting and effects inside are so cool.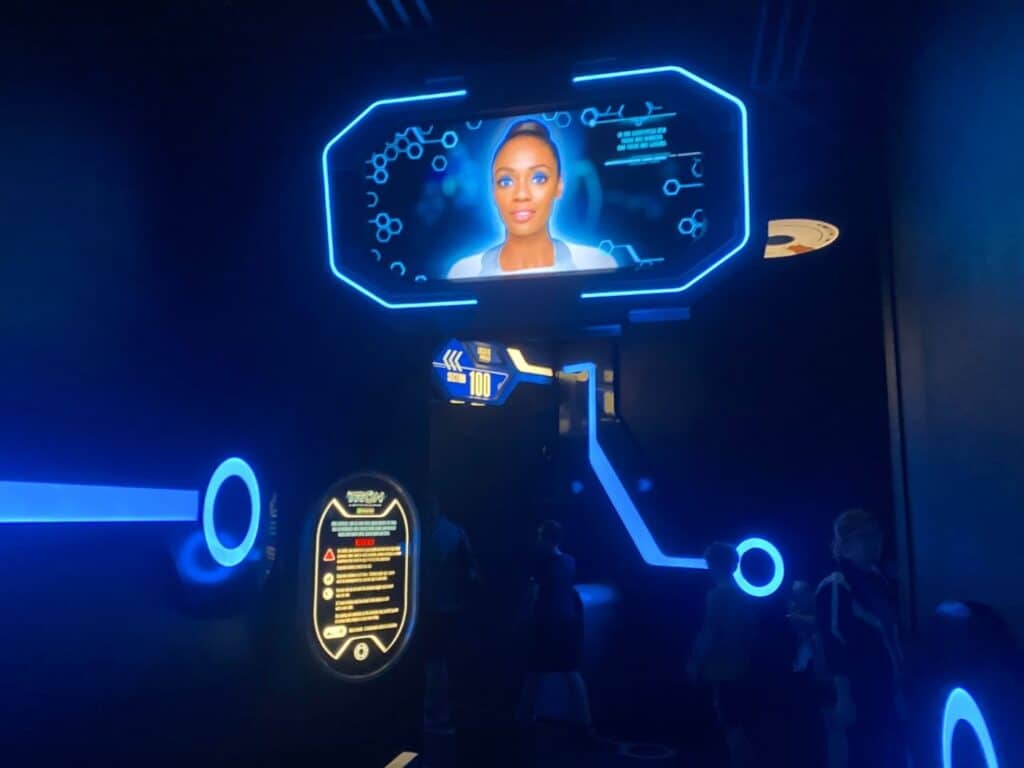 While waiting in line, you're taken by groups into a small room with a digital screen that spans the entire wall. This is where you're "transitioned" from the real world to the digital world. A brief video explains what's about to happen before you get a glimpse of riders about takeoff through the neon-filled world of The Grid. This was definitely an awe-inspiring moment and got me even more excited to ride.
Once you're ready to board, you'll get secured into your Lightcycle. Unlike other rides, you'll be sitting in a straddle position versus a seated position (similar to Animal Kingdom's Flight of Passage). Once you're positioned, you have to pull the handlebars firmly toward you until you are comfortably secured while a backplate is pulled down against your back for extra stability.
Prior to entering the ride, there are two Lightcycles stationed outside for guests to sit on and try out. I highly recommend doing this before getting on the ride. Not only will it allow you to figure out how to position yourself properly, but it will also allow kids to get a feel of how they should lock their bikes into place.
There are two sets of handlebars so guests can use whichever set is more comfortable for them.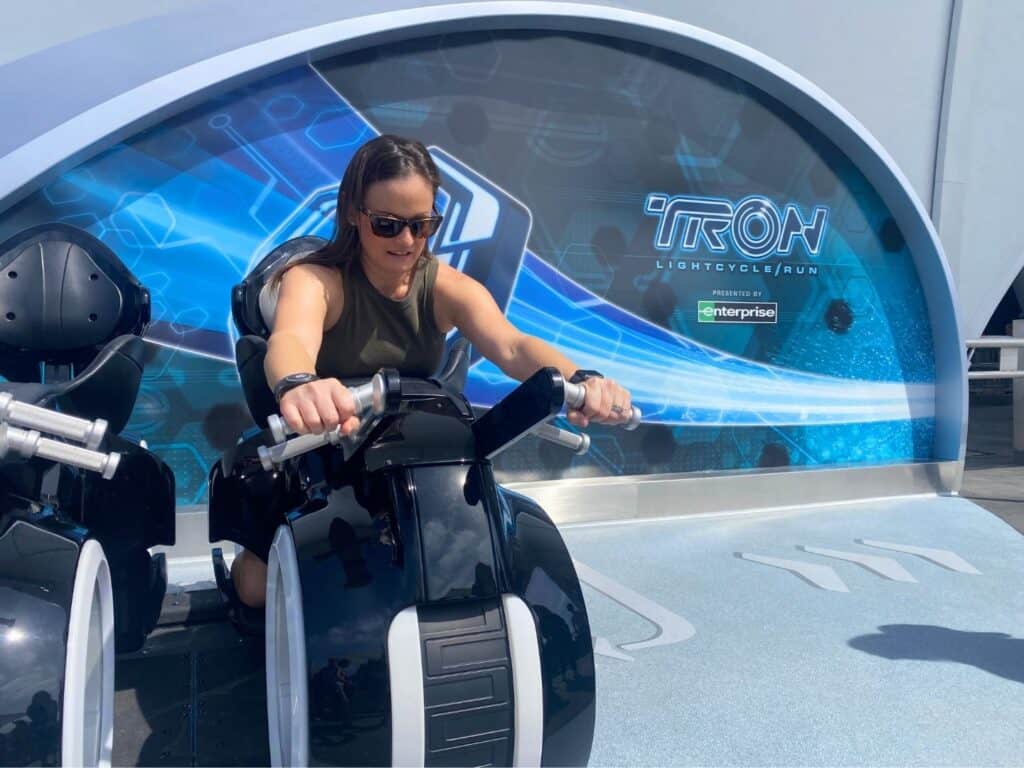 For guests who are not comfortable riding on, or who are unable to ride on the Lightcycles, there are alternate seats called Lightrovers where you are in a seated, upright position with a bar pulled down on your lap. The Lightrovers are available on several of the cars in the last row. Just be sure to let the cast members know prior to being assigned a row.
Intensity and Speed
Once you're securely locked in, you'll glide through a tunnel with brightly colored neon lights flashing as you're launched at 59 miles per hour! Over the course of the ride, you're taken up and down through dark tunnels, past pulsating lights, and outside speeding under the canopy. Though this coaster does not go upside down, there are plenty of twists and drops and you are turned sideways a few times.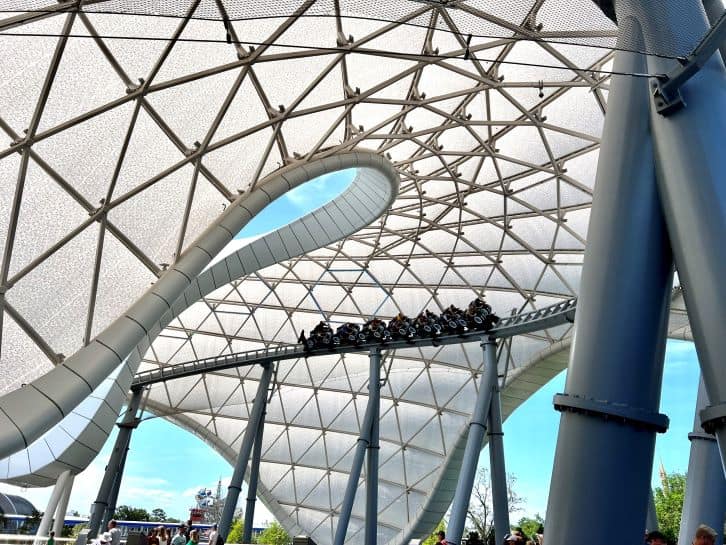 Each section of Lightcycles features seven rows. I had the opportunity to ride in both the first and seventh rows. While the first row delivers a bit more of a "wow" factor, there was just as much exhilaration sitting in the seventh row. You certainly can't go wrong no matter where you sit. Though I did not have the chance to ride in one of the Lightrovers, I was told by a cast member that they are equally as thrilling, so you won't miss out on any of the excitement if you choose to ride that way.
Is the ride OK for kids?
The minimum height requirement for TRON is 48 inches – the highest of any ride at Magic Kingdom. Before you board, cast members are required to measure anyone who looks like they may not meet the minimum height. Though it is secure, remember this is still a thrill ride and the height requirement should be taken seriously for safety and security. That being said, I personally felt very secure on the ride and feel comfortable bringing my 8-year-old back to experience it as well.
There are a few things to keep in mind before deciding if it's right for your child.
The ride is FAST. Much faster than other Disney rides.
It gets dark in certain spots, and you do drop down a few times without seeing where you are going. Riding Space Mountain is a great way to get them comfortable with riding a thrill ride in a darker, enclosed area.
Though it does not go upside down, you'll still be turned on your side a few times and there are a few big drops.
The feel of this ride is different than other rides, and doing a test-run to position yourselves on the Lightcycles before you enter will give them an idea of how comfortable they feel riding that way.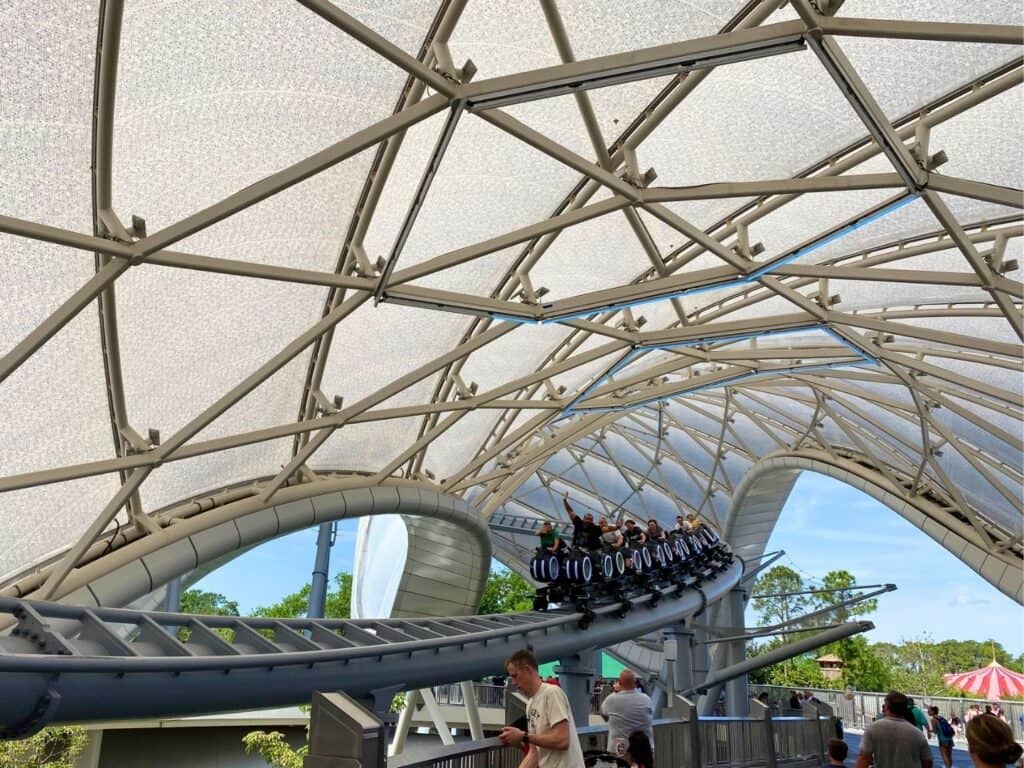 We spoke with Missy Renard, Creative Director at Walt Disney Imagineering during our preview. "I've taken my 12-year-old on it, she absolutely loves it. People from all age groups love it. We recently had a 74-year-old guest ride it, so it spans all age groups – as long as the height requirement is met" explained Missy. 
Rider Swap and Other Info
TRON Lightcycle/Run offers a convenient Ride Swap location. In a nutshell, if two adults in a party both want to ride but there is a child in the group who is not able to ride then Rider Swap enables the person waiting with the nonrider to board the ride quicker once the original party has finished their experience.
"We do have seating areas at the attraction's post show experience for families with younger guests and others who are not riding the attraction. There's shade and seating for those families so they can stay in the TRON area if they wish," shared Missy Renard, Creative Director at Walt Disney Imagineering.
Parents may also notice the walkway to Storybook Circus right next to TRON Lightcyle/Run. You can easily take your kids over to this part of the park, just a five-minute walk from this new thrill ride. And since the complimentary locker system allows riders to bring their loose articles with them until just moments before boarding the ride, it will be easy for families to stay in touch.
What if you decide you don't want to ride?
One of the great things about TRON is that it gives you several options to preview the takeoff and watch others riding the ride before you do. If you get to the front of the line and decide it's not for you after all, just let a cast member know and you can exit to the side.
For those who are prone to motion sickness, keep in mind that there are lots of big drops and turns, as well as an immediate jolt of speed.
Are you allowed to take your belongings on the ride?
Bags of any kind are not permitted, and guests are asked to put away loose articles before getting on the ride. One of the perks of this ride is that there are complimentary lockers available for you to stash your belongings before you get on (because you don't want those Minnie ears to go flying off and get lost in The Grid).
Located inside about halfway through the line, all you need to do is hold your Magic Band or ticket up to unlock any locker that has the number lit up. You'll be able to safely stow all your personal items and retrieve them after you get off the ride (just don't forget your locker number!).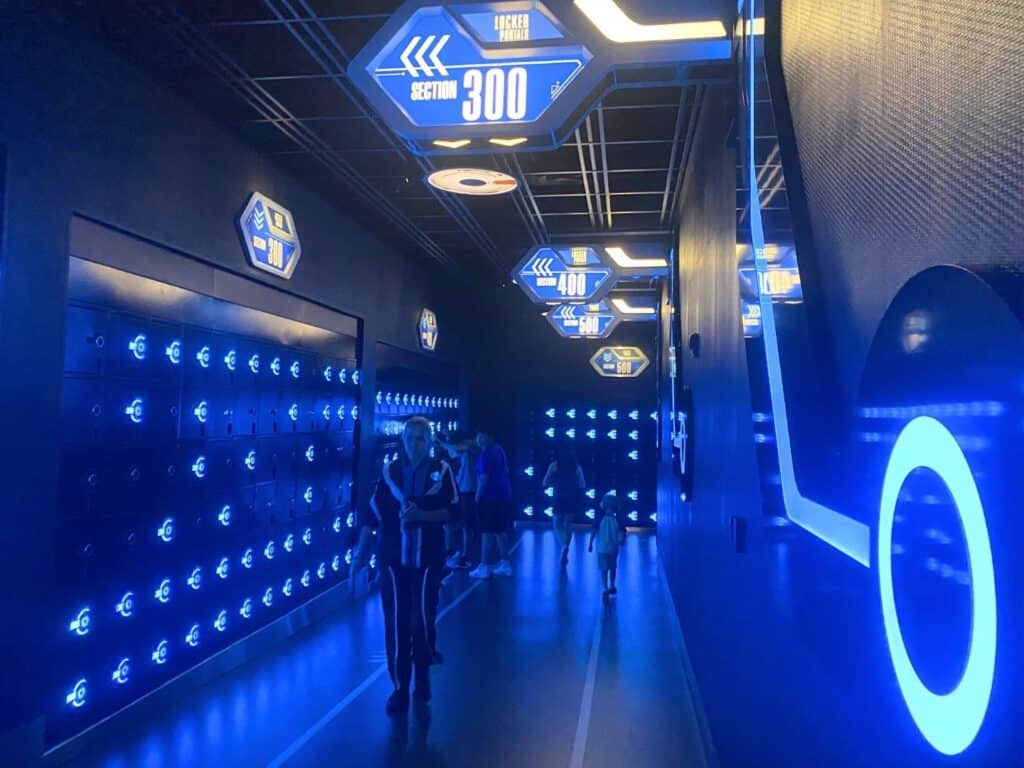 For smaller items, there are small compartments on the front of the Lightcycle to securely place them in. Cell phones are allowed on board as long as they can securely fit inside the small compartments on the Lightcycle. Please use your discretion and judgment.
Are there Photo Pass opportunities on the ride?
Yes! If you have a Magic Band on, check your My Disney Experience app once you're off the ride. Not only will you get a picture taken as you blast off at lightning speed, but there is also a video option! A 17-second video with a brief intro will showcase the TRON Lightcycle/Run logo as it fades into a video of you taking off at the beginning of the ride.
Both the picture and video are available for purchase and download.
Will there be TRON themed food and merchandise?
After racing through The Grid, guests can enjoy specialty snacks at the new Energy Bytes kiosk, located at the entrance to the ride. The new spot is serving up eats like the Chocolate Cake Donut Holes with mocha sauce, Digital Dumplings with Buffalo Chicken (chicken dumplings with blue cheese powder and cayenne pepper broth) or Beef & Broccoli, and Strawberry IceOform made with strawberry ice cream mochi and cheesecake foam.
There's also a Watermelon Refresher made with yuzu and ginger to cool you off after a long, toasty day. This refreshing drink is so popular it has sold out a few times during preview days.
TRON fans can also get their hands on some unique merchandise that combines the retro look of the 80s with a modern-day twist. Specialty merchandise includes everything from vintage-style 1982 Lightcycle toys to futuristic light-up jacket! There are also TRON-themed backpacks, apparel, keychains, and household items to snag as well. If you really want to be decked out before you go, check out the TRON store on shop Disney.
Looking for more exciting things to check out on your next Disney trip? Find out Where to Meet Mickey and His Friends at Walt Disney World.