Celebrity Chef Richard Hales' Hometown Restaurant is a Family Affair
It's Friday night and Hales Blackbrick is packed. We spot the chef at work in the kitchen and his wife making the rounds chatting with diners at each table. The walls are adorned with family photos interspersed with eclectic art. The vibe is hip and upscale, yet warm and comfortable.
"We're truly inviting you into our home," chef and owner Richard Hales explains later when we chat with him and his wife, Jenny. He recounts his gastronomic journey, which began when he left his hometown of Tampa in 1997 to attend culinary school in New York City. He mingled with the the country's finest chefs, including his mentor, famed restauranteur Jean-Georges, at whose suggestion Hales decided to embark on a backpacking adventure throughout Asia. His travels to Thailand, Malaysia, Singapore, Indonesia, Bali and Hong Kong exposed him to the techniques and flavors that still inform his cooking.
"My goal has always been to learn as much as I can outside the state of Florida, and Tampa in particular, and bring it back in," he says.
After launching two highly acclaimed restaurants in Miami, the chef's journey came full circle as Richard and Jenny moved to Tampa to open their flagship restaurant and to raise their daughters (Lily, 13, and Violet, 11) in the same city from which their father "hales."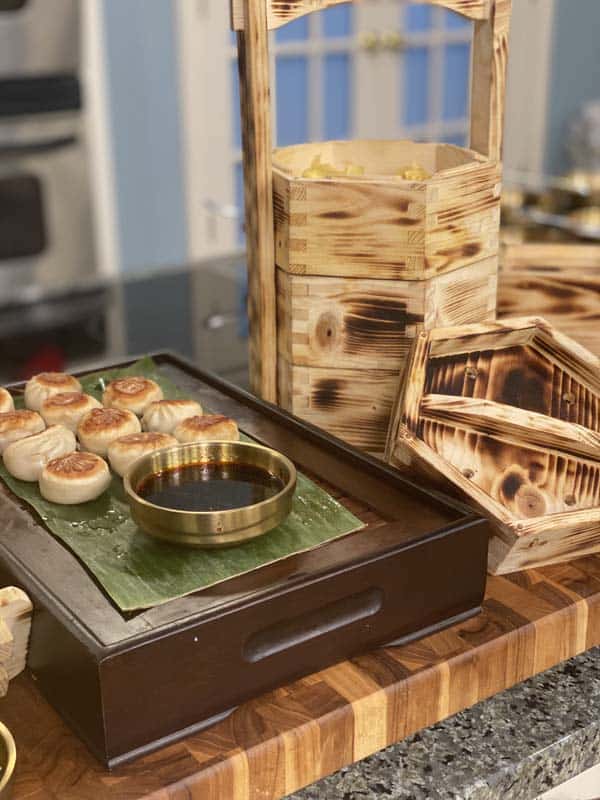 TBPM: What does it mean to you to open a restaurant in your hometown?
Richard: It means a lot, and I'm really sincere when I say that I didn't think about the impact that it would have on me emotionally since I grew up in Tampa. When I first moved to New York, one of my sous chefs used to use it as an insult to me—'Hey, Tampa boy.' But I just feel so much pride now that I'm opening a restaurant and making sort of a seismic change in the dining scene here.
TBPM: Outside, there's a neon sign with both your names and your daughters' names. You have murals with your faces and family photos everywhere. This really is a family affair, isn't it?
Jenny: We filter everything first through each other, and then of course, bring in our girls, which is our tight circle. We involve them every step of the way. Now that they're older, they've been able to be a big part of this restaurant with respect to what they can do.
TBPM: You mentioned that they even decorated the boxes where you serve the dumplings?
Jenny: Yes! Richard ordered the boxes from China and they were all plain wood. We asked the girls, 'Hey, would you guys like to torch these [to add dark accents]?' And they both helped, but Lily, our oldest, really went to town. She spent hours and hours just torching each little box. It was so fun and so cute to watch. On four or five of the hundreds that she did, she did her initials, L.H.
TBPM: What's it like to watch your daughters grow up where you did, Richard?
Richard: Our first year here especially, we could never pass a Burger King or an intersection without me telling them a story about it from when I was 14. There's a lot of pride. I say this a lot: I never thought Tampa had anything to offer for me, but I was naïve to think one day I wouldn't be 50 and have two little girls. Tampa is everything to me. I don't think I've ever felt like I was at home in New York or Thailand or Hong Kong or Miami like I do here. I want to establish something here. That's why I put Hales in the name in front of Blackbrick. We're trying to build a legacy, something for the future for our girls, something my parents can be proud of. It truly is a family business.
---
Photos provided by the Hales family | Originally published in March 2023 of Tampa Bay Parenting Magazine.