9 Scenic Road Trips to Experience The Beautiful Colors of Fall
Florida has some amazing sights to see, but the bold colors of fall are not one of them. Although we don't get to experience the changing of the season here, there are plenty of places where you can go that are not too far away.
Georgia, Tennessee, and North Carolina are just a few places that are easily accessible by car or a short plane ride. Many of these spots are also perfect for camping or travelling by RV.
If setting up a tent is not your thing, sites like RVshare give those who want to experience the great outdoors the option of renting a camper. However you prefer to travel, here are some scenic spots for families who want to hit the road this fall.

And to help you plan the best dates for your road trip to see the fall leaves, check out this Fall Foliage Map for the Smokey Mountains and the rest of the country!
Oh-and don't forget to check out our Ultimate Guide to Pumpkin Patches, Fall Festivals and Halloween Events in Tampa Bay for fall fun closer to home.
---
Experience Fall Leaves in Georgia
Distance: 460 miles north
Stone Mountain Park is located just outside Atlanta. The actual mountain itself is made up of quartz monzonite. The park has over 3,200 acres of natural beauty to explore and offers a variety of activities. There are campsites, RV spots, and an on-site hotel for guests to stay at. Events such as the Summit Sky Ride, Dinosaur Explore, historic village, and miniature golf are available to do year-round. In the fall and winter, guests can enjoy the beauty of fall at the Pumpkin Festival and Snow Mountain.
Distance: 535 miles north
Tallulah Gorge is a 2-mile long, 1,000-feet deep canyon surrounded by the park. Certain overlooks, including a suspension bridge, provide spectacular views of the fall foliage. This Victorian Resort town's main attractions are its six waterfalls, which create a stunning backdrop against the colorful leaves.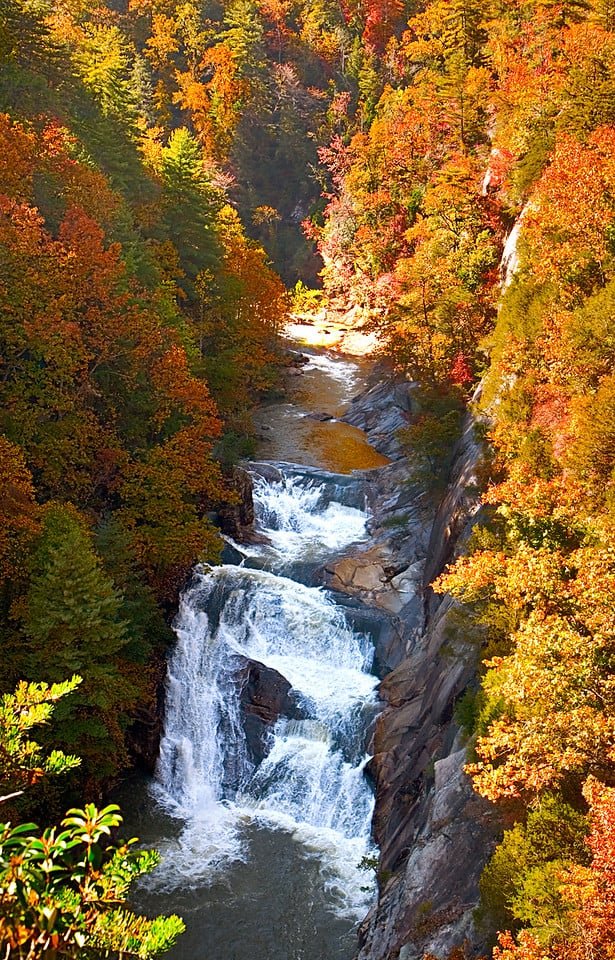 Distance: 540 miles north
Just outside of Blue Ridge sits the small town of Alpine Helen. This German-themed town is known for it's Bavarian Village. It not only provides a glimpse of Germany, but also promises some stunning views. Visitors can check out the scenery while taking a ride down the Chattahoochee River, ziplining across a mountain, or from above in a hot air balloon. Unicoi State Park is the ultimate spot for surrounding yourself with the beauty of fall. Oktoberfest, Helen's biggest celebration, takes place throughout the month of October.
Distance: 550 miles north
The mountains of North Georgia are an ideal location for experiencing some breathtaking views. Blankets of red, orange, and yellow leaves cover the mountains along the Toccoa River. Amicalola Falls State Park offers some incredible fall scenery and boasts a 729-foot waterfall. The Blue Ridge Parkway spans the southern and central Appalachians and makes for an extremely scenic drive through Georgia, North Carolina, and Virginia.
Experience the Fall Leaves in Tennessee
Distance: 615 miles north
Straddled between the North Carolina and Tennessee border, Great Smoky Mountains National Park is the most visited national park in the United States. The Appalachian Trail passes through the center of the park, creating the perfect opportunity for hikers wanting to surround themselves with the colors of fall. For those who prefer scenic drives over hikes, taking a drive up Clingmans Dome Road, the Blue Ridge Parkway, or Foothills Parkway will provide some breathtaking views.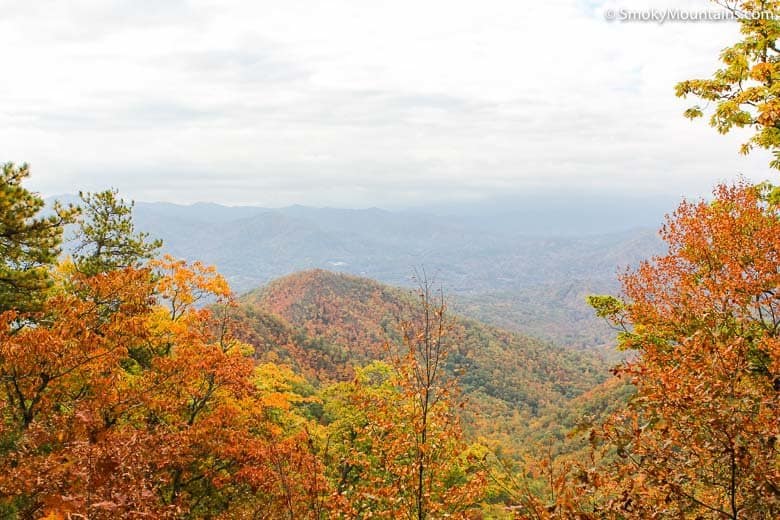 Distance: 630 miles north
This 31-mile road is the lowest drivable pass in Great Smoky Mountains National Park. Starting in Gatlinburg, it goes up and over the mountains into Cherokee, NC. Because of its elevation, Newfound Gap Road tends to be about 10 degrees cooler than the lowlands, even during the summer months. Mingus Mill, visitor's center, and the Mountain Farm Museum are a few of the stops to check out along this scenic roadway.
Distance: 650 miles north
The Gatlinburg Space Needle is the perfect spot for those who want to take in colorful fall views without having to hike or drive through the mountains. A glass elevator ride up the 407-foot tower provides a 360-degree panoramic view of Gatlinburg and the Great Smoky Mountains. The Space Needle also has a 25,000-square-foot playground, an arcade, and a live-entertainment theater.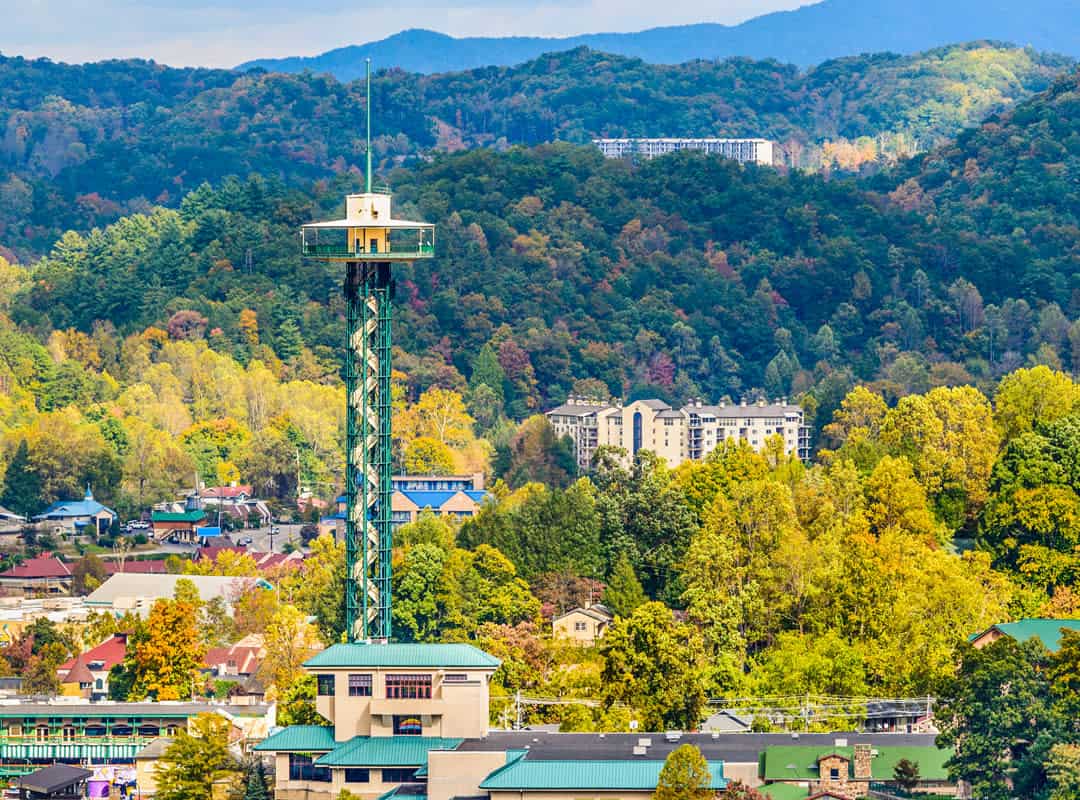 Distance: 675 miles north
Cades Cove is one of the most popular destinations in the Great Smoky Mountains, and about 45 minutes from Gatlinburg. Known for its immense population of wildlife such as black bear, coyotes, and white-tailed deer, this 11-mile, one-way loop circles the cove and makes for an incredibly scenic drive or hike. Three historic churches, a working grist mill, barns, and log houses are scattered along the trail for visitors to explore.
North Carolina's Fall Leaves are a MUST-SEE
Distance: 630 miles northeast
Surrounded by the Blue Ridge Mountains, Asheville is the perfect spot to take in the vibrant hues of fall. Grandfather Mountain and Pisgah National Forest are two of the most sought-after spots to take in the colorful scenery. The historic Biltmore estate is also a unique spot to experience the wonders of fall. Asheville is also known for its arts district and craft breweries.
Tampa Bay Parenting is a free guide to the best of Tampa! We're supported by our advertisers when they buy digital ads, listings, content, and through affiliate links, so some things you read might be paid for or if you buy something thru a link on our site we might get a commission.
---
More stories we think you'll LOVE: