Scouting Lasting Influence: The Importance of Nonparental Adults
I started dancing before composing sentences. In high school, my team was top ten in the nation. In college, I danced alongside Sting at the Super Bowl. Now, my daughter dances competitively—but not so I can live vicariously through her. My children are active because I believe in the positive, lasting impact of nonparental adults.
Former Florida State University quarterback and Tampa Bay dad Drew Weatherford is blessed that one of college football's winningest coaches, Bobby Bowden, was among his nonparental adult figures.
Today, along with two of his brothers, Weatherford owns Weatherford Capital, a private investment firm. He's an active philanthropist in our community, recently hosting a St. Jude's gala at his home since it could not take place as normal during Super Bowl weekend due to COVID. He's also one of the founders of onbikes, a nonprofit that raises money to buy bicycles for kids who can't afford them.
Weatherford's life speaks to his belief that coaches are integral in learning about life.
Developing Dedication
Football is in Weatherford's blood. He is one of nine kids (one deceased), of whom all but one played collegiate sports. "My parents sacrificed plenty getting us to practices and games," Weatherford recalls.
His father played for Southern Methodist University in Texas. Sports weren't forced on his kids, but Drew Weatherford begged to play, and during one of dad's trips, mom gave in. "I was fanatical about football, and he wasn't going to pull me out," Weatherford says.
The family lived in Lutz, and that's where legendary Land O' Lakes High School football coach, John Benedetto entered Weatherford's life. Sure, Coach B saw Drew's physical ability. But he also noticed Drew's disposition—and his leadership.
"Coach B made me believe my opinion mattered and my ideas were worthwhile," Weatherford says. He began planning team events like Sunday service.
Research shows that nonparental adults, like coaches, positively impact kids' academics, self-concept and behavioral choices—promoting potential differently than parents. Nonparental adults are also uniquely positioned to nurture autonomy, a consequential trait.
Integrating Bowden
Weatherford's greatness earned him another Coach B—Bobby Bowden. Bowden, who passed away in August, permanently impacted Weatherford's life during his years as FSU's quarterback. Bowden's integration of faith, family and football proved more empowering than any field formation.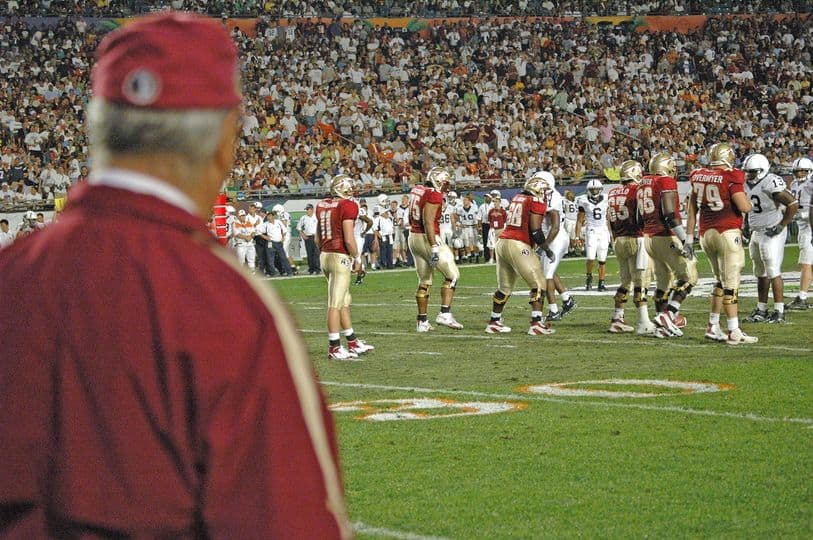 "Coach Bowden taught viewing life as a ministry," Weatherford says. "He cared more about me as an individual than as an athlete—never talking football off the field."
In Weatherford, Bowden instilled a life approach that seeks outgrowing oneself while always fulfilling priorities, which for Weatherford are faith, family and finance. "Coach Bowden showed me the importance of commitment to process over outcome," he says. Bowden, who lived what he preached, fostered a confidence in Weatherford that continues enabling boldness. Weatherford's success on and off the field stem from more than Bowden's football knowledge, but also the knowledge that Bowden cared about him.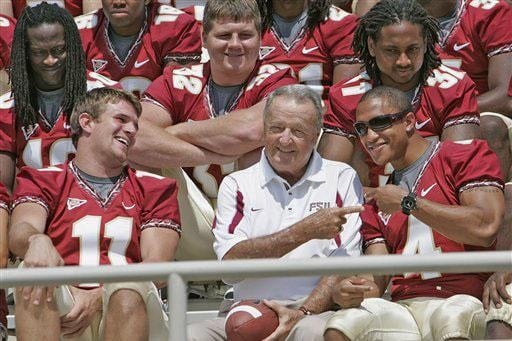 Weatherford and his wife, Morgan, are parents to Kennedy (5), Emerson (3) and Truett (17 months). Both support kids' sports and sampling several early on. "Soon enough," noted Weatherford, "kids reveal where they want to focus." His dad didn't coach the Weatherfords, and Weatherford is unsure whether he will coach his kids' teams either: "I want them to have the best coach possible for them as individuals, which might not be me. Coaches model greatness and develop athletes' dedication by pouring themselves into mentorship."
Weatherford believes that nonparental adults are central in showing kids how to work hard, push through adversity and win or lose, try again. Great coaches, like great quarterbacks, help others pour in the extra effort. The lifelong rewards are evident.
Parents' impact on kids is powerful; nonparental adults' impact on kids, formidable. Kids need both. Kids' personal development is bolstered by nonparental adults who teach that lessons about the activity are, fundamentally, about life. Kids thrive when they know people care.
"Nobody knows how much you know until they know how much you care."– Bobby Bowden
---
Originally Published in October 2021