The Best Dog-Friendly Beaches and Restaurants in Tampa Bay
Over the last few years, Tampa has become one of the most dog-friendly towns in the U.S. Thanks to the beautiful weather and array of outdoor hangouts, many places allow people to bring their pups. After all, pets are part of the family too!
Whether it's a beach, a bar, or a special event, here are some paw-tastic places where your furry friends can tag along!
Dog-Friendly Beaches in Tampa Bay
Name a happier animal that a dog playing fetch along one of our beautiful beaches. Not only are we lucky to have some of the best beaches in the country here, but our pups can enjoy them as well!
Fort De Soto's Paw Playground and Dog Beach are fan favorites for dogs and their humans. A section of Fort De Soto beach is exclusively reserved for dogs and their owners, making it the perfect spot to let your pup run around off-leash and splash in the ocean. The Paw Playground has two areas – one for large dogs and one for small – both with water stations. After passing through the entrance, follow the signs to the Paw Playground. The dog beach entrance is on the southwest corner.
Though there are plenty of places that welcome leashed dogs, there is a dog-friendly beach area on the bay side at the end of Pass-a-Grille Way (between 1st and 3rd Avenues) where dogs can run free in the sand and surf.
If you're in South Tampa, you don't have to travel far to give your four-legged friend some fun in the sun. This sand-covered stretch of dog park acts as a great alternative to the beach. If your dogs aren't keen on getting sand in their paws, there is also a fenced-in dog park with a grassy area for them to play in.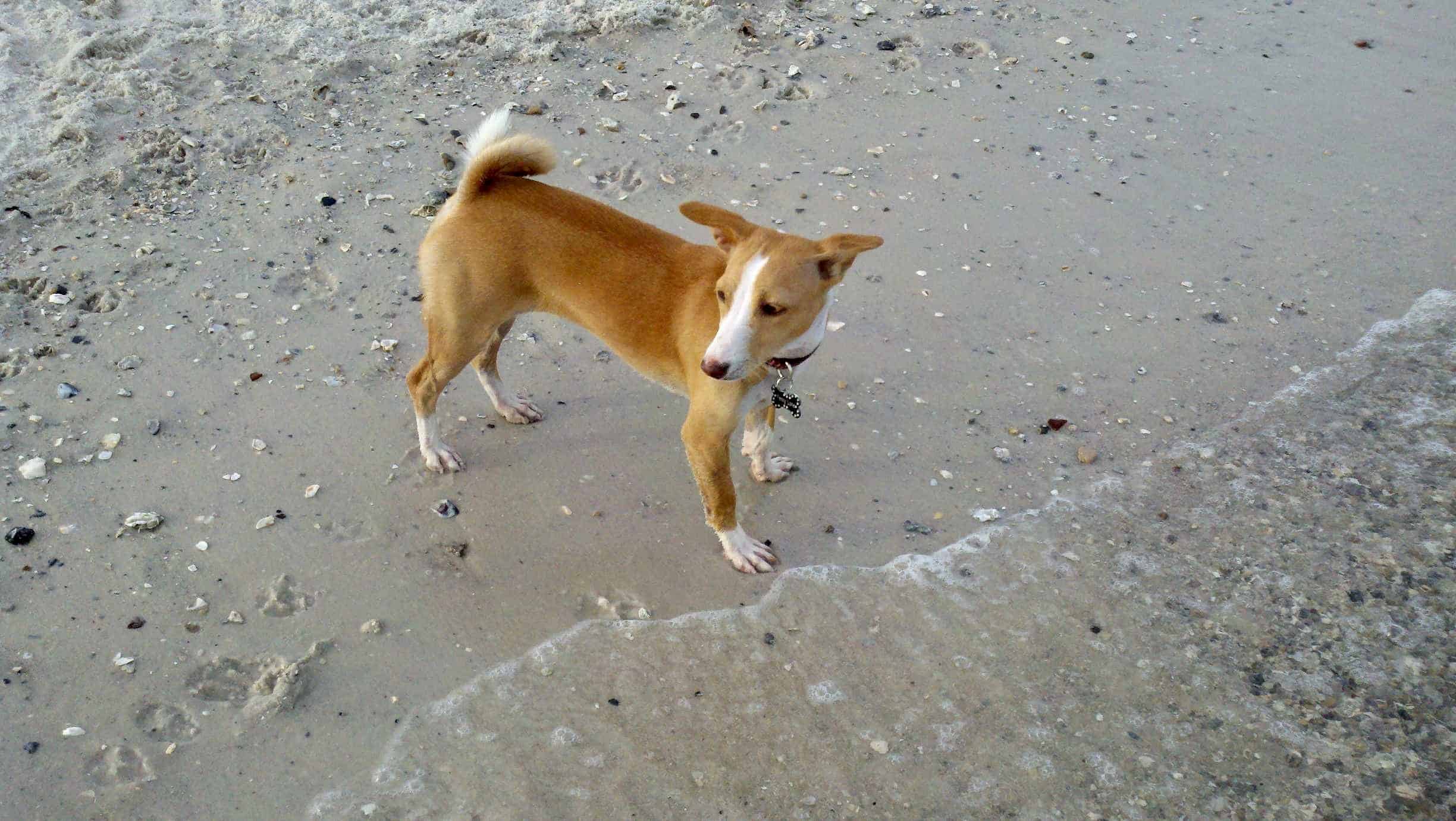 Dogs are allowed in designated areas such as the pet beach on the southern tip of the island, and on the nature trail. However, they must be on a 6-foot hand-held leash at all times in these areas.
Down near the boat launch, the first stretch of beach along Picnic Island Boulevard is where dogs can frolic and play. There are also picnic tables, a grassy area for them to run around in, and a hose to rinse them off when they're ready to go.
There are tons of off-leash dog parks around town too! Check out these lists of dog parks from the City of Tampa and Hillsborough County.
---
Dog Beach Tips:
Bring plenty of fresh water for your pups! While saltwater will be temping for them to drink, it can make them sick if they drink too much.
Some places will close when there is red tide. Red tide is just as dangerous to the dogs as it is to humans so it's best to avoid the beach when it's present.
Be aware of rocks and sharp shell pieces that wash up on shore.
Many places will have dog waste stations but be sure to bring extra poop bags to pick up after your pup!
---
Dog-Friendly Bars and Restaurants in Tampa Bay
Many restaurants will allow leashed dogs to enjoy the patio area with their humans (be sure to call or check their website prior to bringing your pup). Places like Armature Works and Tampa Bay Brewing Company and notorious for being ultra pet-friendly. There are also a few local bars that encourage you to bring your four-legged friends and will even allow them to run off-leash!
4813 N. Grady Ave, Tampa, FL 33614
Tampa's only indoor/outdoor fully off-leash dog park and bar is located by Raymond James Stadium. You can buy a single-day pass or purchase a monthly or annual membership for unlimited access. Pet parents can enjoy craft beer and wine while their pups run and play. Food trucks are regularly on-site and there are also events such as trivia night and bingo. They even have party packages (complete with decorations and doggie cakes) to help you throw your pup a party! All dogs must show proof of current rabies and vaccination status. Ages 21 and up only.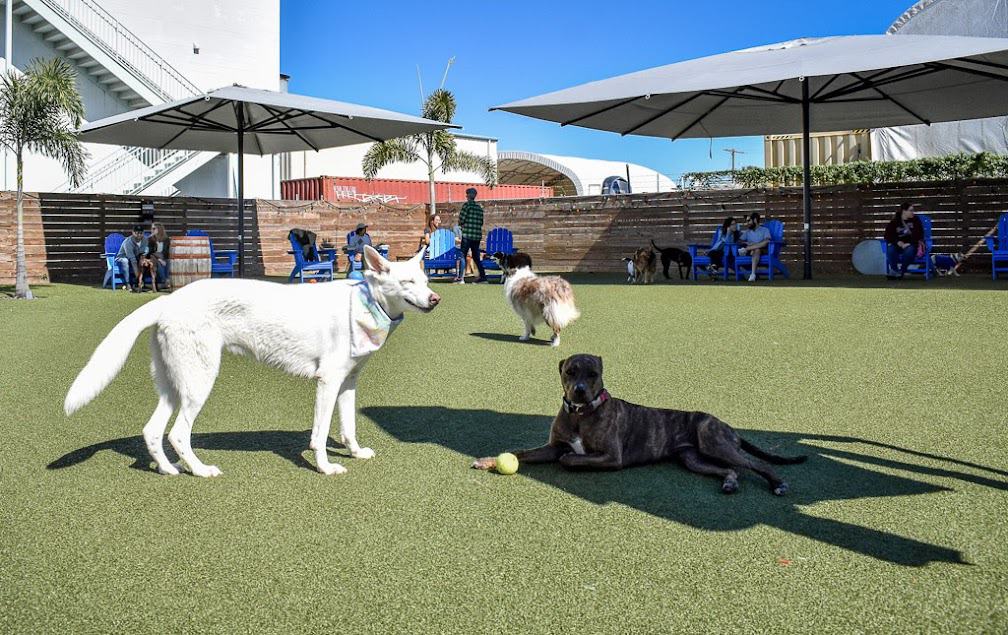 2300 Central Ave, St. Petersburg, FL 33712
The Dog Bar is a combination of an off-leash dog park and a full-service bar. Pups can enjoy over 4,500 square feet of fenced off-leash fun. The ground is covered with Astroturf for a cleaner and more comfortable play surface. A "Wooferee" will supervise the off-leash area during peak times to ensure that all our members have a safe, fun experience! A membership is required as well as proof of rabies and vaccinations. Ages 21 and up only.
1962 1st Ave South, St. Petersburg, FL 33712
Located in St. Pete, Pinellas Ale Works is a paw-riffic brewery. Patrons may bring their leashed dogs inside or out on the patio. With beers aptly named names such as Milk Bone Stout, Fetch, and Puppy Love, it's a perfect dog-friendly spot to hang out.
---
Prefer whiskers over wagging tails? How about at cat bar!!??
4033 Henderson Blvd, Tampa, FL 33629
At this one-of-a-kind experience, you can hang out with a room full of adoptable cats and kittens while getting your caffeine fix and a sweet snack. All rescue cats are fostered by Cats and Caffeine and available for adoption. Reservations are required.
1669 1st Ave South, St. Petersburg, FL 33712
If you're a fan of felines, Sunshine Kitty Catfe is a purrrfect experience for cat lovers in St. Pete. Visitors can enjoy a beverage while relaxing in the company of adoptable cats from their rescue partner, Friends of Strays Animal Shelter. The 'Cat Lounge' provides a relaxed, home-like environment where you can interact with the free-roaming kitties who live there until they get adopted. There are also regular events such as Kitty Yoga! Reservations are required.