The Best Spooky Books to Read this October for Preschoolers to Parents!
Whether telling scary stories or searching for monsters under the bed, children and adults alike often enjoy being scared. Books allow children to explore concepts like love, empathy, loneliness, death and fear while safe and sound at home.
Related: The Best Pumpkin Patches, Corn Mazes, Halloween Events, Fall Festivals and MORE
Spooky books help children face the monsters of everyday life, and children's horror spans from cute, not-that-scary picture books to tales that have haunted for decades.
What is the right blend of frightening and funny? (Speaking of: Check out some Funny Halloween Jokes for Kids)
Librarians are experts at finding titles to excite your family's imagination and can help match you with your next thrilling read.
The Best Spooky Books for Preschoolers/Read-Aloud
Monsters, ghosts and goblins do not have to be too scary for young readers! These silly and not-so-spooky tales are perfect for little ones.
"If You're A Monster and You Know It" by Rebecca Emberley
Children will stomp their paws, twitch their tails, snort and growl, and wiggle and wriggle along with this bright and bold picture book twist on "If You're Happy and You Know It."
---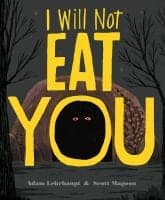 "I Will Not Eat You" by Adam Lehrhaupt 
Theodore the dragon resists the urge to eat the animals that wander into his cave in this suspenseful and darkly funny picture book.
---
Spooky Books for Elementary Aged Kids
Sometimes a good fright sounds just right, and these well-written books for school-aged children provide all the creepiness without any of the gore.
"Ghost Knight" by Cornelia Caroline Funke
Eleven-year-old Jon Whitcroft never expected to enjoy boarding school or be confronted by a pack of vengeful ghosts. Together with his new friend Ella they work to uncover the secrets of a centuries-old murder. 
---
"The Peculiar Incident on Shady Street" by Lindsay Currie 
A girl unravels a decades-old mystery with some unlikely new friends after moving into a haunted house.
---
Spooky Books for Upper Elementary/Middle School
If your tween is ready for something a little scarier, try these spooky titles that deliver thrills and chills. 
"Small Spaces" by Katherine Arden
A bus breaks down, children disappear and the main character knows to run and hide from what's coming in this creepy, spellbinding ghost story. 
---
"The Screaming Staircase" by Jonathan Stroud 
Only children are keen enough to detect and combat the ghosts running rampant and disrupting the lives of mortals in this spooky story. 
---
Spooky Books for High School/Young Adult
Young adult fiction is full of horror and these titles may keep you awake at night.
"The Sacrifice Box" by Martin J. Stewart
Five friends discover an ancient stone box and each sacrifices something special to them to the box forever. Four years later, someone breaks the pact and a series of strange and terrifying events take place.
---
"The Wicked Deep" by Shea Ernshaw
Over 200 years ago, three sisters were sentenced to death for witchery. Now the sisters return seeking their revenge by stealing the bodies of three weak-hearted girls.
---
Spooky Books for Adults
Horror novels let the reader use their own imagination to interpret what they read on the page and make for a good literary scare. 
"The Cabin at the End of the World" by Paul Tremblay
A beloved daughter opens the door to a stranger and lets him inside her family's remote vacation home. This suspenseful tale of paranoia, sacrifice and survival is a parent's worst nightmare. 
---
"The Invited" by Jennifer McMahon
A city couple trades their fast-paced lifestyle for rural Vermont, running headlong into a few ghosts along the way. 
---
Spooky Booklists 
For more horror books and spooky books visit your local public library or HCPLC.org.