New Device is Narrowing the Gap in Heart Valve Repair at St. Joseph's Children's Hospital
For 16 years, the Knowles family of Lithia dreaded the moment their son, Oscar, would have to endure another open-heart surgery to replace his leaky valve. Thanks to a new piece of equipment called the Alterra Adaptive pre-stent, Oscar became a candidate for a transcatheter pulmonary valve replacement procedure that requires an incision the size of a pencil eraser and one night in hospital—an almost magical new option.
"Beat, beat, whoosh. Beat, beat, whoosh."
That's what a young trainee pediatrician heard listening to the newborn's heart. Doctors reassured parents Michael and Nicola that although the murmur indicated a hole in Oscar's heart, it would likely heal by the 4-week visit.
Instead, the devastated parents learned that their baby had a quartet of serious heart conditions known as tetralogy of Fallot, which would require open-heart surgery. Following the procedure, they spent 16 weeks in hospital with their infant son on life support. As other babies entered the NICU, recovered and left, Oscar suffered through surgery to close the hole and enlarge his pulmonary valve, followed by complications, infections and additional surgery. "It was the worst time of my life," Nicola recalls.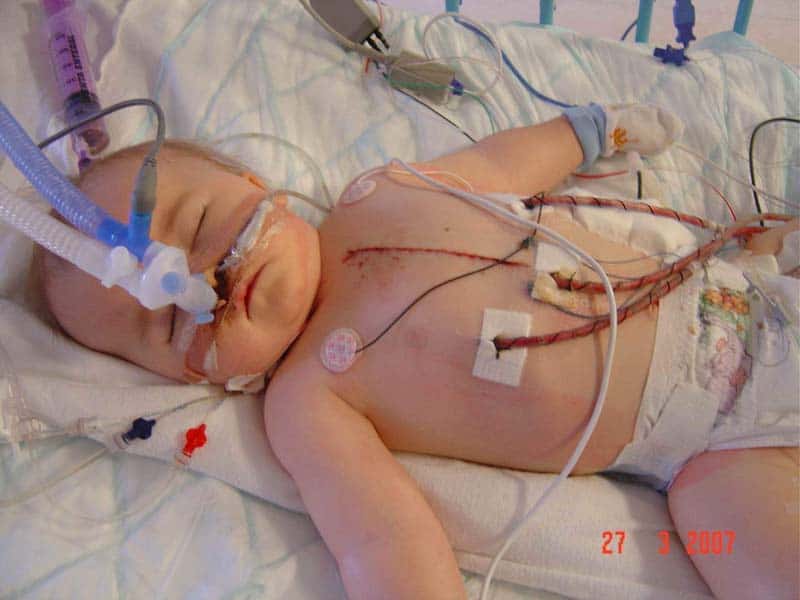 When they were finally discharged, it was with one ominous caveat: At adolescence, Oscar would require another open-heart surgery to replace the pulmonary valve.
The family moved from the United Kingdom to Texas when Oscar was 3, and then four years later to Florida. At every annual checkup, Michael would think, "Please not this time. Not this time." Determined to shield Oscar, they'd take him to Toys 'R Us for treats after appointments.
Oscar did his best not to worry his parents, whose love and pride shines through in every interaction between the tight-knit trio. An avid reader and movie buff, he thrived writing screenplays and serving on the technical crew in Newsome High School's drama department.
An Open-Heart Surgery Alternative: The Alterra Pre-Stent
When Oscar was a junior, the family got the news they were dreading: time to replace the valve. But the announcement came with an unexpected reprieve. St. Joseph's Children's Hospital Pediatric Interventional Cardiologist Dr. Jeremy Ringewald told them about a new implant that could help avoid open heart surgery, the Alterra pre-stent.
For the past decade or so, some patients needing a pulmonary valve replaced were able receive something called a Melody valve, which was threaded through a vein in the leg and implanted in the pulmonary artery, eliminating the need for open-heart surgery. However, the Melody valve was too small to replace most patient's pulmonary valves.
A newer, larger valve called the SAPIEN 3 allowed transcatheter pulmonary valve replacement in more patients, but 70-80% patients were still ineligible. The Alterra is a game changer. It is threaded through a vein in the leg to the main pulmonary artery to where the valve needs to go. It then pops open into an hourglass shape, filling the main pulmonary artery securely but also with a narrowed area or landing zone in the center.
Dr. Ringewald then threads the SAPIEN valve through the same vein, inflates its delivery balloon, and inserts it snugly into that landing zone. The catheter is removed, and the procedure is over.
Since last summer, Dr. Ringewald has performed two or three of these procedures monthly. Only the second implant center (and the busiest one) in Florida, and the only implanting center in Tampa Bay, St. Joseph's Children's Hospital is one of a dozen or so in the country. He has treated people from ages 9 to 70, but there is no upper limit to who can benefit.
When Dr. Ringewald told them Oscar was a perfect candidate, Michael and Nicola were shaken by relief. "After our first meeting, we said, he's the man to do it," Nicola says. "He made it very easy to decide to put your child's life in his hands."
For his part, Dr. Ringewald admits that he loves to see families cry tears of joy. "That will never get old."
Oscar underwent the procedure on Dec. 28, 2022. He was home Dec. 29 to see the new year with a new valve. Although parts of the procedure—especially the anticipation—were frightening and confusing, Oscar is almost completely back to normal now, but with a kind of energy he had never felt before.
"I didn't know this was a way to feel," the soft-spoken teen says. "I thought what I felt was like how everyone felt. I feel less held back, less restrained."
"It just feels clearer to be."
---
*Presented by BayCare | Originally published in February 2023 of Tampa Bay Parenting Magazine.