Knight's Story: Sturge-Weber Syndrome
Three-year-old Knight is a joyful ball of energy as he runs from the family's living room to dining room to kitchen.
He loves this little game, and for most 3-year-olds, this wouldn't be an extraordinary feat.
But, for this child, it is remarkable.
What is Sturge-Weber Syndrome?
Knight was born with Sturge-Weber Syndrome, a genetic mutation that causes abnormal growth of blood vessels in the skin, eyes and brain.
"It's a very infrequent disease, affecting one in 20,000–50,000 people," says Tom Geller, M.D., a pediatric neurologist and co-director of the Neurocutaneous Disorders Clinic at Johns Hopkins All Children's Hospital in St. Petersburg, Florida.
Sturge-Weber Syndrome may be characterized by a purple birthmark on the skin. Glaucoma is common with this syndrome, as are seizures. If left untreated, the condition can lead to severe brain damage and can be life-threatening.
For a mother giving birth to her first and only child, it was unfathomable.
Reality Check
Victoria's healthy pregnancy offered no clues as to her baby's condition.
The day after Knight was born, when she was told that her baby boy likely had Sturge-Weber Syndrome, she was devastated. But she began researching and learning everything she could about how to help her son.
"I'm the mom who wants to know everything," Victoria says.
Knight was being treated for glaucoma, and he would also require laser procedures to treat the port-wine stain that covered much of his body.
At 3 months old, a frightening development—Knight began to have epileptic seizures. At the age of 10 months, a severe seizure caused him to stop breathing. The baby was taken by the LifeLine Critical Care Transport team to Johns Hopkins All Children's Hospital for care.
"Johns Hopkins All Children's saved his life, honestly," Victoria says.
MRI scans of Knight's brain clearly showed what was causing his increasingly severe seizures. A carpet of abnormal blood vessels was compromising the left side of his brain, causing it to atrophy and seize.
How could doctors help control the seizures and protect the healthy portion of Knight's brain?
A Bold Solution
Soon after Knight's first birthday, neurosurgeons Luis Rodriguez, M.D., George Jallo, M.D., and the neurosurgical team performed an anatomical hemispherectomy on Knight—a successful six-hour operation in which surgeons methodically sectioned and removed the entire left hemisphere of his brain.
"Especially in very young children, the brain has remarkable plasticity," Rodriguez says. "The normal part of the brain takes over, rewires, makes connections and gets things working."
Without the surgery, the abnormal portion of the brain would have eventually damaged the healthy, functioning portion—leading to severe devastation neurologically.
But Knight's story will be different.
No Limitations
Today, at nearly 4-years-old, Knight's condition continues to keep the family calendar full. There are doctors to see, therapies to strengthen his muscles, and medical procedures to help him have the fullest and richest life possible.
He is learning new words and delighting in his favorite toys.
There is so much to discover in the world. And this lucky little boy is just getting started.
"I see no limitations for Knight," Victoria says. "He's happy, he's healthy and he's loved."
---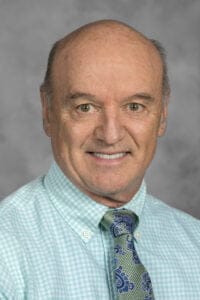 Dr. Geller specializes in pediatric neurology for the Johns Hopkins All Children's Institute for Brain Protection Sciences. He sees patients at the main campus in St. Petersburg and at Johns Hopkins All Children's Outpatient Care, North Port. He joined the hospital staff in 2018. Dr. Geller previously was a pediatric neurologist and child neurology residency program director at Cardinal Glennon Children's Medical Center in St. Louis, Missouri.
Dr. Geller earned his medical degree from St. Louis University Medical School. He trained in pediatrics and served as chief resident at Naval Hospital in Oakland, California. He then completed a pediatric neurology residency and served as chief neurology resident at the University of Illinois in Chicago. He also completed a six-week externship at Queen Square Neurologic Institute in London, England. He is board certified in pediatrics and child neurology.
---
*Presented by JHACH | Originally published in the November 2023 issue of Tampa Bay Parenting Magazine