Full Circle Moments with the Tampa Bay Buccaneers Cheerleaders and Junior Cheerleaders
There's something extraordinary about a life-comes-full-circle moment. Former Tampa Bay Buccaneers Cheerleader Shay Garcia had such a moment when her daughter, Johanna, stepped onto the Raymond James turf as a Bucs Junior Cheerleader. Shay and Johanna share their TBBC experiences.
Kaylee Strobel, a former Junior Cheerleader and current Buccaneers' Cheerleading and Mascot Coordinator, also knows full-circle moments with the Bucs. Before firing the canons, read their firsthand accounts about TBBC's lasting impacts.
Ready! Meet Shay Garcia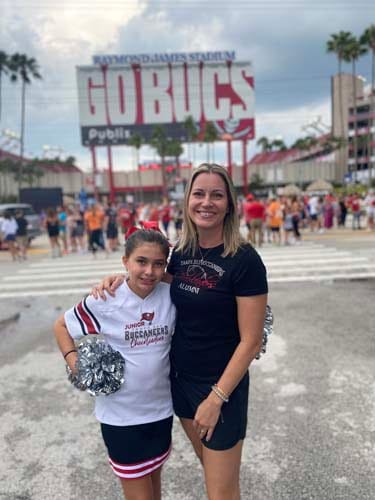 What led you to audition for the Tampa Bay Buccaneers Cheerleaders?
Shay Garcia: I was raised in Bradenton by season-ticket-holding parents. I was active in dance my entire life, loved football, and cheered in high school.
Auditioning for TBBC was the perfect progression. My parents drove me to the audition, signed a waiver because I was still 17, and waited in the parking lot. I didn't make it. After cheering for the Tampa Bay Storm, in 2005, I tried out again and made it.
What impactful lessons did you learn from TBBC? 
Shay Garcia: Lessons on punctuality and confidence left lasting marks. I learned the importance of arriving 15 minutes early; on time is late. TBBC grew the discipline and poise planted during my formative years of dance. TBBC instilled the importance of standing with pride, and I know Johanna's experiences with the Junior Cheerleaders will do the same.
I also learned about relationships, and I'm grateful for the lasting friendships with former teammates. Getting our daughters together for playdates has been special.
What are your most memorable moments with the TBBC?
Shay Garcia: On-field was being announced as a captain. Off-field, traveling to places like Germany, Ecuador, and Hawaii. Trips allowed us to thank members of our armed forces—and their families—for their sacrifices. It was phenomenal.
My dad is retired Air Force, and I understand the military families' sacrifices. To this day, I get chills during flyovers at the games.
Feelings about Johanna following in your footsteps?
Shay Garcia: The Junior Cheerleader program was around when I cheered, and I remember thinking, "I hope I have a daughter that can do this one day." When I first saw her on the field, I got emotional.
Life comes full circle. This is her second year performing on field, as Junior Cheerleaders went virtual during COVID. Anna Parrish, the Bucs' Cheerleading and Mascot Manager, runs a great, efficient program.
In three, 1.5-hour sessions, performers learned the routine they performed at the Aug. 26 preseason game. Having my husband, Anthony, attend one of the practices was special.
We come from a lineage of Bucs fans. Anthony's parents, season ticket holders for 51 years, put down their season-ticket-deposit when the Bucs were announced as a team.
Why is the Junior Cheerleader program important?
Shay Garcia: There's nothing like standing on the 50-yard line of Raymond James Stadium. I wish more people could stand on the field and look at a full stadium. The program also provides financial support for TBBC; proceeds assist with things like uniform maintenance and events scheduled throughout the season.
What about the TBBC that would most surprise fans?
Shay Garcia: The time investment required for upholding such a strong program. On game days, we arrived hours before kickoff so that we could be first on the field for rehearsal—long before players arrived for practice.
Dancers are athletes and preparation for performances takes extensive conditioning and flexibility training. Next-level athletic ability is required and maintaining excellence meant dancing hours into the night. The TBBC and Junior Cheerleader programs promote a sense of responsibility.
Now, watching games from the stands, it's been fantastic to witness the TBBC's evolution, and understanding the work it's taken. I'm excited males now contribute to the talent, and I'm blown away by the tricks and tumbling on the field. I especially enjoy watching TBBC Jessie; he's a true entertainer and the team is lucky to have him.
Why did you stop cheering?
Shay Garcia: The time commitment. Between practices and appearances, it was minimally 20 hours per week. As part of the TBBC's Armed Forces Entertainment Group, I had additional travel. Travel to Japan and Korea was two weeks. Serving as captain for two years was additional time.
I worked full-time, and asking for extended periods of time off grew too difficult. I spent three years with the TBBC, and it was a sweet spot for me when I chose to close out my time.
Set! Meet Johanna Garcia
What do you love most about performing with the Tampa Bay Buccaneers Junior Cheerleaders?
Johanna Garcia: I love dancing and performing in front of big crowds. With the Junior Cheerleaders, I feel excited performing for thousands of people. It makes me happy.
Do you plan on auditioning for the TBBC when you're older?
Johanna Garcia: Yes! I definitely want to follow in my mom's footsteps.
What would you say to kids interested in the Junior Cheerleaders?
Johanna Garcia: Give it a try because it's tons of fun. You'll definitely like it!
Fire the Cannons! Meet Kaylee Strobel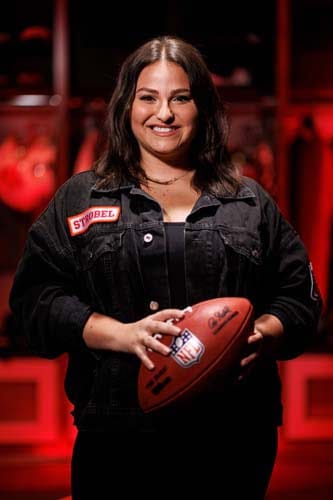 How did you get started with the Tampa Bay Buccaneers Junior Cheerleaders?
Kaylee Strobel: My sister, Roseanne McIntosh, was a TBBC from 2008-2012. She's 11 years older than me, and I thought joining the Junior Cheerleaders and performing with her would be fun. She was my adult cheerleader when we learned choreography, and dancing with her at Raymond James was incredible. We won the game—an unforgettable experience.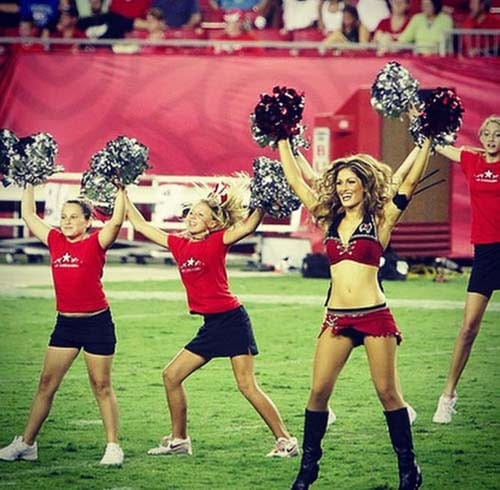 How did you get into your role as the Tampa Bay Buccaneers' Cheerleading and Mascot Coordinator?
Kaylee Strobel: I've always loved sports but went to school for fashion. The day Rob Gronkowski signed with the Bucs, I knew I had to find my way into the stadium. My mom suggested I look for a job with the Bucs.
I started in a part-time role, worked my way into an internship with the Events and Entertainment Department, and, eventually, Anna Parrish, our Cheerleading and Mascot Manager, offered me the position. As the Cheerleading and Mascot Coordinator, I now spend gamedays on the field.
What value does the Junior Cheerleader program bring to the community?
Kaylee Strobel: It helps build kids' confidence. I'm an adult and stepping onto a field, in front of 70,000 people, can still feel intimidating. It's an opportunity for participants to build dance skills by working with an adult cheerleader across three different choreography clinics. Above all, kids have fun.
What are some upcoming community-centered events for the TBBC?
Kaylee Strobel: We're planning classes with high schools in Hillsborough, Pinellas, and Pasco counties. We want to give dance teams an opportunity to learn techniques at our training facility as well as learn more about the TBBC program. We want the next generation of TBBC to be excited about auditioning for the team.
Learn more about the Tampa Bay Buccaneers Junior Cheerleaders program here.
Related stories we think you'll LOVE:
---
*Photos provided by Tampa Bay Buccaneers Cheerleaders | Originally published in October 2023 of Tampa Bay Parenting Magazine.