The 'Top 10' Difference at Tampa General Hospital
Tampa General is ranked top 10 in the nation for Obstetrics and Gynecology by U.S. News & World Report for 2023-2024
If you want to understand how special Tampa General Hospital's (TGH's) obstetrics and gynecology care is, and how well it stacks up against other health systems, simply look at the latest U.S. News & World Report rankings. The renowned publication just named TGH one of the top 10 obstetrics and gynecology programs in America for 2023-2024.
It might be a complex, lifesaving surgery, like the one that saved Diana McDowell's newborn son after an ultrasound seven months into her pregnancy revealed an obstructed airway.
Or it might entail meeting a wide range of other needs: advanced medical and surgical treatment in the Gynecology Center, compassionate midwifery care, helping women achieve a vaginal birth after undergoing a previous C-section, or innovative programs for the most high-risk individuals.
It's all entwined in the motto crafted by Dr. Judette Louis, chief of the TGH Women's Institute and chair of USF Health Morsani College of Medicine's Department of Obstetrics and Gynecology: Where you deliver matters.
"We really adhere to that in what we do day-to-day," she says. "We are the experts in handling every kind of pregnancy situation, and people seek us out for that reason. It's uncommon to offer both routine and high-risk care—usually programs are good at one or the other. But we have it all under one roof."
Diana McDowell learned how true that was. Being wheeled into surgery on a gurney, she was overcome with emotion as doctors and nurses in scrubs lined the hallway, applauding as she came into view. Soon after, a team of no fewer than 40 of them from the USF Health | Tampa General Hospital Fetal Care Center performed the intricate EXIT procedure—short for ex utero intrapartum treatment—after a choreographed rehearsal and many planning sessions.
Without the surgery, baby Quentin would not have been able to breathe at birth. Today, he is a thriving 3-year-old.
"All of them made me feel like they were in this with me every step of the way, before, during and after," McDowell says.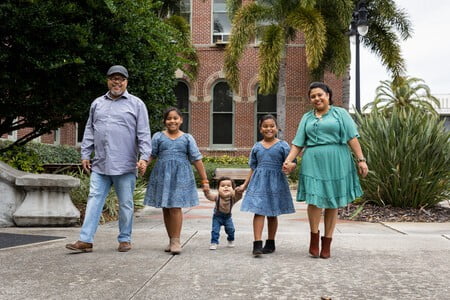 Kimberly Park agrees fully. Six months into her pregnancy, something felt very wrong, like a weight on her chest. TGH's Maternal-Fetal Medicine doctors found fluid around her heart, and she was at high risk to develop heart failure. The team raced into action and used medication to drain the extra fluid, while keeping a close eye on her baby.
But six days later, an emergency C-section had to be performed. After birth, her tiny son, who weighed 1 pound 3 ounces, was admitted to the Jennifer Leigh Muma Neonatal Intensive Care Unit at TGH. Thanks to the world-class care they received, he is now a healthy toddler. "They say it takes a village—the NICU is our village," Park says, "and that's how we survived."
"The No. 1 thing that stands out about my staff is their passion for providing high-quality care," Louis says. "They go above and beyond for their patients. And the icing on the cake is that many of the faculty and staff here are national leaders in obstetrics and gynecology. They're the people at the table when guidelines are being developed."
Expectant mothers, meanwhile, can look to TGH's heralded academic health system, which offers enormous resources, multidisciplinary care at its best and a top 10 national obstetrics  and gynecology program right in their backyard.
"That is how we're changing this community," Melissa Golombek, vice president of TGH Children's Hospital and TGH Women's Institute, adds. "Every person deserves a delivery provided by one of the top hospitals in the country."
---
*Presented by Tampa General Hospital | Originally published in September 2023 of Tampa Bay Parenting Magazine.