Tampa's Colt Clark and the Quarantine Kids Share Their Musical Journey
In early 2020, Colt and Aubree Clark, along with their three children (Cash 12, Beckett, 10, and Bellamy, 8) wanted to bring a little joy to others during the pandemic. What started as a few musical performances in their living room turned into something much bigger, including an invitation to perform on one of Nashville's most iconic stages. We recently spoke to them about what this has meant to them and how their journey has been as Colt Clark and The Quarantine Kids.
TBPM: How did this get started and what brought this on?
AUBREE: During the very beginning of the pandemic when everything was shut down, it was supposed to be for two weeks, and we didn't know that it would last longer than that.
Colt is a full-time musician. He plays at the Don CeSar and he's played at a lot of hotels and nicer restaurants in the area. We always thought that was good job security because there were so many places that he played at that, in what circumstance would they all cancel at one time? This is the only scenario that that would happen, so we had no work, no income coming in.
I'm a photographer, of course nobody was taking family pictures during that time, so we were kind of sitting around our house thinking 'I guess we can live off savings for a while until this blows over,' but we had nothing to do around the house and we were all kind of down in the dumps as well as everybody around that time.
I do some woodworking and one night we were in the garage as I was trying to finish a table that I was building. Colt came in and seemed down. I said, 'Tomorrow let's just let's focus on doing something positive with the kids that they think is fun. It'll give us all something to look forward to so let's all work together and pick a song and we'll play it and record it in the evening.' I figured we'd send it to our parents because we hadn't seen them in a couple weeks because of the pandemic, and they were getting lonely.
The next morning everybody was excited and the mood in the house changed. They learned the song a lot quicker than we thought they would, and we recorded it in the evening. We uploaded it to Facebook and our parents loved it.
We left to escape the walls of the house for a while and take a drive around the town. And we came back like an hour later, it had been viewed around 10,000 times and we were like 'Who's been watching this?' We had no idea that people had seen it and shared it. It just turned into something that I think was needed by a lot of people, just some levity in their day to day lives at that time. It turned into something we never anticipated but in a good way.
COLT:  We started doing a song a day because we had so much time. We home school, so we would finish our schoolwork and then we would teach them the song and they learned it really quick.
They're very quick learners when it comes to, well, everything, but especially music and something that they love and can get into. We would learn a song in in 20-30 minutes and then record it and it wasn't perfect, but it was just fun, and it was a way for us to be together. This gave us something to look forward to every day.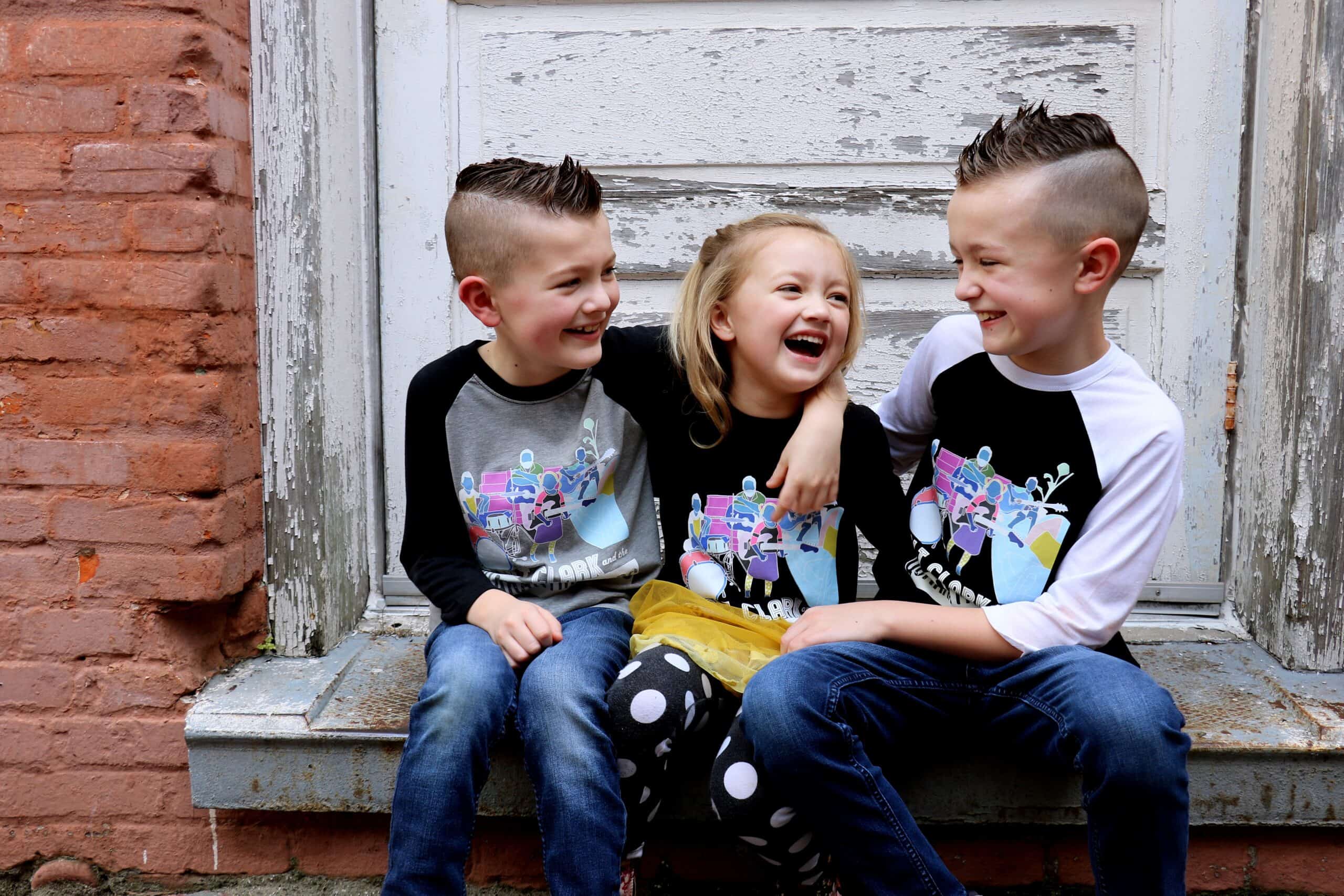 TBPM: Colt, you have a musical background, but what about the kids? 
AUBREE: They had gotten instruments for Christmas, and we didn't know even if they would figure out how to play it or if they'd have any real interest in it. They kind of dabbled a little bit.
COLT: And I would show them things so that they could figure it out. Beckett, our drummer, he was eight at the time, and he had this natural sense of rhythm. And it has been such a cool thing to see both boys' progress. Bellamy was only five when we started this, and she just wanted to be a part of it. She said, 'I can dance, and I could sing.' And I was like, 'OK, great, let's do that.'
AUBREE: She's kind of amazed us because we'll say that we need Cash to play guitar and need somebody to play bass. And she's like 'I'll play bass!' So, she'll learn her bass parts of it. Or percussion or whatever. She's picked up wherever we've needed her to be. Whenever she's expressed interest in playing something new, we always want to try to teach her as much as we know about that particular instrument.
TBPM:  Did they catch on quickly, learning to play and sing a brand-new song just within a few hours?
AUBREE: Yeah, it's crazy because that was a part of it that we never anticipated. I mean, I know I'm their mother, but they really do have real talent for it.
It's not just like a cute thing; they really do have talent that we never imagined they would have. What we discovered most throughout this is that they want to do this as careers, they love what they're doing.
If we ever say that we need to take today off because we've got a dentist appointment or something, they're like, 'Please no, I really want to learn a new song today!'
But yes, they've learned everything so quickly, and sometimes we'll have a more difficult song or have more parts or more difficult solos and we think this might be one that we have to work on for a couple of days and play it next week. If we tell them that it seems a little bit more difficult, they will dedicate their lives to learning it.
They'll say, 'I'm going to be in my room for a few minutes,' and they'll come out and they'll have learned the whole solo themselves. It's a different level now where they learn much quicker and with much more ease.
COLT: Yeah, in the past couple months they've actually taught me some songs that I didn't know. All this beforehand was stuff that I've known and then maybe we'll learn something together, but Cash pulled me aside and said, 'Hey, you're playing that wrong and it goes like this.' So that's cool.
Also, we did have a leg up with the fact that they listened to music all the time, even before the pandemic. We were always taking drives and had playlists that we would listen to just for fun, and music going on the in the house. They had a repertoire in their mind with songs that they were familiar with.
TBPM: What has been the biggest life changing moment for you?
COLT: Early on, I think a month after we had just started doing this, the people from The Ellen Show reached out to us, along with The Today Show and a couple other shows. That was really kind of a game changer. But just recently, we've had the actual musicians that we cover reach out to us.
AUBREE: Yeah, over the last two years, it's funny. We'll post the Bob Seger song and then Bob Seger will write back and say, 'Oh my goodness, I love this!' And we're like 'what?!' The Who has shared all our songs, that we've yet sung, and Buffet. I may not even know that we would know all of them, but probably the biggest one and of the coolest things is we played a show at the Capitol Theatre in Clearwater in November with Marty Stuart. He's a country music legend. He played in Johnny Cash's band. He played with everybody, knows everybody
COLT: He started off playing bluegrass at 12 years old and was a touring musician at 12 years old and that's why he loves seeing our kids play, because that was him.
AUBREE: His wife is Connie Smith, who's a country music legend in her own right. She was one of the first pioneering females in country music, and we met them last July. At 80 years old, her voice is just as strong as it was when she started. It's insane. We met them and they had sent us this really sweet letter – a handwritten 3-page letter – talking about not only the kids, but our family and life and all these different things. They said next time we're in town, they'd love to meet us.
So, we met with them, and it went really well. They were so warm and down to earth, and they said, 'Next time you're in Tennessee, we'd love to have you guys up to our house.'
We went up to their house and were able to have lunch with them, and they played a show with them in November. With Marty Stuart and his Fabulous Superlatives Band, and they played the encore. It was like the last three or four songs of the night and this is the first time that the kids had been on a real stage at a real show.
We didn't know how the little band that we had in our living room would translate to a big stage. We thought we had to try it out. And the kids were like, 'We've got it.' We figured if we hate it, we won't do it again. But if we love it, we'll know that this is something to explore further.
I was weeping on the side stage. Everybody had so much fun and Marty and his band made it so much fun for the kids. At the end of the show, he said, 'We want you guys to play my late night jam in Nashville in June at the Ryman Theater.'
For a musician, the Ryman is like the pinnacle of venues, so we were stunned. We couldn't believe it. That's probably the most exciting and most shocking thing.
TBPM: On June 8th, you had the chance to perform at the Ryman. How did that go?
COLT: It went so good. I mean, everything that we were anxious about, nervous about – it all went so, so well and the kids did such a good job. It was like a dream come true really.
AUBREE: We were able to get there a little bit early that day, and we were able to see all of the other performers soundcheck and that was really cool and inspiring for the kids to get to see so many people that they looked up to musically perform. We also got to watch the soundcheck which was cool.
COLT: I think that kind of helped the kids ease their mind a little bit. I mean, of course there's going to be nerves there. But if you see all these different musicians messing up a little bit here and there and kind of trying to get the sound right. They kind of felt a little bit better about that. You know they're not perfect, we're not perfect – that kind of thing.
AUBREE: We finished the soundcheck and we they took us to our dressing room where everybody was able to kind of relax. We were the one of the last acts. It was us and then Marty and The Superlatives did a song together after that. But we were basically the last, the closer. So that was a real honor.
We really anticipated that the kids would be anxious. We thought that it might be a little bit difficult controlling nerves because we were going on so late and it there was so much build up to it, but it was really just very easygoing.
We'd go down and watch the other people perform and then we'd go up to the room and relax a little bit and then we made our way to the stage. It was just so amazing to watch them all in their element. We weren't sure how the crowd would react because there were some big names on that line up and we figured probably not a lot of people are going to be coming to see us. We didn't know what the audience reaction was going to be like but they got two standing ovations. The crowd was just amazing. They just completely fell in love with Colt and the kids.
TBPM: You also go to play alongside some big names. What was that like?
COLT: This is the 19th year. Marty wanted to do it last year, but because of COVID they had to cancel it. He gets a lot of different artists from a lot of different genres, mostly country or bluegrass or Blues. He's had people like Steve Miller Band, Chris Stapleton, Eric Church, and Keith Urban in the past.
So, he's got these not only up and coming people, but people that are well known on the radio. This year, he had Emmylou Harris, who is a national legend country legend. He had an up-and-coming guy named Marcus King who is gonna be really big. He's a really good Blues guitar player and singer. And then he had a guy named Billy Strings, who's like a bluegrass guitar virtuoso. He also had a girl named Lainey Wilson, who's got a couple songs on the radio and a guy named John Kavyas Willis who's a great blue guitarist and singer.
AUBREE: It was really a nice family atmosphere that nobody was too good for anybody else. Everybody was really kind.
All these people go on and they do two songs each with Marty and his band. They're kind of like the house band and so it's kind of a nice little variety of different musicians and songs. We were on last, and we were worried that because it started at 9:00 and we were probably going on at 11:30. But it was just a great experience for the kids to not only be around so many good musicians and see them up close, but for them to kind of see us too and be so encouraging and complimentary. So that was needed.
And then the standing ovations were very sweet and not expected. I mean, we thought by the end of the night people were probably going to be getting tired, but they didn't. The kids were pretty honored because most everybody else got two songs and Marty asked them to do three.
You can watch their full performance from The Ryman here: Colt Clark and the Quarantine Kids at Marty Stuart's Late Night Jam

TBPM: Do you guys want to continue doing public appearances and doing live shows going forward?
AUBREE: I don't think they've ever said no. They're always up for trying new things or kind of testing the waters to see how different things would go. They've played for all kinds of different size audiences.
Colt does a lot of work with corporate events and private events in the Tampa Bay area and he travels. Just this last month, we were in Dallas. The kids played with him at a show there.  Houston, they've played. They've played a bunch of different places with him, so every time they get the opportunity, they do it. I think they're always up for trying new things and just seeing how they feel about it. Trying to test the waters. There's really no way to find out if you like something if you never try it.
TBPM: Have the kids ever had any interest in writing their own songs?
AUBREE: Yeah, it's funny. They'll come up with little things, or sometimes they they'll say it's not ready. But, I'll be cleaning their room and I'm like, 'Oh, that's actually pretty cute!' They're like, 'No, you can't listen, it's not ready, we're still working on it."
They've come up with some cute stuff and Colt actually has had a couple of albums by himself before the kids were even born. I was pregnant sitting in the studio, but he's written his own stuff and we're trying. Right now it's such a busy season of life that we always joke that we would love to be able to write, but we would also love to be able to get seven hours of sleep at night!
So, I think that's that is a goal. We would really like to work on that with the kids. They've dabbled in it, and they have their own little band that they play with, with some kids from our church. They don't play church music, they'll come over and practice some Rolling Stones or some Coldplay or this or that in the living room which is cool for them to do too.
TBPM: Now that it's two years later and things have gotten back to normal, what made you decide to continue doing this?
COLT: We were doing a song a day and they were loving it. I was loving it and like I said, it gave us something to look forward to. But then things started opening up and I started getting back to some work and so we did every other day. A couple of months ago, it was tight, so we were just going to do two songs a week because things have been getting so hectic schedule-wise.
AUBREE: I think the main thing is that they never want to stop. That has been like an overall theme, and we don't either. It really has brought us closer as a family and giving us some common interest and things like that. I think the main part of it too is that we never imagined the reach it would have.
When we started, we were getting messages from people in Argentina, Iceland, Australia, New Zealand, and China – all over the world. They would tell us that is what is keeping them going, and the one thing they had every day to look forward to.
A lot of people don't realize people in other countries were locked down far longer than we were, and repeatedly, it opened up and then they closed back down again. A lot of people in Australia were saying 'We haven't left our house in weeks and weeks, and we wait every day,' because we post around the same time each day. They waited every day for us to post because that's the thing that they looked forward to.
It became bigger than just giving us something to do. We had messages from parents in the hospital with their kids going through chemotherapy and they said they watched our videos with their kids every day.
So, then it was like, whoa, it's way bigger than just learning a song every morning and recording it in the evening. It's a bigger deal to people than just a few moments of levity, and I think that's when we really made the decision that this is a way to keep everybody kind of going at this time. This is something that brings joy to people, and it brings joy to us. And it's just a way to reach out to people when there really wasn't any other way to reach out to people.
Colt and The Quarantine Kids are always open to and interested in doing corporate and private events. To contact them for inquiries, please email clarkfamilyband@gmail.com.
Be sure to follow the Clark family and check out their performances on Facebook and YouTube.
All images provided by The Clark Family.