It Makes Cents: Shorecrest Prep Teaching Important Life Skill of Financial Literacy
Imagine a group of creative sixth graders offering viable, data-driven solutions on how to increase sales at the new School Store. It's happening at Shorecrest Preparatory School, thanks to a new focus on financial literacy.
Teaching Financial Literacy at Shorecrest Prep
Shorecrest believes that a challenging, college-preparatory curriculum must extend beyond academics to include a solid grounding in real-world applications. The newly launched Ross Roeder Institute for Financial Literacy, Entrepreneurship and Economics (RRI) is just one example of how the school provides that preparation.
"Already, the Entrepreneurial Design Institute in the Middle School and the entrepreneurship aspect of the capstone STEAM certificate in the Upper School demonstrate that there is robust interest in these topics among our students," says Nancy Spencer, Shorecrest Head of School.
Earl Walton, Director of the RRI, is dedicated to ensuring that students of all ages have a chance to develop their understanding and skills in these areas. "Our goal is to weave the concepts of financial literacy throughout the school," Walton says. "We want our kids to actively participate in their financial life and financial success. That's our North Star."
Initial efforts include connecting the financial literacy conversation with existing programs in the Middle and Upper Schools, with future plans including the creation of programs for Lower and Experiential School Students.
Walton is also very excited about the prospect of connecting older students with local mentors. "There's no better way to learn than experience," he says. "It's not just what's happening in the classroom. It's about connecting Shorecrest to the bigger St. Petersburg business community."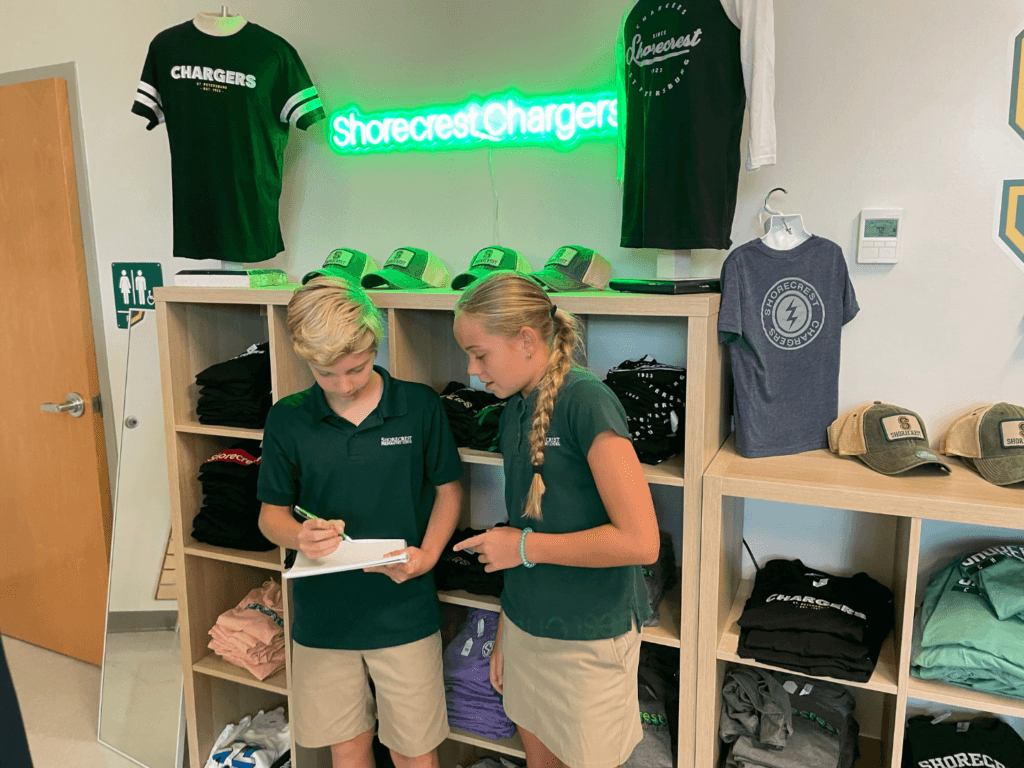 The current initiative involving the sixth graders offers them the chance to take what they've learned in their science and technology classes and put it to work on behalf of the new Shorecrest School Store.
"Through in-class exercises, they have learned how to format their data in Excel; calculate the mean, median, mode and range using a formula; and create graphs to present their findings," says Chris Scoby, Middle School Curriculum Dean and Technology Coordinator.
The students recently met with Cayce Cirino, the Shorecrest School Store manager, and Walton to review the store's sales data, and it didn't take long for them to start coming up with thoughtful and creative suggestions.
Ideas included promoting new products on billboards and at School events; polling students about their favorite snacks and using the data to inform inventory decisions; and moving high-value items to the most highly trafficked areas.
Following that informal meeting, students can participate in a session to pitch their recommendations to a committee of experts, with the possibility of seeing their ideas incorporated into the store.
One hallmark of a Shorecrest education is learning how to make wise choices – a skill that students at all grade levels acquire in programs and activities across the campus. The Ross Roeder Institute for Financial Literacy, Entrepreneurship and Economics is an important addition to this facet of the learning experience. It will educate and empower students to make informed decisions about their financial lives and futures – a critical way to set them up for success.
---
*Presented by Shorecrest | Originally published in November 2023 of Tampa Bay Parenting Magazine