The BEST Hidden Things to Do at Disney Springs with Kids
So the kids want to go to Walt Disney World, and while there are plenty of new rides and shows, maybe you'd rather not go into the parks. Or if you're looking for a more low-key day at Disney, you've got options. These things to do at Disney Springs with your kids will make for a fun-filled day.
But first, let's eat…
Before we get into the many hidden things to do at Disney Springs you may not know about, let's grab some food to fuel up the fun.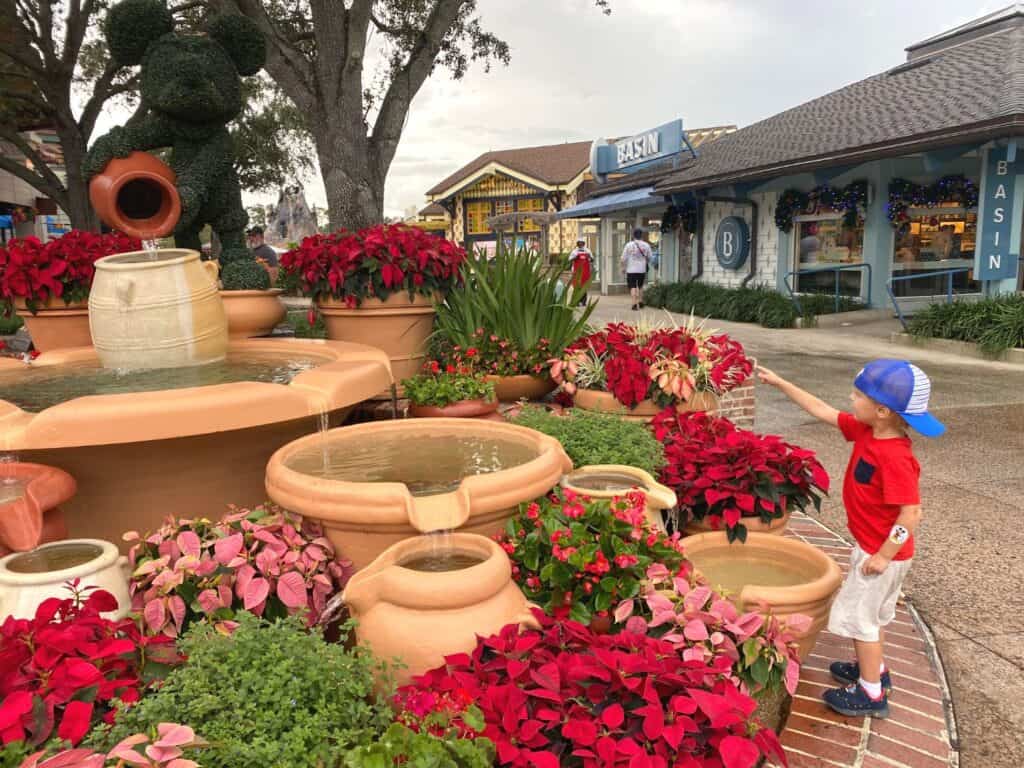 There are dozens of eating options at Disney Springs, from food trucks to sit-down experiences and quick-service restaurants. While all welcome children, this is Walt Disney World, after all, some are geared a little more toward the younger crowd.
Here are some kid-friendly restaurants at Disney Springs you may want to consider when dining with your family for a meal.
AMC Disney Springs 24 Dine-In Theaters
Six of the 24 theaters at AMC Disney Springs offer a dine-in movie experience. Enjoy the latest released movie while in a big, comfy chair getting seat-side table service. You can order food off a menu that includes gourmet finger foods, burgers, sandwiches, and flatbreads.
Bonus for adults, there's a full bar.
Rainforest Café at Disney Springs Marketplace
You can spot this restaurant from anywhere in Disney Springs. Just look for the volcano that erupts roughly every 20 minutes. Dining here means eating deep in a rainforest with lush landscaping and audio-animatronic creatures like birds, elephants and gorillas.
Similar to a rainforest in the Amazon, there are often storms with thunder and lightning – something to keep in mind when dining with young ones. The menu is huge and includes all the favorites adults and children usually enjoy from pasta to pizza to chicken fingers and plenty more.
Pro-tip!! Join the Landry's Select Club to earn rewards at participating Landy's restaurants and priority seating (kind of like "skip the line"), including Rainforest Cafe and T-Rex Cafe.
Splitsville Luxury Lanes
Splitsville Orlando is a great time for families. Besides being a kid-friendly restaurant at Disney World, it is one of our favorite things to do at Disney Springs. In addition to the vast menu – sushi, salads, burgers – your crew can bowl while you eat.
This two-story establishment has TVs, billiards, and live music all set in a nostalgic, retro atmosphere. They also host birthday parties.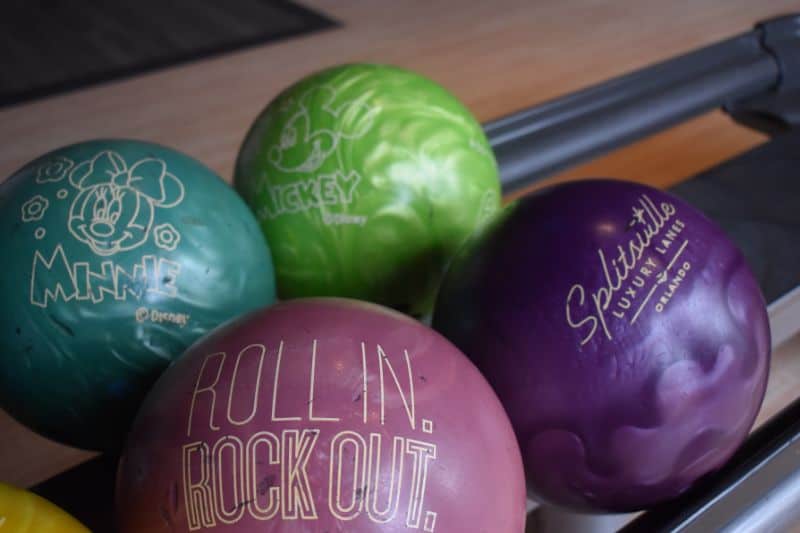 Terralina Crafted Italian
Terralina Crafted Italian is known for its hand-tossed pizza baked in a wood-fired oven. Take a table inside and watch the kitchen through large windows. You'll be able to see your pizzas being made and baked in the pizza oven. Or, take a seat on the deck outside and enjoy some of the best people-watching.
Our sibling site, Orlando-Parenting.com narrows down the search with 10 Kid-Friendly Restaurants at Disney Springs.
Things to do at Disney Springs: Kids Cooking Classes at Terralina Crafted Italian
Terralina also offers cooking classes once a month to children ages 5 -12, accompanied by an adult. Terralina Executive Chef Justin Plank teaches the kids how to make pizza or ravioli in the one-hour class. Each little chef also gets an apron, chef hat, drink, and sundae. The cost is $30 per child.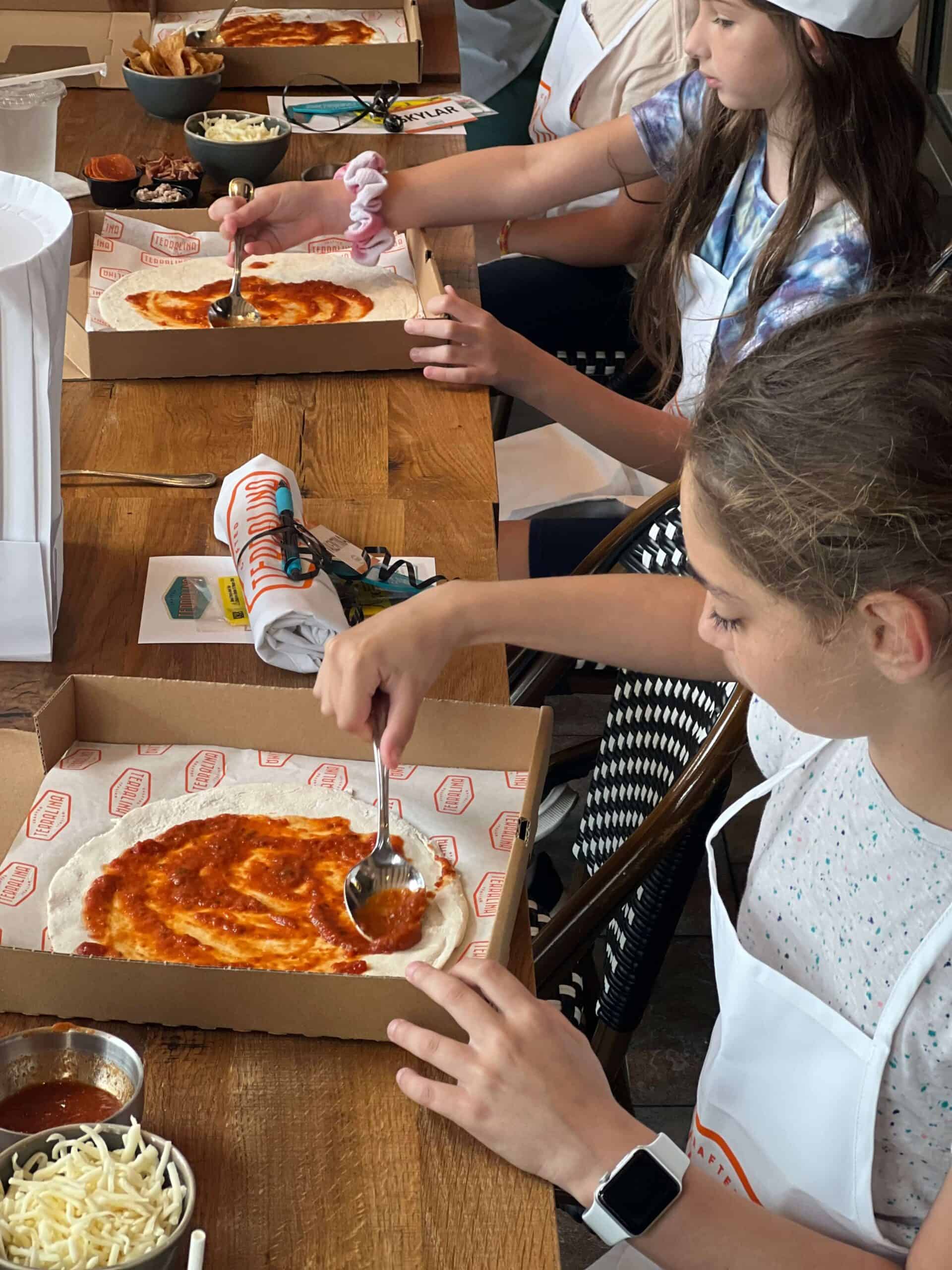 T-Rex Cafe
Step back in time more than 200 million years in this dinosaur-themed restaurant. There are various different rooms you can dine in, all decorated differently. There's a color-changing ice cavern, a 15-tall t-rex, a meteor shower and plenty of other sights and sounds. The scenery may take you back in time, but don't worry, the menu is up-to-date with favorites like steaks, salads, and burgers. While waiting for your food, future archaeologists can dig for bones and stones in a special Paleo Zone.
Also try…
Planet Hollywood
Chicken Guy
Blaze Pizza
Rides and Attractions at Disney Springs
Are there any rides at Disney Springs?
While you won't find your traditional Disney theme park attractions here, there are still some rides at Disney Springs.
Marketplace Carousel
This classic, old-fashioned carousel has 16 handcrafted horses and two ornate carriages you can ride. Guests under 42-inches need to be accompanied by an adult for the nearly three-minute ride. The cost is $3 per person.
Marketplace Train Express
The classic choo-choo train ride takes little ones on a short trip around a track. Like the carousel, guess under 42-inches need to be accompanied by an adult and it is $3 per person.
Aerophile
Better known as the big balloon, this is the world's largest hand-painted helium balloon. It was custom-built for Disney by Paris-based-company Aerophile S.A. It's filled with 210,000 cubic feet of helium and can go as high as 400 feet, weather permitting. Each ride last about 8 minutes and offers panoramic views up to 10 miles away.
Tickets are purchased at the attraction on a first-come, first-serve basis. The cost is $25 for adults, 10 and over and $20 for children ages 3 – 9.
This is also a neat way to see Disney fireworks outside of the parks, if you time it right.
Vintage Amphicar Tour
Seeing an amphicar (a convertible that can operate on land and in water) is rare. There are less than 400 in existence. Riding in one is even rarer.
Disney Springs is the only place in the United States where guests enjoy this experience. The 20-minute tour is given by an experienced, licensed driver on the lake that surrounds Disney Springs.
The cost is $125 per car, which can accommodate three to four people. Tickets are sold at the BOATHOUSE BOATIQUE. If you spend $50 or more at the BOATHOUSE Restaurant or BOATIQUE, you get $25 toward your Amphicar tour.
Alternatively, there are three docks at Disney Springs that offer boat transportation to nearby resorts: Disney's Old Key West, Saratoga Springs, and Port Orleans Resorts. The boat transportation is technically for guests of these resorts, but it is free to ride.
NEW Disney Springs Kids Club
We love this new FREE thing to do at Disney Springs – the Kids Club! Every Saturday at 10:30 AM, 11:15 AM and noon head to Waterview Park in The Landing at Disney Springs (in between The BOATHOUSE and Jock Lindsay's Hangar Bar).
Flight Crew: Boogie down at a high-energy dance party featuring dazzling jump-rope routines and thrilling acrobatics. Be part of the show—or simply watch the excitement unfold.
Wassalou Drum Circle: Create music with Wassalou, a vibrant Afropop band. Play the bongos, shake some maracas or just clap your hands and dance along to rhythmic beats. Musical instruments are provided.
DJ Katie "KD Queen" Beck: Get ready to hula hoop, do the limbo, show off your best moves and play games at this lively bash.
Things to do at Disney Springs Stores
Personalize a minifigure at The LEGO Store
This location is the only LEGO store in North America where you can make a personalized LEGO minifigure. You start by selecting from 150 different torso options and then you get to design the shirt, pick out legs, hair or a hat and even accessories like a phone or glasses. You could make your minifigure look just like you!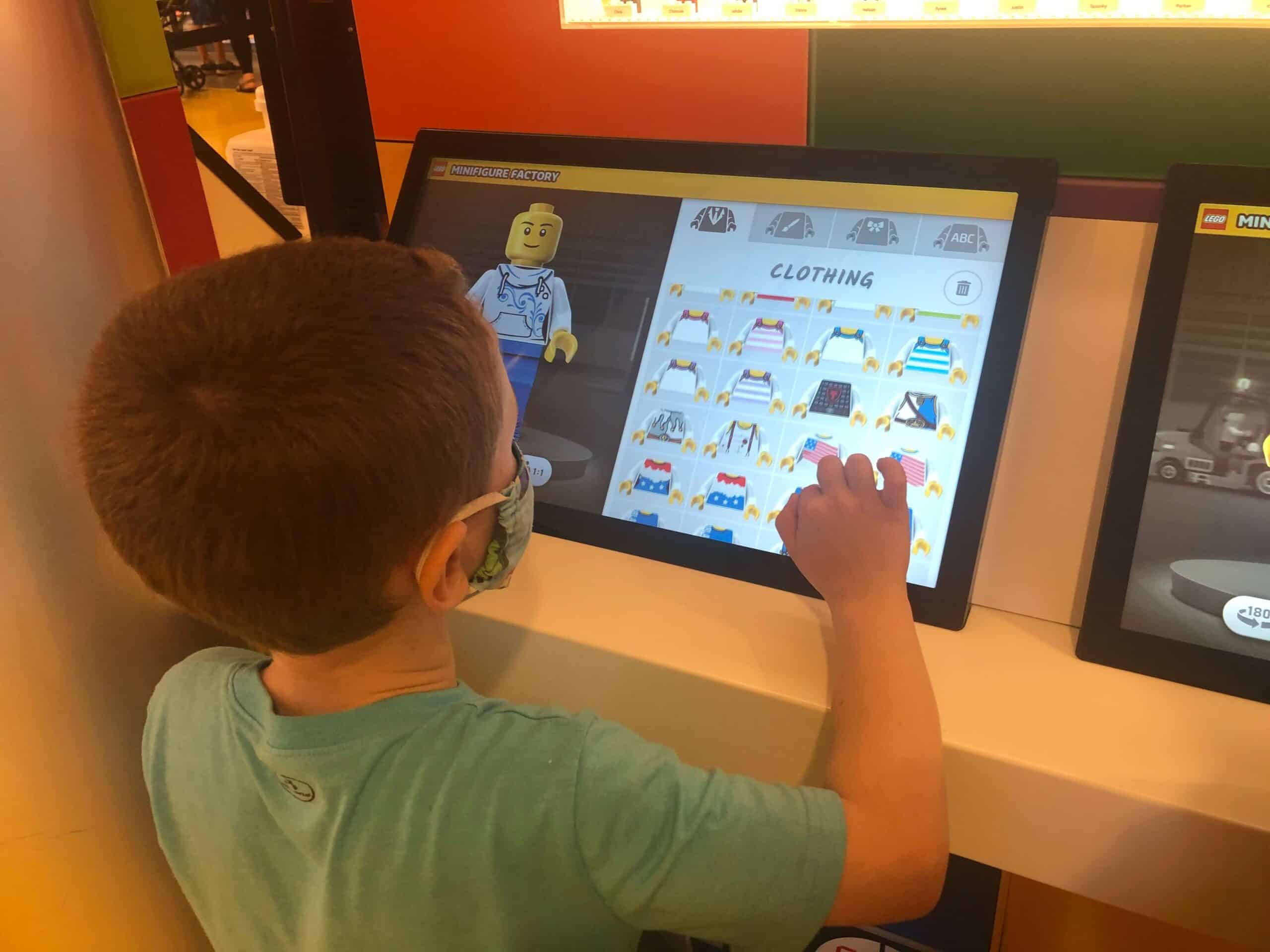 The cost is $11.99 and you can book a reservation online at storebooking.LEGO.com or you can join the virtual queue when you arrive at the store.
Design your own M&M at the M&M Store
Design your own M&M from color to the design on it. You can even put your face on the chocolate-coated candies. Prices vary depending on what you take your M&Ms home in, like a bag or box or another container.
While at the store, you'll want to make a stop at the back wall, which has dozens of M&M flavors available for purchase.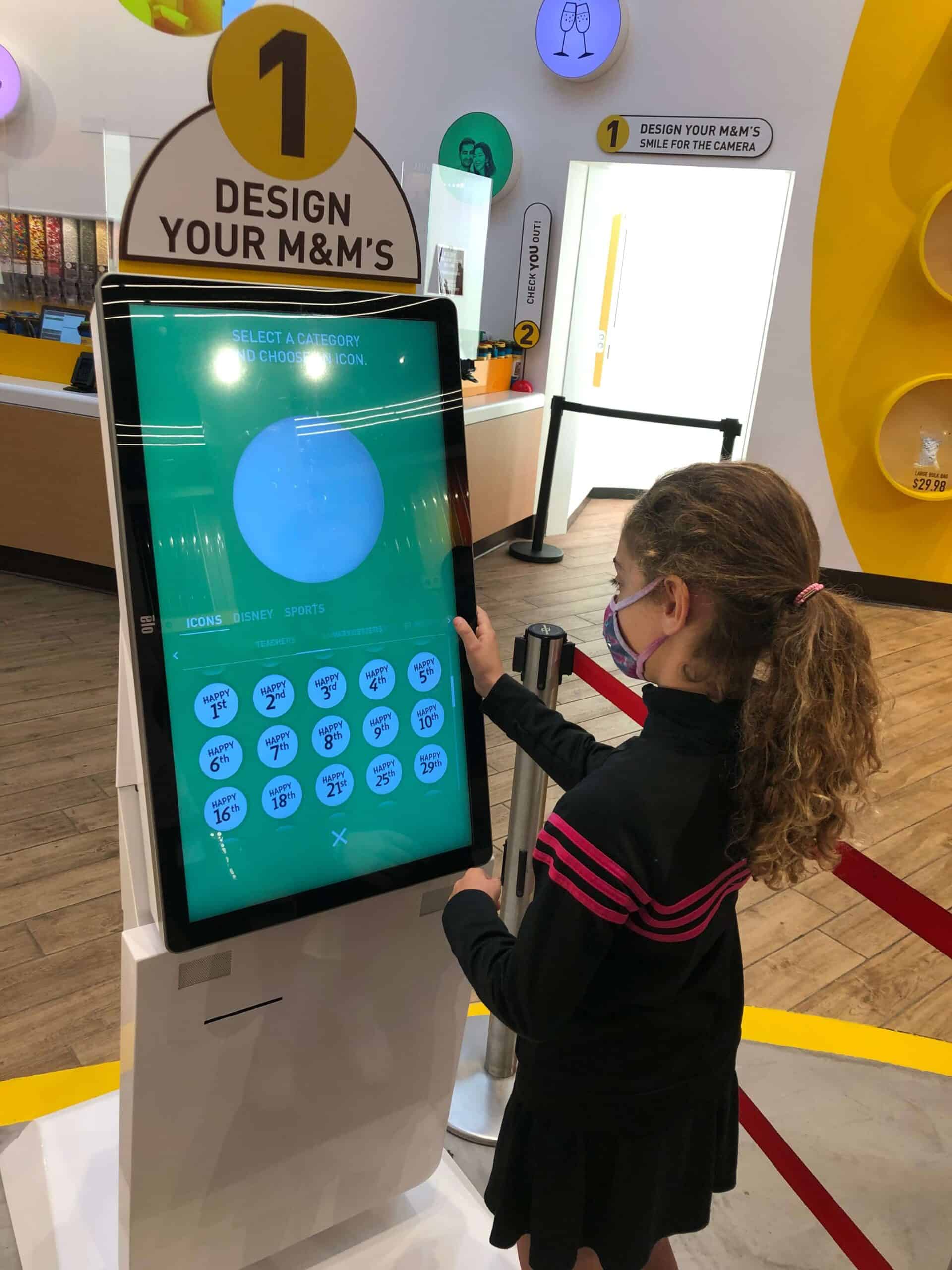 Spin Art at Art Corner
Get a little exercise and create some art at the same time. The Art Corner is located at Disney Springs Marketplace, near the carousel and train. Start by picking four different colors of paint for your creation. Then, one person hops on a bicycle and pedals, which in turn causes a canvas to spin. Another person drops paint on the moving canvas creating a spin art masterpiece.
This is a fun way for parents and kids to work together to create art, or even cooperative siblings. Consider using colors of each other's birthstones or colors inspired by your favorite characters. The cost is $15 for the canvas and an extra $10 to have it framed. It usually takes about half an hour to dry and then it's all yours.
This experience is also usually offered during the EPCOT Festival of the Arts.
Crystal Arts by Arribas Brothers
Take home a piece of iconic glassware from Arribas Brothers. Select a glass vessel to hold your colored crystals. Options include a skull for $55, a carriage, apple or wand starting at $65, a rose for $79 or Mickey's hand for $85. Then you select from a rainbow of small, colored crystals and decide the pattern of how you want your creation to look.
Design your own candle
You can design your very own candle, from how the glass jar looks, to the scents, to the colors. Head to the Marketplace Co-op and look for the Bowes Signature Candles station. There is no minimum age for this experience, however, little ones will need some assistance as you do work with hot wax and glass.
It's pretty impressive watching an empty glass become a beautiful-smelling candle in about half an hour. The candle does need dry for about 40 minutes before it can be packaged up to take home. The cost is $35.
Catch a breathtaking Cirque du Soleil show
This new show is an awesome collaboration between Disney animation and Cirque du Soleil. The 90-minute show is highly entertaining, but I wondered if it would capture the attention of my three high-energy children.
My 10 year old tried to grasp the storyline, but had some trouble following along. She did appreciate the talented performers. My 7-year-old son was enthralled with everything. He laughed a lot, gasped many times and kept pointing out sights all around the theater. My 5 year old was the one I was most worried about, but he was absolutely mesmerized, constantly yelling out the names of the Disney characters he saw and the Disney songs he heard.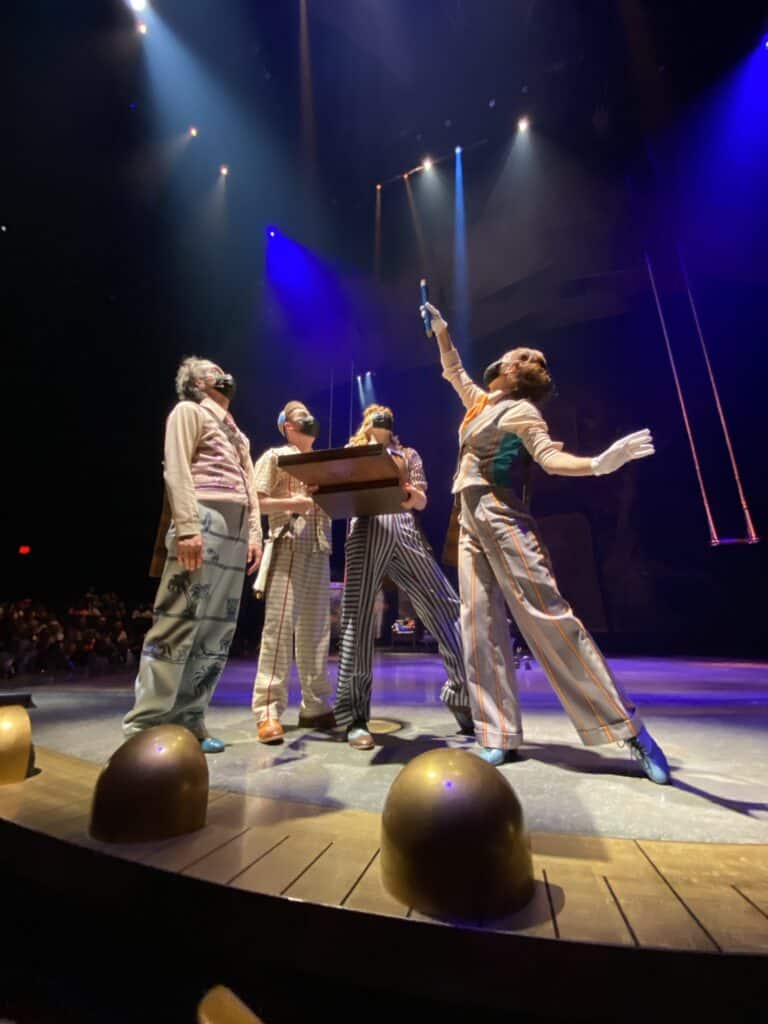 There are two showings most days, 5:30 p.m. and 8 p.m. Tickets start at $80. If you want more details so you can decide if it is worth it for your family, check out our Parent's Review of Cirque du Soleil Drawn to Life.