Sensory Play to the MAX: Calling All Art Explorers!
As a mom of a very enthusiastic 3-year-old budding artist, I'm always on the lookout for activities that let her express her creativity and get messy – without the clean-up part. Luckily, the Tampa Bay area delivers with these stand-out toddler art classes which do just that.
For even more ideas of things to do with your preschooler in Tampa Bay, check out our guide: The Best Things to Do with Toddlers and Preschoolers in Tampa Bay!
Toddler Art Classes in Tampa
110 Country Club Dr., Tampa 33612
From traditional brushes on ferns and branches to painting on canvas using toy cars and water balloons, every class at Painted Leaf Studio is full of inspiring play ideas. You'll see twists on original sensory play classics, like the beloved rice station, some variation of a water station, a spray bottle station, as well as – bubbles!
Every week there are 5 or 6 stations set up meant to inspire independent play, while parents are encouraged to step back and watch. The kids have total free reign, and they love it. All of this magic happens outdoors, nestled under a canopy of huge live oaks trees just off of 275 and Country Club Road, and usually include a take-home work of art.
Painted Leaf also offers art camps and weekly classes for slightly older kids, as well as a Homeschoolers Art Club.
Classes & How to Register:
Art & Exploration in the Forrest Pop-Up classes (for children aged 1.5 – 5 years) are held one Saturday morning per month at 10am; $30 per child. Each month's classes are offered up at the beginning of each month on a first come first serve basis.
Book classes online at Paintedleafstudio.com. Follow @paintedleafstudio and sign up for newsletters to get notified about upcoming classes.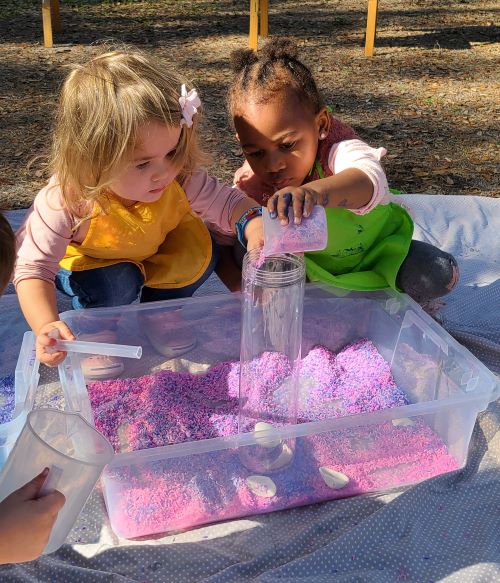 3347 S. West Shore Blvd, Tampa, FL 33629
16921 Gunn Highway, Odessa, FL 33556
Yellow Bird Studio may just be the best kept secret in Tampa. Step inside the cozy and expertly organized studio and put on an apron. Young artists are working away on self-directed projects spread out throughout each room while a canary is chirping in the background. There's even a sensory station and a separate play room with all the best toys, just in case.
With indoor classes and two locations to choose from there's a creative outlet for everyone. Schedules at each location vary but each include classes for Toddler & Preschool, After-School and Homeschool classes, Sewing and Crafting, Painting and Drawing, as well as weekend classes and events. If your kids are a little older (6-11), you can even drop them off every other Friday or Saturday night to paint so you can enjoy a Parents Night Out ($30-$35 per child).
We love their "Pop In and Paint" Family Fridays ($20 for 1.5 hours of open studio), where you can book the timeslot that best fits your family's schedule.
Classes & How to Register:
Story Time Art and Play (kids 2.5 – 5 years, Gunn Highway) are Wednesdays from 10-11am; $10 per child; Little Art and Play (kids 2 – 5 years, West Shore Blvd.) are Thursdays from 10-11:30am; $15 per child.
Book classes online at yellowbirdstudiotampa.com and follow @yellowbirdstudiofl for updates and announcements.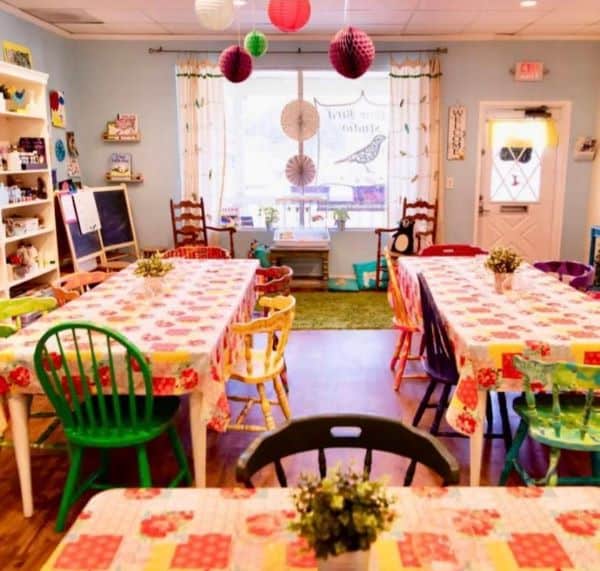 11811 N Armenia Ave Tampa Bay, FL 33612
Miss Anita has been sharing her love of "everything DIY" for over 20 years at her location in Carrollwood. Offering affordable classes, craft parties, supplies, and tutorials, kids can learn to decorate cupcakes, create faux stained-glass pieces, paint with watercolors, make collages and more. Classes include a cute take-home memento.
Classes & How to Register:
Preschool Craft Classes are Wednesday afternoons, once a month. Come any time between 1-3pm to complete a different craft with your child.
Book classes online at missanitascrafts.com; $10 per child. Pre-register at least 48 hours in advance to reserve your spot.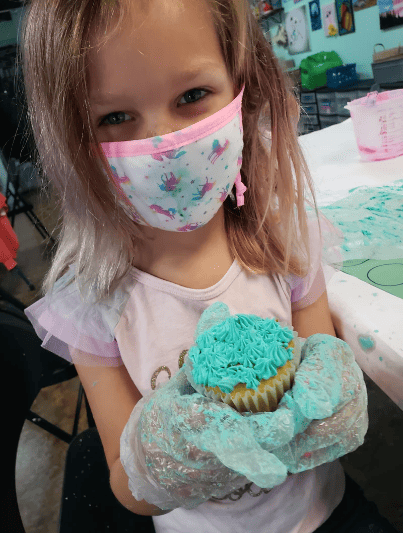 308 S. Boulevard Tampa, FL 33606
A "musical and educational social club for little ones and their grownups," we love the The Sunflower Patch's interactive, play-based classes. Offering a variety of Music, Movement, Sensory Play and other classes for babies and children 6 months to 4 years old, all of their teachers are highly credentialed in early childhood education and you can tell.
Set in a beautiful historic home in Hyde Park Village, each room inspires joy and wonder. They provide the smocks and even offer both washable tempera paints and edible paint options.
They even host character meet-and-greets as well as wonderful holiday parties, complete with professional photographer so you can enjoy the moment and not have to worry about snapping that perfect shot.
Classes & How to Register:
Painting Playhouse (kids 6 months – 4 years) & Sensory Playhouse (kids 6 weeks – 4 years), check their calendar for schedules; $25 First class promotion; monthly subscription plans available, plus daily drop-in rates.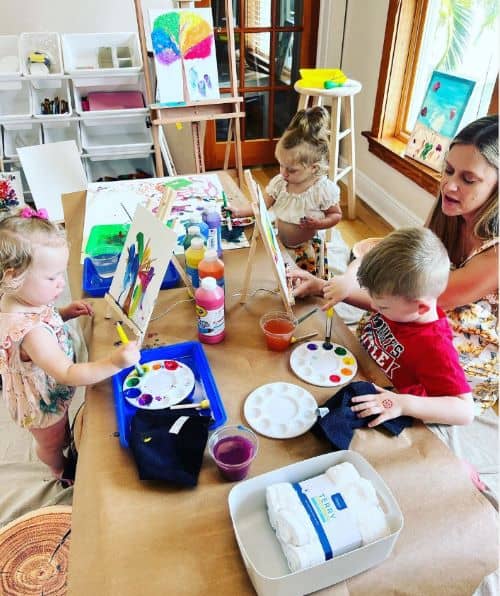 Toddler Art Classes in St. Petersburg
2534 22nd Ave N, St. Petersburg, FL 33713
Romp 'n Roll has classes for runners, builders, drum-bangers, twirlers, you name it. With a ton of great options for parents and kiddos age 3 months to 5 years, they offer classes based on specific interests so you can find the perfect class to fit your child.
Many of their classes combine art and play to make the most of sensory learning. Art Explorers classes are offered at the 16-24 months and 2-3 year-old ranges, but babies as young as 3 months old can partake in "Babies Gym and Music" classes. Their class "2 for Tykes" (for age 16 month – 3 years) combines the best of gym class and art class, developing both fine and gross motor skills while getting out all that energy.
We love their "Tumble Tunes" class, and other themed classes like "Castles and Crowns" or "Superhero's", where the art room is transformed into a full magical experience.
Classes & How to Register:
Romp 'n Roll offers a ton of different classes to choose from which are available as single, drop-in classes, bundled class packs, and memberships (which require a one-time registration fee). Their Open Play is just $10 for a single time drop-in (free for members) and they offer $10 trial classes.  They also offer camps, family events, and hosts birthday parties.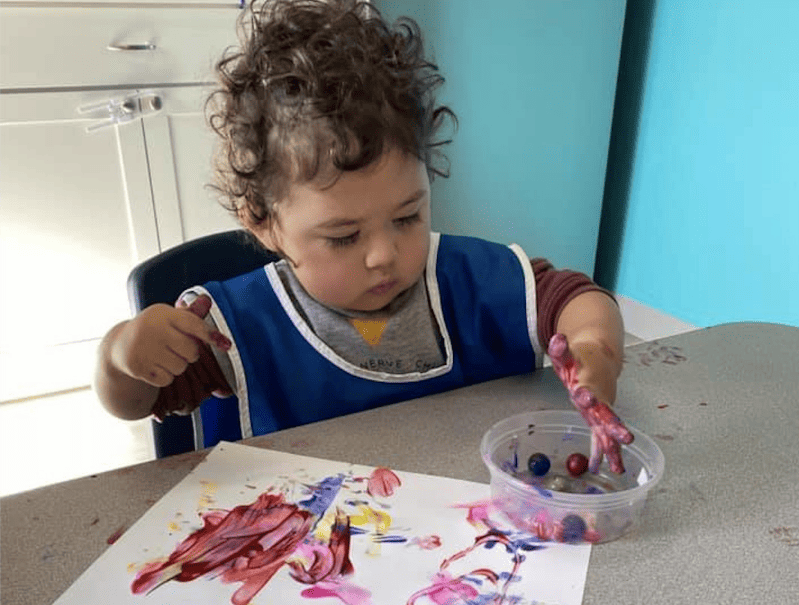 6850 Central Ave Suite A, St. Petersburg, FL 33707
Practically Pikasso is a pottery painting and party spot that offers Toddler Tuesdays, where you can listen to a story and paint a themed piece of pottery with your little one.
Classes & How to Register:
Toddler Tuesdays happen weekly at 10am and feature a new book and corresponding pottery; $14 per class.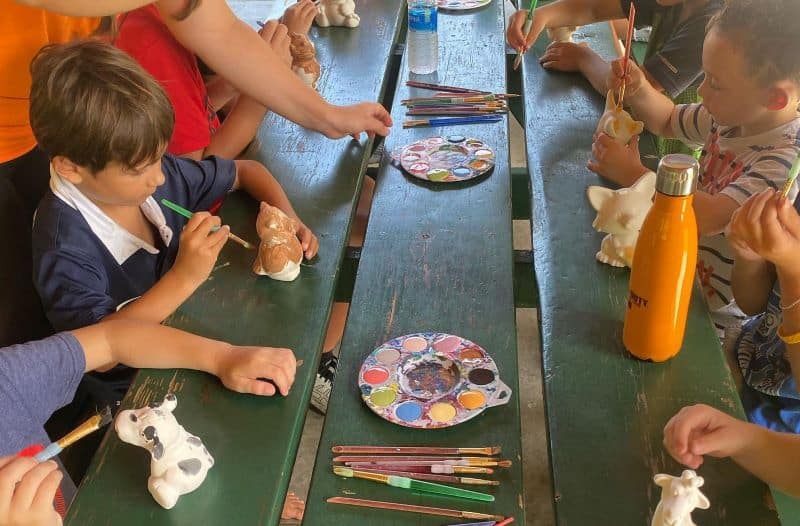 EVEN MORE PAINT FOR YOUR PALETTE!
Want to host a Painting Party, or add it to a Birthday Party? 
Artists on a Roll will come to you, set it all up and include everything you need to inspire the inner artist in us all – photo ops for the 'gram included! Owner/artist Ms. Erica also hosts pop-up painting parties most weekends during the Fall and Winter months at parks all around Tampa Bay. Follow @artists_ona_roll on Instagram for upcoming events and tickets.
RELATED: The BEST Birthday Party Venues and Businesses in Tampa Bay
Have a slightly older budding artist at home?
Check out these great Art Break Do at Home Art Projects put together by the Museum of Fine Arts St. Petersburg which are perfect for kids K-6.
Have leftover used arts and craft supplies you're not sure what to do with?
Bottom of the Bin in Seminole accepts new, used, partially used, and even some scraps of art and craft supplies in exchange for store credit!
Feature Image: Painted Leaf Studio, by Zoe Joiner.