Where to get Thanksgiving Dinner in Tampa Bay: Dine in Restaurants and To-Go Options
Thanksgiving 2023 is right around the corner! Between work, school, and just the hustle and bustle of holiday schedules in general, planning to make Thanksgiving dinner might not be on the top of your list.
Related: Thanksgiving Week Things to Do: Camps, special events + MORE!
If that's the case, don't fret. Several Tampa Bay area restaurants have Thanksgiving dinner specials that lets you skip the shopping, cooking, and cleaning.
Whether you'd rather pick up a ready-made meal to serve at home or dine-in, check out these establishments serving up Thanksgiving feasts this year.
Where to Dine-in for Thanksgiving in Tampa Bay with style!
691 S. Gulfview Blvd.
Clearwater, FL
Welcoming the fall season, JW Marriott Clearwater Beach Resort & Spa is hosting a special Thanksgiving dinner at its signature Latitude 28 restaurant, and serving up four new festive fall cocktails at both Latitude 28° and its rooftop restaurant, The Deep End.
The Thanksgiving dinner menu at Latitude 28 is a three-course Prix Fixe offering that includes traditional options such as Turkey Breast with all the fixings, or specialties like Poached Lobster Pappardelle to satisfy more coastal cravings.The three-course menu includes the choice of one appetizer, one entrée, and one dessert.
Additionally, both Latitude 28 and The Deep End are pouring on the autumn vibes with three new Fall Cocktails: Fall Forward (Knob Creek Bourbon with fresh mint, lemon and peach puree and topped with maple peach foam); Banana Bread Black Walnut Old Fashioned; and Pumpkin Spice Rum Chata Martini.
Cost: Adults: $99 (13+)/Kids: $10-20 a la carte menu
105 N. Bayshore Drive
Safety Harbor, FL 34695
Enjoy a Thanksgiving with a view at Safety Harbor Resort and Spa. They'll be serving up a special brunch buffet from 11:00 am-3:00 pm that will include a gourmet omelet station, pumpkin spice French toast, lobster bisque, Mediterranean platter, slow-roasted prime rib, and an international cheese board. They will also offer traditional Thanksgiving items such as herb-roasted turkey with apple stuffing, sweet potato mash with marshmallow and strudel, and traditional green bean casserole.
A separate children's buffet will offer creamy macaroni and cheese, hot dog pups, chicken tenders, and tater tots. All non-alcoholic beverages are included as well as one welcome mimosa per adult. Reservations are required. Adults are $79 plus tax per person and children 10 and under are $31.75 plus tax per person.
Hyatt Regency Clearwater Beach
301 S. Gulfiview Blvd.
Clearwater Beach, FL 33767
Sit back, relax, and let Hyatt do the cooking. The resort will provide a special holiday buffet at its SHOR American Seafood Grill between 2pm-8pm. The menu will feature a carving station with several main dishes including herb and grain mustard-rubbed prime rib and a marinated statler turkey and confit dark meat served with giblet gravy and cranberry sauce. It will also provide fresh seafood, handcrafted cheeses and cured meats, as well as savory soups and gourmet salad options. Guests can enjoy a variety of traditional holiday side dishes including green bean casserole, white cheddar macaroni and cheese baked in a cornbread crust, garlic Yukon whipped potatoes, baked sweet potato casserole and a variety of house-made desserts.
Cost: $75 for adults and $35 for children. Reservations are required and can be made by visiting https://www.exploretock.com/shoramericanseafoodgrill.
For guests staying over night on Thanksgiving, the resort will provide an in-room feast prepared by the resort's talented culinary team. Guests can relax and enjoy a private dining experience delivered directly to their door complete with a set-up of a decorative centerpiece and china dinnerware. The menu will feature a charcuterie board with local artisan meats and cheeses, as well as a chilled shrimp display and composed salads. The entrées will include an herb and grain mustard-rubbed prime rib and marinated statler turkey and confit dark meet served with giblet gravy and cranberry sauce. The meal will be complemented by several traditional side dishes ranging from a sage sausage dressing to a green bean casserole and a variety of house-made desserts.
Guests can enhance the Thanksgiving dining experience with an after-dinner movie add-on. The additional amenity includes a holiday movie rental, freshly-popped popcorn, and a sweet treat prepared by the resort's pastry team. Reservations can be made by emailing shorgrillclearwater@hyatt.com or by visiting exploretock.com/shoramericanseafoodgrill.
The Dan at Hotel Flor
Downtown Tampa's The Dan is offering guests a pre-fixe dinner experience featuring traditional holiday favorites with it's own flair. Guests can enjoy items like Petit Crab Cake, Roasted Squash Soup, Wild Alaskan Salmon, Braised Short Rib, Chocolate Bourbon Pecan Tart, and more.
Reservations can be made here or by calling 813-318-9719.
Cost: $60 adults and $25 for kids ages 12 and under.
148 Marina Plaza
Dunedin, FL 34698
Bon Appetit is putting a fancy spin on Thanksgiving dinner. Not only do they provide a full Thanksgiving menu, but they also have an unbelievable turkey day buffet. Along with a complimentary glass of Champagne, your plated celebration will include your choice of items like Maine lobster "martini," escargot, roasted Carolina turkey with pecan stuffing, and pan-seared Chilean sea bass. Bon Appétit's buffet menu boasts dishes like Creole remoulade shrimp, chilled mussels, prime rib beef with au jus and more. They also have a separate kids menu that includes roast Carolina turkey, penne pasta, and crispy fried shrimp. $99 plus tax per adult and $10 per child under 10. Reservations are available online.
Various Locations
Maggiano's will be offering family-style dine-in for Thanksgiving. This year's dine-in family-style menu includes balsamic tomato bruschetta, salad, and your choice of roasted turkey, baked smoked ham or parmesan-crusted tilapia. The dinner comes with a choice of two pastas for the table and two sides, with options like Tuscan creamed corn, sage & sausage stuffing and garlic mashed potatoes.
For dessert, the options look delicious, with your choice of two for the table between pumpkin praline cheesecake, warm apple crostada, and tiramisu.
Tampa dock: 603 Channelside Dr Tampa, FL 33602
Clearwater dock: 25 Causeway Blvd Clearwater, FL 33767
Leave the fuss to the Yacht StarShip crew and share a special day with loved ones on a Thanksgiving Day buffet cruise. Sail off on sparkling blue waters while you sit down to a delicious meal including carved turkey with sage pan gravy, apple cheddar cornbread stuffing and Yukon mashed potatoes with ricotta and buttermilk. Once you've had seconds, have a round at the chef's dessert selection.
After dinner get on the deck and enjoy the view of the bay and skyline, while the cruise director plays the latest tunes. There are three cruises offered this turkey day, from 12-2 p.m., 3:30-5:30 p.m. and 7-9 p.m. with boarding is 30 minutes before leaving the dock.
Cost: Tickets are $69.95 for adults and $44.95 for children, plus $3 marine fees, tax, and a $10 gratuity.  Tickets include coffee, tea, and water and there will be a cash bar.
2425 N Rocky Point Dr.
Tampa, FL 33607
Tucked away on the shores of Old Tampa Bay is a rustic restaurant where for more than 25 years locals eat on the water. The Rusty Pelican is offering a Thanksgiving Day four-course brunch from 10:00 am-4:00 pm on Thanksgiving Day, followed by a seasonal a la carte dinner menu with Thanksgiving specials from 4 p.m. to 9 p.m.
The brunch menu has everything from their normal seafood offerings to more traditional Thanksgiving fare.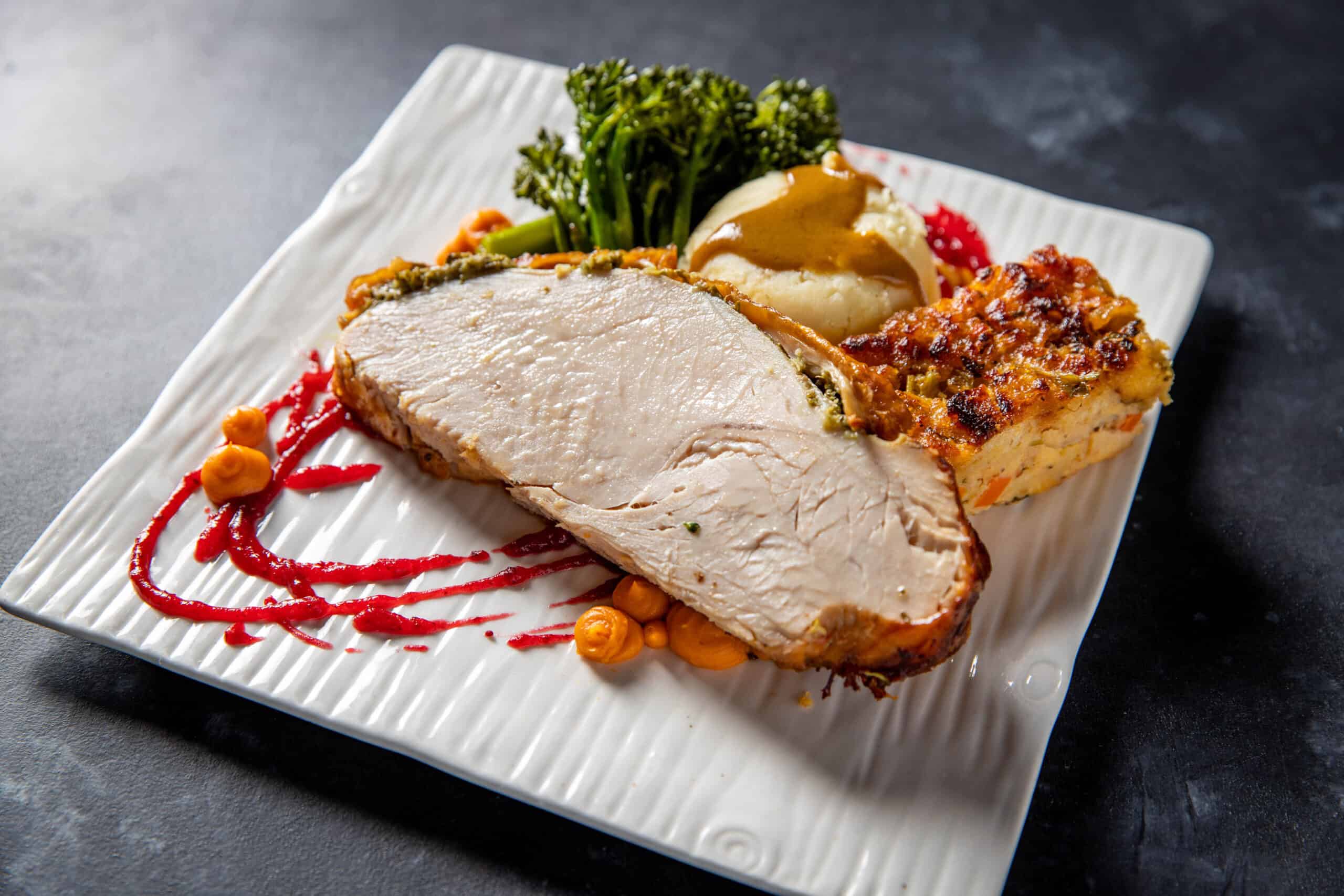 5500 Gulf Blvd.
St. Petersburg, FL
Their Thanksgiving buffet menu includes Gulf Peel and Eat Shrimp; Made-to-Order Omelet Bar; Waffles; Waldorf Salad; Artisan Greens Salad Bar; Carving Station with Prime Rib and Roasted Tom Turkey; Lavender Salmon; Bourbon Honey Glazed Ham; Pasta Bar with Tri-Colored Rotini and Butternut Squash Ravioli; Sage and Cranberry Cornbread Stuffing and Roasted Winter Vegetables. Desserts include Assorted Pies and Cheesecakes, Chocolate Fountain, Mini French Pastries and Petit Fours. Complete menu can be found here. 
Prices are $65 per adult, $55 seniors 60+ and $25 per child (ages 5-12). Kids under 4 eat free.
Reservations can be made by calling 727-363-2290 or visiting here. 
4400 W. Boy Scout Road
Tampa, FL
Add a touch of glamour to your Thanksgiving holiday with dinner at Eddie V's. Their traditional Thanksgiving dinner will include slow-roasted turkey, french green beans, brioche-sage stuffing, butternut squash and cranberry chutney. For those wanting to venture away from a traditional turkey dinner, their full menu will be available as well (at regular menu prices).
Cost: Adults: $55/Kids: $20
---
Dining-in and To-go Thanksgiving Dinners in Tampa Bay
2223 N. Westshore Blvd.
Tampa, FL 33607
The Capital Grille is giving you the option of dining in or enjoying Thanksgiving dinner in the comfort of your own home. Their to-go option includes their signature sides and serves four. All you have to do is roast the turkey! Their traditional Turkey Day sides include brioche stuffing, French green beans with marcona almonds, cranberry-pear chutney, pecan crusted sweet potatoes with hot honey, mashes potatoes, and rolls. Pre-orders begin October 26.
Pick up on Wednesday, November 21, 9am–5pm and Thursday, November 22, 9am–11am.
Cost: $50 per adult, $20 per child
10103 Montague St, Tampa, FL 33626
Everything you need for an incredible Thanksgiving dinner at home is available at Catch 23. Order their complete heat-and-serve Thanksgiving Dinner to serve a family of 6-8 people . Order online before November 19, 2023. Pick up on Wednesday or Thursday, November 22nd, 23rd.
Cost: $38.95 per person for pre-fixe. A la carte items range from $12-$39. To-go options: $195 for 4-6 servings.
4110 W. Boy Scout Blvd
Tampa, FL 33607
Chef Matt McMillan has planned a delectable Thanksgiving dinner that's available as a heat-and-serve for pickup or to enjoy dining in. The to-go package is $199.99 and serves up to 6 people. It includes butternut squash soup with spiced pumpkin seeds, traditional stuffing, slow-roasted turkey, and pumpkin praline cheesecake. Dinners will be available for pick-up on November 22 and 23. The same menu is available for a flat rate for those who would rather dine-in. Be sure to pick up a bottle of their wine of the month to compliment dinner – the Grateful Red and Grateful White.
$199.99 (serves 6). Wine Club Members receive 10% off their order. $34.99 per adult and $14.99 per child 12 and under for dine-in.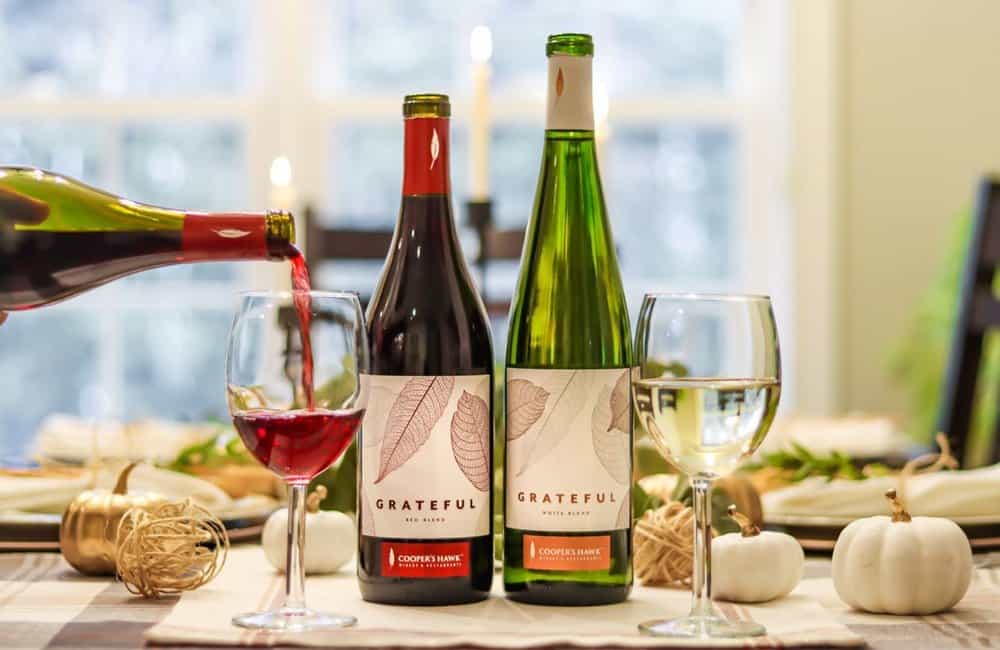 3045 N. Rocky Point Dr. East
Tampa, FL
Bahama Breeze is offering guests a Caribbean escape this Thanksgiving – with an island-inspired twist to the classic turkey dinner at select locations. The meal includes slow-cooked Jerk Turkey, Green Beans, Cornbread Stuffing, Cranberry-Pineapple Chutney and choice of classic Mashed Potatoes or Cinnamon Mashed Sweet Potatoes. Guests who save room for dessert can also try the Pumpkin Praline Cheesecake. This island dinner is available for dine-in or takeout, as a Family Bundle, on Thanksgiving Day. For guests who prefer a dinner of Caribbean-inspired favorites, the full menu will also be available.
Cost: $24.99 per person per dinner. $95 for Thanksgiving bundle
204 N Westshore Blvd
Seasons 52 is a reliable seasonal staple you can count on for holiday meals. If you prefer to dish out the meal at home, their traditional Thanksgiving dinner serves 4-6 people and includes all the staples such as roasted turkey, Yukon mashed potatoes, brioche and sage stuffing, mashed butternut squash, and more. Pickup is on Wednesday, November 22 from 11am-4pm.
Cost: $225 for to-go. $40 adults and $18 children for dine-in.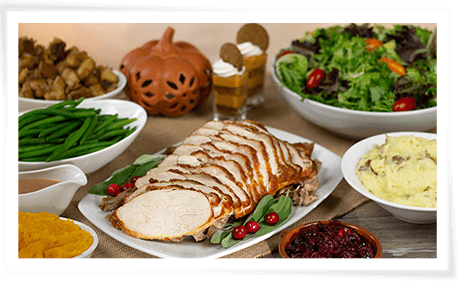 Sarasota and Tampa
Kona kicks off their holiday offerings with their Macadamia Nut Turkey to elevate their Thanksgiving game. This dish is paired with miso mashed potatoes, sauteed green beans, shoyu cream sauce, and ginger-yuzu infused cranberry sauce. You can also indulge in their traditional roasted turkey and brioche stuffing and sip on a Pumpkin Spiced Old Fashioned. Special kids portions are available. Dine-in reservations are available from November 23-26 and pre-order is available for take-out or delivery.
Ruth's motto is no exceptions and no compromise. Thanksgiving Day Ruth's will be serving a soup or salad course, Roast Turkey with Sausage Stuffing and a choice of one of their four most popular sides. Ruth's finishes off your Turkey Day meal with Pumpkin Cheesecake and Vanilla Bean Ice Cream.
They open at 12 on Thanksgiving Day and offer their three-course Turkey Dinner for $44 for adults and $17 for children. Take-home dinner and sides are available starting at $35.
---
Thanksgiving Dinner To-Go in Tampa Bay
5202 Thonotosassa Road
Plant City, FL 33565
Keel is serving up dinner so that you don't have to. Each meal will serve five people and will include one choice of entree, three sides, dessert, and a bottle of Keel wine for $200. Chose from items like Oven Roasted Turkey or Brown Sugar Glazed Ham, Mac and Cheese, Collard Greens, Sweet Potato Casserole, Pumpkin Pie, and Cheesecake with Cranberry Compote. You can pick up your items on November 21 or 22nd.
14330 North Dale Mabry Highway
Tampa, FL 33618
Let 4 Rivers make your holiday meal! Whether it is our slow-smoked smoked turkey that is seasoned in their Turkey Rub with aromatics such as thyme, rosemary and sage or beef brisket that is rubbed with their 4R Brisket Rub and smoked for 18 hours, there is something for everyone. Pre-order your Thanksgiving meal by 11/18 at 5:00 pm. Pick up your meal on 11/22 and heat to serve on Thanksgiving Day. 
3225 S. MacDill Ave
Tampa, FL 33629
Pane Rustica is serving up a traditional Thanksgiving dinner with all the fixings. Menu items include roasted turkey, vanilla bean whipped sweet potatoes, savory stuffing, maple roasted carrots and green beans, cranberry dressing, specialty breads, and desserts. Order deadline is November 18 for pickup on November 22.
Cost: $42 per person
1700 W Fig Street, Tampa
Willa's is offering its "Big Willa Style" Thanksgiving take out which features delicious offerings like turkey, salmon, shrimp cocktail, all the sides and you can imagine and more! It's truly a feast! There are also a la carte options too (each item serves up to 6 guests). Order deadline is November 19 for pickup on November 22.
Cost: Big Willa Style: $500 (serves 6). A la carte items available for $15-$120.
Plant City, Riverview, and Lakeland
If you are in need of a little Southern comfort this Thanksgiving, leave your holiday feast to Fred's Market. You'll get a full-flavored, farm-to-plate meal for up to 8 people. The turkey day menu includes sliced roast turkey breast, cornbread dressing, cranberry sauce and a choice of three sides. You can also add on additional turkey or ham for an extra fee.
Cost: $139.99
---
More stories we think you'll LOVE: