TOP PICKS: Thanksgiving dinner to-go and dining in restaurants in Tampa Bay
It's safe to say that 2022 has been much busier than last year. Between work, school, and just the hustle and bustle of holiday schedules in general, planning to make Thanksgiving dinner might not be on the top of your list.
Related: Thanksgiving Week Things to Do: Camps, special events + MORE!
If that's the case, don't fret. Several Tampa Bay area restaurants have Thanksgiving dinner specials that lets you skip the shopping, cooking, and cleaning.
Whether you'd rather pick up a ready-made meal to serve at home or dine-in, check out these establishments serving up Thanksgiving feasts this year.
Where to Dine-in for Thanksgiving in Tampa Bay with style!
105 N. Bayshore Drive
Safety Harbor, FL 34695
Enjoy a Thanksgiving with a view at Safety Harbor Resort and Spa. They'll be serving up a special brunch buffet that will include a gourmet omelet station, pumpkin spice French toast, lobster bisque, Mediterranean platter, slow-roasted prime rib, and an international cheese board. They will also offer traditional Thanksgiving items such as herb-roasted turkey with apple stuffing, sweet potato mash with marshmallow and strudel, and traditional green bean casserole. A separate children's buffet will offer creamy macaroni and cheese, hot dog pups, chicken tenders, and tater tots. All non-alcoholic beverages are included as well as one welcome mimosa per adult. Reservations are required.
Adults: $60.52 plus tax per person
Children 10 and under: $25 plus tax per person
148 Marina Plaza
Dunedin, FL 34698
Bon Appetit is putting a fancy spin on Thanksgiving dinner. Not only do they provide a full Thanksgiving menu, but they also have an unbelievable turkey day buffet. Along with a complimentary glass of Champagne, your plated celebration will include your choice of items like Maine lobster "martini," escargot, roasted Carolina turkey with pecan stuffing, and pan-seared Chilean sea bass. Bon Appétit's buffet menu boasts dishes like Creole remoulade shrimp, chilled mussels, prime rib beef with au jus and more. They also have a separate kids menu that includes roast Carolina turkey, penne pasta, and crispy fried shrimp. $79.95 plus tax per adult and $14.95 per child. Reservations are available online.
Tampa dock: 603 Channelside Dr Tampa, FL 33602
Clearwater dock: 25 Causeway Blvd Clearwater, FL 33767
Set sail on the waterways of Tampa Bay with a Thanksgiving Dinner Cruise. Yacht StarShip's Executive Chef is offering up a traditional Thanksgiving feast while you enjoy a 2-hour cruise aboard one of their yachts in Downtown Tampa or Clearwater. There are three departure times to choose from (11:30am., 3pm. and 6:30pm). The menu will include a farmer's market salad, slow roasted turkey with sage gravy, cider glazed ham, candied yams, creamy mashed potatoes, green bean casserole, and orange glazed baby carrots. A Chef's selection of holiday desserts will also be served.
Prices start at $69.95 per adult and $44.95 per child. Reservations are required in advance and can be booked online or by calling (813) 223-7999.
2425 N Rocky Point Dr.
Tampa, FL 33607
Give thanks with family and friends this Thanksgiving with a 4-course brunch or a-la-carte dinner at Rusty Pelican. The menu will feature mushroom pappardelle pasta, salt roasted turkey, lobster mac and cheese, crispy whole snapper, miso-marinated butterfish, and a showstopper dessert platter. Reservations are recommended.
$65 per adult, $35 per child.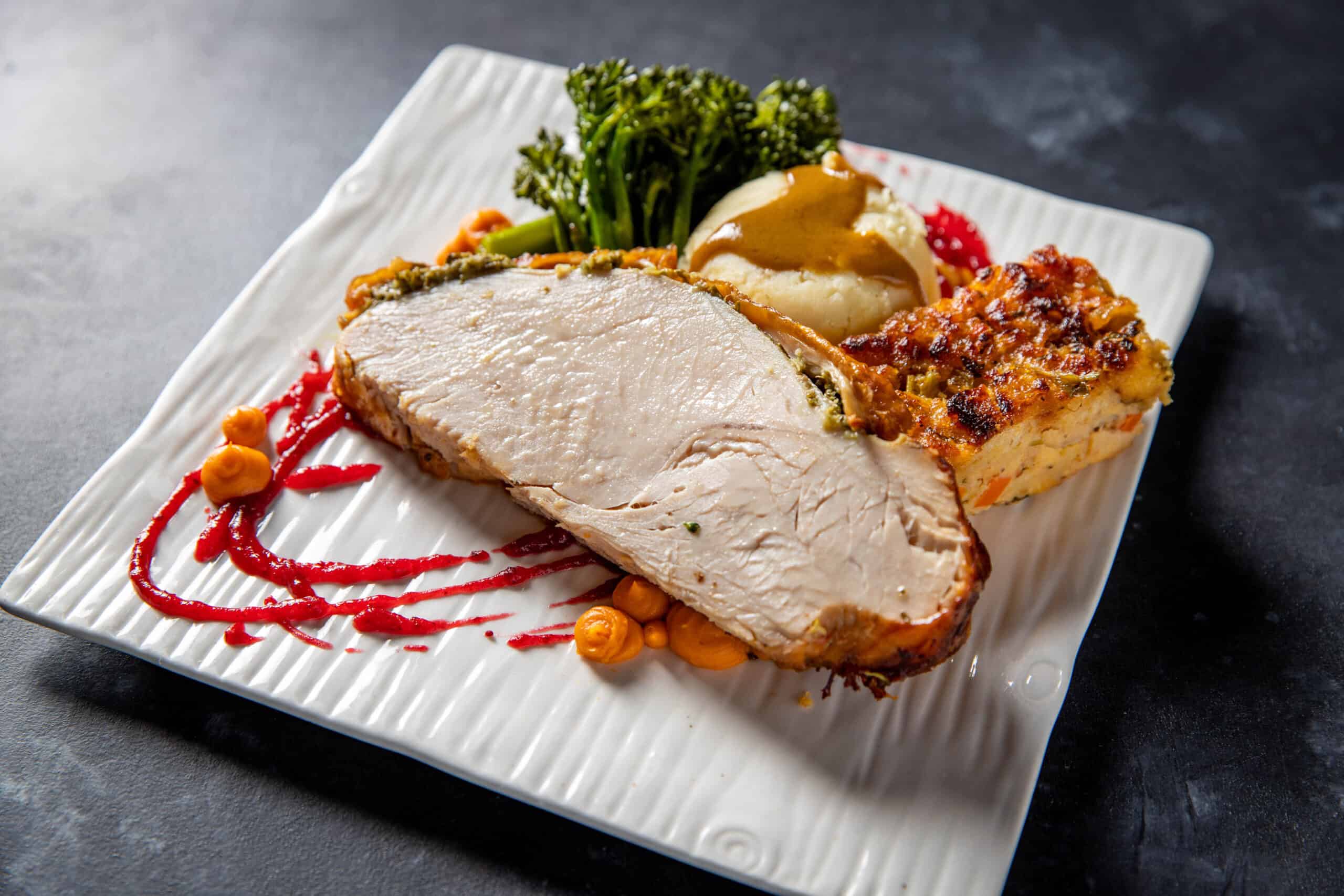 Still waiting on 2022 info
3400 Gulf Boulevard
St. Pete Beach, Florida 33706
Stroll to St. Pete Beach's iconic Pink Palace, aka The Don CeSar, and start your day at Spa Oceana to relax with one of the seasonal specials, like a Vanilla Bourbon on The Rocks manicure and pedicure. Then continue your tranquil celebration with a Thanksgiving brunch buffet in the King Charles Ballroom. Feast on a variety of options including a raw bar, omelets made to order, hand-carved turkey, leg of lamb, and spice-rubbed salmon. Sip on unlimited champagne and enjoy the beautiful views of the gulf waters. If you prefer a later celebration, the Society Table and Rowe Bar will be serving up a Thanksgiving Buffet. This three-course pre-fixe menu will include roasted pumpkin bisque, pan-seared halibut, oven-roasted turkey, and pumpkin pie brown butter crumble.
100 Coronado Dr
Clearwater Beach, FL 33767
Sip, savor and celebrate at Ocean Hai with an Asian-American fusion Thanksgiving buffet. The menu is filled with twists on traditional favorites, like pork belly, butternut squash ravioli, cranberry-braised short ribs, and oysters on the half shell. For those who are devout to the standard Thanksgiving fare, there will be items such as roasted Turkey, glazed sweet potatoes, and sausage apple stuffing. To round out the night, get your fill sweets at Ocean Hai's dessert station and indulge in chocolate-pecan bars and pumpkin-pecan creme brulee.
$55 per person. Reservations are available online.
Still waiting on 2022 info
Add a touch of glamour to your Thanksgiving holiday with dinner at Eddie V's. Their traditional Thanksgiving dinner will include slow-roasted turkey, french green beans, brioche-sage stuffing, butternut squash and cranberry chutney. For those wanting to venture away from a traditional turkey dinner, their full menu will be available as well (at regular menu prices).
---
Dining-in and To-go Thanksgiving Dinners in Tampa Bay
2223 N. Westshore Blvd.
Tampa, FL 33607
The Capital Grille is giving you the option of dining in or enjoying Thanksgiving dinner in the comfort of your own home. Their traditional Turkey Day meal includes slow-roasted turkey with brioche stuffing, french green beans with marcona almonds, cranberry-pear chutney, mashed potatoes, and pumpkin cheesecake. For $135, their to-go option includes the same menu, minus the turkey, and serves four. If you're not craving a traditional Thanksgiving dinner, their regular menu will be available as well (regular menu prices apply). Reservations are highly encouraged. Pre-orders for to-go dinners begin October 24.
Cost: $47 per adult, $17 per child
The newly redesigned Catch 23 in Westchase will have a special pre-fixe menu on Thanksgiving from 12pm-9pm. Each table will start with deviled eggs, cream cheese and olive stuffed celery and dinner rolls. You'll have the choice of Butternut Squash Bisque or Roasted Beet and Goat Cheese Salad followed up Traditional Herb-Roasted Turkey Dinner, Atlantic Salmon, Braised Short Rib, or Pumpkin Ravioli along with several side choices and dessert. There will also be a limited menu of a la carte options such as Lobster Escargot, Grilled Oysters, Macadamia Encrusted Sea Bass, and Stuffed Shrimp.
Their heat-and-serve to go menu consists of a half (serves 8) or full (serves 16) turkey dinner, choice of 3 sides, fixings, and either pumpkin or pecan pie. Orders must be placed by November 19th for pickup on November 24th.
Cost: $38.95 per person for pre-fixe. A la carte items range from $12-$39. To-go options: $120 for half turkey dinner, $240 for full turkey.
4110 W. Boy Scout Blvd
Tampa, FL 33607
Chef Matt McMillan has planned a delectable Thanksgiving dinner that's available as a heat-and-serve for pickup or to enjoy dining in. The to-go package is $199.99 and serves up to 6 people. It includes butternut squash soup with spiced pumpkin seeds, traditional stuffing, slow-roasted turkey, and pumpkin praline cheesecake. Dinners will be available for pick-up on November 22 and 23. The same menu is available for a flat rate for those who would rather dine-in. Be sure to pick up a bottle of their wine of the month to compliment dinner – the Grateful Red and Grateful White.
$33.99 per adult and $14.99 per child 12 and under.
Bahama Breeze is offering guests a Caribbean escape this Thanksgiving – with an island-inspired twist to the classic turkey dinner at select locations. The meal includes slow-cooked Jerk Turkey, Green Beans, Cornbread Stuffing, Cranberry-Pineapple Chutney and choice of classic Mashed Potatoes or Cinnamon Mashed Sweet Potatoes. Guests who save room for dessert can also try the Pumpkin Praline Cheesecake. This island dinner is available for dine-in or takeout, as a Family Bundle, on Thanksgiving Day. For guests who prefer a dinner of Caribbean-inspired favorites, the full menu will also be available.
Cost: $24.99 per person per dinner. $95 for Thanksgiving bundle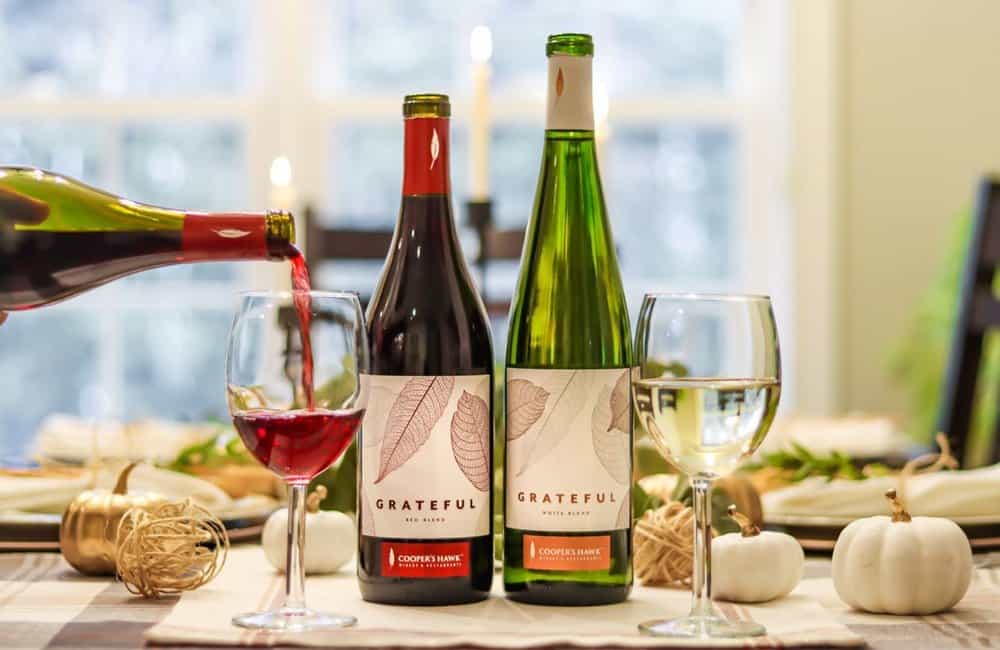 204 N Westshore Blvd
Tampa, FL 33609
Seasons 52 is a reliable seasonal staple you can count on for holiday meals. Their traditional Thanksgiving dinner includes all the staples such as Roasted "Never Ever" Turkey, Yukon mashed potatoes, brioche & sage stuffing and more. If you prefer to dish out the meal at home, they have a warm and serve carryout option that feeds 4 to 6 people that includes all the same options as the dine-in menu.
Dine-in: $34.95 per adult and $16 per child.
To-go: $195. Be sure to place your to-go order by Monday, November 21 for pickup on the 23rd.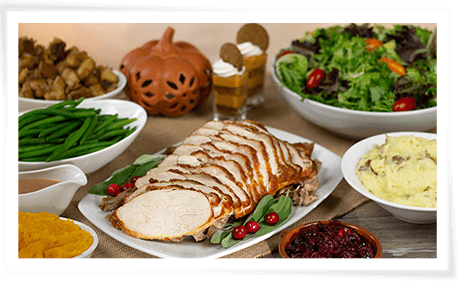 Still waiting on 2022 info
344 Main St.
Dunedin, FL 34698
Head over to Dunedin for a mouthwatering Thanksgiving dinner. Cafe Alfresco is offering dine-in and to-go options that include roasted turkey breast, old-fashioned apple sage dressing, creme fraiche mashed potatoes, and baked ham with brown sugar cinnamon spice glaze. They will also have a brunch menu featuring crab cakes benedict, eggs alfresco, french toast a la ritz, and biscuits and gravy. Reservations are not available however, to-go options will be available all day.
---
Thanksgiving Dinner To-Go in Tampa Bay
3225 S. MacDill Ave
Tampa, FL 33629
Pane Rustica is serving up a traditional Thanksgiving dinner with all the fixings. Menu items include roasted turkey, cinnamon whipped sweet potatoes, savory stuffing, carrots and green beans, cranberry dressing, specialty breads, and desserts. Order deadline is November 19th for pickup on November 23rd.
Cost: $40 per person, per dinner. A la carte items $10-$37.
2208 W. Morrison Ave
Tampa, FL 33606
Don't stress about cooking this year, for Haven's sake! The culinary connoisseurs at Haven have prepared a unique carry out menu this year by Larceny BBQ. Each order serves 4-6 people and options include smoked turkey with thyme and mustard rub, pulled turkey thighs, bourbon, cranberry, and orange relish, cornbread stuffing, pimento mac and cheese, green beans two ways, breads, and desserts like macadamia and chocolate pie and Bern's macadamia nut ice cream. Pickup will be on Wednesday, November 23rd.
Cost: Prices Vary
1700 W Fig Street, Tampa
Willa's is offering its "Big Willa Style" Thanksgiving take out which features delicious offerings like turkey, salmon, shrimp cocktail, all the sides and you can imagine and more! It's truly a feast! There are also a la carte options too (each item serves up to 6 guests). Order deadline is November 20th.
Cost: $550 Big Willa Style Meal (serves up to 6), $13-$110 for a la carte items
Plant City, Riverview, and Lakeland
If you are in need of a little Southern comfort this Thanksgiving, leave your holiday feast to Fred's Market. You'll get a full-flavored, farm-to-plate meal for up to 8 people. The turkey day menu includes sliced roast turkey breast, cornbread dressing, cranberry sauce and a choice of three sides. You can also add on additional turkey or ham for an extra fee.
Cost: $119
---
More stories we think you'll LOVE: