5 Reasons We LOVE Tusker House Restaurant for Disney Character Dining
When it comes to Walt Disney World Character Dining you have lots of choices. The challenge is that many of the Disney character dining restaurants book up. It is nearly impossible to get reservations. That's where Tusker House Restaurant character dining at Disney's Animal Kingdom comes.
Because it is not located at the popular parks like Magic Kingdom and EPCOT, Tusker House at Animal Kingdom usually has plenty of availability. And don't fret. Just because Tusker House Restaurant is easy to get into doesn't mean it's not a good choice.
5 Reasons We LOVE Tusker House Restaurant for Disney Character Dining
It's open for breakfast, lunch, and dinner
Mickey, Donald, Goofy, and Daisy appear in adorable safari outfits
Delicious family-style food
Unique atmosphere
Located near Kilimanjaro Safaris and Festival of the Lion King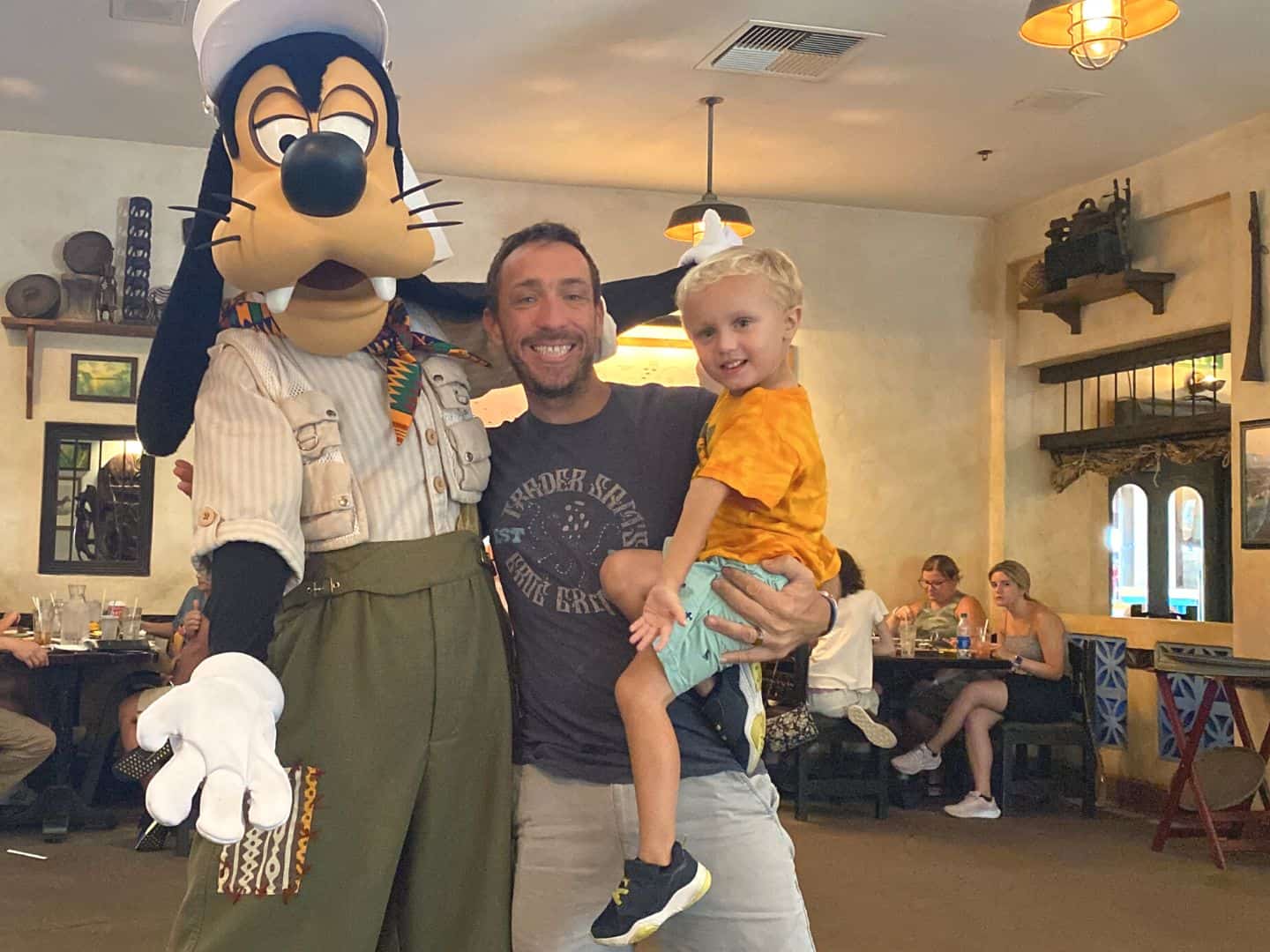 Important Info about Tusker House Restaurant Character Dining
The buffet experience returned on November 1, 2022.
When is the best time to go to Tusker House Restaurant? Lunch is the busiest time while early breakfast puts you near popular attractions at the start of the day. Dinner is a great way to end the day.
What is the walking time from the Animal Kingdom entrance to Tusker House Restaurant? It takes about 10 minutes to walk from the park's entrance to Tusker House Restaurant which is in the back of the park.
Tusker House Breakfast Price: $29 per child ages 3-9 and $45 per adult
Tusker House Lunch and Dinner Price: $38 per child ages 3-9 and $59 per adult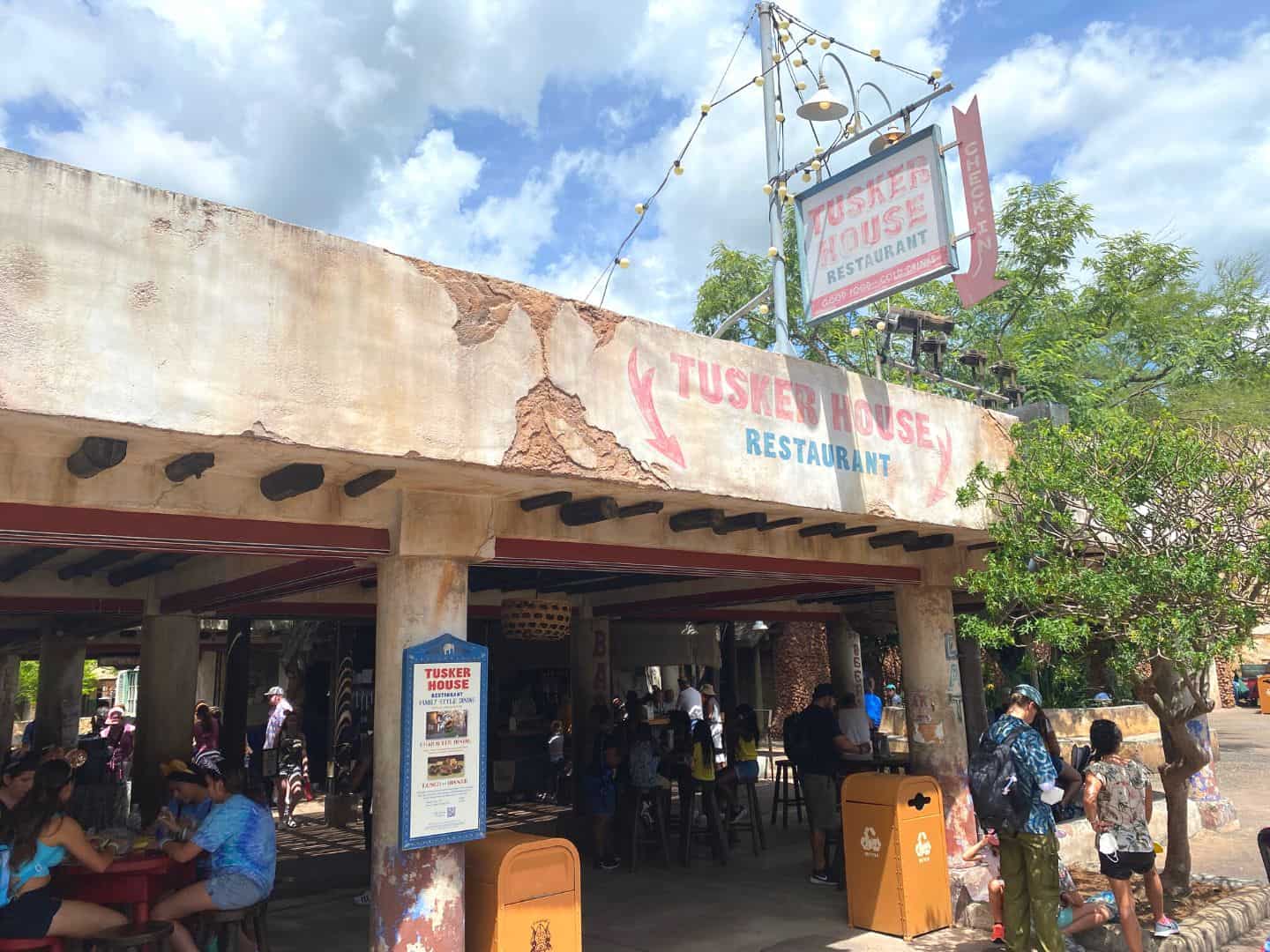 Tusker House Restaurant Characters
Get ready for visits and hugs with Mickey, Donald, Goofy, and Daisy. Each character dons a fantastic safari-style outfit to fit the Animal Kingdom theme park vibes. This is such a unique Disney character dining experience.
And each character comes around to each table individually. There are 4 dining rooms at Tusker House Restaurant, with plenty of room for the characters to roam. You can see the characters coming, but it does go by pretty quickly.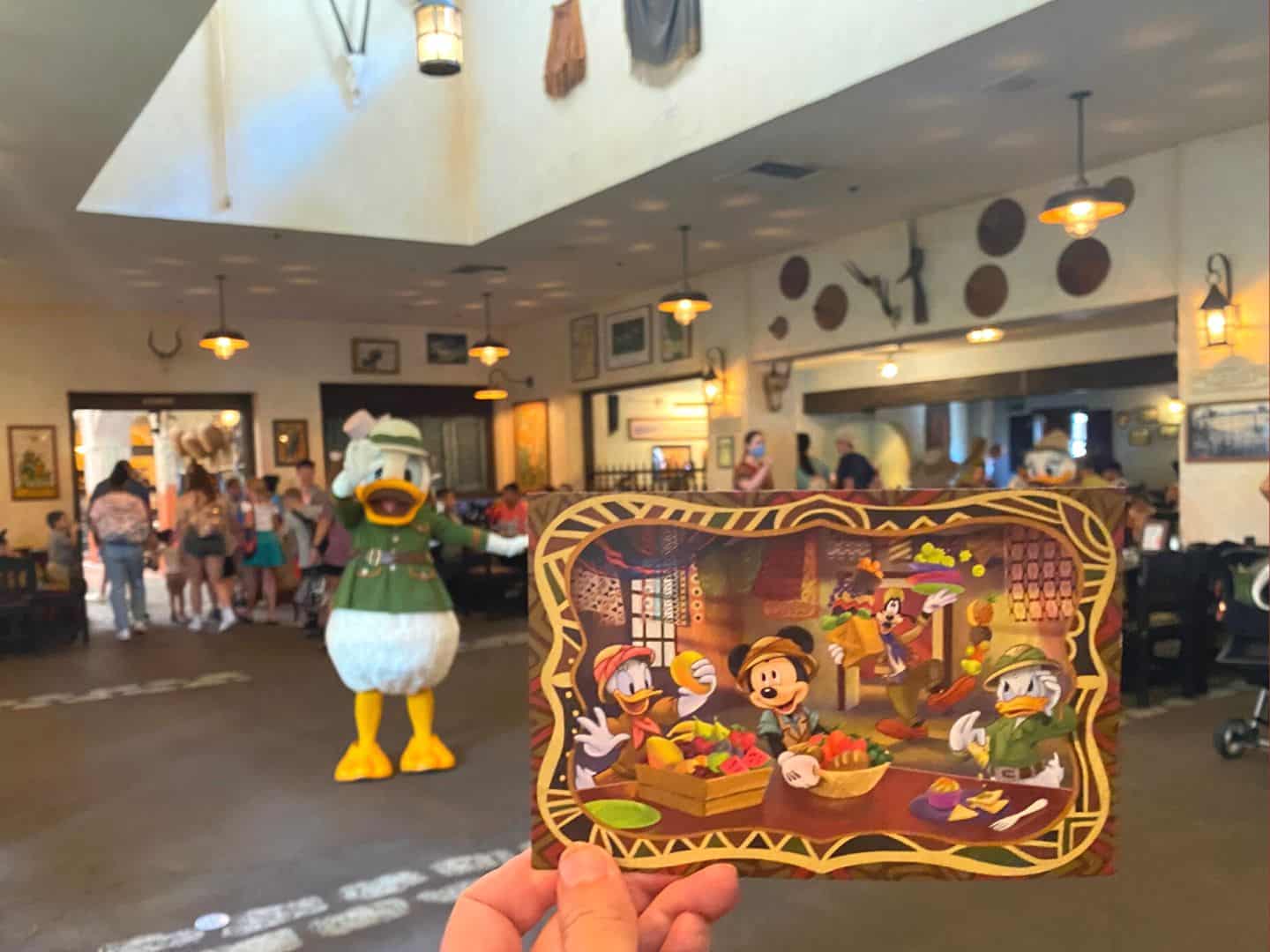 Parenting pro-tip: Have one parent sit facing the entrance to whatever dining room you're in so they can keep an eye out for the characters. That way you can let your kids know who is on the way and get ready.
What to Expect
When we arrived for lunch at Tusker House Restaurant we saw Mickey Mouse before our first course of food arrived. Mickey spent about 2-3 minutes with us and gave our son hugs and fist bumps.
About ten minutes later, after our bread and salad had arrived, Donald Duck came by. He too spent about 2-3 minutes with us and our son. He bent down and danced with our four year old.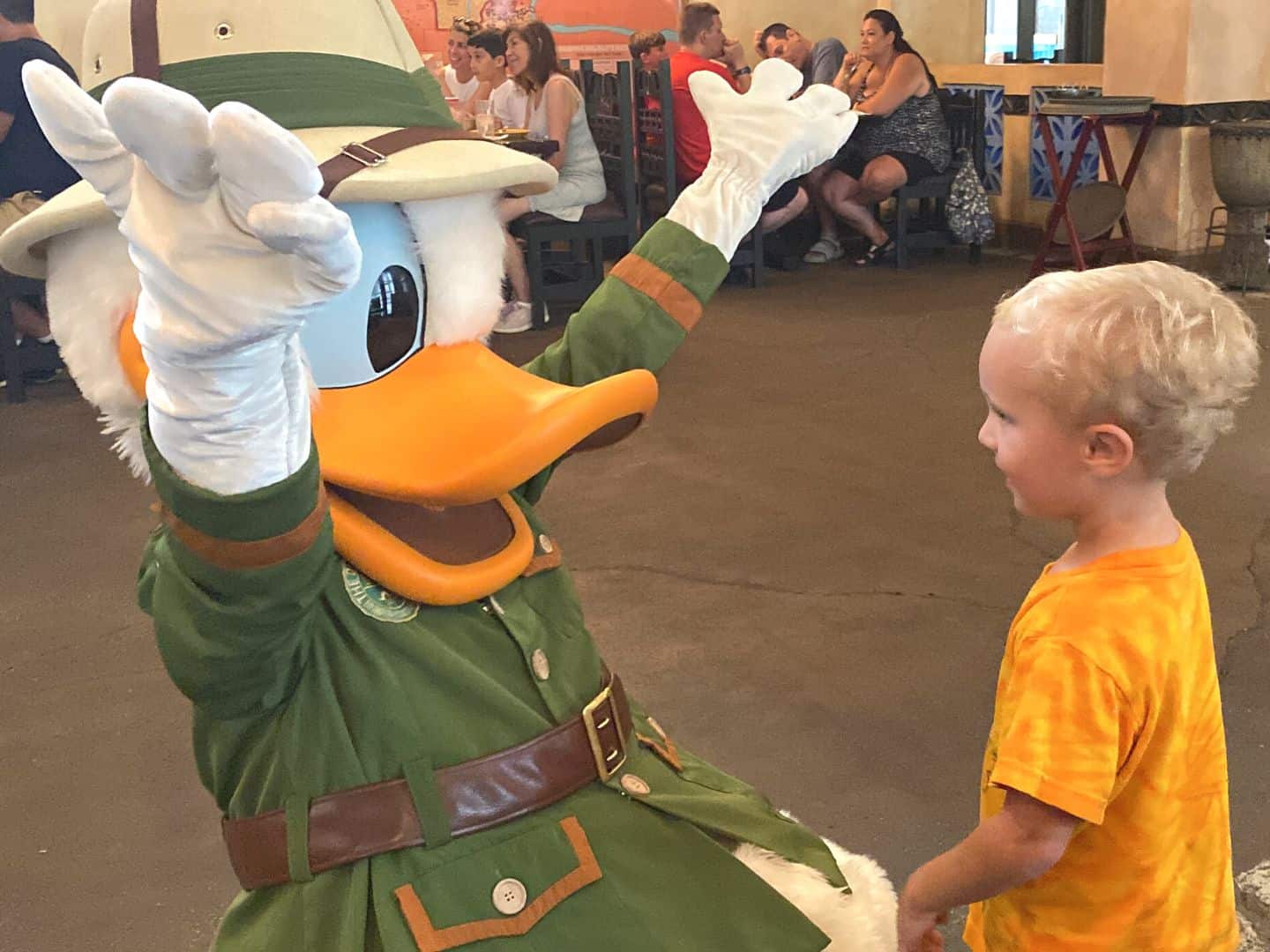 Goofy and Daisy Duck visited us during the main course, each individually. Each character spent about 2-3 minutes with us. Also during our character dining experience, a brief song played and the characters took a spot in the center of each dining room to do a happy dance to the song.
Surprisingly we received a second visit from Mickey and another from Donald while enjoying our desserts. Though the visit went by quicker this time, we appreciated the added bonus.
Food at Tusker House Restaurant (Lunch and Dinner)
Lunch and dinner at Tusker House Restaurant is the same buffet menu. If you are 100% opposed to "exotic" food then this may not be the character dining venue that is best for you. The food at Tusker House Restaurant is not overly spicy or overly "out there" – though it may not appeal to everyone.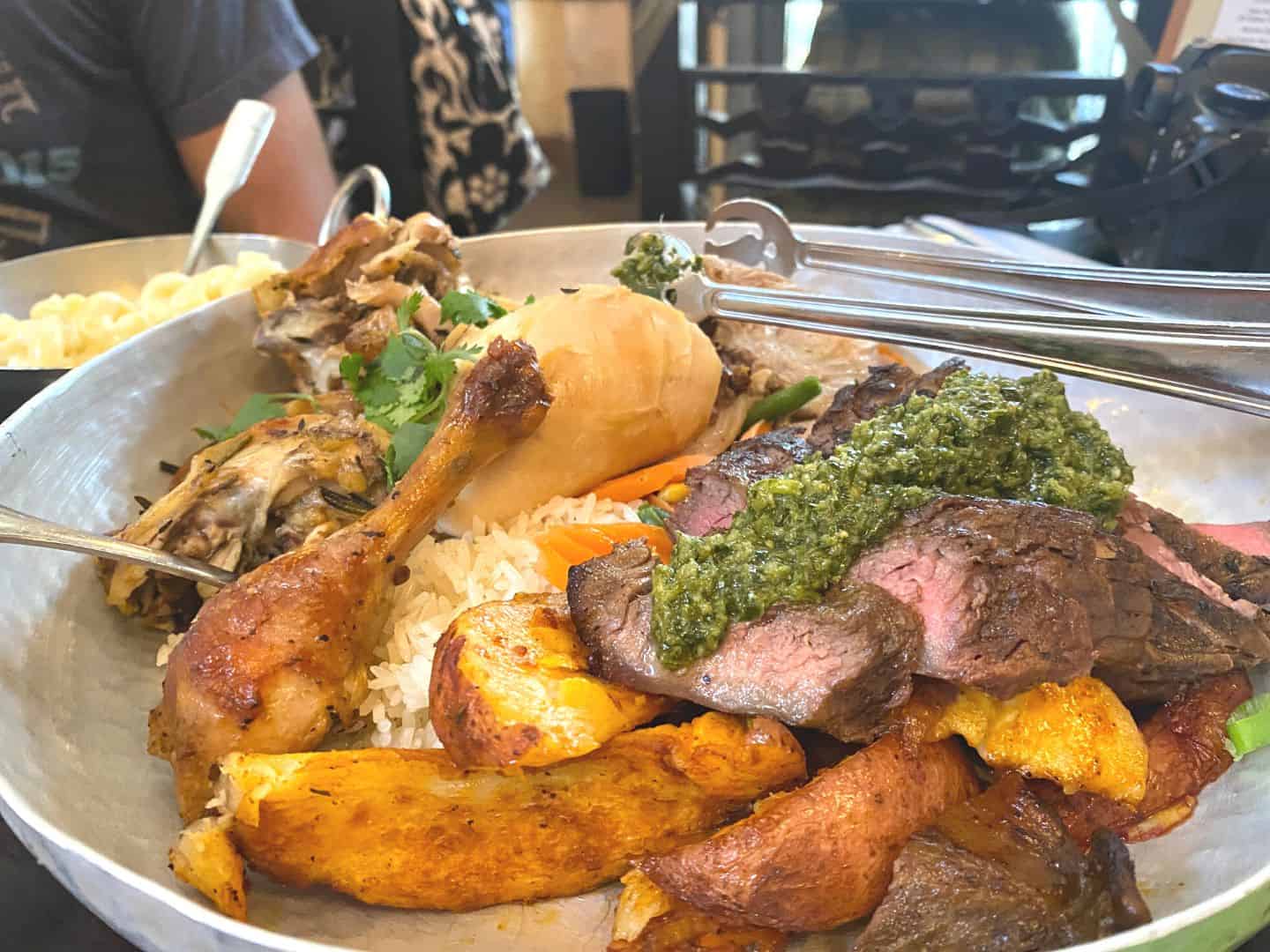 Assorted House-made Breads served with Hummus, Coriander and Mango Chutneys
African Inspired Salads – Arcadian Green Salad with Citrus Vinaigrette Dressing
Moroccan-spiced Beef
Cape Malay Green Curry Shrimp
Spit-roasted Herb Chicken
Berbere-marinated Pork
Green Beans with Carrots and Corn
Roasted Potatoes
Jasmine Rice
House-made Macaroni & Cheese
Animal-inspired Mini Desserts
Plant-based Chocolate Mousse (upon request – we enjoyed this dessert the most)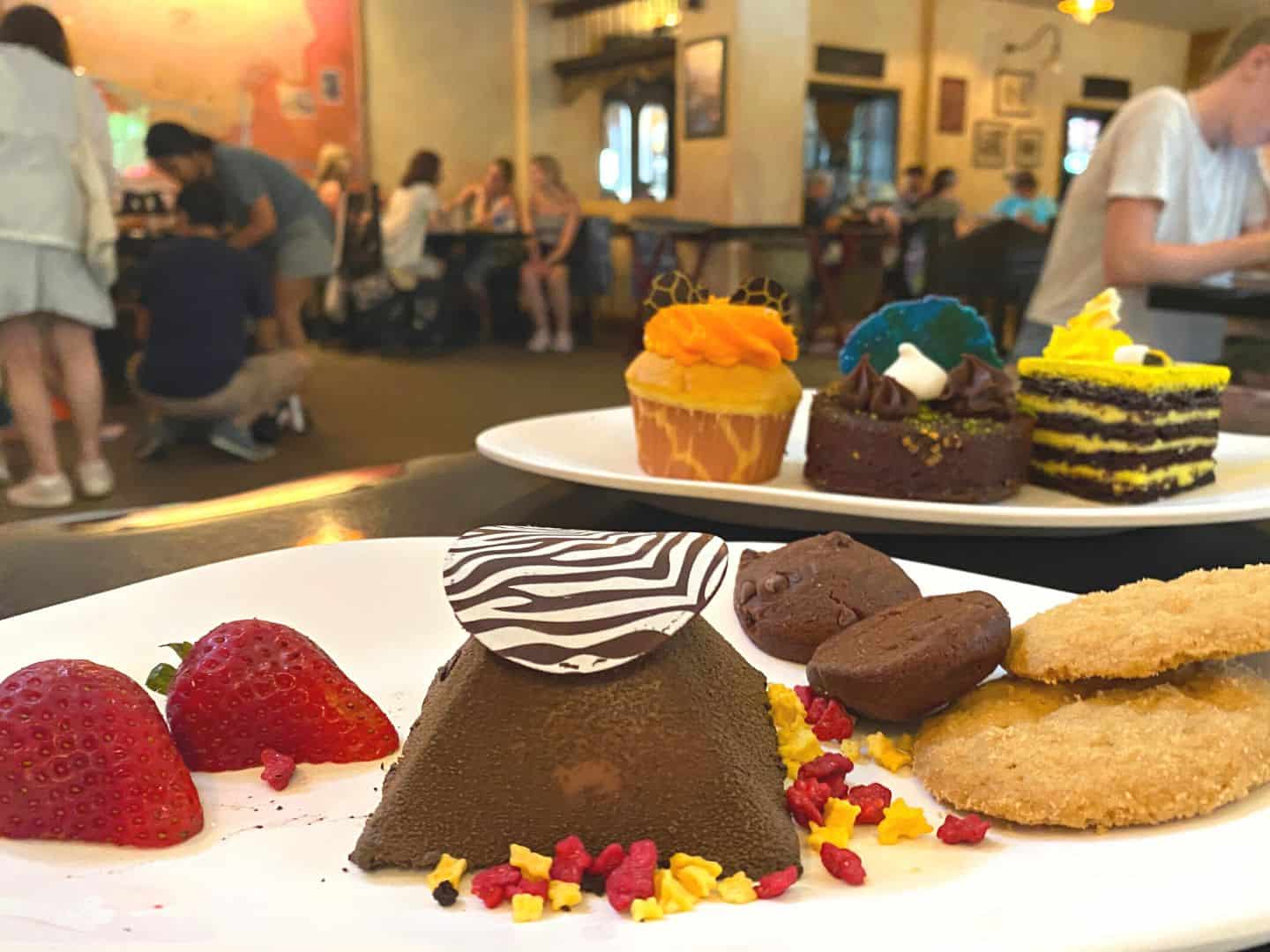 Breakfast is more simple and maybe a better fit for some guests. More on that menu momentarily.
My husband and I will eat practically anything, and we love international cuisine. The food at Tusker House Restaurant satisfied us. We especially loved the Green Curry Shrimp and Herb Chicken. And the Moroccan-spice Beef paired perfectly with the African red wine I sipped on.
Our son has multiple food allergies and he was contented with the pork and rice. Sadly he pulled a typical four year old move and abstained from everything else. But in this case, the meal is of secondary importance.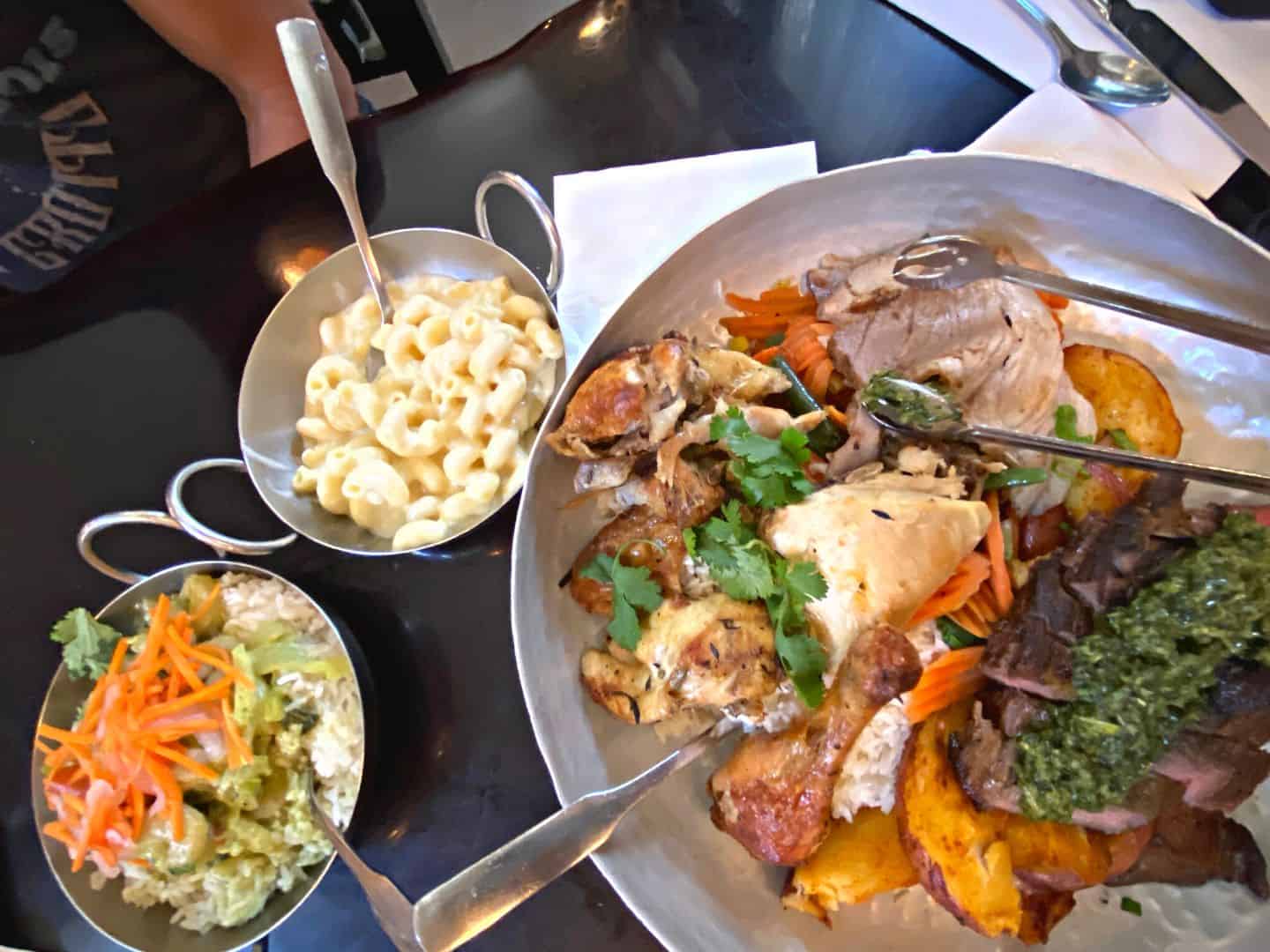 Allowing him to have fun with the characters remained our focus. Although we visit Walt Disney World often, this character dining experience gave us something rare: one on one time with Disney friends.
Breakfast
For a slightly lower cost, and a more approachable menu, consider breakfast. The Tusker House Restaurant breakfast is sumptuous and satisfying. You'll still get the full character dining experience.
Pastries Basket – Safari Bread, Multigrain Croissants and Cornbread served with Whipped Butter, Chocolate-Hazelnut Spread, and Strawberry Preserves
Fresh Fruit – Served with Honey Yogurt Sauce
Breakfast Buffet items – Scrambled Eggs, Mickey & Simba Waffles, and Durban Chicken & Egg Curry with Jasmine Rice served with Bacon, Sausage, and Roasted Potatoes
Tips
Check-in for your meal at the host stand near Dawa Bar
Make sure your phone number is provided to be texted when your table is ready
Turn on your notifications for the MyDisneyExperience app to be notified that your table is ready
Strollers need to be parked outside just before entering the restaurant
Make sure your kids are comfortable and ready to interact with the characters
If they've never interacted with characters before try to walk them around first so they can see the other interactions taking place