Van Gogh Alive at The Dali extended through June!
St. Petersburg is the first in North America to host an art experience like you've never seen before. Van Gogh Alive debuted at The Dali on Saturday, November 21 to a sold out first week and there's good reason why…it's absolutely spectacular. In fact, it's been in such demand, the exhibit has been extended through June 13, 2021!
What you need to know before you go
The most important thing to know before you head to Van Gogh Alive at The Dali is that you need to book an online timed ticket. This includes Dali members. There's good reason for this policy. It's ensuring there is plenty of space for you and your family to social distance as you enjoy the show. Because it's a timed ticket, you must arrive on time.
Van Gogh Alive is included with admission to The Dali. You can purchase tickets and book your timed ticket at thedali.org.
Download the app
The Dali has a fantastic app we highly recommend you download and explore before you go. There is a whole section dedicated to Van Gogh Alive to take you on a deeper dive about the art you'll experience and more about the artist himself. Apple store and Android.
You'll also want to use to app for the augmented reality experience with Dali's works, too! You can absolutely make a full day out of your visit to the Dali.
What to expect when you arrive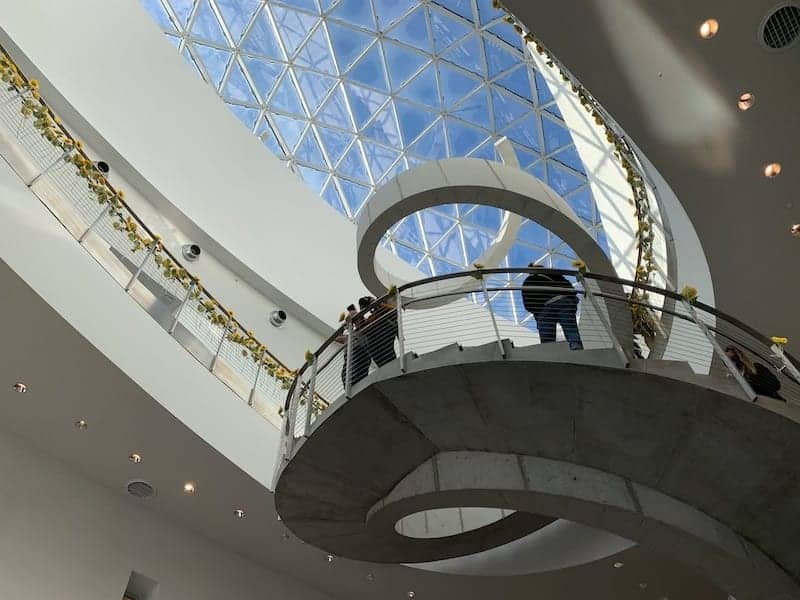 First, make sure to bring a face mask. It's required. You'll also have your temperature checked when you walk in, so give yourself a few extra minutes in the event there is a line to get in as everyone is screened. This is for your safety and the safety of museum staff.
Once you're in the museum, you can take the elevator to the top floor OR walk up the winding staircase that's decorated with sunflowers to get you started on this immersive and multi-sensory journey Van Gogh Alive is about to take you on. The pops of yellow are quite beautiful on an already stunning staircase.
When you arrive with your timed ticket, you'll step inside the exhibit which has three areas–there's a smaller open room and then the larger open gallery and nestled in between is a bedroom sized room. It's all open with plenty of space. You are surrounded by enormous screens on the wall and even a few on the floor.
As the show begins, we recommend you wander and read the projections about Van Gogh's life as it's displayed among his works and pictures from his time. Van Gogh Alive is very much an art installation, but it also an immersive storytelling experience that walks you through the artist's turbulent life and his progression as an artistic genius.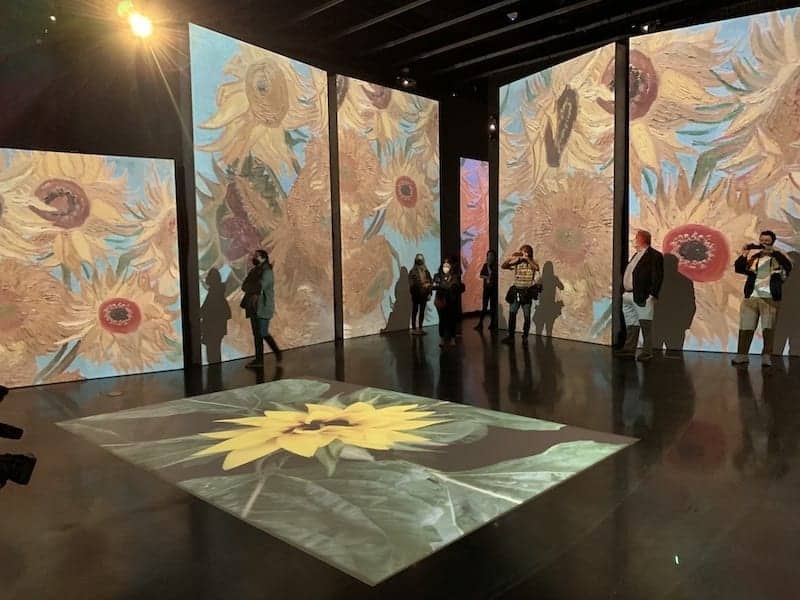 High-definition projections of his paintings like 'Sunflowers' and 'Starry Night', sketches and even quotes pulled from the numerous letters he wrote during his lifetime fill the giant screens on the walls and floor, making you feel as if you've stepped inside Van Gogh's masterpieces.
It's not just the images, but the sound that makes this a multi-sensory experience. The classical music soundtrack of Van Gogh Alive helps bring the brushstroke to life by tugging at your heartstrings, connecting you to the moment in a way you've probably never felt before when viewing an art exhibition. It's really cool.
From start to finish, Van Gogh Alive is about 40 minutes, but doesn't feel like 40 minutes at all. However, this time frame is something to keep in mind if you plan to attend with your kids. In all, you'll view more than a thousand of Van Gogh's creations which seems like a lot, but it's done in a beautiful way–which is why we recommend you wander a bit. You don't have to move the entire time, but take it all in from a few different vantage points. It's also what makes it worth going to more than once!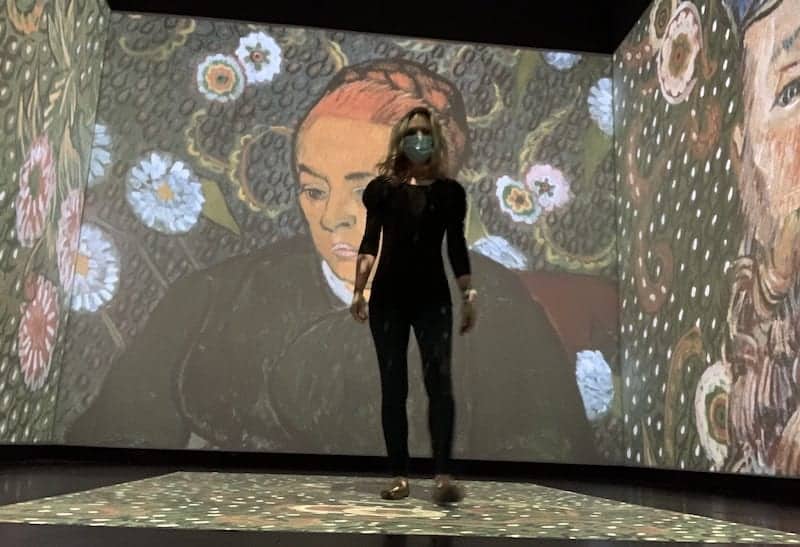 The smallest room is pretty cool too! It's not super enclosed, but small enough to put you right in the middle of the art with projections on the wall and floor.
A quick history of Vincent Van Gogh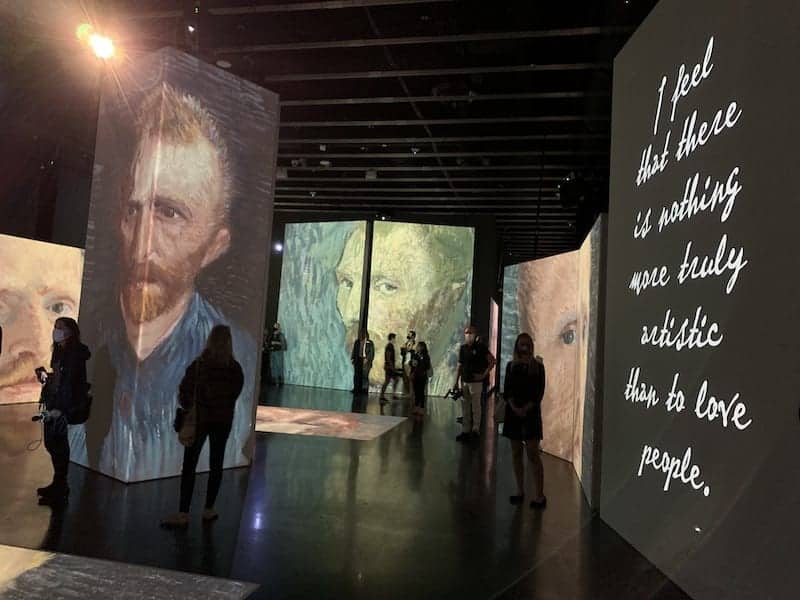 The Dali shared this background about Van Gogh which is a good start before you go. As we mentioned above, you'll definitely want to download The Dali's app to explore before you go.
"Vincent Van Gogh (1853-1890) was a Dutch post-impressionist painter who is considered one of the most influential figures in the history of Western art. The son of a Protestant pastor, Van Gogh made an unsuccessful  attempt at theological studies before turning to art at the age of 27. Completely self-taught, Van Gogh was one of the most prolific artists of his time. In 10 years, he produced more than 2,000 works but only sold one work during his lifetime. His suicide in 1890 brought him into the public imagination as a misunderstood genius who continues to inspire new generations."
New hours at The Dali
The Dali is ensuring everyone gets a chance to view Van Gogh Alive, so they've expanded their hours. The museum will be open from 10:00 a.m.-6:00 p.m. daily and until 8:00 p.m. on Thursdays and Fridays. Admission is half off Thursday nights, so it's a perfect date night!
New Programs and Events for Van Gogh Alive
In celebration of Van Gogh Alive, The Dali announced the following upcoming special events:
March 8, 6-8:30 p.m.: Ekphrastic Writing Workshop. This limited-capacity workshop includes a viewing of the Van Gogh Alive exhibit to serve as inspiration for writing.
March 18, 6-7 p.m.: Van Gogh with the Flow: Musical Homages to Vincent. This free online discussion will focus on a curated Van Gogh inspired musical play list.
March 25, 6-7 p.m.: Lecture: Unforgettable Learning: Technology and Education. In this free YouTube presentation, Ora D. Tanner, co-founder and chief learning officer at The AI Education Project, will explore how technologies can be used to design unforgettable learning experiences.
March 28: 10-11:30 a.m.: Sensory-Friendly Van Gogh Alive Experience. A limited number of visitors can enjoy Van Gogh Alive with modifications to sound levels and calming environments in select areas of the Museum.
April 10, 10 a.m.-12 p.m.: Nature Journaling. In collaboration with Keep St. Pete Lit, participants will enjoy a nearby nature walk with time to journal about their experience.
Additional programs and information on registration/tickets are available at TheDali.org/events.
Shop til you drop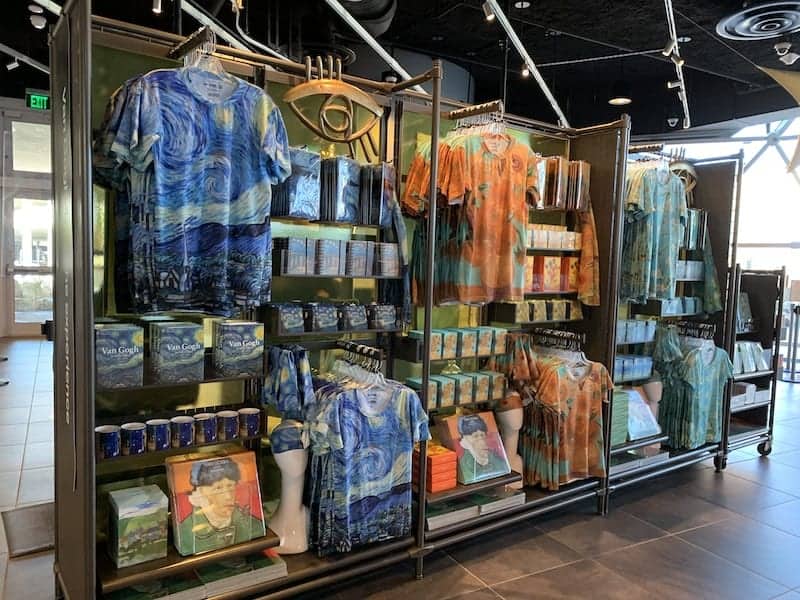 If you loved the experience so much and want to bring a piece of it home with you, the gift shop at The Dali has plenty of merchandise from prints, coffee cups, to clothing. You can even purchase a thumb drive with the musical soundtrack of the show which we definitely plan to do when we go back. The music selection was soooo good!
If you get hungry, pop over to the cafe and try the Starry Night Cheese Plate which has roasted red wine pear, Danish Blue cheese, aged Gouda, Holland Apricot Jam, spiced cashews, sliced starfruit, caper berries and grilled artisan breads along with The Boterkoek-a Dutch butter cake.