What We LOVE About Villain-Con Minion Blast at Universal Orlando Resort
Universal Orlando Resort is known for its world-class attractions, thrilling rides, and immersive experiences. One such new attraction is already stealing the show, "Villain-Con Minion Blast." This brand-new interactive attraction, inspired by the beloved "Minions" movie franchise, offers a one-of-a-kind, game-based adventure to visitors. We experienced the first technical rehearsal of this attraction, and have revisited it a second time. Here's everything you need to know about this exciting new ride, plus a look at the new Minion Land!
Can't get enough Minions? Here's every which way you can experience Minions Fun at Universal Orlando.
A Parent's Review Villain-Con Minion Blast
Scare level: very low
Thrill level: very low
Best for ages 5 and up
There are lots of high energy scenes and colors
The attraction is very stimulating visually and auditorily too
No need to be concerned about motion, this is a moving walkway attraction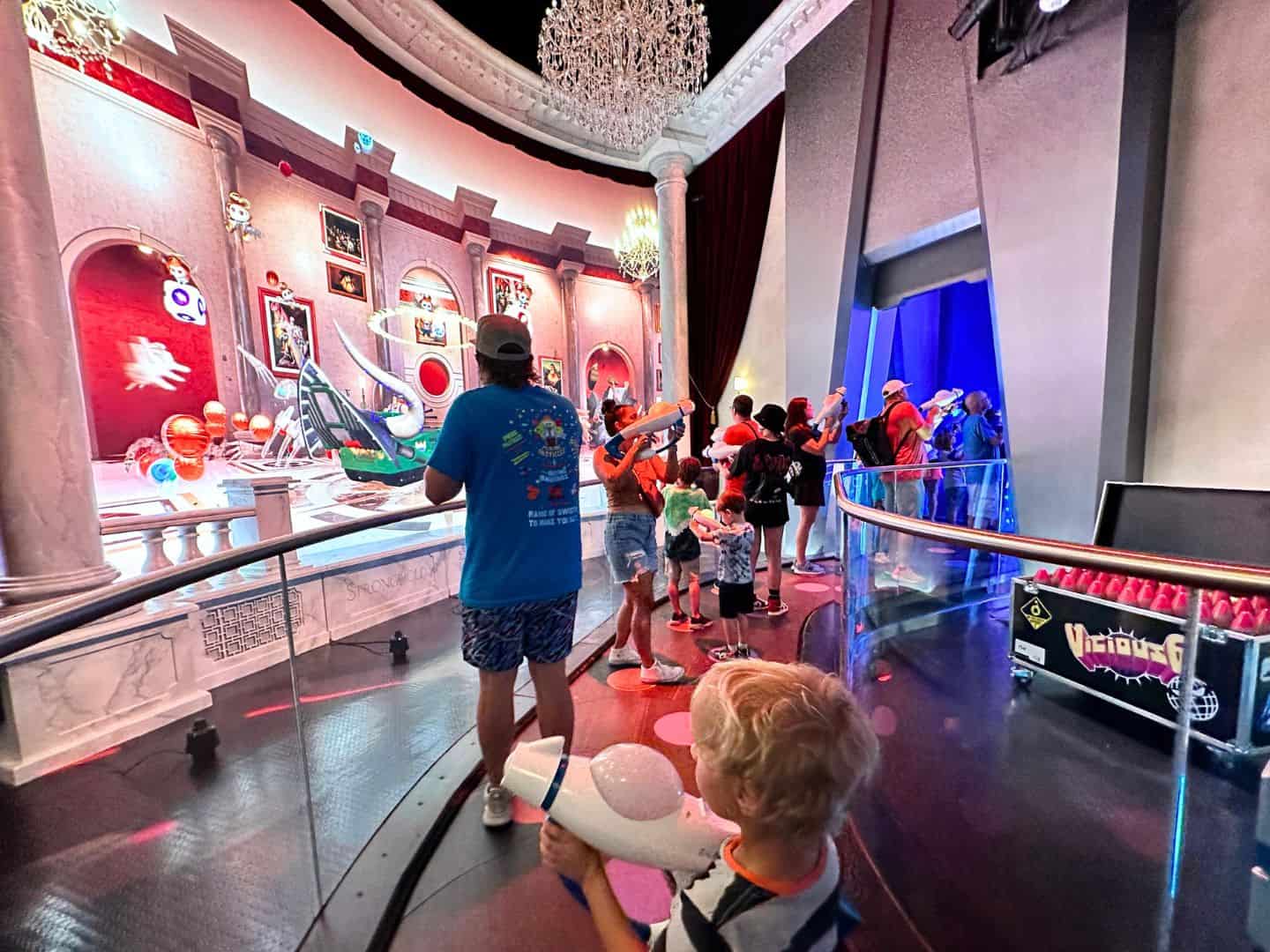 Be sure to watch the video monitors in the queue that explain how the attraction and blasters work. Essentially there are unlimited blasts in the main trigger. Meanwhile, the front trigger requires reloaded since it provides a larger blast.
Each guest needs to be able to be on the moving walkway on their own, with no children in arms. The attraction signage does advise that guests prone to motion sickness, dizziness, and sensitivity to strobe lights may not want to experience the attraction.
My son and I are both sensitive individuals – I easily get motion sick especially. We both loved this attraction and had no issues at all. The best ages for Villain-Con Minion Blast are ages 4 and older. 
Ask for a mini blaster
Due to the size and weight of the blaster that each guest uses, Minion Blast is best for kids that are old enough to handle the gadget. For smaller kids, about ages 4 and older you may want to ask for a mini blaster. These smaller blasters are great for tiny young guests. There is a trigger, however, the blaster does not actually work – but your little ones do not need to know that. 
Trust me, they will be far happier having a blaster that's their size.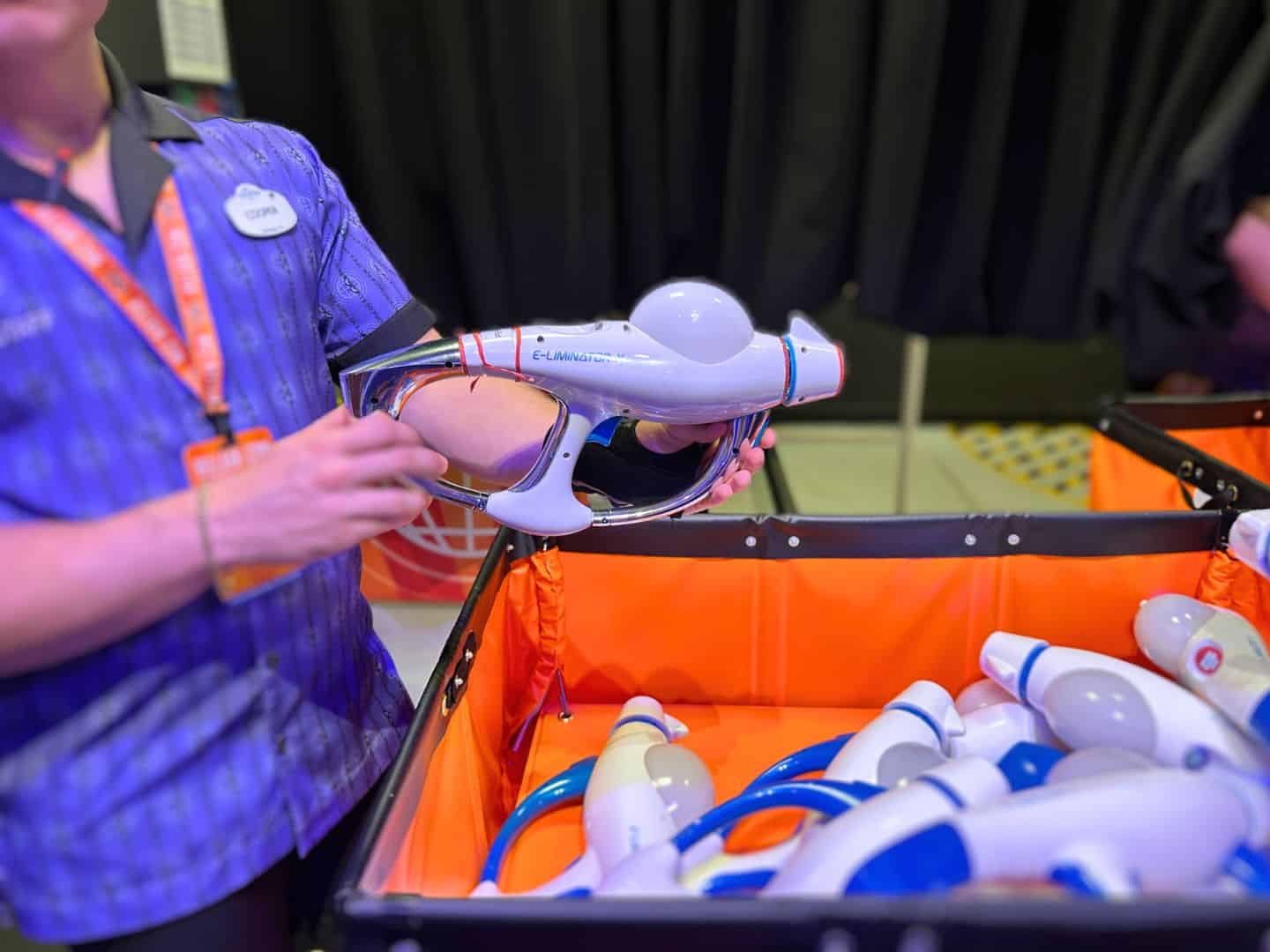 None of the sounds, lighting effects, or any other elements of the attraction startled me or my son – and we both startle easily. The moving walkway is at a relatively low speed and there are no sudden movements, with some gradual curves.
How to Experience Villain-Con Minion Blast
We visited Universal Studios Florida on the second day of the technical rehearsal and immediately headed for the entrance of the attraction. Nothing special was needed to enter the queue. The posted wait time indicated 60 minutes, but we boarded the attraction after about 40 minutes.
Now that the attraction is officially open, we anticipate wait times to increase. It is near the front of the park and is sure to be popular with families.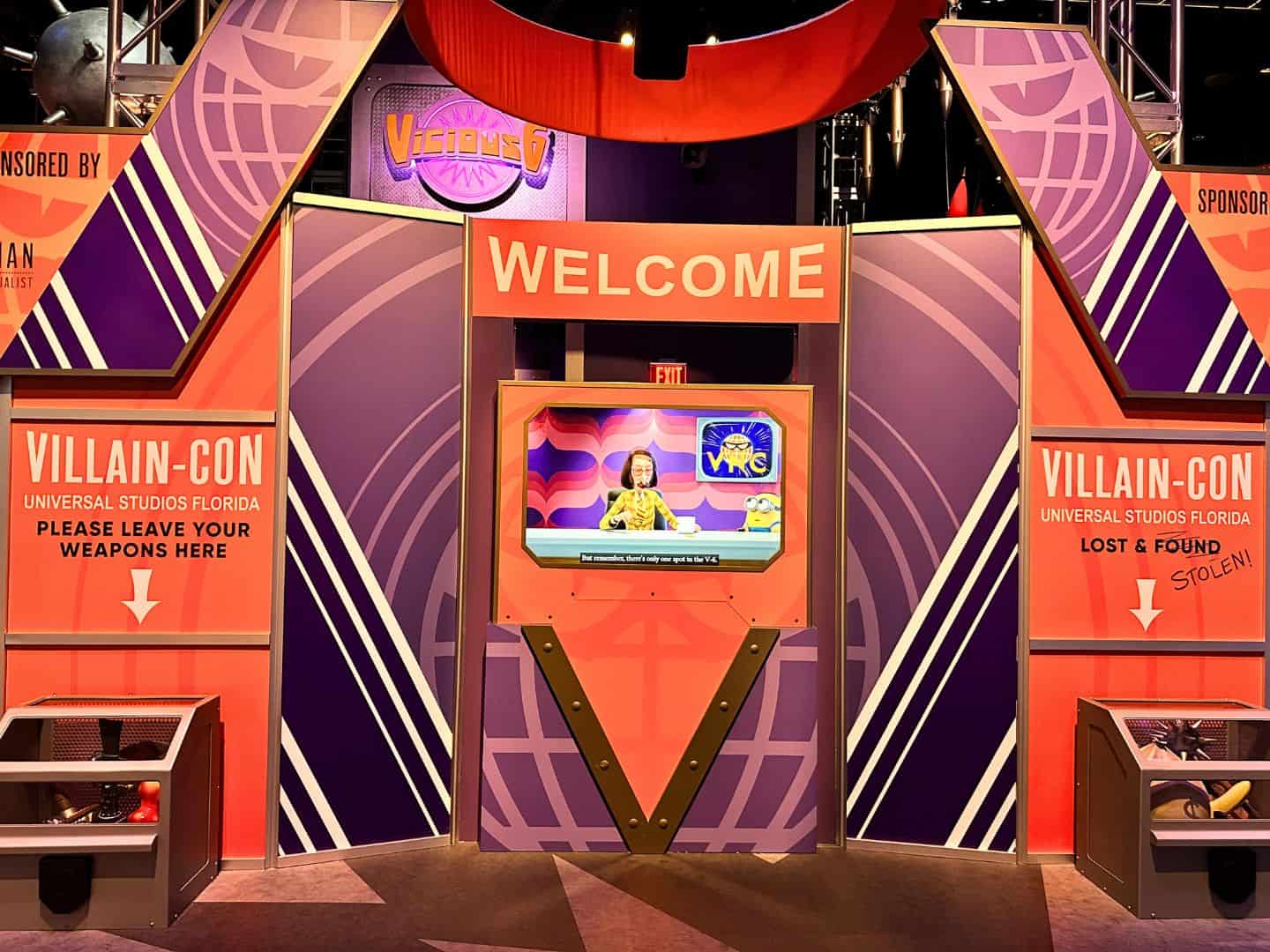 Details about Villain-Con Minion Blast
Located at the start of Minion Land on Illumination Ave, this thrilling blaster game attraction is a collaboration between Universal Creative and Illumination, the brilliant minds behind the Minions franchise. 
As my husband, five-year-old son, and I stepped into the bustling world of Villain-Con, the ultimate convention for villains, smiles spread across our faces. Here, you'll embark on a quest to prove your villainous prowess and join the infamous Vicious 6, the supervillain group featured in the hit movie "Minions: Rise of Gru."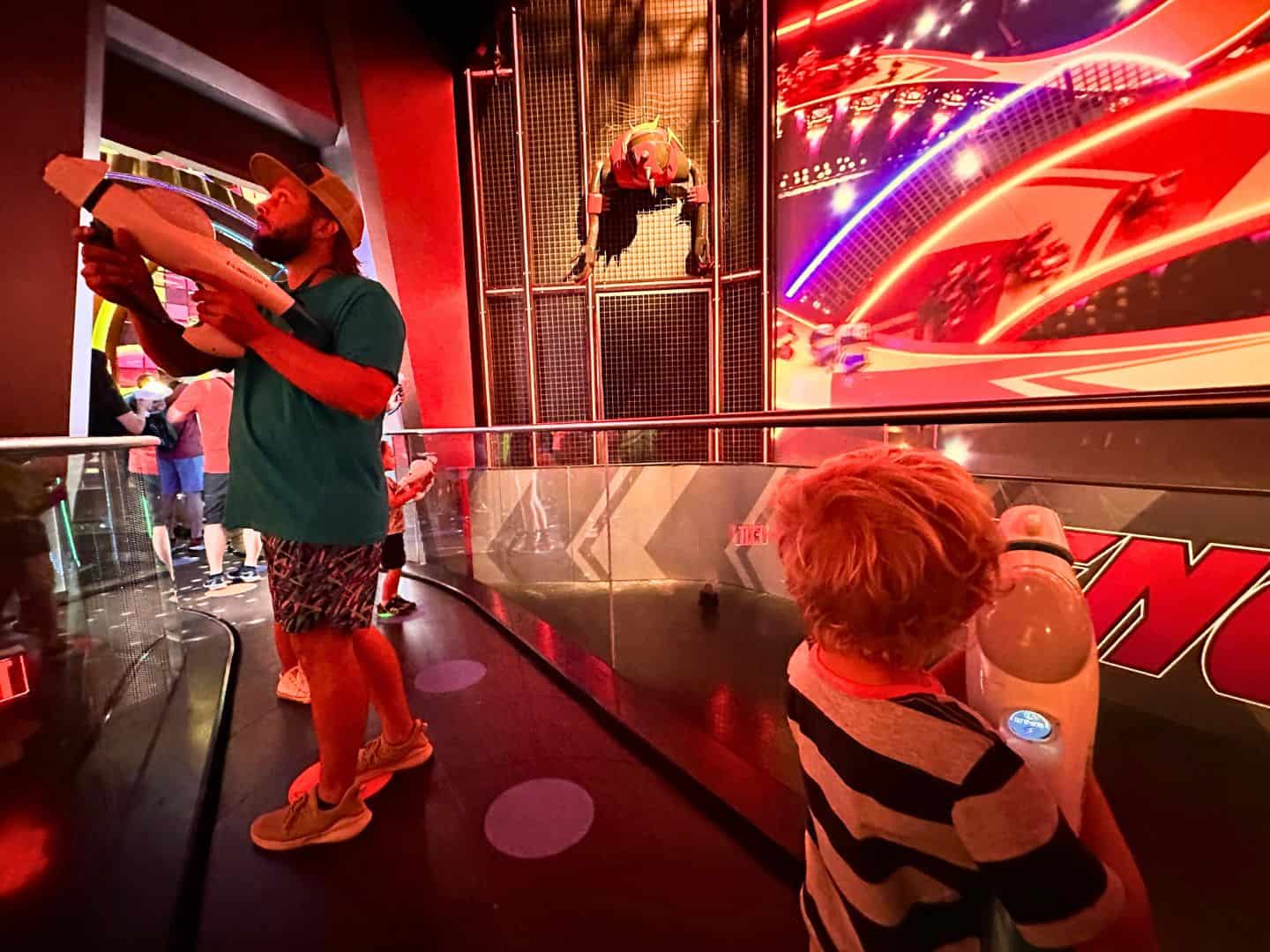 The attraction combines sets and props, interactive game-based technology, and an original storyline to transport you into a world of villainy. As theme park fans, we loved the "Easter eggs" we found that pay tribute to Universal's famous movies, not just the Minions characters.
Soon we arrived on the convention's trade show floor, discovering the latest gadgets, vehicles, and fashion to pull off the most devious schemes imaginable.
But that's not all! Equipped with the mighty "E-Liminator X" blaster, you'll compete against friends, family, and fellow guests to showcase your villainous talents. Blast your way through the experience using Freeze Rays, Banana Bombs, Explosive Nunchucks, and more, causing chaos and destruction to earn points. You'll glide and wind along a moving pathway.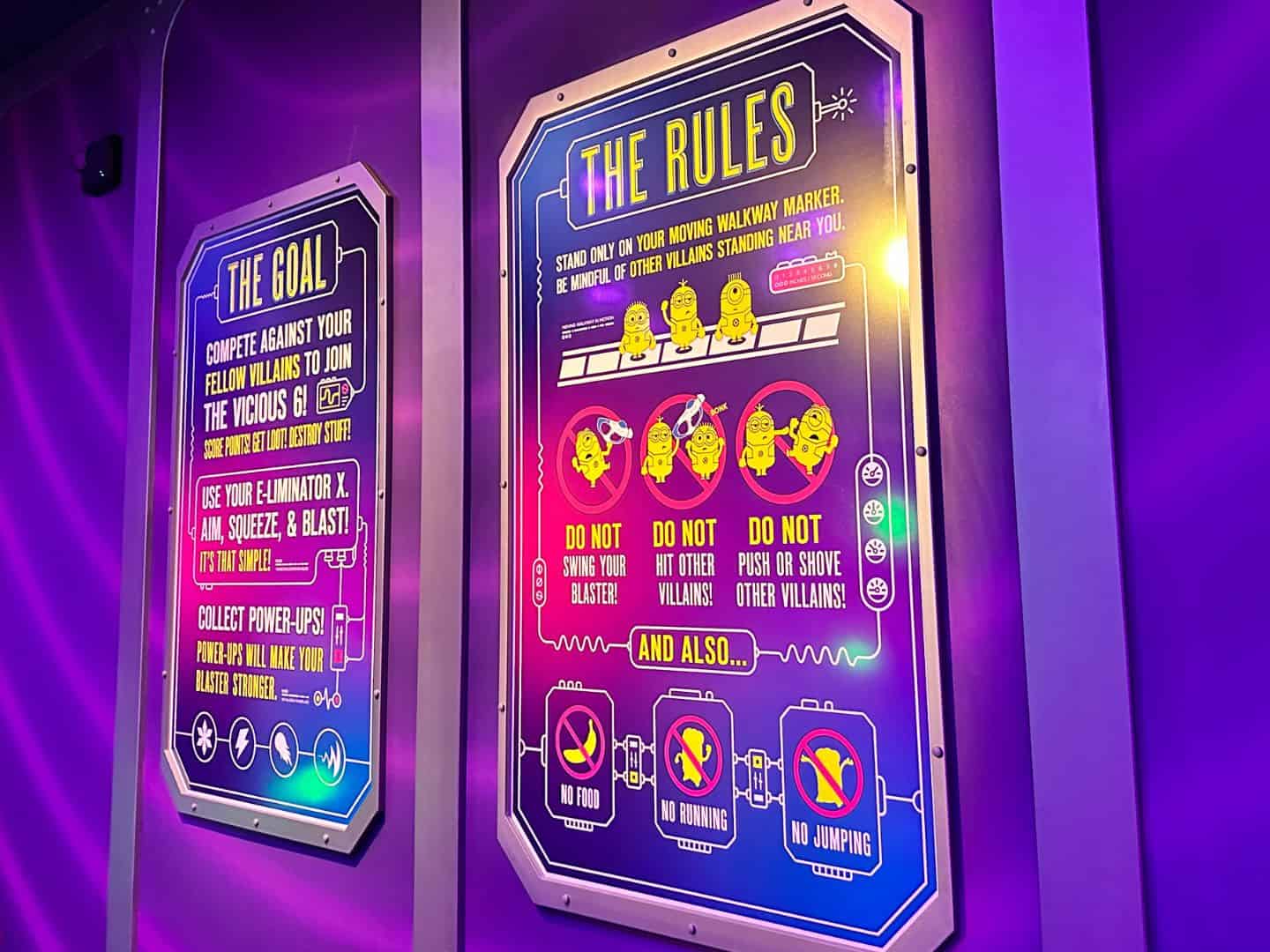 Throughout your journey, you'll come face-to-face with each member of the Vicious 6, voiced by the original cast from the movie. Each encounter takes place in a unique and immersive setting inspired by their distinct character. Feel the excitement as you interact with these beloved villains and create unforgettable memories with your kids.
In addition to Illumination's Villain-Con Minion Blast, the new Minion Land at Universal Studios Florida offers an expansive area where you can further explore the whimsical world of the Minions. Indulge in delicious and flavorful fare inspired by these lovable yellow creatures, meet your favorite Minion characters up close, and discover even more surprises that await you at every turn.
The "Villain-Con Minion Blast" is part of a newly designated area called "Minion Land." Alongside the new attraction, Minion Land includes the fan-favorite "Despicable Me Minion Mayhem" ride and a brand-new "Minion Café." The Minion Café is full of Minion fun, and looks to have yummy food. This atmosphere is family friendly and sure to be popular.
Illumination's Minion Land is now officially open at Universal Orlando. Our team at Orlando-Parenting.com popped in on the first day. Check out Minion Land at Universal Orlando with them!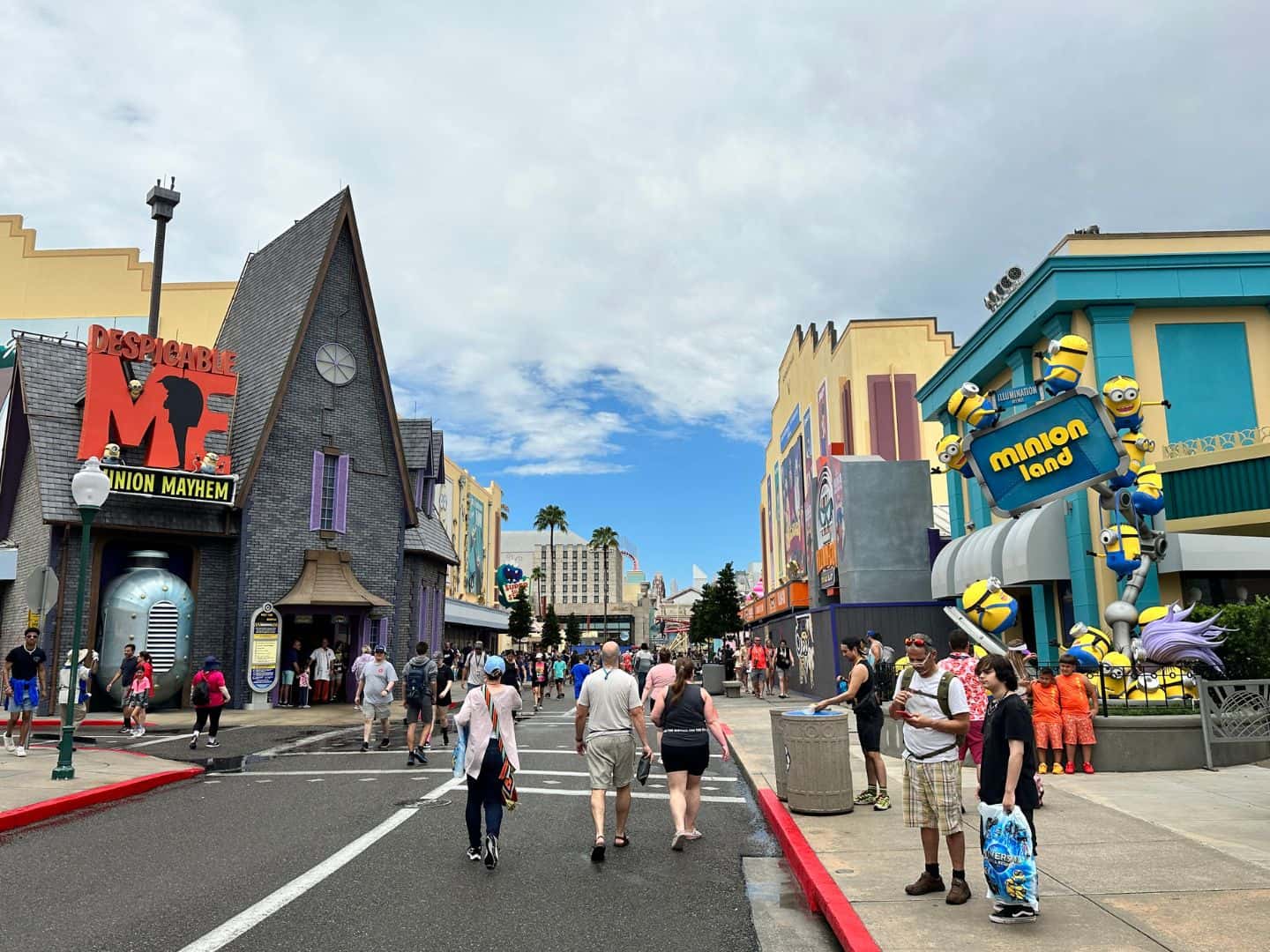 This section of Universal Studios Florida is a Minions-themed haven featuring two rides, merchandise shops, and the Minion Café, providing a complete Minions experience.
Minion Land includes:
Illumination's Villain-Con Minion Blast
Illumination's Minion Cafe
Bake My Day
Pop-a-Nana
Freeze Ray Pops
Illumination Theater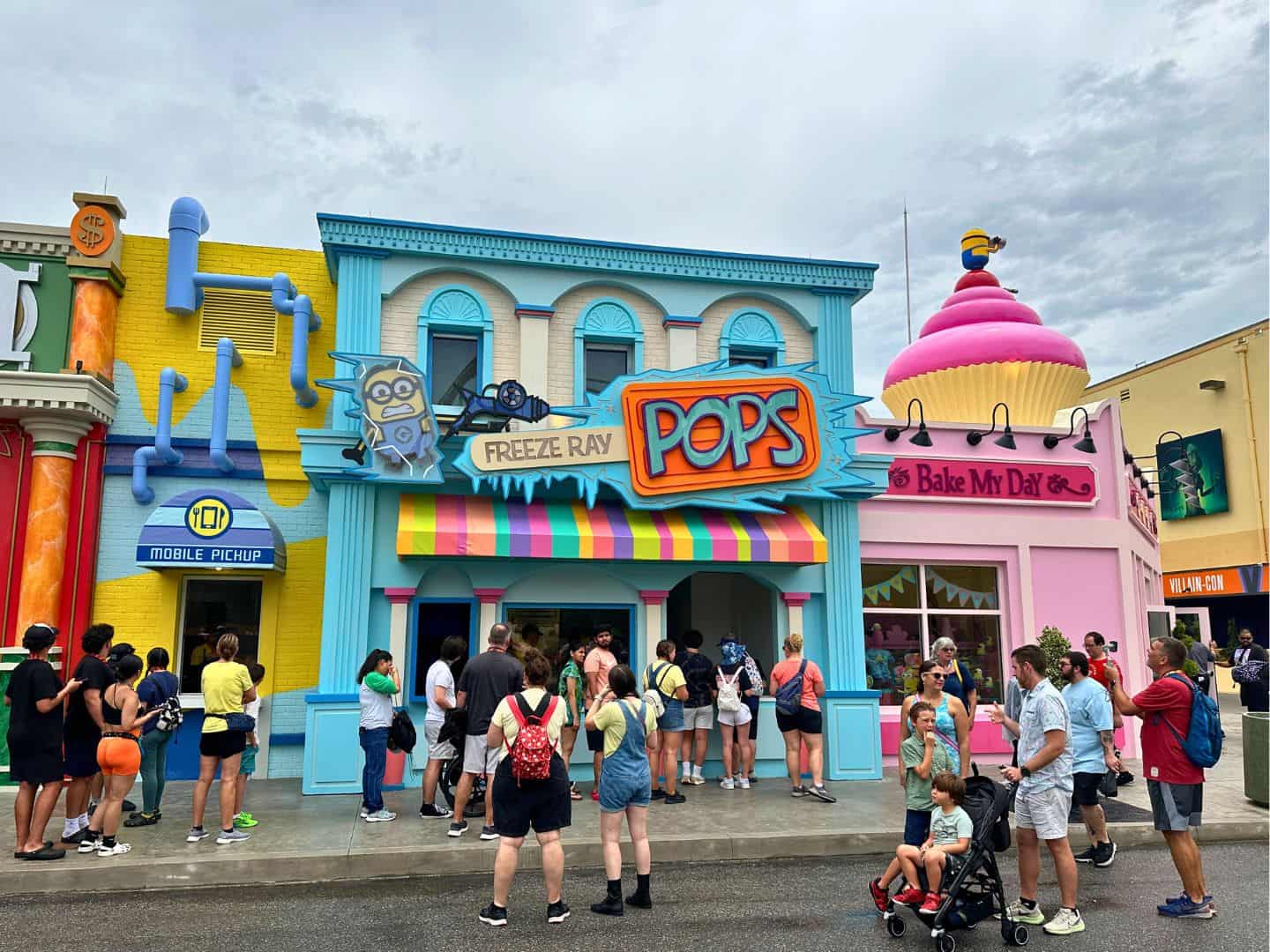 Replacing a Classic: Shrek 4-D
The "Villain-Con Minion Blast" is replacing the classic "Shrek 4-D" attraction, which closed in January last year after 18 years of operation. The closure sparked speculation among theme park fans about the new attraction, and the announcement of the "Villain-Con Minion Blast" has certainly lived up to the excitement.
A Perfect Fit for Universal's Audience
The introduction of the "Villain-Con Minion Blast" is a strategic move by Universal Orlando Resort. The Minions are beloved characters that appeal to a broad demographic. They offer enough silliness for a family-friendly audience and an off-the-wall, slapstick kind of humor that appeals to all ages, making this new attraction a perfect fit for Universal's audience.
The "Villain-Con Minion Blast" offers an experience unlike any other, combining fun, adventure, and a whole lot of mischief. As Universal Orlando Resort continues to innovate and expand its offerings, it's evident that the "Villain-Con Minion Blast" marks a new chapter in the resort's history of delivering unforgettable experiences to visitors.
A New Chapter for Universal Studios Florida
The unveiling of the "Villain-Con Minion Blast" and the introduction of "Minion Land" transforms a significant part of Universal Studios Florida. With its vibrant colors and iconic characters, this new attraction is sure to add a fresh, dynamic vibe to the park.
The construction has also led to changes in other areas of the park, with a new vibrant paint job for the backdrop of the "Transformers: The Ride – 3D." It is expected that more changes and additions will follow as part of this transformation.
The Bigger Picture: Universal's Expansion Plans
The introduction of the "Villain-Con Minion Blast" is just one of the many exciting projects currently underway at Universal Orlando Resort. From the Universal Islands of Adventure Annual Passholder Lounge to the upcoming projects at Lost Continent and the massive Universal Epic Universe theme park project, Universal is poised to redefine entertainment and adventure.
Final Thoughts
The "Villain-Con Minion Blast" at Universal Orlando Resort is more than just a ride; it's an adventure that takes you into the heart of the Minions' world. As you step into Villain-Con, prepare yourself for a thrilling competition, interactive gaming, and a chance to meet your favorite characters in the most unexpected situations. So, get ready to grab your blaster, join the fun, and become a part of the Minion mayhem!
This is the kind of fun and adventure that only Universal Orlando Resort and the Minions can offer. It's a reminder that at Universal, you're not just watching the movies; you're living them. Have the ultimate mischievous adventure with the "Villain-Con Minion Blast."