Local Family Shares Story to Prevent Drownings
Water is part of the allure of living in Florida, but few realize that drowning is the leading cause of death among Florida children ages 1-4.
Water Safety to Prevent Drownings
One family is incredibly grateful to have averted such a tragedy. Having recently moved from Washington State to Venice, Florida, the family of five was about to enjoy a day at the beach last Thanksgiving when 2-year-old Paul slipped out back.
"He's in the pool!" his mother, Hannah, yelled frantically upon discovering her son lying face down, motionless in the water.
Her husband Travis tried reviving their toddler while Hannah called 911. Her waterlogged cell phone was failing and she wasn't sure the dispatcher heard the address. A neighbor heard the commotion and alerted her dad, Vic Stevens, who happened to be a retired deputy fire chief from Long Island, New York, who lived next door to Paul's family.
"Is it happy screaming or something wrong?" Stevens asked his daughter, and then ran across the street, immediately leaving retirement and forever epitomizing the definition of Thanksgiving for Paul's family. Stevens' training in CPR and calmness in chaos proved invaluable until paramedics arrived.
A helicopter soon landed in front of their homes and flew Paul 64 miles to Johns Hopkins All Children's Hospital in St. Petersburg, Florida. Paul had suffered anoxic brain injury from the lack of oxygen while underwater. "We had no idea what quality of life he would have," Hannah recalls.
Breathing machines prevented Hannah from holding her son for eight days. She waited three weeks to see his genuine smile again. It would be nearly Christmas before the family's worst fears would be relieved.
"How quickly CPR was performed was a vital part of Paul's great outcome," says Tisha Spence, M.D., a critical care physician in the pediatric intensive care unit (PICU) at Johns Hopkins All Children's. "There are many prognostic factors that we look at as intensivists to help determine the neurological outcome for a patient after a near drowning. But the most helpful predictor is often time."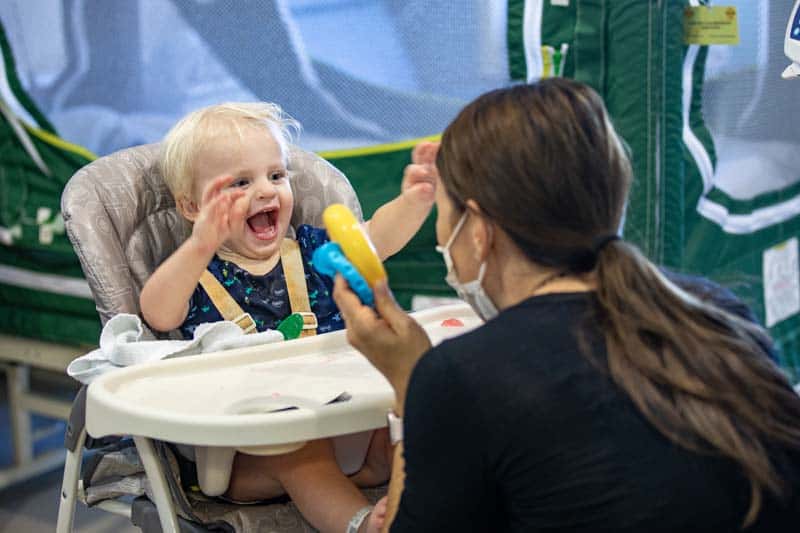 "Paul had to learn to walk, talk and eat again," says Cindy Bozarth, a speech pathologist on Paul's care team. "A key element was family involvement. With a lot of love, faith and therapy guidance, he was shaped back into the curious and active 2-year-old that his family knew before the accident. His family took every piece of information the rehab team provided and implemented recommendations into his day-to-day routine. It made a world of difference."
"From the very beginning, Paul's family consistently followed through with all recommendations and assisted Paul with return to crawling, kneeling and standing. It is remarkable to see his recovery from the PICU to discharge," says Billy Siesel, a physical therapist at the hospital.
During a rehab visit, Hannah recalls pushing Paul through the PICU in a little toy car to give the team a chance to see his success. "I call them our victory laps," Hannah says. "Paul's clinical team were with us when it was really hard and we were zombies staring at a bed," Hannah says. "They see the worst of it, and they don't often get to see the results."
"Seeing that reminds me why I chose this profession," Spence says.
To learn about drowning prevention, visit HopkinsAllChildrens.org/WaterSafety.
---
*Presented by Johns Hopkins All Children's Hospital | Originally published in June 2023 of Tampa Bay Parenting Magazine.