Westchase Restaurants Open on Thanksgiving Day
Don't wait until the last-minute searching for "restaurants open near me on Thanksgiving"! We're updating our list of local Westchase and surrounding area restaurants that can feed the whole family on Thanksgiving Day 2023.
Don't feel like going out but have no time to cook? We can help with that too. Some of these places also offer take-out (plan on ordering ahead of time). Check out TOP PICKS: Thanksgiving dinner to-go and dining in restaurants in Tampa Bay.
Westchase Restaurants Open on Thanksgiving Day – and nearby
Westchase
The newly redesigned Catch 23 in Westchase will have a special pre-fixe menu on Thanksgiving from 11:30pm-9pm. Each table will start with deviled eggs, cream cheese and olive stuffed celery and dinner rolls. You'll have the choice of Butternut Squash Bisque or Roasted Beet and Goat Cheese Salad followed up Traditional Herb-Roasted Turkey Dinner, Atlantic Salmon, Braised Short Rib, or Pumpkin Ravioli along with several side choices and dessert.
There will also be a limited menu of a la carte options such as Lobster Escargot, Grilled Oysters, Macadamia Encrusted Sea Bass, and Stuffed Shrimp.
Cost: TBD
Safety Harbor
Enjoy a Thanksgiving with a view at Safety Harbor Resort and Spa. They'll be serving up a special brunch buffet from 11:00 am-3:00 pm that will include a gourmet omelet station, pumpkin spice French toast, lobster bisque, Mediterranean platter, slow-roasted prime rib, and an international cheese board. They will also offer traditional Thanksgiving items such as herb-roasted turkey with apple stuffing, sweet potato mash with marshmallow and strudel, and traditional green bean casserole.
A separate children's buffet will offer creamy macaroni and cheese, hot dog pups, chicken tenders, and tater tots. All non-alcoholic beverages are included as well as one welcome mimosa per adult. Reservations are required. Adults are $79 plus tax per person and children 10 and under are $31.75 plus tax per person.
2023 Info TBA
Tampa
Capital Grille at International Plaza will be open on Thanksgiving and they'll be serving up a traditional meal. Slow-roasted turkey with brioche stuffing, French green beans with Marcona almonds, cranberry pear chutney and Sam's mashed potatoes to share.
Adults are $47 for dinner; children are $17. Dinner will be available to guests from 10:00 a.m. until 9 p.m. on Thanksgiving Day. Pumpkin cheesecake isn't included but will be available — yum. Their full a la carte menu is available all day so if you want the lobster mac and cheese, go for it!
2023 Info TBA
Tampa
Escape to the islands without having to go too far from Westchase. Whether you're looking for a traditional feast or a twist on the classics, Kona has you covered, Traditional Roasted Turkey is paired with sauteed green beans, miso mashed potatoes, shoyu cream sauce, brioche stuffing (yum!) and ginger-yuzu infused cranberry sauce.
For a little something different, go for the Macadamia Nut Turkey, with macadamia-nut crusted turkey breast also served alongside Kona's take on the traditional trimmings. Toast to a celebration with family and friends with the Pumpkin Spiced Old Fashioned and of course, you can't forget the crowd-favorite Pumpkin Pie.
2023 Info TBA
Tampa
Chef Matt McMillan has planned a delectable Thanksgiving dinner that's available as a heat-and-serve for pickup or to enjoy dining in. The to-go package is $199.99 and serves up to 6 people. It includes butternut squash soup with spiced pumpkin seeds, traditional stuffing, slow-roasted turkey, and pumpkin praline cheesecake.
Dinners will be available for pick-up on November 22 and 23. The same menu is available for a flat rate for those who would rather dine-in. Be sure to pick up a bottle of their wine of the month to complement dinner – the Grateful Red and Grateful White.
$33.99 per adult and $14.99 per child 12 and under.
2023 Info TBA
Tampa
Start a new Thanksgiving tradition at Del Frisco's Grille! You'll find traditional favorites like herb and citrus butter roasted turkey or honey dijon pork tenderloin served with mashed potatoes, brown gravy, and cranberry sauce, or pick from their steak or seafood menu.
Reserve a table in one of their private dining rooms for the whole family. Seating is limited. Restaurant open on Thanksgiving for dine-in only, no carryout.
Restaurants Around the Tampa Bay Area Open on Thanksgiving Day
Clearwater
This Thanksgiving, Wyndham Grand Clearwater Beach and four-diamond restaurant, Ocean Hai, invite you to savor gratitude, good food, and great company. Their remarkable Thanksgiving feast comes complete with stunning Gulf views and an exquisite buffet spread. From a mouthwatering carving station to beloved classics and delectable desserts, this experience is not to be missed.
Reservations are required. Prices are $75 for adults and $35 for children aged 12 and under.
View the full menu and reserve your table here.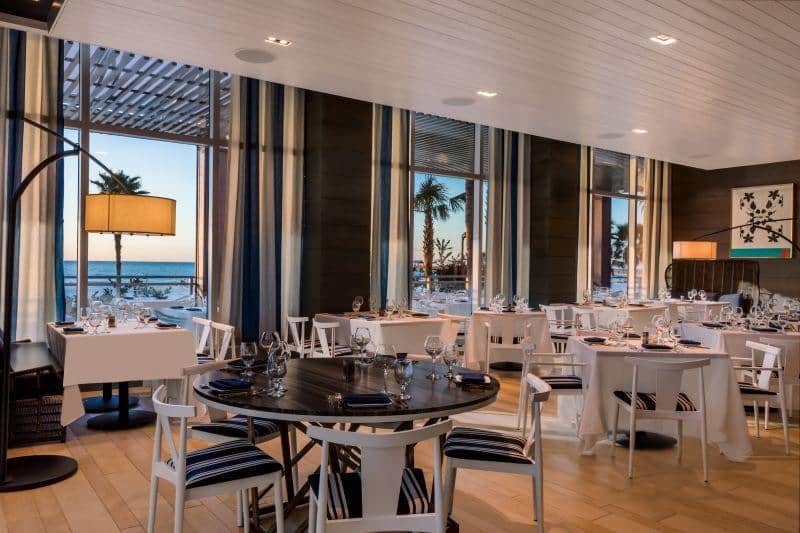 Clearwater
Located on the hotel's second floor, SHOR delivers breathtaking views of the gulf and the white, sandy beach of Clearwater. For Thanksgiving, guests can enjoy a special two special dining options.
Their Thanksgiving breakfast buffet is filled with items such as Caramelized Spiced Apple and Brown Sugar Breakfast Bake, Crab and Asparagus Sandwich, and breakfast stations including omelets and eggs, seafood, charcuterie, and desserts.
If you opt for Thanksgiving Dinner, get ready to indulge in a selection of salads such as Maple Roasted Winter Squash, Grilled Zucchini and Fall Vegetable Panzanella Salad, and Baby Kale Mix, along with Butternut Squash and Lobster Bisque.
Dinner stations will be serving up seafood, charcuterie, a carving station, and a hot buffet with crispy brussel sprouts, seared salmon, candied sweet potatoes, green bean casserole, and more.
Breakfast is $50 per adult, $25 per child and Dinner is $70 per adult and $35 per child
2023 Info TBA
Clearwater
Since 1948, Bob Heilman's Beachcomber has been a Clearwater staple. On Thanksgiving Day, they'll be offering up a special Thanksgiving menu starting at 2pm. Enjoy appetizers such as Beachcomber shrimp and lobster bisque and escargot en casserole.
Entrees include roasted fresh Amish Nature turkey, cornbread stuffing, and fresh cranberry sauce, or try something non-traditional like skillet fried chicken, char-broiled loin lamb chops, or salmon filet.
Polish off your meal with pumpkin pie with peanut brittle whipped cream or baked Alaska with Heilman's hot fudge (both baked fresh in-house). There will be a special menu for kids ages 12 and under.
St. Petersburg
The TradeWinds Island Resorts will be offering Thanksgiving Day options in three locations – Palm Court Italian Grill at the TradeWinds Island Grand and RumFish Grill at RumFish Beach Resort. Special Thanksgiving menus that include traditional turkey dinners will be available, as well as their full dinner menus.
You can also enjoy Thanksgiving at Island Grand Ballroom for a traditional Thanksgiving brunce. Of course the lineup includes a Turkey carving station alongside pumpkin pies with some additional culinary creative twists! To reserve your spot at this festive feast, please call 727.363.2290.
Location: Island Ballroom from 11 a.m. – 3 p.m.
Limited availability. Adults $65, Seniors age 60+ $55, Kids ages 5 – 12 $25, Kids 4 & under Free. Price exclusive of tax and service charge.
For reservations at Palm Court, please call 727-363-2358 between 5 and 10 p.m. Tues-Sat. For reservations at RumFish Grill, please visit Open Table or call 727-329-1428.
2023 Info TBA
St. Petersburg
Nestled on waterfront Beach Drive in downtown St. Pete, 400 Beach Seafood and Taphouse is described as Nouveau American, using a thoughtful approach to the menu with a strong focus on local farmers and ranchers.
For Thanksgiving, they've created a special family-style menu you can enjoy from 11am-8pm. Choose from Thanksgiving turkey, Pan Seared Sea Bass and Chimichurri, Braised Short Rib and Red Wine Demi, or English Pea and Melted Leek Risotto. Family style sides include traditional stuffing, cranberry sauce, whipped potatoes, and brussel sprouts. $42 per person. $16 per child ages 10 and under.
St. Petersburg
Winner of multiple Golden Spoon Awards and the Wine Spectator Award of Excellence, Parkshore Grill is one of St. Pete's best restaurants.
On Thanksgiving, they're serving up a special brunch menu from 11am-3pm. Enjoy fall inspired items such as Sage Sausage Quiche, Steak and Eggs, Pumpkin Ricotta Crepes, Crab Cake Benedict, and Smoked Salmon Plate. Wash it all down with a special Pumpkin Spiced Bourbon Milk Punch.
St. Petersburg
This Thanksgiving there will be an iconic King Charles Thanksgiving Brunch Buffet on Thursday, November 23 at 10:30am. Guests will enjoy glorious views of the Gulf while indulging in a variety of options including made-to-order omelets, hand-carved whole turkey and beef tenderloin, a seafood bar with oysters and poached shrimp, crispy chicken and waffles and bottomless Champagne.
Tickets are $150 per person and $50 for children ages 5-12. To purchase, please book via Resy.
Ybor
Flor Fina will be ringing in the holiday season with a 3-course family style feast from 11am-5pm on Thanksgiving Day, consisting of platters reminiscent of a traditional American Thanksgiving feast with a nod to the Mediterranean and Latin cultures of Ybor City. The menu will consist of a few Thanksgiving favorites, such as Roasted Turkey Breast and Pumpkin Pie, complemented by delectable specialty items like Crispy Brussel Sprouts, Oyster and Chorizo stuffing and Salted Cashew Baklava are just a few!
Cost: $75 per adult and $25 per child (children under 5 eat free!)
Tampa
Leave the fuss to the Yacht StarShip crew and share a special day with loved ones on a Thanksgiving Day buffet cruise. Sail off on sparkling blue waters while you sit down to a delicious meal including carved turkey with sage pan gravy, apple cheddar cornbread stuffing and Yukon mashed potatoes with ricotta and buttermilk. Once you've had seconds, have a round at the chef's dessert selection.
After dinner get on the deck and enjoy the view of the bay and skyline, while the cruise director plays the latest tunes. There are three cruises offered this turkey day, from 12-2 p.m., 3:30-5:30 p.m. and 7-9 p.m. with boarding is 30 minutes before leaving the dock.
Tickets are $69.95 for adults and $44.95 for children, plus $3 marine fees, tax and a $10 gratuity.  Tickets include coffee, tea and water and there will be a cash bar.

Tampa
Maggiano's will be offering family-style dine-in for Thanksgiving. This year's dine-in family-style menu includes balsamic tomato bruschetta, salad, and your choice of roasted turkey, baked smoked ham or parmesan-crusted tilapia. The dinner comes with a choice of two pastas for the table and two sides, with options like Tuscan creamed corn, sage & sausage stuffing and garlic mashed potatoes.
For dessert, the options look delicious, with your choice of two for the table between pumpkin praline cheesecake, warm apple crostada, and tiramisu.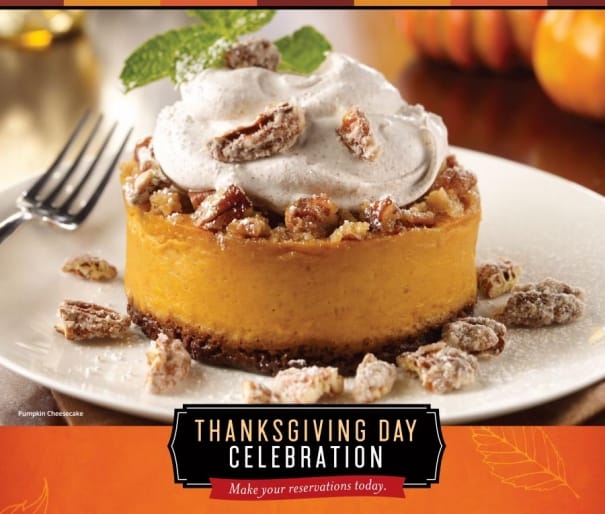 Tampa
Tucked away on the shores of Old Tampa Bay is a rustic restaurant where for more than 25 years locals eat on the water. The Rusty Pelican is offering a Thanksgiving Day four-course brunch from 10:00 am-4:00 pm on Thanksgiving Day, followed by a seasonal a la carte dinner menu with Thanksgiving specials from 4 p.m. to 9 p.m.
The brunch menu has everything from their normal seafood offerings to more traditional Thanksgiving fare.
Adults are $86, children are $35 and bottomless mimosas are an additional $30
2023 Info TBA
Tampa
Ruth's motto is no exceptions and no compromise. Thanksgiving Day Ruth's will be serving a soup or salad course, Roast Turkey with Sausage Stuffing and a choice of one of their four most popular sides. Ruth's finishes off your Turkey Day meal with Pumpkin Cheesecake and Vanilla Bean Ice Cream.
They open at 12 on Thanksgiving Day and offer their three-course Turkey Dinner for $44 for adults and $15 for children. Take home dinner and sides are available starting at $35.
2023 Info TBA
Tampa
Celebrate Thanksgiving at Eddie V's this year without lifting a finger! Reserve your table today for an exquisite turkey dinner with traditional trimmings: sliced turkey breast with gravy, brioche sage stuffing, cranberry chutney, hand-whipped potatoes, baby French green beans with sun-dried tomatoes, roasted butternut squash. The cost per person is $47 for adults and $17 for children.
The dessert will be pumpkin pie tartlet with pecan ice cream and is $12. If you're a rebel and want to ignore the custom of the traditional Turkey Day meal, their full menu is also available for lobster or steaks. Eddie V's will be serving Thanksgiving Dinner from 11 a.m. to 8 p.m. Thanksgiving Day.
Tampa
Feast this turkey day at Terra Gaucha. Their full menu will be served all Thanksgiving Day along with seasonal sides and turkey wrapped in bacon. Make your reservation today and leave the cooking and clean up to them. The full experience is $52.95 per adult. Children 6-12 are half price and kids 5 and under are complimentary.