Where to Park for the Children's Gasparilla Parade
The Children's Gasparilla Parade is nearly here and in order to pARRRGHHty…you'll need to find a place to park for this alcohol-free, pint-sized party! We've got you covered, friends.
First, let's go over the big details. The Children's Gasparilla celebration will be held on January 21, 2023 with festivities kicking off at 12 pm and the parade at 4 pm.
As you make your way toward South Tampa on parade day, plan leave early since you'll  encounter a lot of traffic due to the numerous road closures and the event itself. Tampa Police and the city do a good job of directing you on where to go–they have several decades of doing this under their belts, so it's pretty much down to a science now.
The key will be planning ahead and giving yourself plenty of time to get there. We live less than 10 minutes from the parade route and it has taken us 30 minutes or more to get to a paid parking spot near the route. (We'll explain where in a moment…)
Whatever you do, DO NOT park in the neighborhoods along the parade route. Tampa Police will be enforcing this strict no parking zone and you WILL get towed.
Best Spots to Park for the Children's Gasparilla Parade
One of our favorite places to park for the Children's Gasparilla Parade is at one of the nearby schools which charge for parking on parade day as a way to raise money for the school, so it's a win-win! You get a great parking spot while supporting a local school.
In previous years, we have parked at Bayshore Christian and at the Academy of the Holy Names; both are on MacDill Avenue. It's not too long of a walk to get to the parade route and you can avoid some of the busier downtown traffic.
The Academy of Holy Names is pre-selling parking spots for both Gasparilla parades right now for $30 – pre-sale closes on January 19. You can pay $25 cash on parade day, according to their site. That is what we've paid in the past as well, so don't forget to bring some cash! Bayshore Christian also has a pre-sale of parking spots for $30.
In 2022, Hyde Park Village offered paid parking for $30 for the Children's Parade, so follow their Instagram account for updates for 2023.
You also might find other local businesses opening up their lots for paid parking. We do not recommend parking at one of the shopping centers near the parade route — you might get towed on parade day and who wants to deal with that?
Free Jolly Trolley from the Downtown Tampa Parking Garages 
If you'd rather not deal with looking for a parking spot near the parader route, plan to park in the recommended parking garages and lots in downtown Tampa:
Tampa Convention Center Garage
Pam Iorio Garage
Whiting Garages
Crosstown Lots
…and then hop on the FREE Jolly Trolley which will get you close to the parade route at Bayshore and Bay to Bay. The city will be charging a $15 event rate from 10 am-7 pm to park in the garages and lots, so it might be more than you're used to paying if you park in downtown.
The Jolly Trolley Pick-Up/Drop-off locations are at Platt Street near the Publix and at Bayshore and Bay to Bay Blvd near the start of the parade. (see map below)
The Jolly Trolley will make a continuous loop between 11:30 am and 8:30 pm which is good news if you have to leave early or you're running late.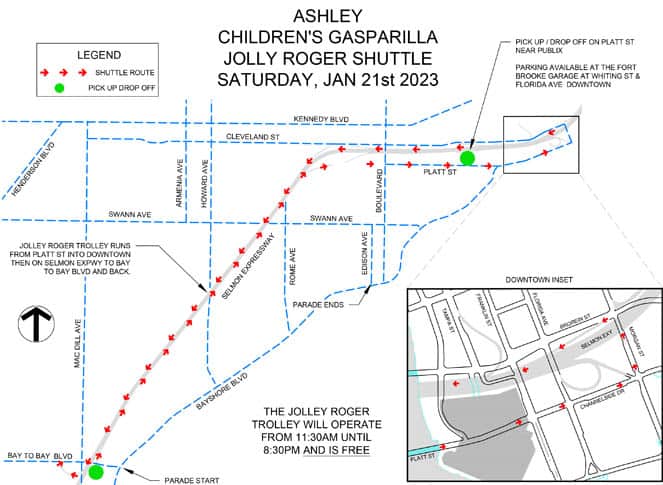 ADA Access Parking for Children's Gasparilla Parade
There is ADA Parking located near the ADA viewing area at Palm Drive and Howard Avenue. It is a short walk from the parking lot to the ADA viewing area on Bayshore at Howard.