Where to Park for Gasparilla Pirate Fest
Gasparilla Pirate Fest is almost here and in order to party with the pirates, you'll need to find the perfect place to park.
First, let's go over the big details. Gasparilla Pirate Fest will be held on January 28, 2023 with festivities kicking off at 9 am. The Gasparilla Flotilla Invasion takes off at 11:30 am and the Parade of Pirates starts at 2 pm.
As you make your way toward South Tampa on parade day, plan to leave early since you'll encounter a lot of traffic due to the numerous road closures and the event itself. Tampa Police and the city do a good job of directing you on where to go–they have several decades of doing this under their belts, so it's pretty much down to a science now.
The key will be planning ahead and giving yourself plenty of time to get there. No matter how close you live, it will definitely take you extra time to get to the parade route.
Even though the Invasion and Parade of Pirates are at two different times and have different viewing spots, your best bet is to park early and stay put. Traffic only gets worse throughout the day and it will probably be faster to walk. If you do plan on attending both, look for a spot in between both events for an easy proximity to each.
Whatever you do, DO NOT park in the neighborhoods along the parade route. Tampa Police will be enforcing this strict no parking zone and you WILL get towed.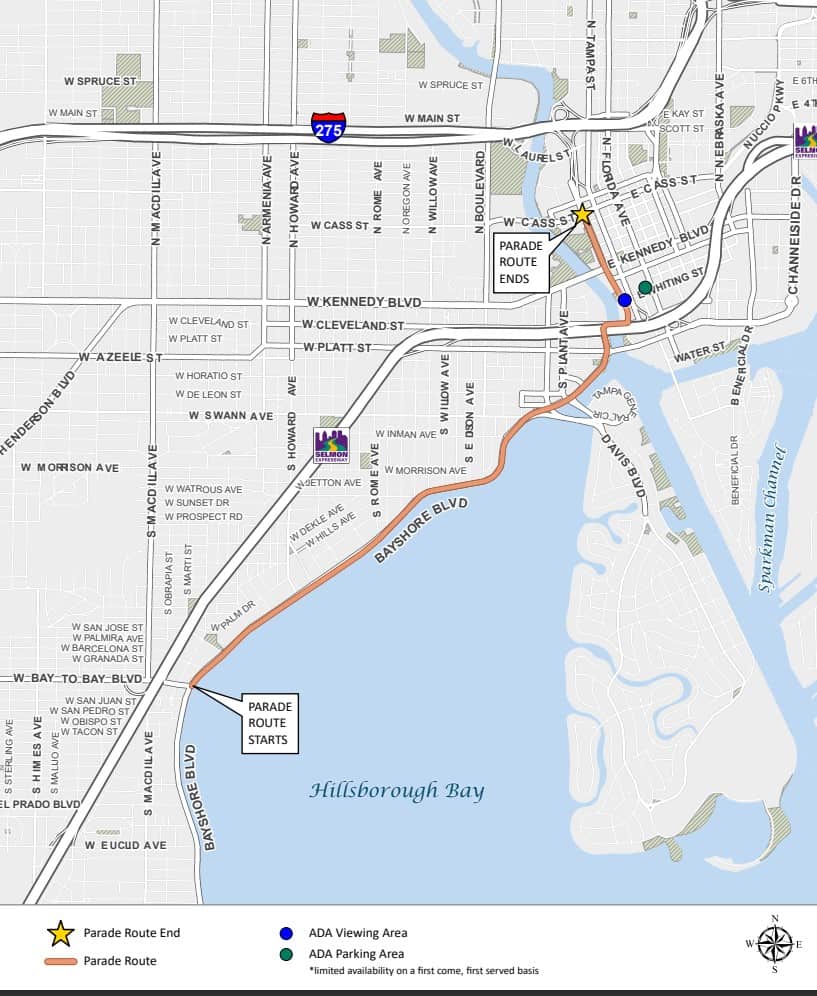 Best spots to park near the start of the Gasparilla Parade route
One of our favorite places to park near the start of the parade route is at one of the nearby schools which charge for parking on parade day as a way to raise money for the school, so it's a win-win! You get a great parking spot while supporting a local school.
In previous years, we have parked at Bayshore Christian and at the Academy of the Holy Names; both are on MacDill Avenue. It's not too long of a walk to get to the parade route and you can avoid some of the busier downtown traffic.
The Academy of Holy Names is pre-selling parking spots for both Gasparilla parades right now for $30 – pre-sale closes on January 19. You can pay $25 cash on parade day, according to their site. That is what we've paid in the past as well, so don't forget to bring some cash! Bayshore Christian also has a pre-sale of parking spots for $30.
Hyde Park Village is offering paid parking for Gasparilla Pirate Fest for $30. Learn more here.
You also might find other local businesses opening up their lots for paid parking. We do not recommend parking at one of the shopping centers near the parade route — you might get towed on parade day and who wants to deal with that?
Just remember to designate a driver before the day begins! Police will be out in full force!
Best parking spots near the Gasparilla Invasion and Pirate Fest
If you'd rather not deal with looking for a parking spot near the start of parade route, plan to park in the recommended parking garages and lots in downtown Tampa for a $20 event fee:
Tampa Convention Center Garage
Pam Iorio Garage
Whiting Garages
Selmon Expressway Lots
Royal Regional Lot (Tampa St and Fortune St)
Scott Street Lot (Morgan St and Scott St)
Poe Garage (N Ashley Dr and W Cass St) –this garage will close from 1pm-6pm
Twiggs Street Garage (Twiggs St, west of Nebraska Ave)
Centro Ybor Garage (5th Ave and 15th St)- standard hourly rate with $9 max
Palm Ave Garage ( 13th St and 9th Ave) – standard hourly rate with $9 max
There will be FREE TECO Line Streetcar service between 8:30am-2:00am and FREE HART bus shuttle service between 9:30am-7:00pm for transport between Ybor and Downtown Tampa.
The City of Tampa has released their 2023 Parking Bulletin which lists the names and prices of local downtown garages. You can also check out road closures and detours for the day.