Where to See Santa at Walt Disney World
The most magical time of year is even better at the most magical place on Earth. And what could be more magical than seeing Santa at Walt Disney World?
Get family photos with the jolliest man there is at Disney Springs. Or wave hello as he passes by in a festive parade. We're sharing all the places you can see Santa at Disney!
Let's start off with the basics of what you need to know about celebrating the holidays at Walt Disney World.
The holidays at Walt Disney World kick off November 8, 2022 and run through early January 2022. EPCOT gets a later start on November 25, 2022.
If you plan to visit on Christmas or any dates close to it, book your Disney Park Pass Reservation as soon as you can. These will book to capacity very quickly.
Other things to know:
Each theme park and Disney resort hotel is decorated
Special holiday food and beverage is available at each Disney theme park
Santa Claus appears at each of the four Disney theme parks and Disney Springs
Keep reading to learn where Santa is in each Disney theme park. And at the end you'll find info about visiting Santa for FREE at Disney Springs.
Santa at Walt Disney World
Each of the four Disney theme parks has a way for you to see Santa Claus. Magic Kingdom is the most popular spot for seeing Santa, however, it takes the most work.
Santa Claus at Magic Kingdom
Magic Kingdom tends to top everyone's list for the holidays. The decorations are classic, especially on Main Street USA. However, seeing Santa at Magic Kingdom is not as easy as EPCOT or Disney Springs.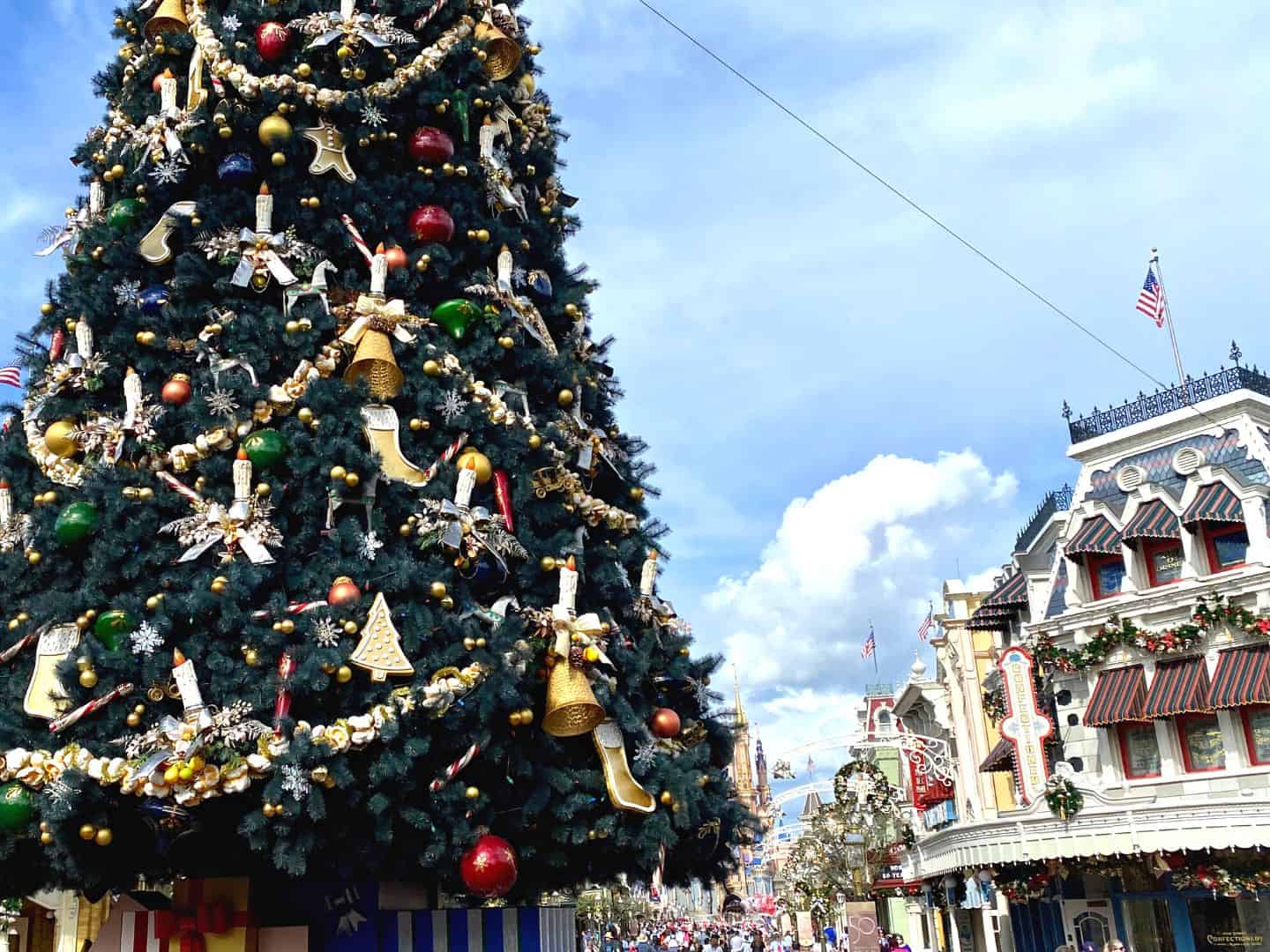 Santa appears at the parade at Mickey's Very Merry Christmas Party. This parade also performs during the day during the week of Christmas Day, and the week after. These two weeks of Christmas are also the busiest time of the entire year at Disney.
Santa Claus also does meet and greet appearances near the front of Magic Kingdom, next to City Hall on Main Street. These magical appearances can be found in the schedule of the My Disney Experience app.
Santa usually appears at Magic Kingdom for greetings during midday in the surrounding weeks close to Christmas Day.
Santa Claus at EPCOT
Santa Claus appears at EPCOT in multiple ways. During the Festival of the Holidays, EPCOT comes alive with holiday cheer. Each World Showcase pavilion has a Holiday Storyteller, sharing the history and origin of international holiday traditions, in many entertaining ways.
There are three holiday storytellers that resemble Santa Claus. In the United Kingdom Pavilion, France Pavilion, and Norway Pavilion these storytellers are similar to our modern day version of Santa.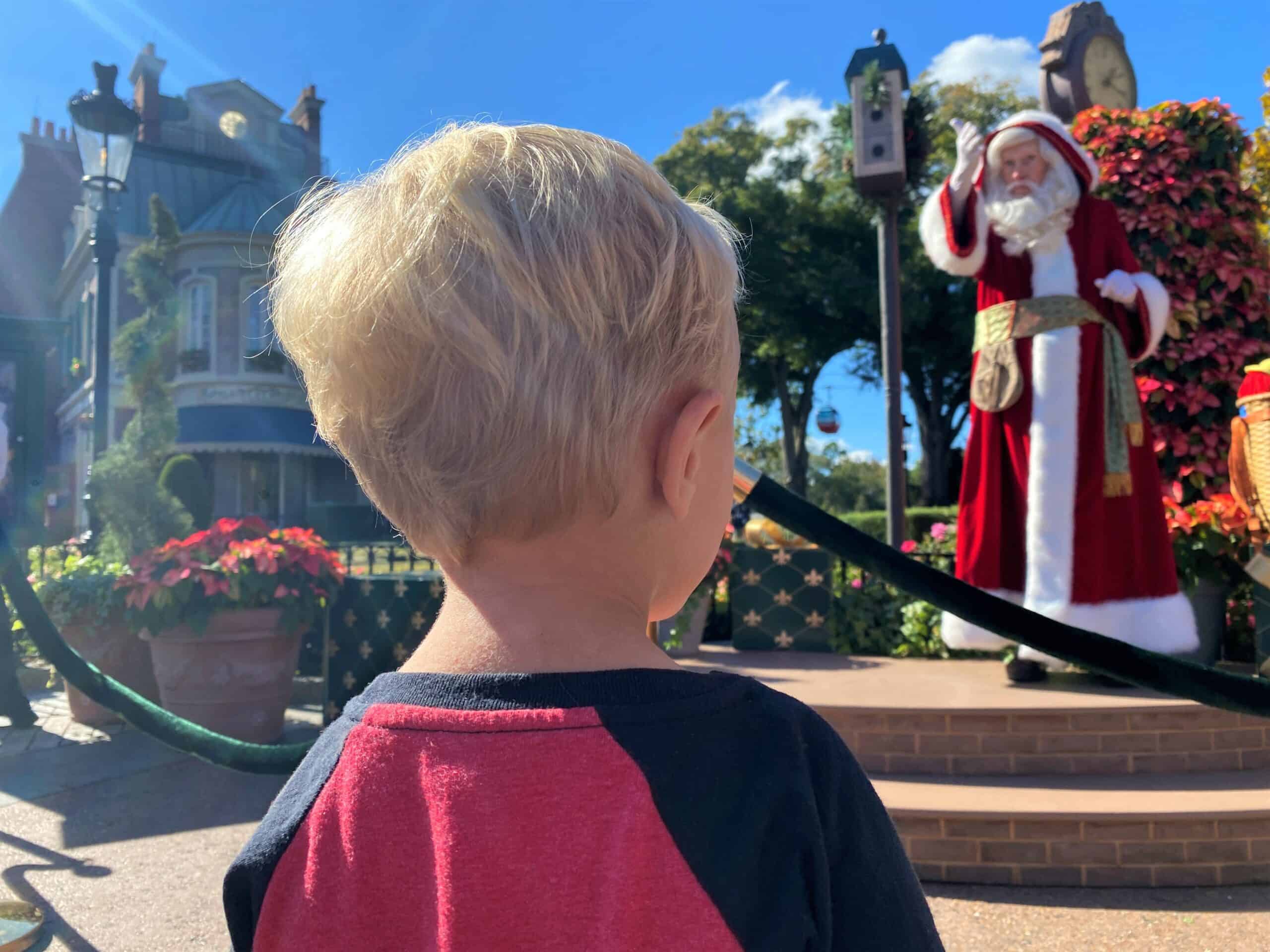 Each performance lasts about fifteen minutes, and the storytellers perform on a small stage not far from the main promenade. This makes it easy to grab something to eat or drink from a nearby Holiday Kitchen while you watch the storyteller.
Plus, the classic Santa Claus as we know him meets guests at the American Adventure pavilion at the center of World Showcase.
The setup for Santa at EPCOT is beautiful and makes for great family photos. Santa at EPCOT is the most readily available Santa at Disney greeting. Of all the four theme parks, EPCOT is the best place to meet Santa.
Santa Claus at Disney's Hollywood Studios
While I absolutely love the Christmas decorations at Disney's Hollywood Studios, it is not the best place to meet Santa himself. Catch sight of Santa cruising down Hollywood Boulevard in his candy-apple red convertible during the Santa Claus Merry Motorcade.
This brief appearance is a fun, modern way to see Santa. It goes by quickly so be sure to check with a Guest Experience Team Cast Member for showtimes.
Santa at Disney's Animal Kingdom
As much as I love the unique interpretations of the holidays at Disney's Animal Kingdom, seeing Santa here is a little tough. There is no meet and greet location for Santa here.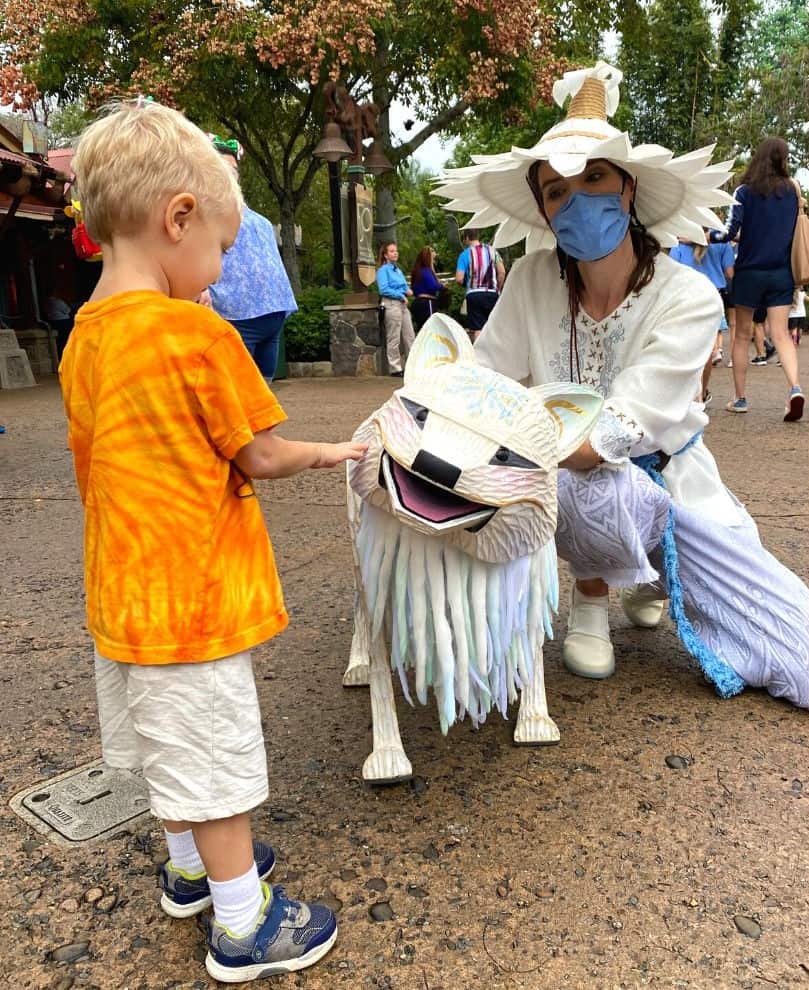 However, you'll be able to catch Santa on a pontoon boat! Goofy, Chip 'n' Dale and other Disney character friends journey along the park's Discovery River aboard boats with festive flair and cheerful music — Santa is a part of the fun too!
See Santa for FREE at Disney Springs
You can see Santa for free at Disney Springs, but you'll need to get there early. To see Santa at Disney Springs, you'll need to sign up through the virtual queue. When you arrive, check for a sign with a QR code. Santa is at Once Upon a Toy which is in the Marketplace section of Disney Springs.
And the virtual queue signs are near the entrance to Once Upon a Toy as well as once you've entered Disney Springs from each parking area.
Once you've entered the virtual queue you'll get a notification on your phone when it is your turn to see Santa. You can check the MyDisneyExperience app, under Virtual Queues to see how much longer you have to wait.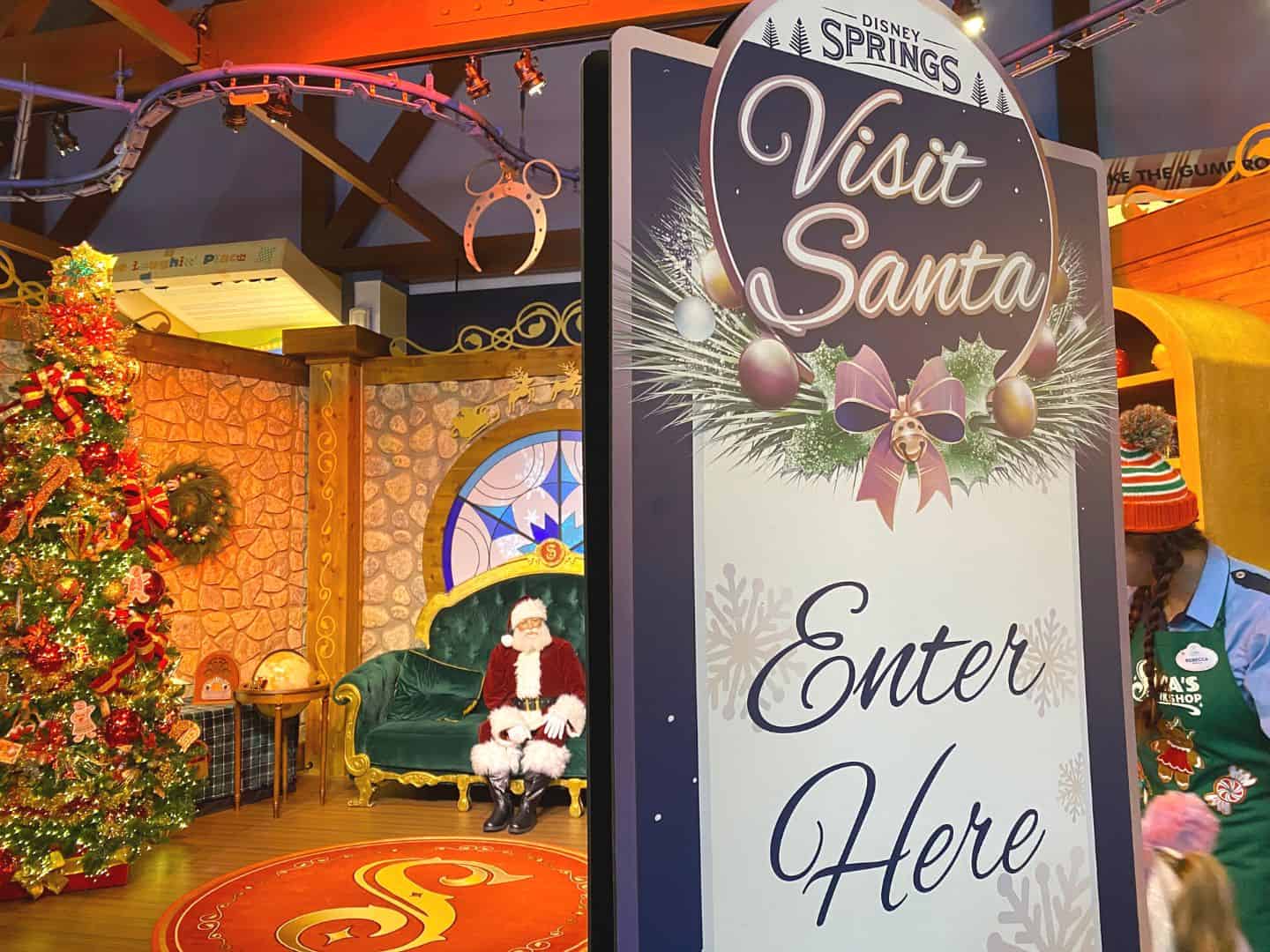 While you wait go explore the rest of Disney Springs, though you'll need to get to the Santa greeting area within 45 minutes of notification that it is your turn. So don't go too far.
You can also have Breakfast with Santa at Disney Springs, at Maria and Enzo's Italian Restaurant.
New for 2022 – Tropical Santa at Blizzard Beach Water Park
Disney's Blizzard Beach features heated water throughout the park. New for 2022 it will also have an enhanced holiday atmosphere. Limited-time holiday offerings will begin in mid-November through December 31.
Enjoy holiday-themed treats, snowfall and festive inner tubes. Meet a tropical-dressed Santa for the ultimate Florida holiday experience.
Checking it twice…
Santa appears at all four Disney theme parks, Blizzard Beach, and Disney Springs
EPCOT is the easiest theme park for traditional photos with Santa meet and greet
Disney Springs is free to enter and offers photos with Santa
Santa meet and greet at Disney Springs usually starts in early November and goes to Christmas Eve
A virtual queue is required for meeting Santa at Disney Springs