Tickets now on sale for Mickey's Very Merry Christmas Party at Magic Kingdom!
Mickey's Very Merry Christmas Party is returning in 2023 and we couldn't be more excited!
This is one of our favorite holiday events in Orlando and it's a great way to experience the Magic Kingdom if you've been wanting to go with the kids.
You still get to experience all of the magic of the theme park's offerings, but you get the added bonus of the beautiful decor and unique photo opportunities…and somewhat cooler temperatures (by Florida standards, of course).
Before we dive into our favorite things about this beloved event, let's first go over the Need to Knows…
When is Mickey's Very Merry Christmas Party?
Mickey's Very Merry Christmas Party is being hosted on 25 select nights from November 9 through December 22, 2023. It is a special ticketed event, so you won't be able to go to the park on a regular ticket during the day and expect to stay for the party. They will be checking at checkpoints throughout the park. Magic Kingdom closes early on event nights to make way for this most magical celebration ever.
Mickey's Very Merry Christmas Party tickets will go on sale July 6, but you will want to purchase your tickets early since the event sells out pretty quickly.
How much are tickets?
Tickets for Mickey's Very Merry Christmas Party vary in cost, depending on the day you go. Prices for adults ages 10 and older range from $159-$199 per ticket, plus tax. Tickets for kids ages 3-9 range from $149-$189 per ticket, plus tax.
Disney Annual Passholders and Disney Vacation Club Members can save $10 per ticket. You can pruchase your family's Mickey's Very Merry Chrismtas Party tickets here.
What time does Mickey's Very Merry Christmas Party start?
Mickey's Very Merry Christmas Party doesn't officially start until 7 pm, BUT you can arrive as early as 4 pm which we highly recommend so you can get the most out of your day at Magic Kingdom…especially if you don't have an annual pass.
When you arrive, there will be an area designated for Very Merry ticket holders. This is where you will scan in with your ticket and get a special wristband for the event. The wristband is how cast members are able to ensure regular-day guests exit the park before the party starts–you will notice checkpoints throughout Magic Kingdom. Cast members will be checking for the wristbands, so don't try to sneak your way in.
The party ends at midnight.
Can you day trip a visit to Mickey's Very Merry Christmas Party from Tampa Bay?
Absolutely! We've done it a few times. And we've also stayed overnight. It really depends on whether you think you'll have the energy to make the drive back home to Tampa Bay. There is less traffic on I-4 at night, but driving tired is never a good idea.
Related: The BEST Christmas Events in Tampa Bay for Families
There are some amazing hotel options on the property. Some of our favorites include Disney's Animal Kingdom Lodge, Coronado Springs, and Contemporary Inn. We're sharing even more of our favorite hotels to stay near Disney World during the holidays here.
Some of our other favorite resorts near the park: The Gaylord Palms which has an amazing pool (along with the popular ICE! exhibit) and the Marriott World Center in Orlando which also has an awesome pool.
Will toddlers enjoy the Very Merry Party?
We first attended Mickey's Very Merry Christmas Party when our oldest son was about 20 months old, so when people ask us whether toddlers will enjoy the event, we can say from personal experience of bringing two toddlers over the years, YES, they will!
Kids younger than 3 do not need a ticket, so that's a big bonus.
While babies and toddlers may not be able to rally for the entire night, a reclining stroller will be a necessity to give them a place to snooze while the rest of the family continues to enjoy the party.
Don't forget to take advantage of the Baby Care Center at Magic Kingdom–it's a quieter spot to change diapers, buy any extra items you might need like diapers or snacks, heat bottles, access to high chairs for feeding, and there is even a nursing room. It's right off of Main Street to the left near Crystal Palace.
What's there to do at Mickey's Very Merry Christmas Party?
There are SO MANY fun things to do!
In addition to the event's exclusive shows and parade, the characters are dressed in their holiday best for Insta-worthy photos with you, and there are also some complimentary sweet treats to indulge in and a beautiful 'snowfall' on Main Street!
If you decide to arrive early at 4 pm, you can use this time to go on a few rides or even sit down for a pre-party dinner. There is also a dinner service at Be Our Guest Restaurant and Cinderella's Royal Table during the party, but you will need to book a reservation for this as they also book up pretty quickly.
There are also quick-service restaurants around the park too. Scroll through the dining options on the My Disney Experience app so you can plan ahead and even order via the app.
Related: 5 Family-Friendly Ideas to Celebrate the Holidays in Orlando
Other upgraded dining options at Mickey's Very Merry Christmas Party
*2023 info coming soon. The following info is for the 2022 event for your reference.
In addition to the table service experiences at Be Our Guest Restaurant and Cinderella's Royal Table, you can also upgrade to the Minnie's Wonderful Christmastime Fireworks Dessert Party at Tomorrowland Terrace.
The upgraded party ticket includes a wide array of desserts and drinks along with spooktacular views of the fireworks. Tickets with seating for the fireworks show (Tomorrowland Terrance) start at $114 including tax and gratuity for guests 10 and older and $69 for guests ages 3-9.
For the Plaza Garden Viewing, it's $99 for guests 10 and older and $59 for ages 3-9.
Check-in begins one hour before the fireworks start.
Here are our 5 favorite things about Mickey's Very Merry Christmas Party:
ONE: The Complimentary Treats
I mention this first because our kids love the cookies and sweet treats.
There are five Holiday Treat Locations this year throughout the park with each offering something a little different.
We got the Snickerdoodle Cookies and Hot Chocolate at Cosmic Ray's Starlight Cafe in Tomorrowland–where a dance party was going on as we walked in!
Holiday Treat Locations:
Tortuga Tavern in Adventureland
Columbia Harbour House in Liberty Square
Pinocchio Village Haus in Fantasyland
Cosmic Ray's Starlight Cafe in Tomorrowland
The Lunching Pad in Tomorrowland
There are also allergy-friendly and healthy substitutes available upon request which we LOVE!
The food and treats available for purchase were also huge WINS for our kiddos!
TWO: The Entertainment at Mickey's Very Merry Christmas Party 
There's some pretty spectacular entertainment during Mickey's Very Merry Christmas Party like 'Mickey's Most Merriest Celebration' featuring all of your favorite Disney characters and princesses on the front stage of Cinderella's Castle. There are plenty of chances to catch this show. Showtimes are 7:40 pm, 9:25 pm, 10:35 pm, and 11:55 pm.
Check out the full lineup of entertainment here.
Some of our favorite entertainment options included Club Tinsel at Cosmic Ray's Starlight Cafe in Tomorrowland where the whole family can dance the night away. Other past favorite highlights…a holiday honky tonk dance party with the Country Bears in front of Country Bear Jamboree! Showtimes are 7:45 pm, 8:35 pm, 9:25 pm, 10:45 pm, and 11:35 pm.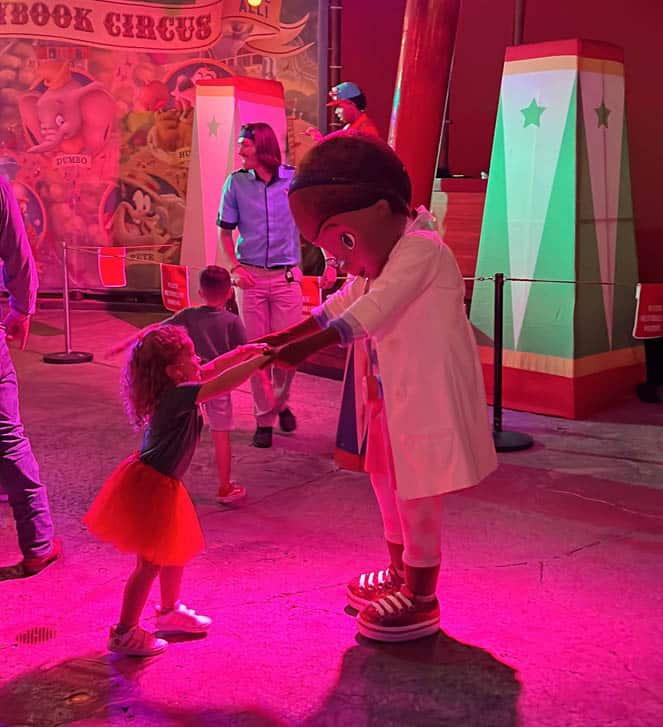 The little ones will LOVE the Disney Junior Jingle Jam at Storybook Circus (near the Dumbo ride) featuring your child's favorite Disney Junior characters. The dance party can be found under the big top at Storybook Circus from 7 pm-10 pm. It's a chance for them to boogie on the dance floor with characters from The Lion Guard, Vampirina, Doc McStuffins, Fancy Nancy and more!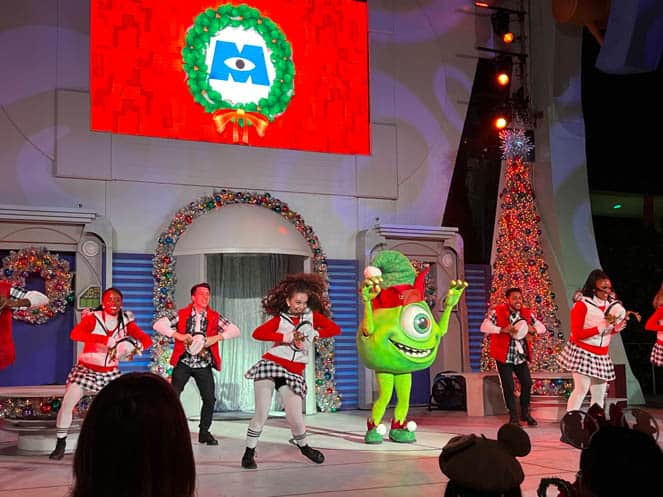 We're not done with the dance parties yet! Over in Tomorrowland at the Rockettower Plaza Stage, you'll find Buzz Lightyear, Mike Wazowski, and Stitch dancing along to holiday tunes for a Totally Tomorrowland Christmas.
There are a lot of special character appearances too so grab your event map and look for all of the Mickey icons for the hot spots!
The Fireworks
You'll also want to secure a spot in front of Cinderella's Castle for the awe-inspiring  'Minnie's Wonderful Christmastime Fireworks Show" which lights up the castle at 10 pm during a  light projection and fireworks display that will knock your Christmas stockings off!
The Parade: "Mickey's Once Upon a Christmastime Parade" 
Magic Kingdom never disappoints when it comes to its parades and this one is no different. You'll love the sights, sounds, and SMELLS of "Mickey's Once Upon a Christmastime Parade"!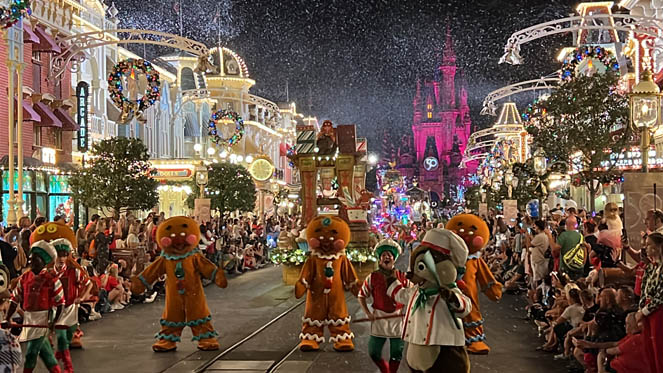 Be sure to grab your spot early so you can get a front-row view because as parade time nears, it gets super crowded no matter where you find a spot! There are two opportunities to see the parade: 8:30 pm and 11:00 pm.
Your favorite Disney characters and princesses make appearances in this parade as well along with Santa, so get your camera ready for an up-close pic! Check out some of our favorite highlights
THREE: The characters
Speaking of Santa. YES, you can visit Santa at Magic Kingdom!
You can find him at the Gazebo just behind Liberty Square, and over the bridge from Crystal Palace. The night we were there, we were pleased to see a more inclusive Black Santa which Disney unveiled last year at select locations.
Related: Our favorite spots to see Santa at Walt Disney World!
Be sure to stop by to see Mickey at the Town Square Theater on Main Street USA! He's wearing his holiday best! We loved this special moment from 2018 when Mickey balanced my youngest son's stuffed Mickey on his nose! The kids were impressed–my 5-year-old thought it was pretty spectacular too!
This is also where you will find Jack and Sally from "Nightmare Before Christmas". Like Halloween, the wait time to see them was up as high as 90 minutes, however during the second parade, we only waited for about 30 minutes for a photo.
Other Disney favorites are also dressed for the occasion and you'll find them throughout the park including Goofy near the Barnstormer ride and Pooh and Friends near The Many Adventures of Winnie the Pooh ride.
FOUR: The Magical Holiday Atmosphere at Magic Kingdom
You are greeted by the holiday magic as soon as you walk in. We loved seeing the Dapper Dans perform holiday classics in front of the big Christmas tree in front of Main Street! We also loved the snow flurries along Main Street!
Disney didn't miss a thing when decorating for the holidays, but one of our favorites was Cinderella's Castle. It is breathtaking…and we got some major holiday decor envy! Be sure to grab a family photo with one of the Photo Pass photographers with the castle in the background! They'll add some extra magic to your photo too!
You'll also notice that some of the rides get a holiday transformation like The Jingle Cruise's holiday puns and Space Mountain!
FIVE: Mickey's Very Merry Christmas Party is not as crowded and sooo much cooler at night
You'll still be joined by a crowd of other Very Merry partygoers, but it's not as crowded as weekend daytime visits. Even though there are no Fast Passes during the Very Merry Party, lines moved along pretty quickly.
We didn't see waits exceed 5-15 minutes on most rides, however more popular rides like the "Seven Dwarfs Mine Train" was up to about 50 minutes at one point in the night.
We recommend going early at 4 pm so you can go on a few of the traditionally less crowded rides like 'It's a Small World' and 'Dumbo" and then save the time later for the entertainment and other rides like 'Peter Pan's Flight' and 'Seven Dwarfs Mine Train'! Wait times for the more popular rides will be noticeably shorter when the party starts.
What to bring to Mickey's Very Merry Christmas Party:
A full belly. Eat a healthy dinner before you go so you don't overindulge on all the complimentary hot cocoa and cookies!
Glow sticks and light-up toys. We stopped by our local craft store to pick up a lighted bracelet and glow toys for our kids to play with at the park–it also allows us to easily spot our kids in areas that aren't as well lit. Disney also offers holiday-themed toys and gear at the theme park, which we have purchased in the past, but figured we'd save a bit here since our kids can be really hard on their toys.
A rain poncho. It's Florida. It rains sometimes. In fact, it has rained during previous visits over the years, but thankfully our kids LOVED it! Our puddle jumping 4-year-old thought it was the best thing ever. The silver lining, folks. Ponchos are also much more courteous than umbrellas when you are in a crowded environment. Save the eyeballs.
A fully charged camera. Whether you are using your cell phone or camera, make sure the batteries are fully charged because there are photo opps around every.single.corner.
A backpack. This is a MUST if you don't use a stroller to schlep your family's stuff. It's much easier to navigate the park when you've evenly divided the weight of your stuff across your shoulders.
Attractions and rides open at Magic Kingdom during Mickey's Very Merry Christmas Party in 2023:
One of our other favorite things about the Very Merry Party is the rides–you don't have to wait as long. Just like every other year we've attended, we didn't wait longer than 15 minutes to get on a ride. We don't usually ride Space Mountain or the Seven Dwarfs Mine Train, so my guess is, those will have a higher wait time.
You can't use Lightning Lane or Genie + during the party, so you'll have to wait in line just like everyone else. Lines won't be as long and it's not as hot since it's at night, so it's more tolerable for all.
Adventureland
Frontierland
Liberty Square
Fantasyland
Storybook Circus
Tomorrowland
Disclosure: Walt Disney World provided us with tickets to Mickey's Very Merry Christmas Party, but our opinions are strictly our own.