NEW Festive Fun Coming to Downtown Tampa at Winter Village
Get ready to buckle up those skates for a unique experience in Downtown Tampa– ice-skating is returning at 
Winter Village at Curtis Hixon Park
, but that's not all!
Curling will be making its debut in 2022! That's right…the ice sport curling and we can't wait!
This year's event will be ready to welcome you just in time for Thanksgiving break beginning Friday, November 18, 2022 at 5pm-January 4, 2023.
Winter Village Tampa is one of our favorite Christmas Events for Families in Tampa Bay, so let's dish on the details so you know what to expect.
What's NEW at Winter Village in 2022: Curling!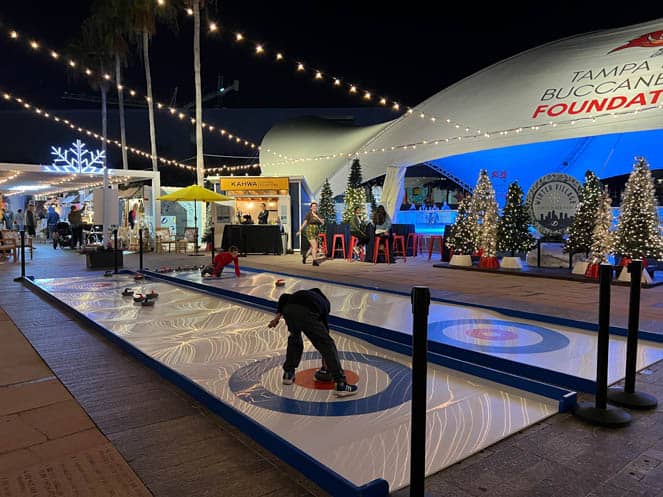 Details are just emerging, but here's what we know so far. We know that curling will be happening and will be available on a first come, first serve basis.
You will get 45 minutes tops to play and they will have equipment available to rent. There will even be a Curling League beginning November 30 which will run through December 28, 2022.
Games will be every Wednesday from 6pm-10pm. The registration fee is $200- you can register for the Curling League here.
Light Igloos: A cozy spot to sip hot cocoa!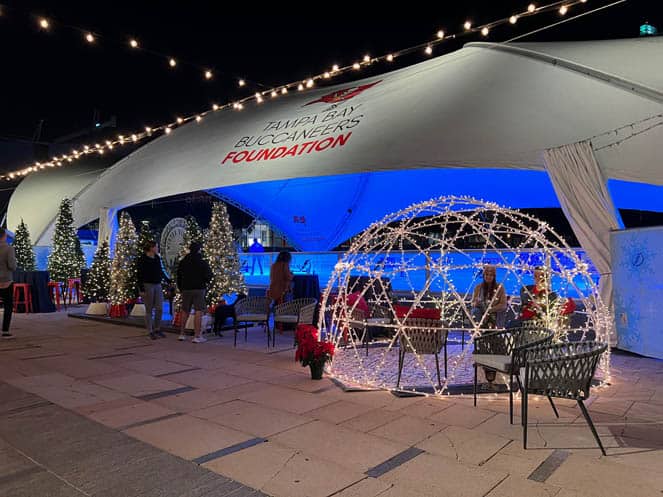 This was a super cute addition this year! There are two light igloos near the curling area where you can sit for a relaxing sip of cocoa or holiday cocktails and simply enjoy the scenery. Even kids enjoy a quick cocoa break in this beutiful spot!
What are the hours for Winter Village?
Winter Village will be open Monday through Friday from 4pm until 11pm and Saturday and Sunday from 11am until 11pm through January 4. During school holiday breaks, Winter Village is open daily from 11am to 11pm.
Returning Favorites at Winter Village at Curtis Hixon Park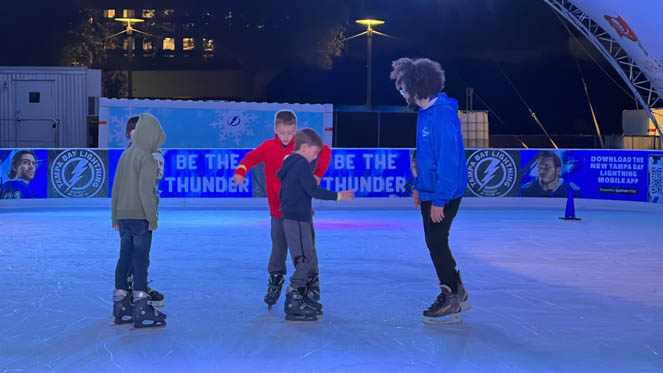 Ice Skating in downtown at Winter Village 
When we say there's nothing quite like ice-skating on real ice outside in the middle of downtown…in FLORIDA…there's truly nothing like it.
You must pre-book your ice-skating time online at WinterVillageTampa.com to secure your spot on the ice. You will get 75 minutes to skate. Tickets are $17 which includes your skate rental.
Winter Village will be open during school breaks from 11am-11pm, giving you hours and hours to play and explore!
Winter Village Express
The Winter Village Express is back in 2022! It takes families on a unique, festive ride on the TECO Streetcar on select evenings.  Along the way, you'll enjoy cookies and milk, holiday sing-a-longs and more festive surprises. The Winter Village Express takes you from Whiting Station in Downton to Ybor City and back.
The Winter Village Express will run on November 20 and 27 and December 4, 11, and 18.
Tickets are $10 –book here before they sell out!
Curtis Hixon Choo Choo 
One of our other favorite returning experiences at Winter Village is the The Curtis Hixon Choo Choo presented by TGH Children's Hospital–a trackless open air choo choo that will take you and the kids on a 10-minute ride around Curtis Hixon Park to enjoy all of the holiday lights. It's really cute and free–but first come, first served. The Choo Choo will run Fridays-Sundays from 5 pm-10 pm.
The Shops at Winter Village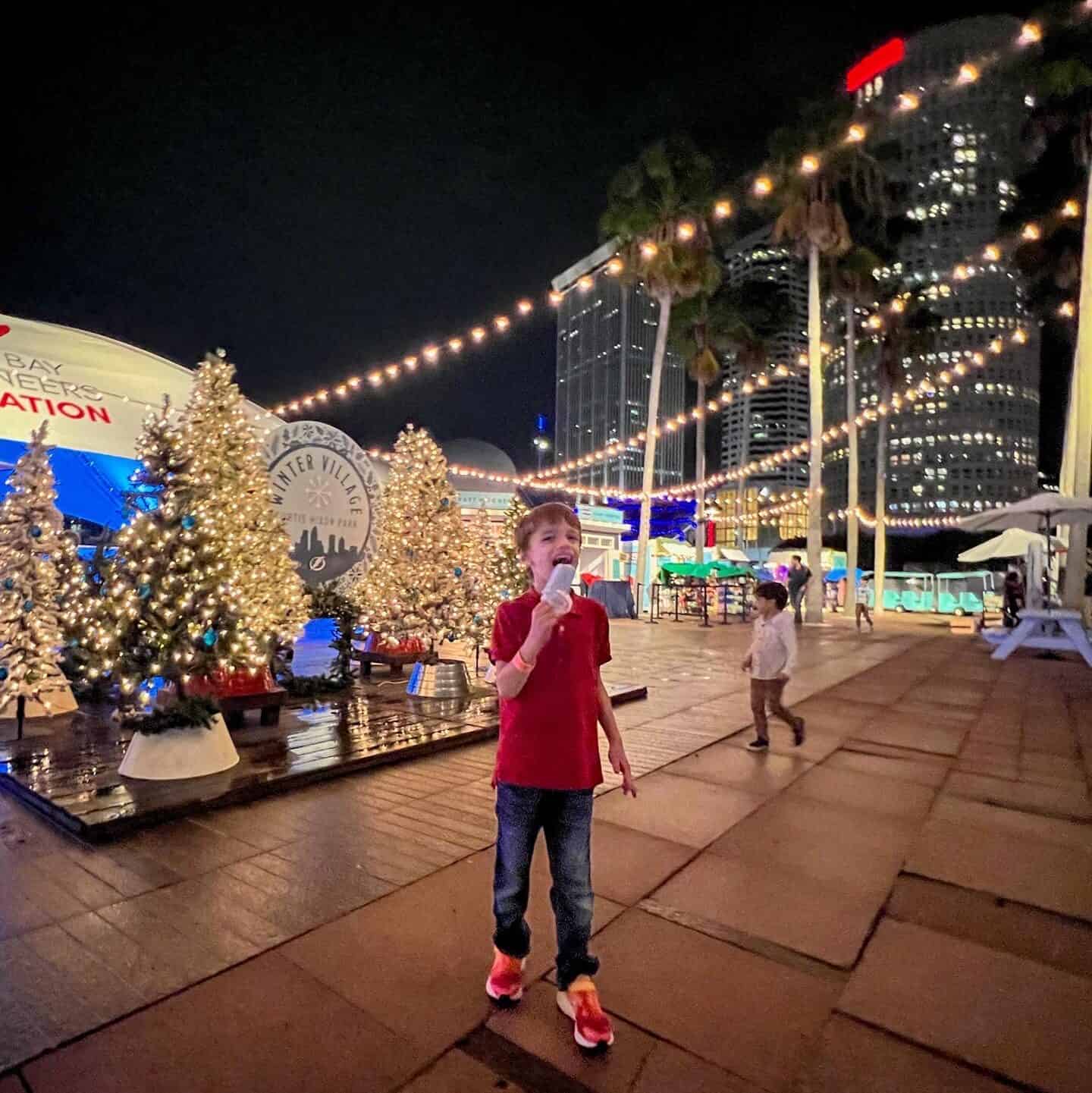 Check off the holiday wish list and shop local at the Shops at Winter Village. You'll find local businesses nestled inside PODS along the sidewalk next to the skating rink. Here are possible local shops you'll find that have attended in the past:
Don Me Now
The Modern Paws
Apartment No. 3
Plante La Vie
The Main Ingredient
Visit Tampa Bay
Nairi Handmade Jewelry
The Cafe at Winter Village
While you're at the Winter Village at Curtis Hixon Park, be sure to stop by The Cafe at Winter Village for a snack and sips! There has been a pretty good selection in years past and of course, there were hot chocolate options. Here's what's announced so far:
Icicles Craft Cocktails
Icicles Craft Kitchen
Kahwa Coffee
Whatever Pops
Holiday Classics with Tampa Theatre
More fun additions include outdoor holiday movie screenings on the lawn in partnership with the Tampa Theatre. On schedule so far:
Saturday, November 19 at 7 pm: Arthur Christmas
Saturday, December 16 at 7 pm: A Christmas Carol (2009)
Santa at Winter Village
Santa is slated to make a few pop-up appearances at Winter Village. He's on schedule to pop in for a visit on: December 2, 9, and 16.
He's also going to make an appearance during Santa Fest in Tampa!
You can even write a letter inside a sweet little nook in one of the PODS!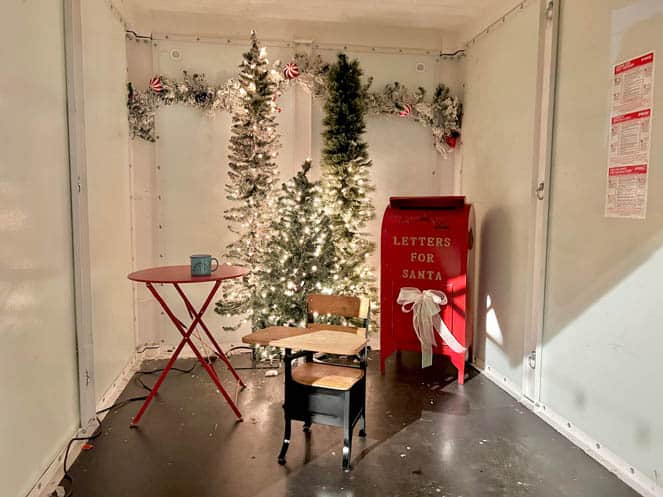 The Christmas Lights at Winter Village and Curtis Hixon Park
The trees along Curtis Hixon Waterfront Park are lit for the holidays and even synchronize to music during mini shows throughout the night! It's beautiful and best of all, it's FREE to watch!
Related: The BEST Christmas Lights in Tampa Bay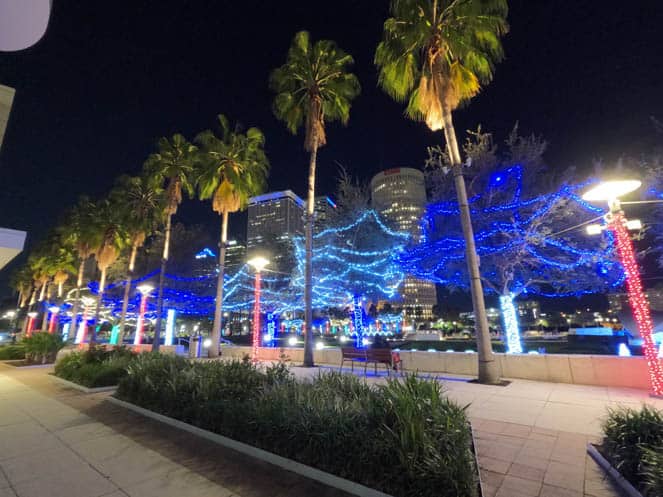 Winter Village is not to miss!
It is free to go to Winter Village, however you will need to pay to go ice-skating. Your family can truly make an afternoon/evening out of your visit to Winter Village. There are plenty of areas to snap cute family photos, so keep that camera handy!
Related: Your Family's Holiday Lights Bucket List in Tampa Bay
Since Glazer Children's Museum is nearby, pop over for a visit to check out Gingerbread Village where you can make a gingerbread house out of recycled materials and add it to the growing village! It opens November 2, 2022 through January 9, 2023. They have more holiday themed activities too.
Here's a look at 2020's Winter Village at Curtis Hixon Park here: