20 Family Friendly Tampa Bay Waterfront Restaurants to Enjoy
Living in Tampa Bay, we have the privilege of having so many waterfront restaurants to choose from that we often take them for granted. We live where people come for vacation! How cool is that?
Over the past year, there has been an increase in outside dining due to the pandemic. With the summer months approaching, being outdoors is par for the course in Florida. Check out our list of top waterfront restaurants to see if any of your favorites is mentioned or if you can discover a hidden gem!
---
The BEST Kid-Friendly Waterfront Restaurants in Tampa Bay
Clearwater
Clearwater gets flak from the locals for being super touristy but it's definitely a family favorite in my book. Heading over the bridge just puts me in a great mood and we enjoy the atmosphere and things to do in the Clearwater Beach area, like the dolphin boat tours.
---
St. Pete, FL
We visit St. Pete on a regular basis and the St. Pete Pier is one of the many reasons why. It's practically a one stop shop of family friendly things to do in a singular location.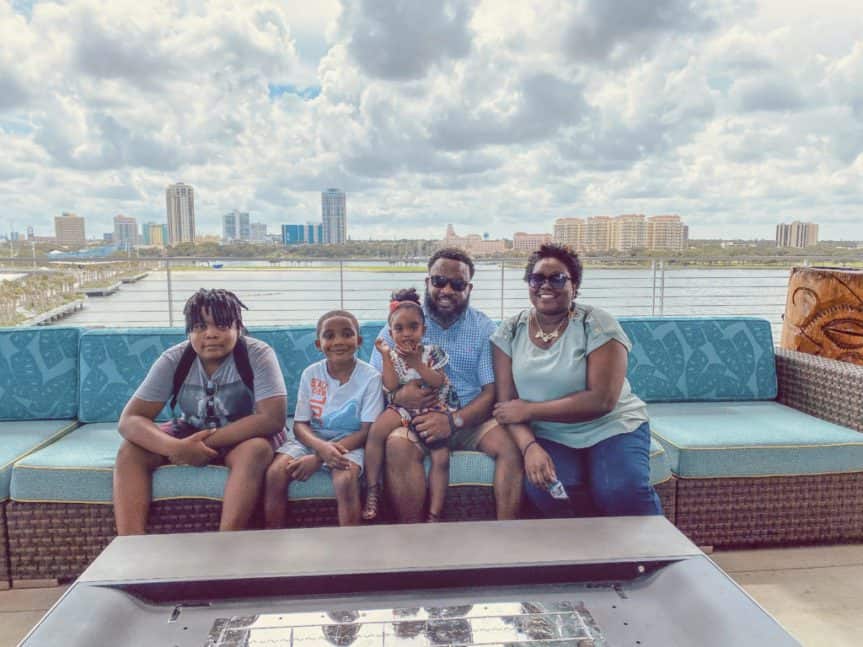 ---
Riverview, Apollo Beach, Ruskin
Hillsborough County is so big I think a lot of people forget about restaurants in this area. The Riverview area and beyond is steadily growing and becoming a great place for settle down in and visit.
---
Poolside Eateries
Are you even a parent if you don't find yourself at someone's pool this summer? I think not! Of course we had to add in two cool places to enjoy "poolside" for families! Adventure Island has barbecue that's surprisingly great for a theme park at their Mango Joes Beach Café. The Epperson Lagoon is a must see all in its self. They have a few dining options as outside food is prohibited. For both places I recommend renting a private cabana to make your stay more enjoyable.
---
Harbour Island Tampa
This part of Tampa is well known for restaurants and night life, but during the day, it's definitely family friendly.
---
Causeway Boulevard, Tampa
This strip right before you head over to Clearwater has a lot to offer, from hotels, to restaurants and even a beach!
---
Tampa
I know there are many more Tampa restaurants to include but I wanted to showcase two that offer a unique Tampa experience.
*Originally published in the July 2021 issue of Tampa Bay Parenting Magazine
---
More stories we think you'll LOVE: