The BEST Kid-Friendly Restaurants in Tampa Bay!
Don't be afraid to take the kids out to dinner! We get it and we've totally been there–some restaurants just aren't the best place for restless kids and toddlers which is why we put together this list of the best kid-friendly restaurants in Tampa Bay.
Related: Our 50+ Favorite Things to Do in Tampa Bay with the Kids 
We've actually tried each of these kid-friendly Tampa Bay restaurants, so we can guarantee the whole family will have a great time. While most of these restaurants provide kiddos with crayons, we also like to stash a few extra items in our bags for the kids like magnet tiles, play-doh, and yes…even tablets. We're not going to judge!
Related: 10+ Restaurants Where Kids Eat for FREE in Tampa Bay
Don't forget to keep scrolling so you can see some top picks of kid-friendly restaurants and Tampa Bay places from our favorite foodie mama, Kiva Williams of the @thefunfoodiemama!
**And, if you happen to have your furry, four-legged family members along for the ride, be sure to check out our favorite dog-friendly restaurants and beaches in Tampa Bay!
---
The BEST Kid-Friendly Restaurants in Tampa Bay: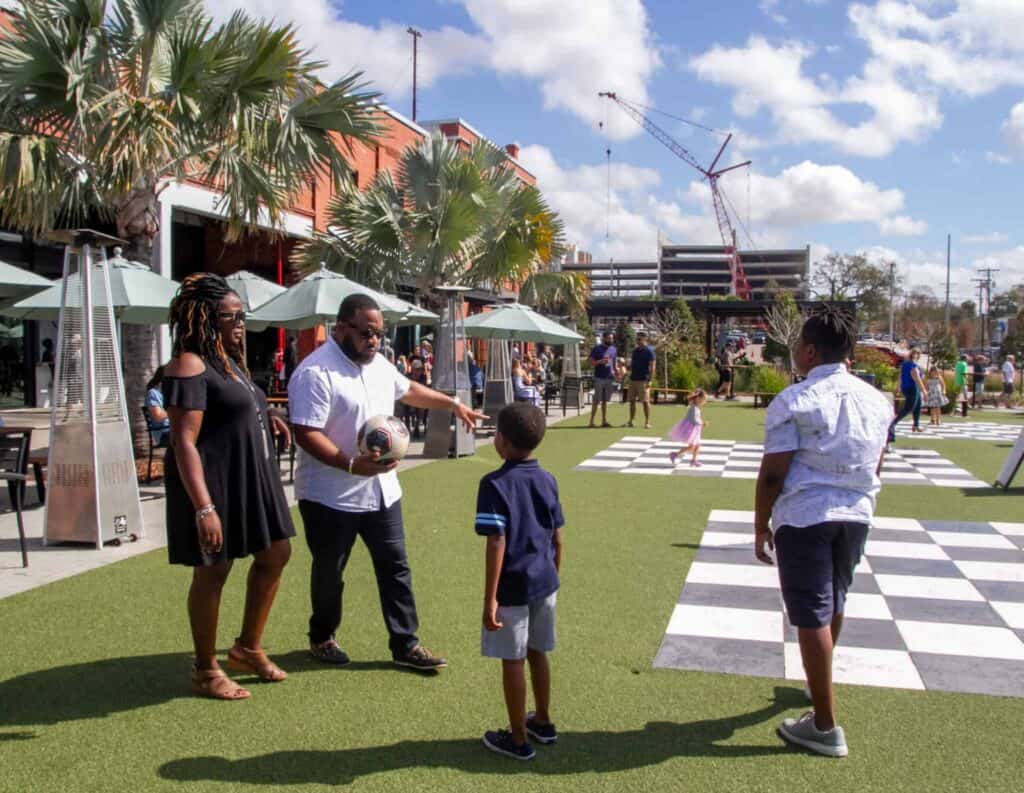 1910 N Ola Avenue, Tampa | (813) 250-3725
This is one of our new favorite kid-friendly places to take the kids in Tampa Bay! The Heights Public Market at Armature Works just north of downtown Tampa features several local kid-friendly restaurants, so there is truly something for everyone in your party. The Market does not have table service–you go up and order from one of several restaurants and bring your goods to a table inside or outside!
Our favorite spots are Cru Cellars, Ava, and Astro Ice Cream Company. If you want something with table service, try Steelbach or Oak & Ola! Baken Babes treats can also be found at Armature Works. It's all so delicious and picnic perfect with lots of space to sit outside!
615 Channelside Drive, Tampa | (813) 618-5844
This is an outdoor collection of restaurants with a variety of  places to choose from like pizza from The Corners, healthy picks from the Naked Farmer or ice-cream from Jeni's Splendid Ice-Creams. And it's outdoors, so it's absolutely kid-friendly (and dog-friendly, too).  We also really like Jotoro because of its plentiful outdoor seating and kids menu. Splitsville is another kid friendly family-favorite since you can add in some bowling fun with dinner!
600 2nd Avenue NE, St. Pete | (727) 822-7437
The NEW St. Pete Pier is the perfect afternoon outing with the family! Not only are there several different eateries (all of which are totally kid friendly) to choose from to fit everyone's appetite, but there are plenty of things to do to get moving like the playground, splash pad, and beach. It's even bike friendly too if you want to tour the St. Pete Pier on two wheels as a family!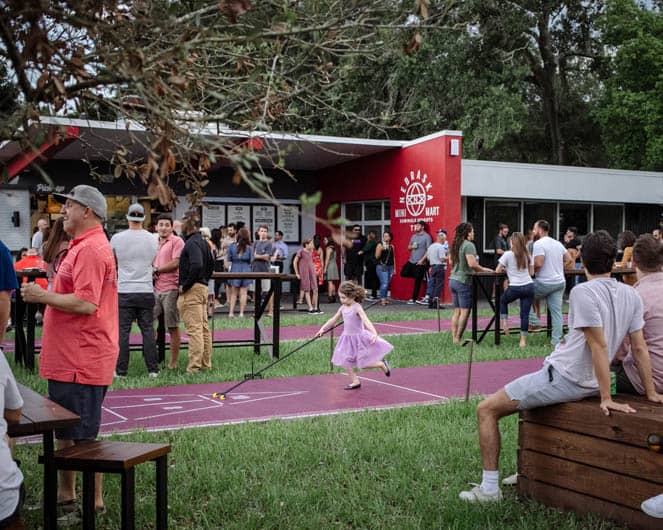 4815 N. Nebraska Avenue, Tampa | (813) 231-9522
The Proper House Group's Nebraska Mini Mart is a great place for families to enjoy a casual and delicious meal whether it's lunch or dinner! They have great monthly specials and super yummy burgers and chicken sandwiches. The kids menu is affordable and kids 12 and younger eat for free on Thursdays! While you're there there are fun things to do like shuffleboard, ping-pong, and bocce ball!
Related: 10+ Spots Where Kids Eat for Free in Tampa Bay
1600 E. 8th Avenue, Tampa | (813) 241-9675
If you have hyper kids and need a way for them to burn some energy in Tampa Bay, Game Time offers a variety of games like Skeeball, Air Hockey, and Dance Dance Revolution. While the family waits for their entrees the kids can go nuts at this kid-friendly restaurant and game place!
Let them enjoy playing games and winning tickets which beats them having to wait restlessly for the food to arrive. Game Time offers a complete menu of family meals to share, along with adult entrees and kids meal classics.
1810 North Highland Avenue, Tampa | (813) 999-4952
We love snagging a table outside at kid-friendly restaurant Ulele in Tampa after playing at the nearby Water Works Park! Situated along Tampa's Riverwalk, Ulele's children's menu won us over with the price and selection…at $6 for kids 12 and younger. We also adore the storybook statues on site from the old Fairyland in Tampa. Spot Humpty Dumpty on the roof and the Three Little Pigs on the lawn. There are 11 vignettes in all from the former Fairyland site which have been completely restored and it's totally magical.
801 Water Street, Tampa | (813) 229-5511
We LOVE stopping by here after a visit to the Tampa Bay History Center or even as a stop during a stroll along the Riverwalk. Snag a table outside and enjoy the fresh breeze and beautiful view as you and the kids munch on Tampa Bay favorites like the Cuban sandwich or 1905 Salad. There is often live music outside on select nights too!
Datz has long been a favorite for local families, but when they released their kid-friendly children's menu…they won our hearts once again with selections like 'I'm Not Hungry (boneless fried chicken strips), 'That Looks Gross (peanut butter sandwich with marshmallow fluff and sliced bananas), and 'I Want to Go Home Now' (elbow macaroni with marinara sauce).
209 W Bay to Bay Blvd, Tampa | (813) 570-8660
Sunday morning dates are some of my favorites. With weekend breakfast/brunch hours, Counter Culture is a great option for feeling adultish on a slow weekend morning—not quite Cracker Barrel, and not so fancy parents feel on edge. Noted for a regularly updated menu, it's a great spot for foodies who love trying new things. Breakfast staples, which tend to please kids, are always available. Kids and adults will love digging into the breakfast on Bayshore dish—organic eggs and bacon…absolutely!
Counter Culture's location is also conducive to letting kids get their wiggles out after the meal. One block from Bayshore Blvd, Counter Culture is perfectly situated for a post-meal walk. Picture it: you and your partner, hand in hand, gazing at the water, maybe sighting a dolphin, and actually catching a few moments of uninterrupted conversation while the kids hop, skip, and jump ahead of you. Until you have to break up a sibling disagreement or remind a child of sidewalk courtesy, a romantic walk may actually span a few minutes.
5202 Thonotosassa Rd, Plant City | (813) 752-9100
When trying to make an experience with kids as romantic as possible, giving kids time to burn some energy off beforehand is smart. With year-round opportunities for u-pick and farm tours, Keel Farms is golden. Let the kids get face to face with farm animals including chickens, sheep and a pig.
Since there is an adjacent playground, as well as lawn games, parents can keep an eye on kids while waiting for food to arrive on the expansive outdoor dining area. Feast on fancy pub food paired with the farm's very own wines and ciders. From food to beverage, discussing locally grown and sourced items makes a great dinner conversation starter for the kids.
It's also super close to Dinosaur World if you're looking to add in an extra family adventure!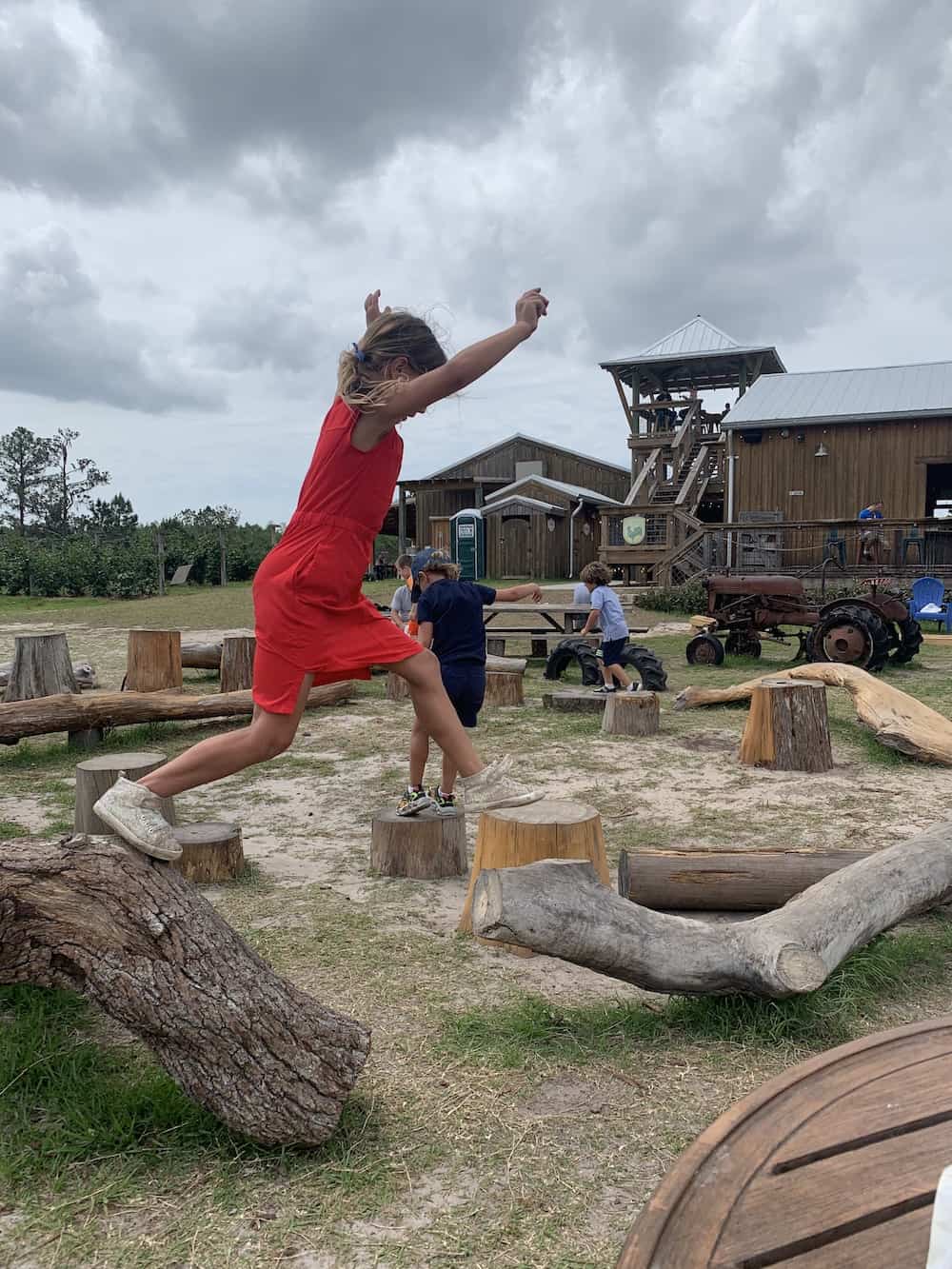 3460 Starkey Blvd | New Port Richey (727) 375-7606
There's no reason why hay bales and wheelbarrows can't be romantic! Enter Starkey Farms and Market. Food, drink, dirt, and plenty of gorgeous sky. For kids, or even parents, who want to test their agility, Starkey also has a cool log setup. With several live music offerings each week, Starkey's is a welcome change of pace from chain restaurants. Most parents will enjoy sipping on a cold one while sitting on one of Starkey's front porch rockers, with kids actually enjoying the outdoors to boot.
While Starkey does not offer a full menu, the market does have light fare and snacks that are enjoyable on the beautiful grounds. Imagine a good ol' fashioned picnic. There's also ice cream, so kids can get their own while parents share some scoops…two spoons, please! Simple, traditional environments are oh-so-sweet—especially when white lights and a windmill help set the scene. The website offers a detailed events section and, during certain times of year, various u-picks are available. Starkey checks all the boxes for a kid and adult-friendly date destination.
13090 Gandy Blvd N. | St. Petersburg (727) 317-5751
Located just off the Gandy Bridge in St. Pete, The Getaway is ideal for an early summer dinner. Take the kids in their swimsuits and take the bag of beach toys. At the Getaway, kids can play in the sand and get in the water. Plenty of tables are waterside, making it possible (and safe) to watch the kids while the adults sip and taste. Everyone will be entertained by paddleboarders, boaters, Jenga, and plenty of people watching. Pups make appearances, too.
A live DJ mixes tunes several times a week, so there's an opportunity to burn off some of that fried seafood basket before heading home. The casual outdoor setting is perfect year-round. Open air makes kids' natural tendency for loudness much more tolerable. The cocktail menu, especially the jalapeño tequila, help as well. Expect minimal interaction with servers, as the location has shifted to the TabUp app. Orders and bill payment occur through the app, which can be downloaded before visiting.
3038 Beach Blvd South, Gulfport | (727) 954-7960
Kids can make international travel tricky and costly. Fortunately, Gulfport's Italian bistro by the beach, Tutto Bene, marries flavorful Italian food with a kid-friendly and intimate environment. Wednesdays are especially fantastic, as they offer buy one get one 50% off entrees. Live music is an especially enjoyable touch; a singing guitarist surely drowns out any potential temper tantrums. Sitting outside is casual, beachy, and romantic—even with children. The staff is great with kiddos, offering up activity sheets and cups with lids.
With kids in tow, a late afternoon at Gulfport's beach is the perfect precursor to dinner. Gulfport's beach has shelters, volleyball nets, and plenty of sand and water for the parents to try relaxing while the kids build up an appetite. Take a change of casual clothes, and Tutto Bene is a short and sweet walk from the beach.
7 Rockaway Street, Clearwater Beach | (727) 446-4844
This beachfront restaurant is a long time family-friendly and kid-friendly favorite in Tampa Bay! In fact, WE went here as kids too so it's kinda cool to return with our own kids. Sink your toes in the sand while the kids build sandcastles before you head in for lunch or dinner–the grouper is always delicious! Frenchy's Rockaway Grill is a great place to enjoy a sunset with the family!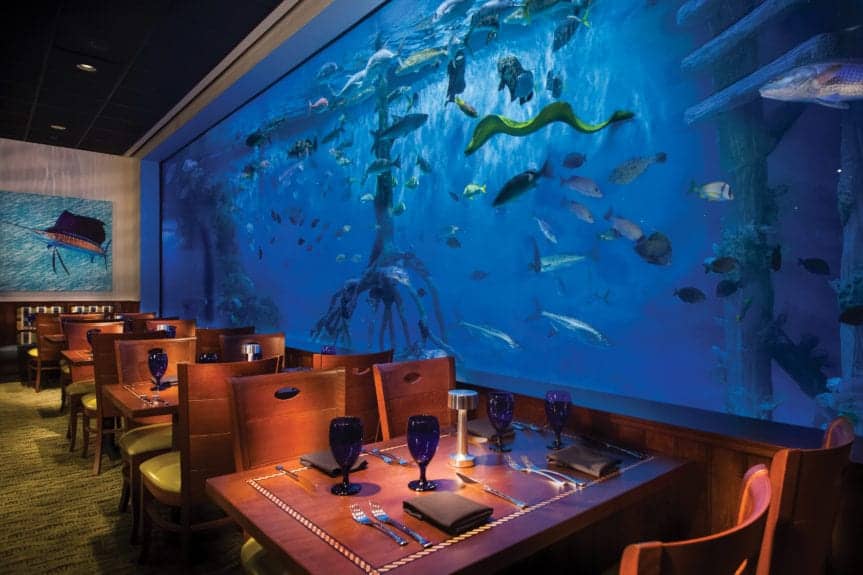 6000 Gulf Blvd, St. Pete| (727) 329-1428
RumFish Grill® has made a big splash on St. Pete Beach with its one-of-a-kind restaurant, bar and shop located in the TradeWinds Beach Resorts. But did you know that it's also a place where you can learn about Tampa Bay's tropical environment? 
Simply dining at RumFish Grill will open your family's eyes to the wonders of the underwater world. A 33,500-gallon tank spans an entire wall of the dining room. There's a touch tank outside of the dining room and so much more! Learn more here.
---
@TheFunFoodieMama's Favorite Kid-Friendly Places to Eat in Tampa Bay  
Since we're always looking for more restaurants in Tampa Bay to try with the kids, we reached out to Kiva Williams of @thefunfoodiemama to share her top picks! Be sure to give her a follow too on Instagram since she's always sharing amazing places around town!
Eggs Up Grill
3920 US-301 N
Riverview, FL 33578
Eggs Up Grill serves breakfast and lunch food which most kids enjoy any time of the day. I love that I can come here and know that my oldest can order a burger from their lunch menu and my two younger kids can order  pancakes or waffles and all three will be happy!
Bavaro's Pizza Napoletana & Pastaria
945 Central Ave
St Pete, FL 33705
(Additional locations Tampa & Sarasota )
This restaurant is a family favorite! Their authentic Italian flavors of sauces and cheese shine through with each bite. I love that they have a pizza that fits everyone's taste buds, even my vegetarian husband.
Fresh Healthy Café Wiregrass
28139 Paseo Dr
Unit 170
Wesley Chapel, FL 33543
It's never too early to introduce your kids to the healthy side of life. Come here and check out their smoothies and fresh juices that taste great and are also great for you!
Chick Fil A
28295 State Road 54
Wesley Chapel, FL 33543
(Located Nationwide)
A family favorite! Something about their tasty chicken sandwiches, nuggets and waffle fries keep us coming back for more! The friendly staff and impeccable customer service don't hurt either.
New York New York Pizza
1512 E Seventh Ave
Tampa, FL 33605
(Additional locations: Temple Terrace, Riverview, Carrollwood & Wesley Chapel)
Authentic New York pizza resides here! We haven't had the chance to take our kids to New York yet so this as close as we can get. They enjoy the pizza and wings here so much!
Samurai Blue Ybor
1600 E Eighth Ave
Unit C208
Tampa, FL 33605
(Additional location: Carrollwood )
Are your kids foodies? My oldest is! He loves to try anything and everything. His favorite food is sushi. When we want to treat him out for special celebrations and accomplishments we always come here! Some of the best and fresh sushi in Tampa.
Mama's Southern Soul Food Restaurant
3701 E Dr Martin Luther King Jr Blvd
Tampa, FL 33610
(Located in Brandon as well)
Come here to get a taste of homemade food just like at Grandma's. Most kids enjoy their Grandma's cooking so I'm sure the fried chicken and macaroni and cheese will be a family favorite just like it is to my kids.
You can also follow Kiva at: thefunfoodiemama.com
---
This is an editorial collaboration with our media partners at TampaBayDateNightGuide.com and Kiva Williams.