Back in Time: A Day Trip to Anna Maria Island
Anna Maria Island is only 55 miles from downtown Tampa, but it feels like a world away. As soon as you cross over the bridge onto the barrier island, you are transported to a bygone era when beach towns weren't crammed with large chain stores and mammoth beach hotels and condos.
"There are no high-rises," Chamber of Commerce President Terri Kinder points out; building-height restrictions were written into the island's charter and contribute to the easygoing, Old Florida feel. We hopped on the Anna Maria Island Trolley to explore the three cities that make up the island and discovered why locals plant roots here that run decades deep and why visitors return again and again.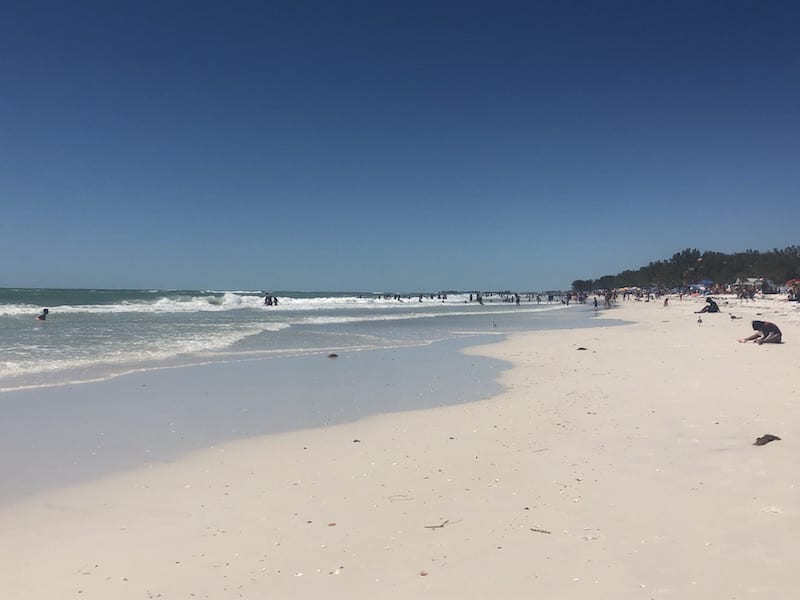 BRADENTON BEACH 
Our first stop— the huge public beach at the southern tip of the island: Coquina Beach. A beautiful canopy of Australian pine trees lines the walkway between the parking lot and the dunes. We spot a couple enjoying a quiet stroll under the shade of the majestic trees and a mom lugging beach chairs as her kids run to the sand. Stepping onto the beach, we stumble upon a scene straight out a postcard: soft, white sand set against turquoise water and a bright sky. It quickly becomes clear that the star attraction on this island is the beaches.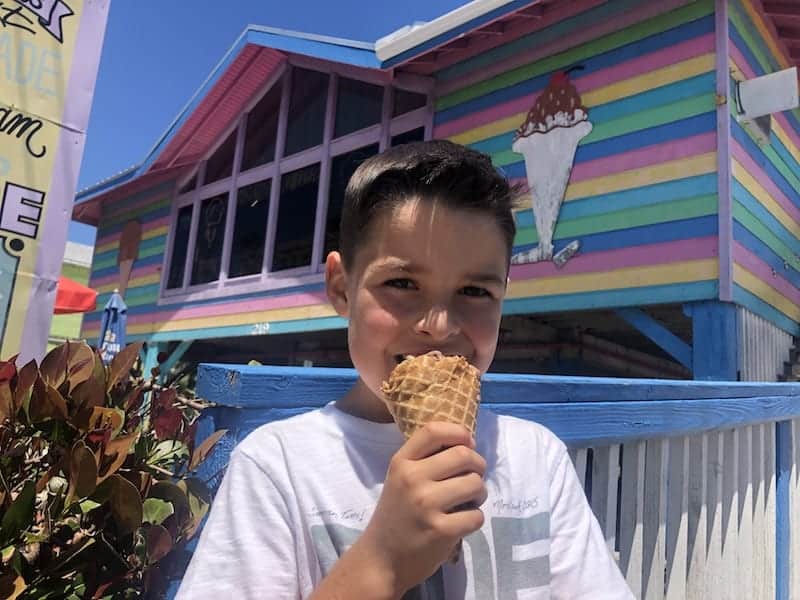 After a few hours, we head north on Gulf Drive, the main street on the island. It's just two lanes wide, and we marvel at being able to see the gulf on one side and the bay on the other. A rainbow-striped building on stilts catches our eye. At Joe's Eats and Sweets, we discover a sweet treat and an even sweeter story. Owner Joe Spallino points to a photo on the wall of his late wife, JoAnne, and recalls the happy time when they opened this ice cream shop together. Trading hectic New York life for a peaceful island experience, they converted an old surf shop, created an ice cream recipe, and took a leap of faith. 30 years and 60 flavors later, business is booming.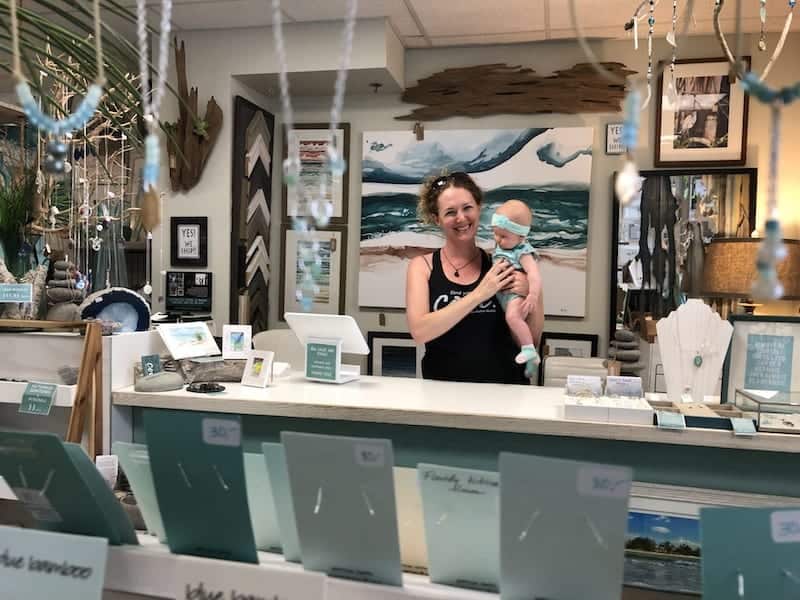 Our next stop is Historic Bridge Street, a small, rustic commercial area. Idyllic scenes abound: lunchgoers dining under an old oak tree overlooking the marina; kids watching dolphins from the pier; families golfing together at a small, eclectic mini-course tucked away behind the shops; and shoppers exploring quaint boutiques. At Cove, a smiling baby commands our attention. She is the daughter of store owner, Kelly Headley, a proud island native. Her shop, she tells us, is a place to showcase "all the talent here". She sells original artwork, handmade candles and soaps, and artisan jewelry made by fellow locals.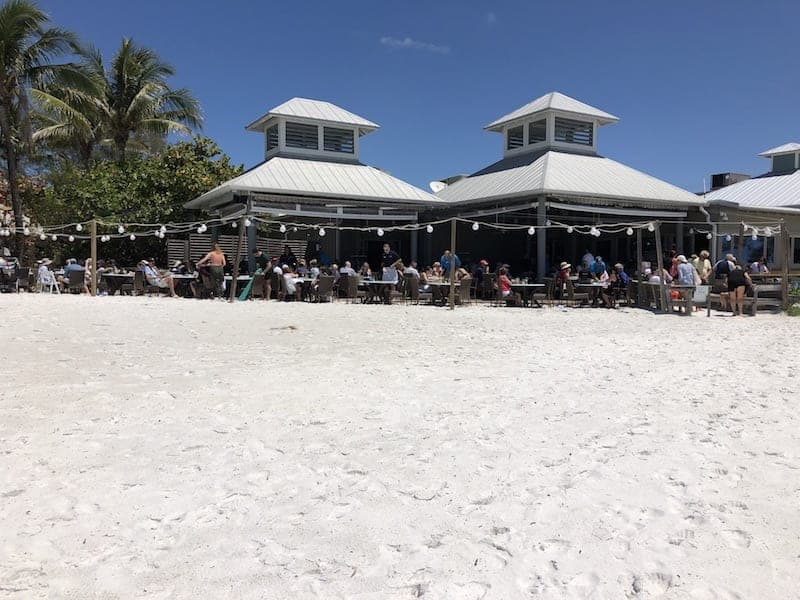 Continuing on Gulf Drive, we see restaurant after restaurant on the side of the road, all of them right on the beach. Two gigantic chickee huts are home Gulf Drive Cafe, where it takes us less than 15 seconds to walk from a table to the water's edge. One of the most famous restaurants in Florida also sits on the beach here on Anna Maria Island. Zagat-rated Beach Bistro is in Holmes Beach, where we head next.
HOLMES BEACH 
A long residential stretch leads us into Holmes Beach in the middle of the island. We soon discover that most of the businesses are unique, mom and pop shops with stories that share a theme that has by now become familiar: setting up shop on the island decades ago and never leaving. Jim Brady moved here from Texas and opened West Coast Surf Shop in 1964. A recent fire could have shuttered the 55-year-old store, but in this town where neighbors help neighbors, the community rallied to raise money. The shop is now back open for business and proudly holds the title of the oldest surf shop in the state.
Next, we visit another island staple, Duffy's Tavern— owned and operated for more than 40 years by a former town mayor. Almost everyone is wearing a bathing suit and flip flops and eating a burger—the restaurant's claim to fame. Jimmy Buffett comes to mind among all the cheeseburgers in paradise.
CITY OF ANNA MARIA 
Reaching the northern end of the island a few hours before sunset proves to be fortuitous. It's the perfect place to wind down after an action-packed day. We are struck by the southern charm of Pine Avenue, where boutiques and restaurants are housed in stately buildings with inviting verandas.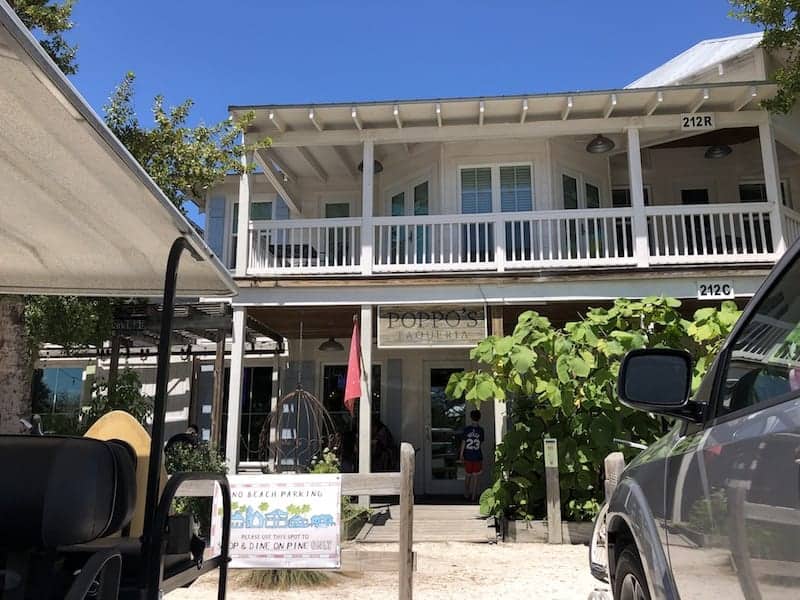 The front porch that Poppos Taqueria shares with The Donut Experiment is packed with people enjoying ancho chicken tacos or donuts topped with Fruity Pebbles. Watching families bike and shoppers stroll, it feels like a movie scene.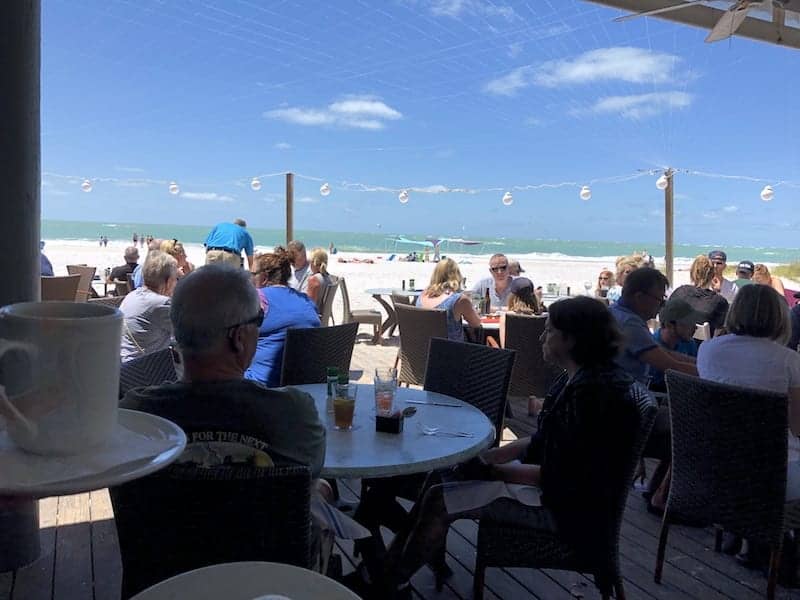 For a must-see view of the sunset, we are told to head to the beachfront Sandbar restaurant. They don't take reservations, and you could wait more than an hour, but you can spend it on the sand. Ending the day where we began it— on the beach— and watching the sun go down over the Gulf of Mexico, we are struck by how fortunate we are to live in this part of the state. In this moment, we fully grasp the lure of Anna Maria Island and why a visit here should come with a warning: You may never want to leave.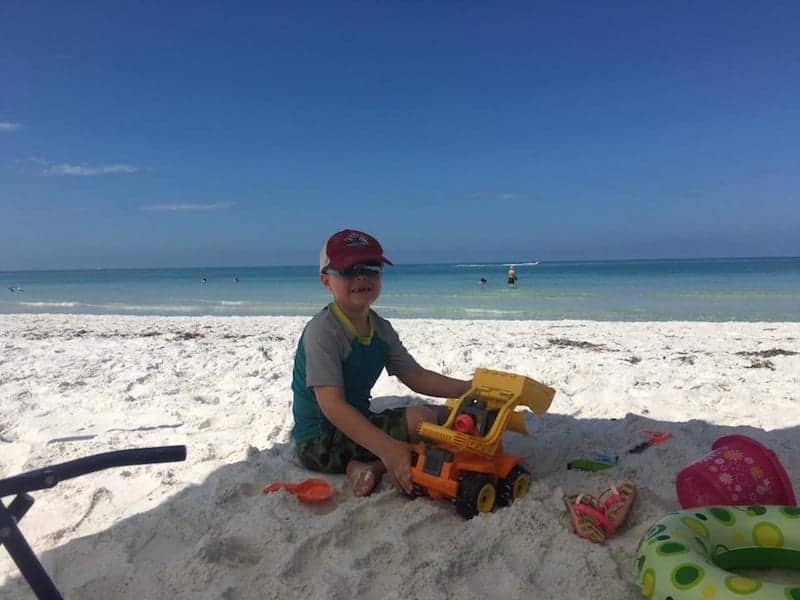 AMI TRAVEL TIPS: 
Before you go, check beach conditions on livebeaches.com featuring live, 24/7 streaming video of the island's beaches.
Ride the free Anna Maria Island Trolley. Trolleys run every 20 minutes and operate from 6 a.m. through 10:30 p.m. Print a trolley schedule on ridemcat.org.
Visit the Beach Market. Sundays through the end of July, local vendors display craft items, art and specialty food from 10 a.m. to 4 p.m. on the walkway at Coquina Beach.
Attend Turtle Talks— volunteers from Anna Maria Island Turtle Watch give free, 30-minute talks about the sea turtles that nest on the island this time of year. Saturdays at 9 a.m. at Manatee Public Beach and Tuesdays at 10 a.m. at Crosspointe Fellowship Church.
Check out the parrots at Sun and Surf Shop. Dozens of resident parrots, macaws and other exotic birds chat and even sing with visitors daily.
Rent a bike, scooter or golf cart at Beach Bums Island Attitude or Lazy Turtle Beach Rentals. Shops like these throughout the island also rent out beach essentials from beach chairs and sand toys to paddle boards and kayaks.
Go on a snorkeling or fishing excursion— bookalittlesunshine.com
Discover Bean Point, a small beach where the gulf meets the bay. Parking can be difficult, but you're guaranteed a secluded and spectacular sunset view.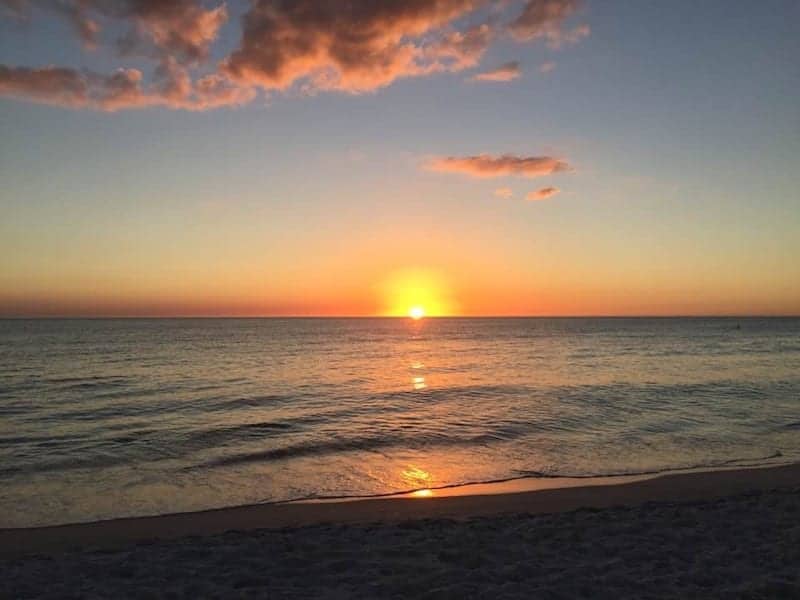 Related stories:
Four Ways to Daycation in Tampa Bay
Our Favorite Family-Friendly Beaches in Tampa Bay
60+ Family-Friendly Things to Do in Tampa Bay this Summer
---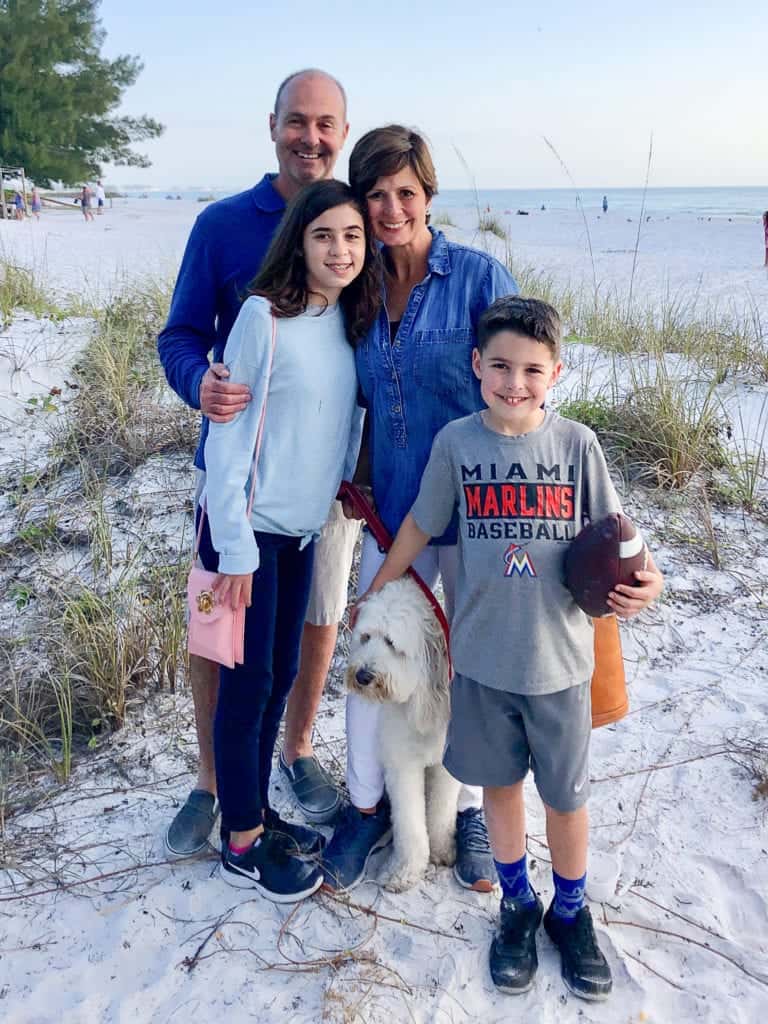 About the Author: Maggie Rodriguez is a former network news anchor who now lives in South Tampa with her husband and their two children. Maggie is best known as the host of the nationally-televised morning news program, The Early Show on CBS, as well as a substitute anchor on The CBS Evening News with Katie Couric. She was also a local anchor and reporter in Los Angeles and Miami and won numerous awards, including seven Emmys, during her 20-year career. Since relocating to Tampa Bay, Maggie has been busy rekindling her love for writing, volunteering at her kids' schools and at a local charity, and enjoying weekend adventures exploring the "beautiful beaches, quaint towns and fun family activities that this idyllic part of Florida has to offer."