Inside Arendelle: Frozen Dining Adventure on the Disney Wish
Imagine being invited to Arendelle Castle to celebrate the engagement of Queen Anna and her Kristoff. That's what you'll experience aboard the new Disney Wish cruise ship. The Disney Wish Frozen restaurant is more than a place to eat, it's a heartwarming experience.
Here's what parents need to know about the new Arendelle: A Frozen Dining Adventure, including notes about the show, food items we loved, and drinks too.
Please note our cruise experience was part of a special complimentary media sailing. All food and entertainment were provided to us, specialty drinks were not.
The Show – A Frozen Dining Adventure
The entertainment experience at Arendelle begins the moment you walk into the space. A long hallway is fully decorated to resemble Arendelle castle. Get those cameras ready for multiple photo opportunities.
Danny Handke is a senior creative director for Walt Disney Imagineering and he told us, "especially with Arendelle we wanted to recreate Arendelle Castle as best we can on a ship, with a low ceiling and lots of columns."
During the panel we attended, Danny Handke went on to say "That very long hallway, that is our scene one as we get you out of the Disney Wish and into the world of Arendelle."
Upon entering the dining room, notice the stage in the center. You may become nervous if you're sitting towards the back of the dining room.
The entertainment begins with a vocal and guitar duo. Since it is a smaller show in the beginning those seated towards the back and far sides may feel some disappointment. But, once the full show begins there will be much more to see and your viewing experience improves.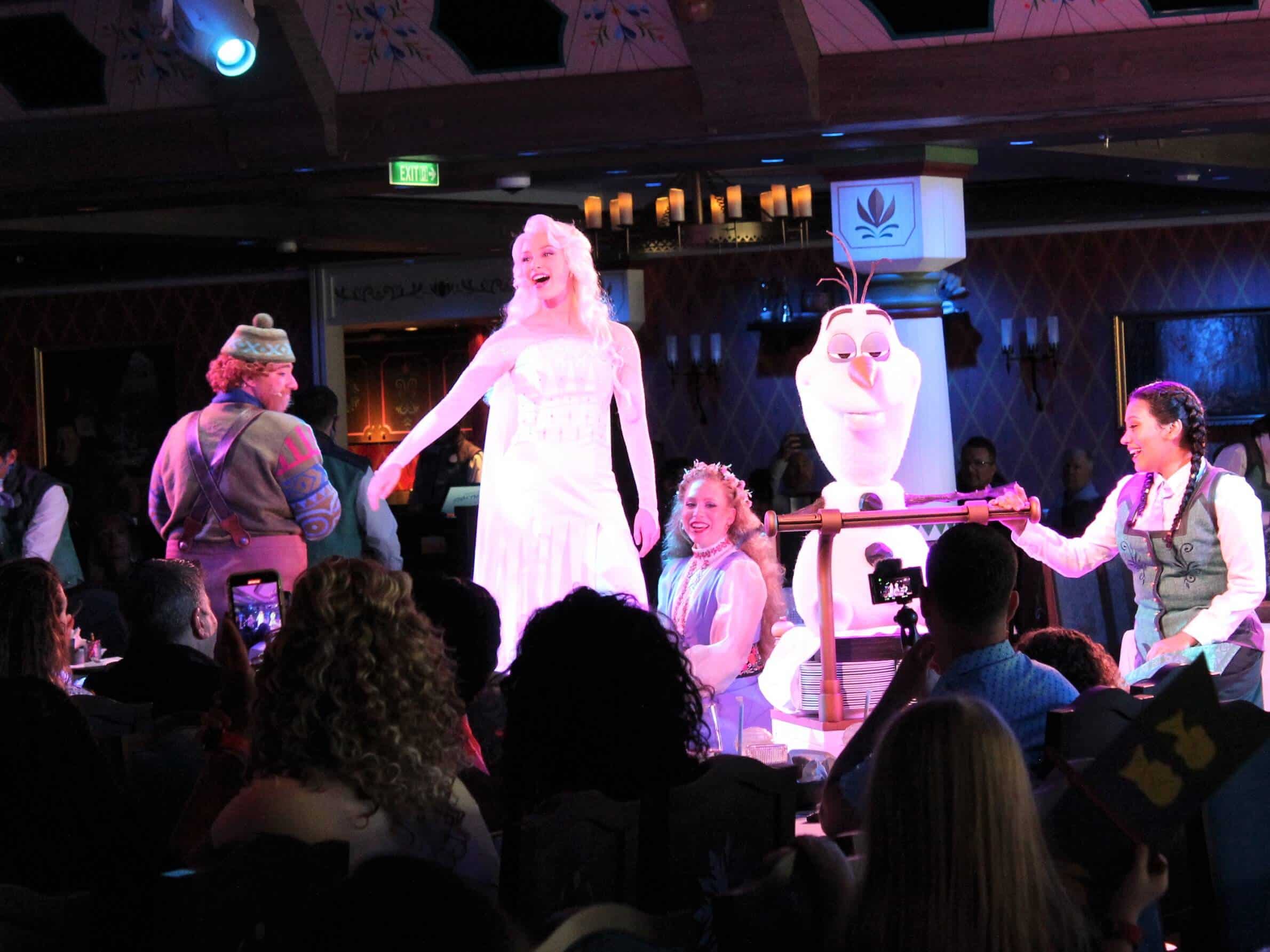 After the first performance of the entire cast, a few characters from Frozen will come around the aisles for a quick visit. The purpose of this visit is not for photos with each guest, but instead, it is for entertainment. My four year old son loved getting a quick, up-close visit with Olaf.
Parenting Tip for Disney Wish Frozen Dining Adventure:
If you have littles who may not have a lot of patience or a long attention span, the wait for the show to begin may be rough. There is also a lull as you wait for the last act of the show during the dessert course.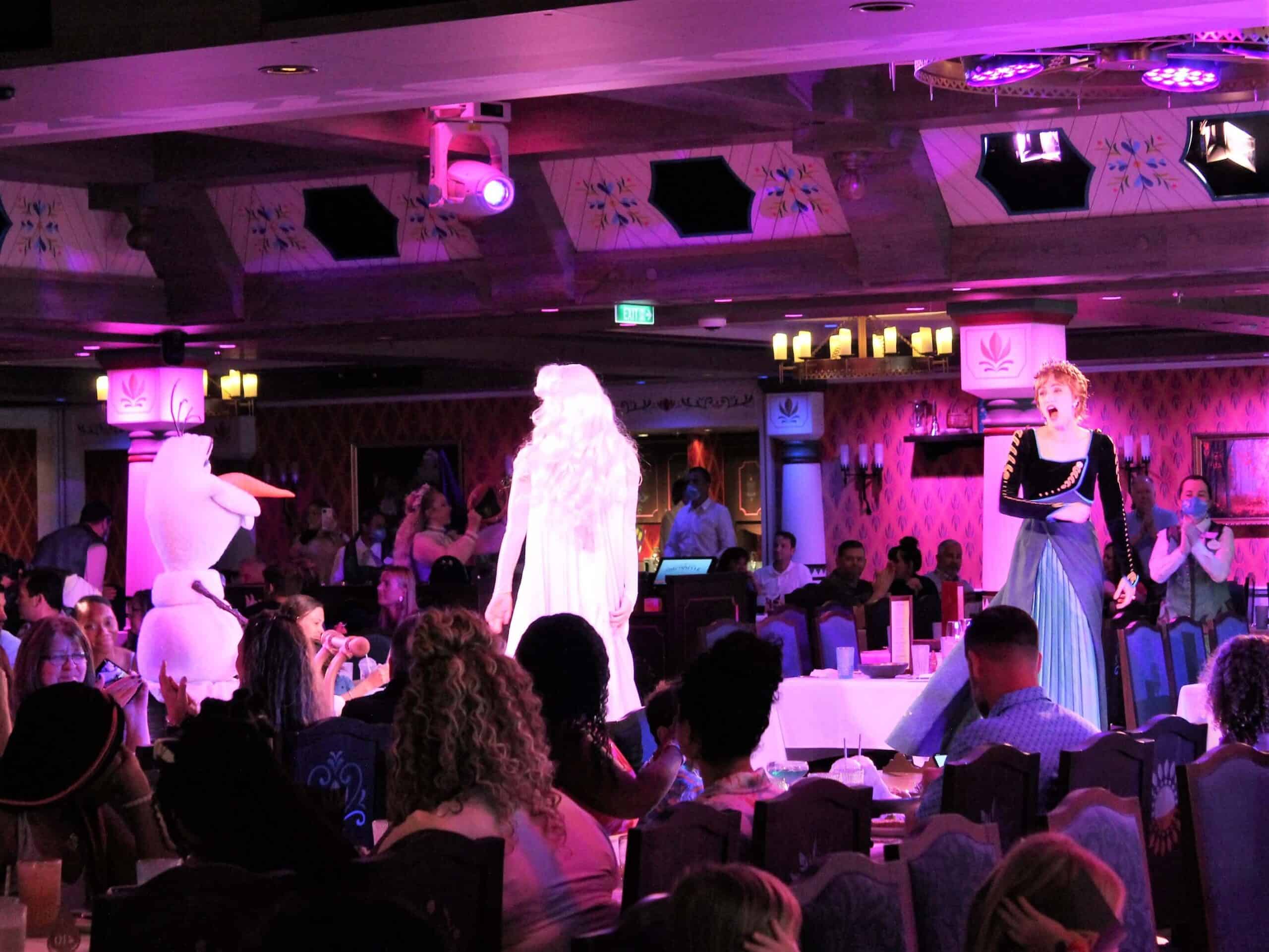 So, don't rush too fast to get to Arendelle: A Frozen Dining Adventure. The entertainment starts about ten minutes after everyone is seated. And if your kiddo(s) get antsy towards the end, take them to walk around the Frozen-themed restaurant. There are details from the Frozen movies all around on the walls. Plus, the castle-style windows at the back of the dining room offer a unique view of the water – a neat touch that's not been done before in other restaurants on Disney cruise ships.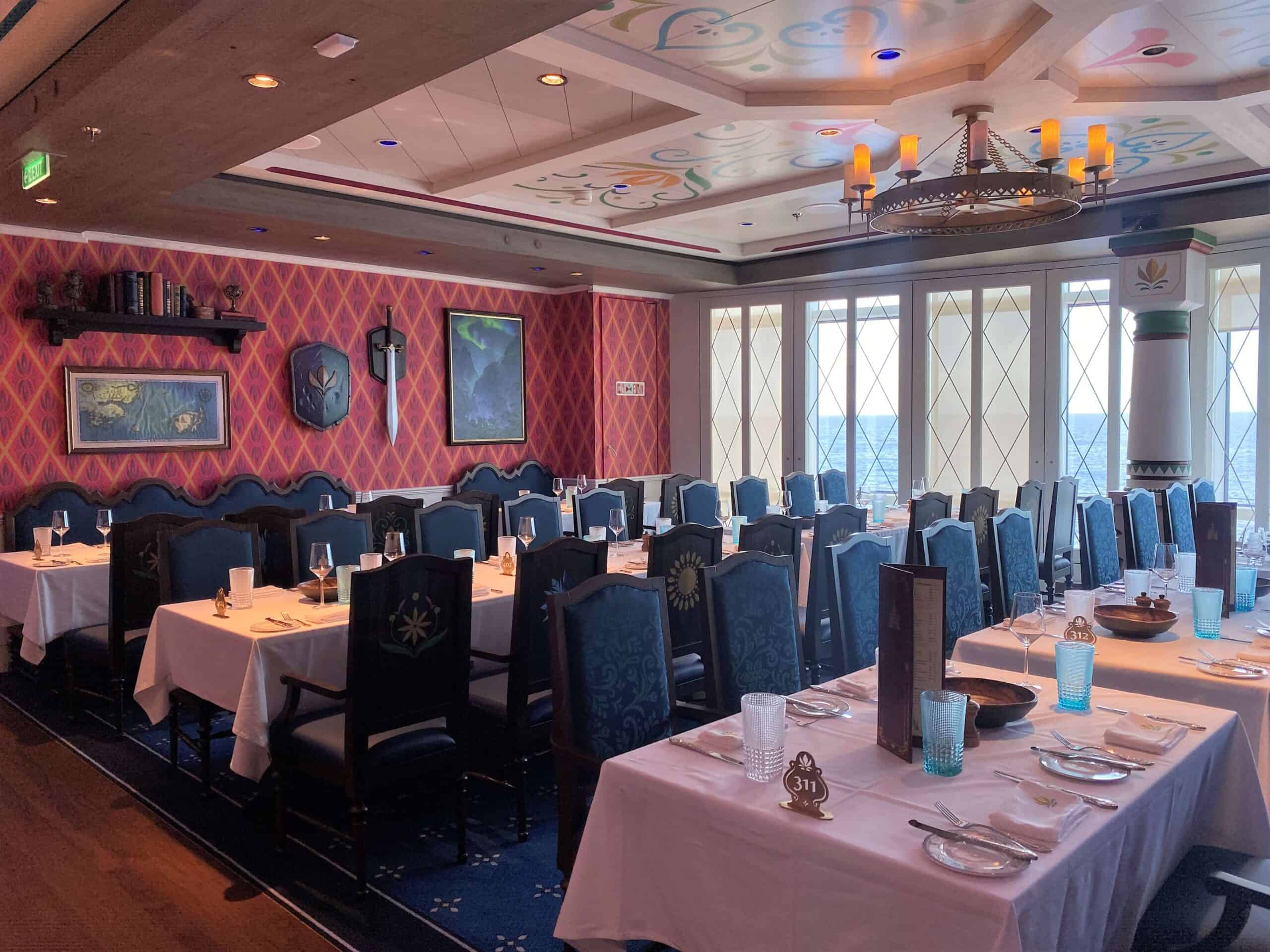 Fun Fact: The restaurant for Arendelle: A Frozen Dining Adventure is the first-ever dining space purposefully built for a live entertainment experience. Although the Magic and Wonder cruise ships have similar restaurants with a character entertainment element, those restaurants were retrofitted to include the entertainment. Here on the Disney Wish, the Frozen restaurant is built with special lighting, sound, and effects for live entertainment.
Is the Disney Wish Frozen dining experience okay for little kids?
The show's story is that we are invited to celebrate Anna and Kristoff's engagement. And so it makes perfect sense for us guests to be there eating and drinking. The show itself is purely celebratory. There are no scary elements or any villains. I did bring hearing protection for myself and my son as we are both sensitive to sound, but the show wasn't loud enough to need it.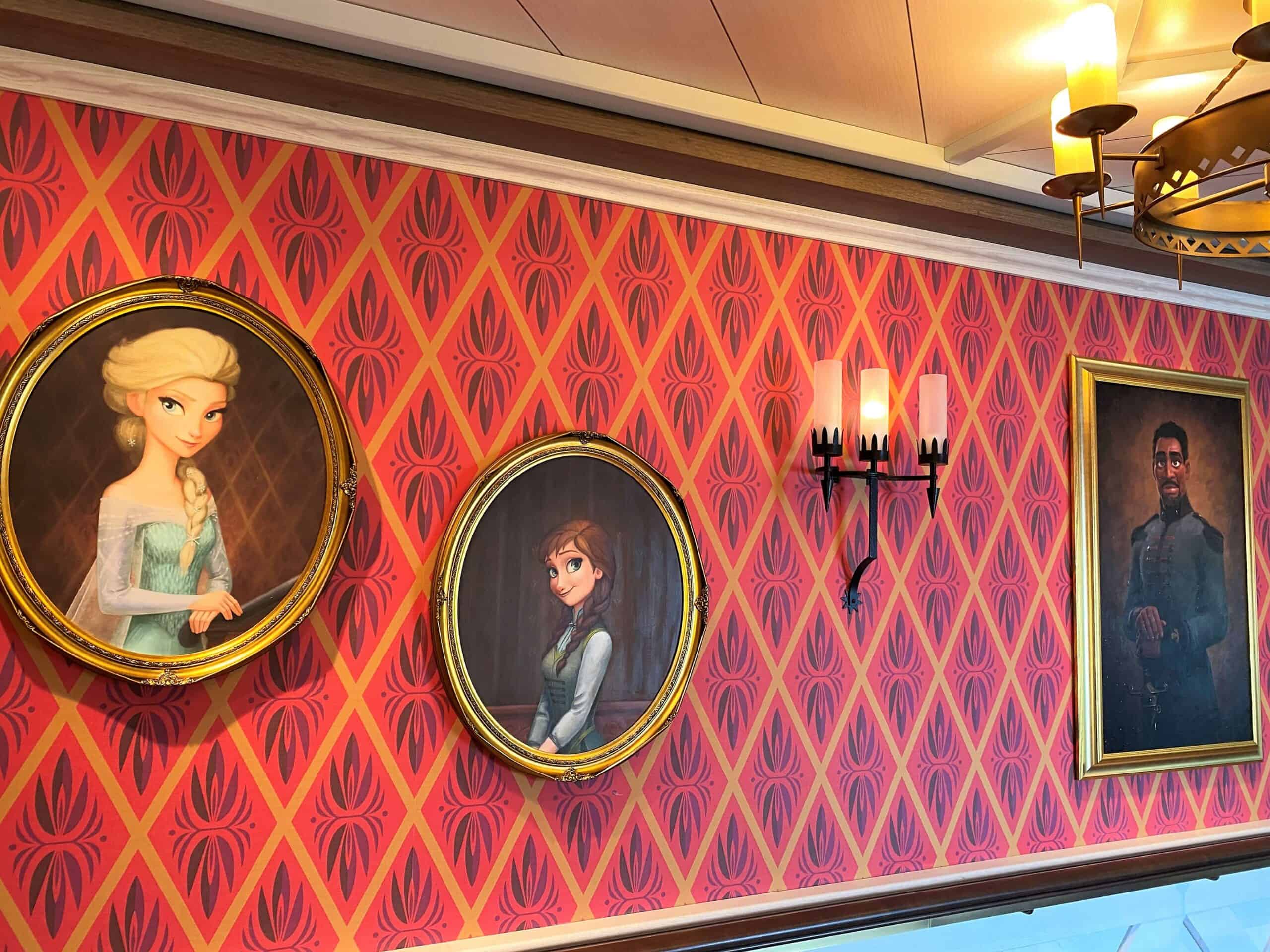 RELATED: Tips and Tricks for the Best Character Dining at Disney World
The Food at Frozen Dining Adventure
Although Arendelle itself is a fictional place, there's no denying the Scandinavian influences. The menu features food with Scandinavian flavors and reimagines recipes of that region.
The Baked Scallops in Puff Pastry appetizer is eye-catching and delicious. Make sure at least one member of your party orders it.
The Mixed Greens salad is another great way to start your meal at the Frozen Dining Adventure.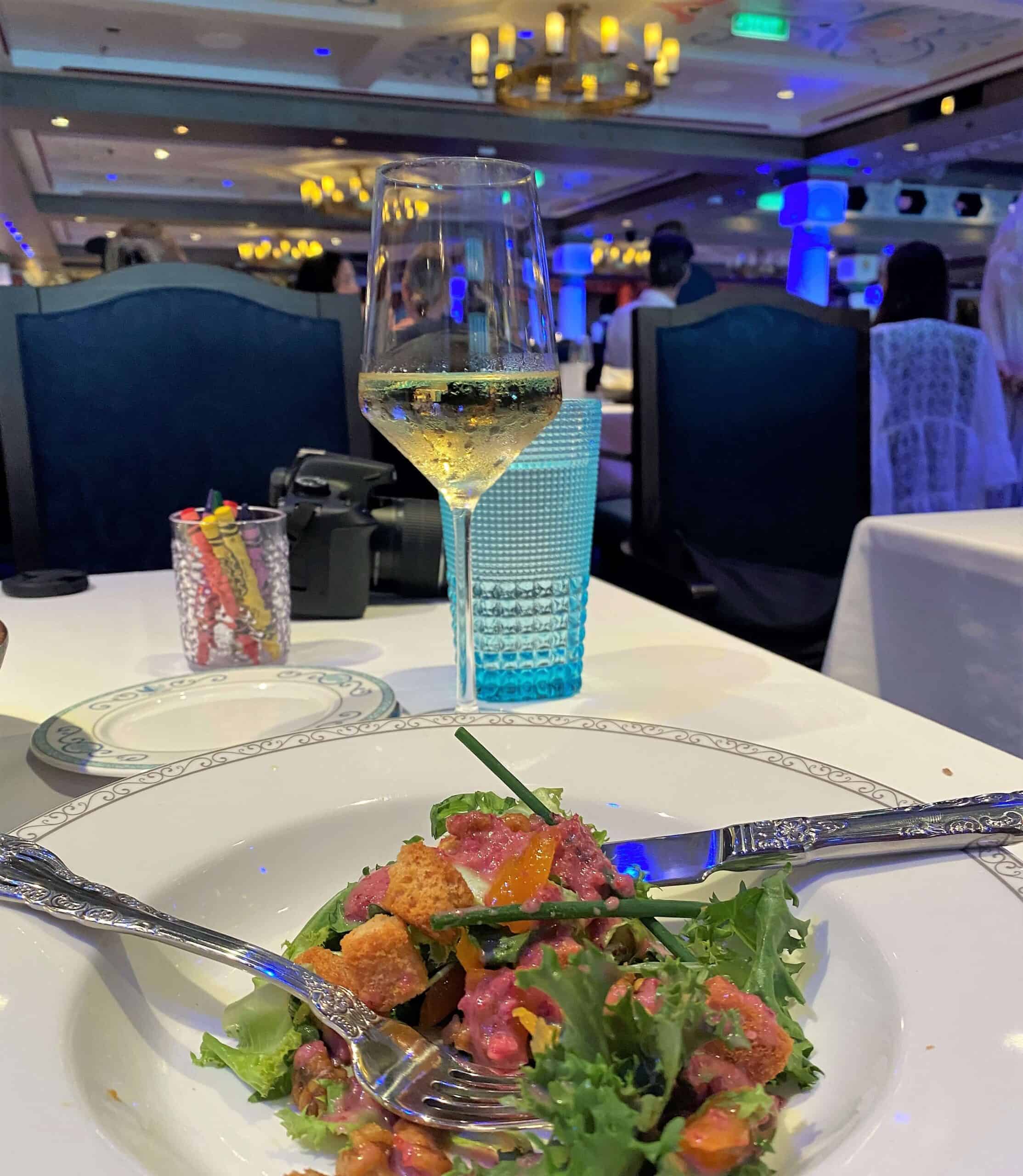 Our son has a variety of food allergies so we stuck with pasta with Turkey meatballs and sauce on the side for him. Once the Frozen entertainment began he ate through most of his food, entranced by the performers.
My husband ordered the Pork entree and loved every single bite. I tend to order seafood anytime I'm on a cruise, and the Sea Bass satisfied. I wouldn't go out of my way to order this one if you're not a big seafood or fish fan. The Pork entree my husband ordered seemed more flavorful and hearty than the Sea Bass.
All the desserts looked yummy and we all know Anna and Elsa love chocolate. The signature dessert is a chocolate "log" of sorts. It represents the trolls that are Kristoff's relatives and it ended up being our favorite dessert of the entire Disney Wish cruise.
Drinks at the Disney Wish Frozen Restaurant
Disney Cruise vacations are so great became they perfectly balance the needs of kids and the desires of adults. Each restaurant on a Disney Cruise ship has cocktails that are themed to each dining atmosphere.
For Frozen there are three specialty adult beverages and a few non-alcoholic ones too. We opted to sip and share the Ice Harvester. This specialty drink is garnished with what resembles a thin chunk of ice. It's actually made of sugar and helps sweeten the strong drink.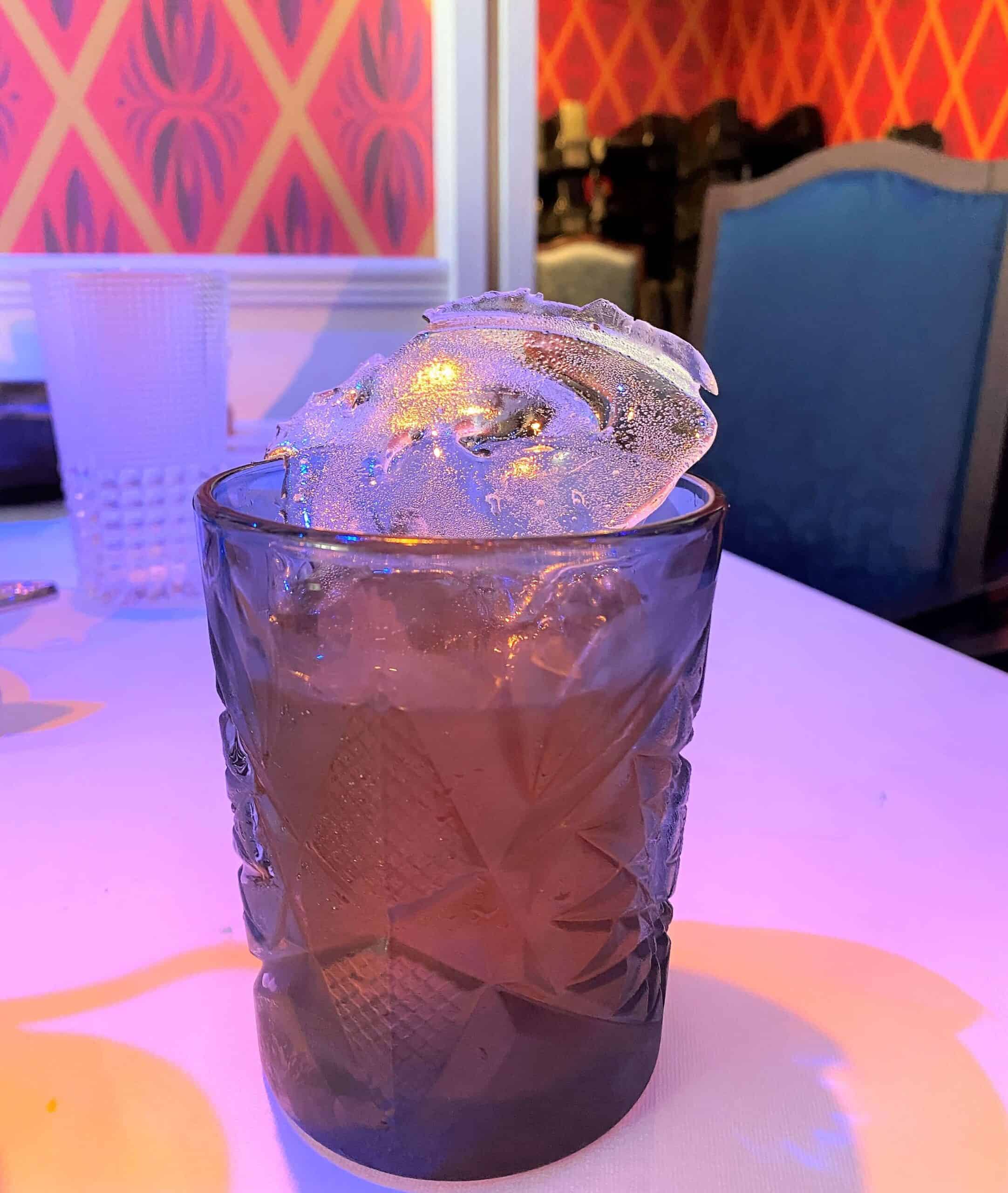 At the start of dinner, Anna and Kristoff asked us all to raise our glasses in celebration. It is easy to celebrate such a wonderful dining experience as this. And, it's effortless to toast the wonderful performers and dining staff for this Frozen restaurant experience.