15 Things Kids and Adults Will Love About the NEW Disney Wish Cruise
Disney's newest cruise ship marks a new era for Disney Cruise Line. This new ship has a whole new design and feel. And the features like the kids clubs, the adult lounges, the pools, and character greetings are redesigned to their smartest iterations yet!
Here's what we love about the Disney Wish.
And to help you decide if sailing on the Disney Wish is right for your family we'll break it down from a parent's perspective.
New entertaining dinner experiences
Reimagined kids clubs for each age group
A slide to enter the Oceaneer Club
Indoor basketball
Vibe, an artist loft-inspired club for teens
Royally themed staterooms
Enchanted castle design throughout the ship
SIX pools for families + Toy Story Splash Zone
Aqua Mouse water slide and attraction
Redesigned character greetings
Redesigned adult lounges
Star Wars Hyperspace Lounge
Multiple coffee shops and relaxed lounges
Two movie theaters
No midship elevators
Please note our cruise experience was part of a special complimentary media sailing. All food and entertainment were provided to us, specialty drinks were not.
Let's talk about some of these features and what makes the Disney Wish cruise ship so special. Now, I won't go into every detail on our Top 15 list, but let's take a look at the highlights.
New entertaining dinner experiences – Frozen and Marvel
Aboard the Disney Wish you will dine at three different restaurants included in your cruise fare. Each night your server team will rotate with you from one restaurant to the next.
This rotational dining concept is how every Disney Cruise ship operates. However, the Disney Wish is the first to offer a Marvel restaurant as well as a Frozen restaurant. Each of these unique dining experiences exceeded our expectations.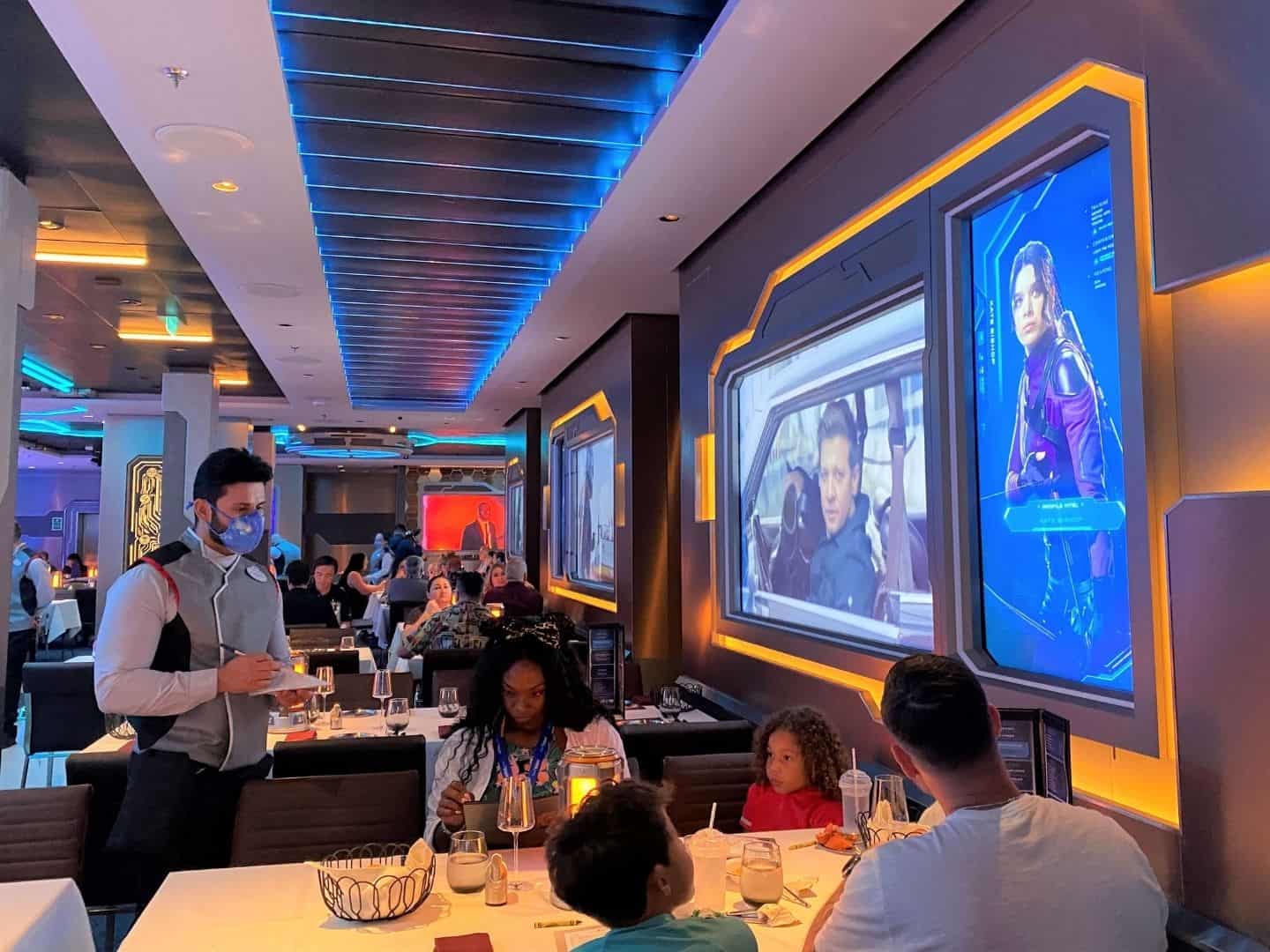 The Worlds of Marvel restaurant is a very immersive experience. Our Worlds of Marvel review covers what to expect including what age group is best for this dining and entertainment adventure.
The Arendelle: A Frozen Dining Adventure is the first restaurant on a Disney Cruise fully designed with entertainment in mind. Our review includes what to expect during the show, our recommendations on what to order, and tips for dining with little cruisers.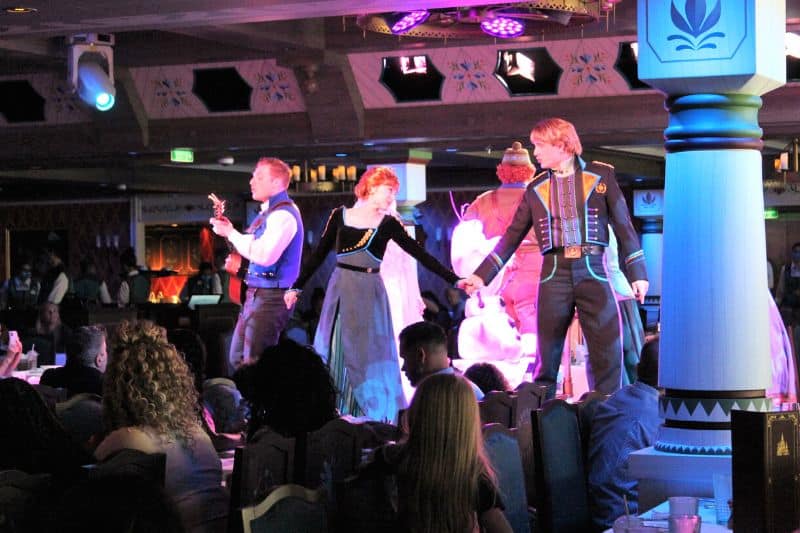 Reimagined kids clubs on the Disney Wish for each age group
Each Disney Cruise has four kids clubs:
It's a Small World Nursery for ages 6 months to 3 years
Oceaneer Club ages 3 -12
Edge for ages 11 – 14
Vibe for ages 14 – 17
The kids clubs on the Disney Wish are redesigned and have new features. The Oceaneer Club is especially unique on the Disney Wish, with a clear slide that goes from deck 3 to deck 2.
Parents can check-in their kids on deck 3 and let them slide down to the reception desk at Oceaneer Club on deck 2. The slide is one curve, going from one deck to the other, so it is nothing too intense. Still, if your kiddo(s) prefers to use the stairs, that is an option as well.
Once inside the Disney Wish Oceaneer Club there are five themed rooms, including a Star Wars room, a Marvel room, and Princess room, and more!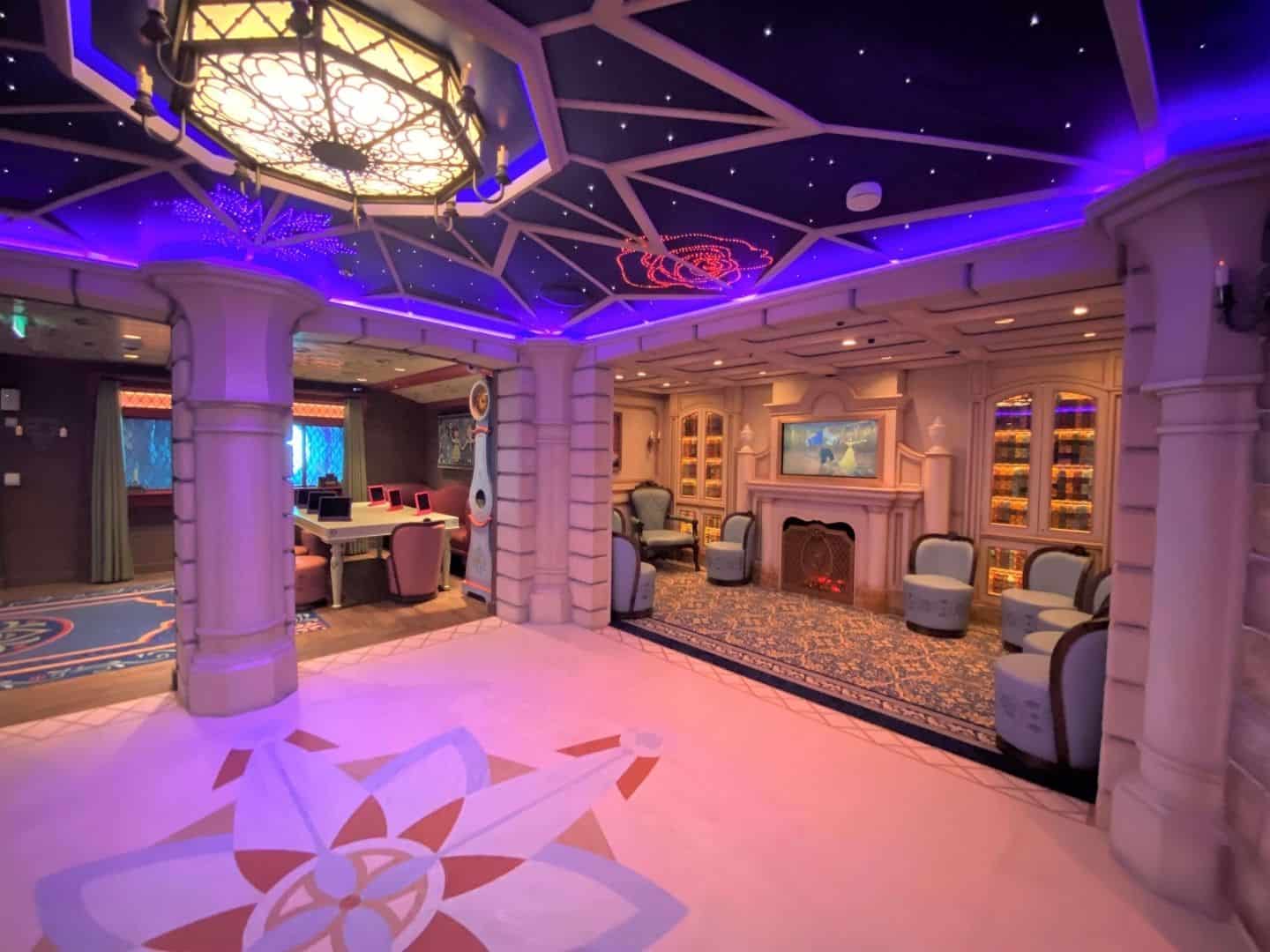 And for older kids, the Edge space and Vibe space are an ingenious balance of places to hang out with new friends or relax on their own. There are card games, board games, TVs, and other entertainment. Plus some pretty cool ocean views.
Check out our 5 Things We LOVE about Disney Wish Kids Clubs.
Pro parenting tip – Visit the Hero Zone on deck 12, right next to Vibe, when you're looking for fun physical activity. This indoor recreation area has indoor basketball, ping pong, and other table games.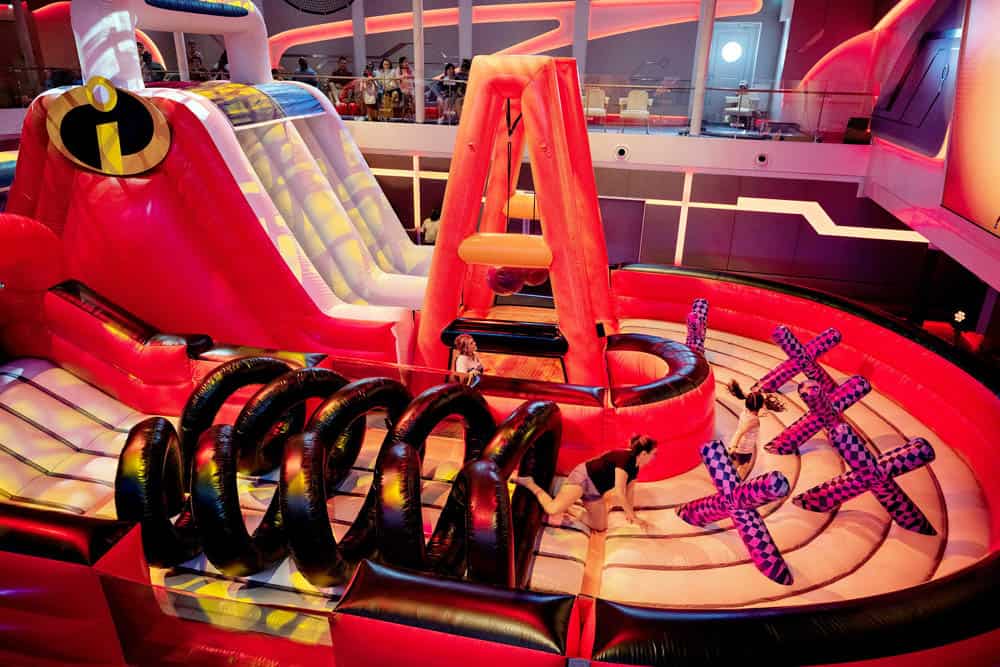 Disney Wish Character Greetings
Be sure to swing by the Oceaneer Club on embarkation day during the open house. Even if you do not have kids that will be using the Club, there is almost always at least one character hanging out during the open house for an impromptu greeting.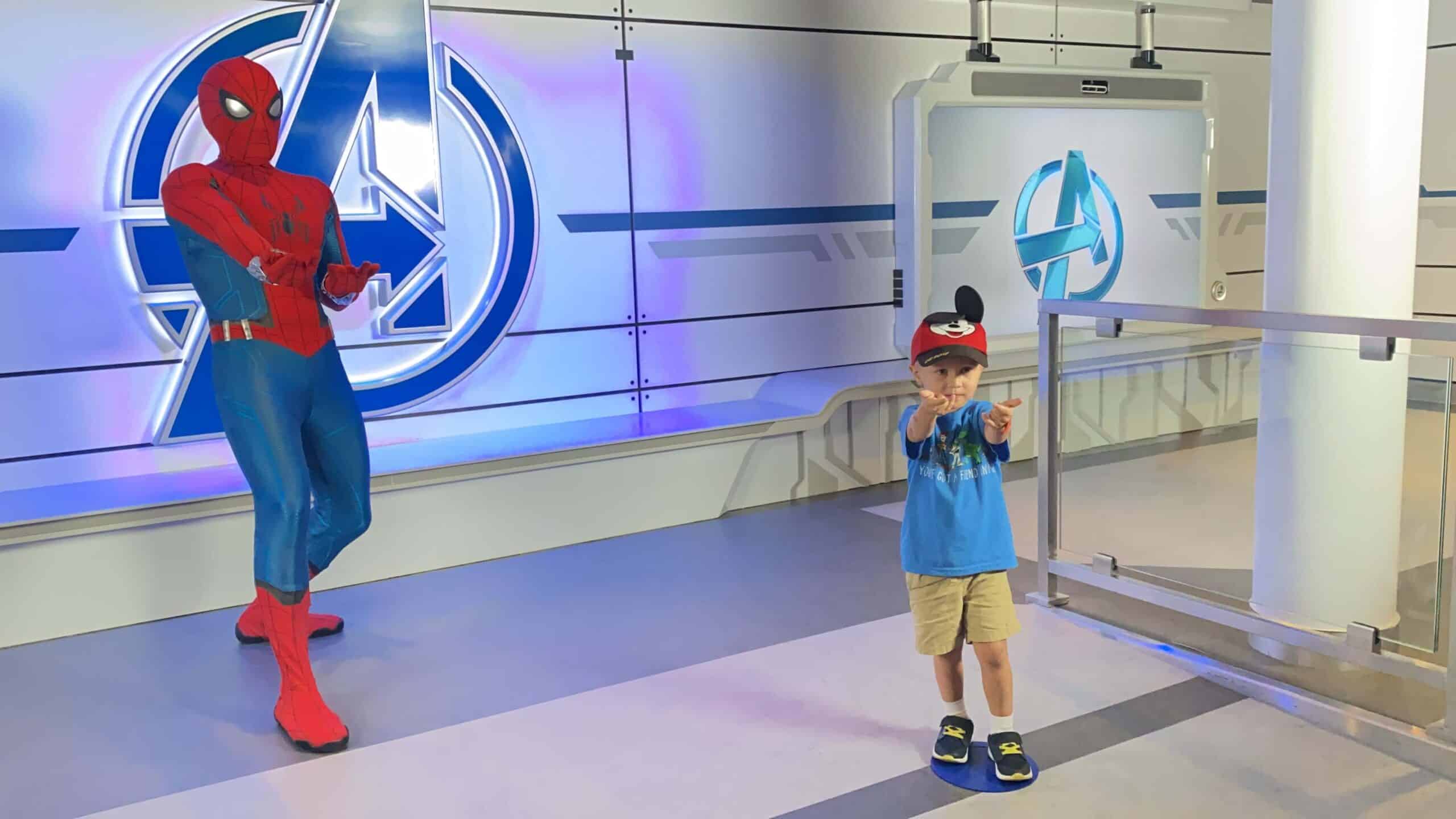 Even better, there are scheduled character appearances throughout the cruise. You can check times in the Disney Cruise Line Navigator App.
The Marvel room and the Star Wars room can be closed off from the rest of the Oceaneer Club to become really cool character greeting areas. There are doors in the hallway outside of the Oceaneer Club so that any cruise guests can attend these highly themed character greetings.
Before we continue, let's take a moment to review the current Disney Cruise Line COVID testing procedures.
As you can imagine, Disney Cruise Line has intense protocols for health and safety. 
For sailings prior to September 23, 2022, for sailings departing US and Canadian ports, Disney Cruise Line will require Guests ages 12 and older to be fully vaccinated against COVID-19 at the time of sailing, as defined by the CDC. In consideration of CDC guidance, Disney Cruise Line highly recommends that Guests ages 11 and younger be fully vaccinated before sailing.
Those of vaccine eligibility age need to conduct a COVID test 24 to 48 hours prior to sailing and submit the result through Safe Passage. The antigen-type tests are not accepted. 
Children who are not old enough to be vaccine eligible or who are not fully vaccinated must have a negative PCR test result submitted to Safe Passage up to 3 days before sailing.
Rapid antigen tests are not accepted. This will be the first of 2 tests required for Guests not fully vaccinated; the second test will be conducted at the terminal on embarkation day.
For sailing on and after September 23, 2022 for all Disney ships, except the Disney Magic (currently in Europe), no testing will be required for fully vaccinated guests.
It is best to review all the information about COVID-19 aboard Disney Cruise Line directly on their website. AND, we've got EVERYTHING You Need to Know Before Getting on a Disney Cruise.
And now, back to the enchantment…
The Magical Design of the Disney Wish
The Disney Wish is an incredible vessel full of Disney magic around every turn. Director of Entertainment Creative for Disney Cruise Line Denise Case shared her passion for the Disney Wish, "it is the wish we never gave up on. The concept and design started four years ago, and we all know what the last two years have been like. We wished for this wish."
Denise Case continued on to say, "entertainment is in our DNA. And this ship is a feast for the heart."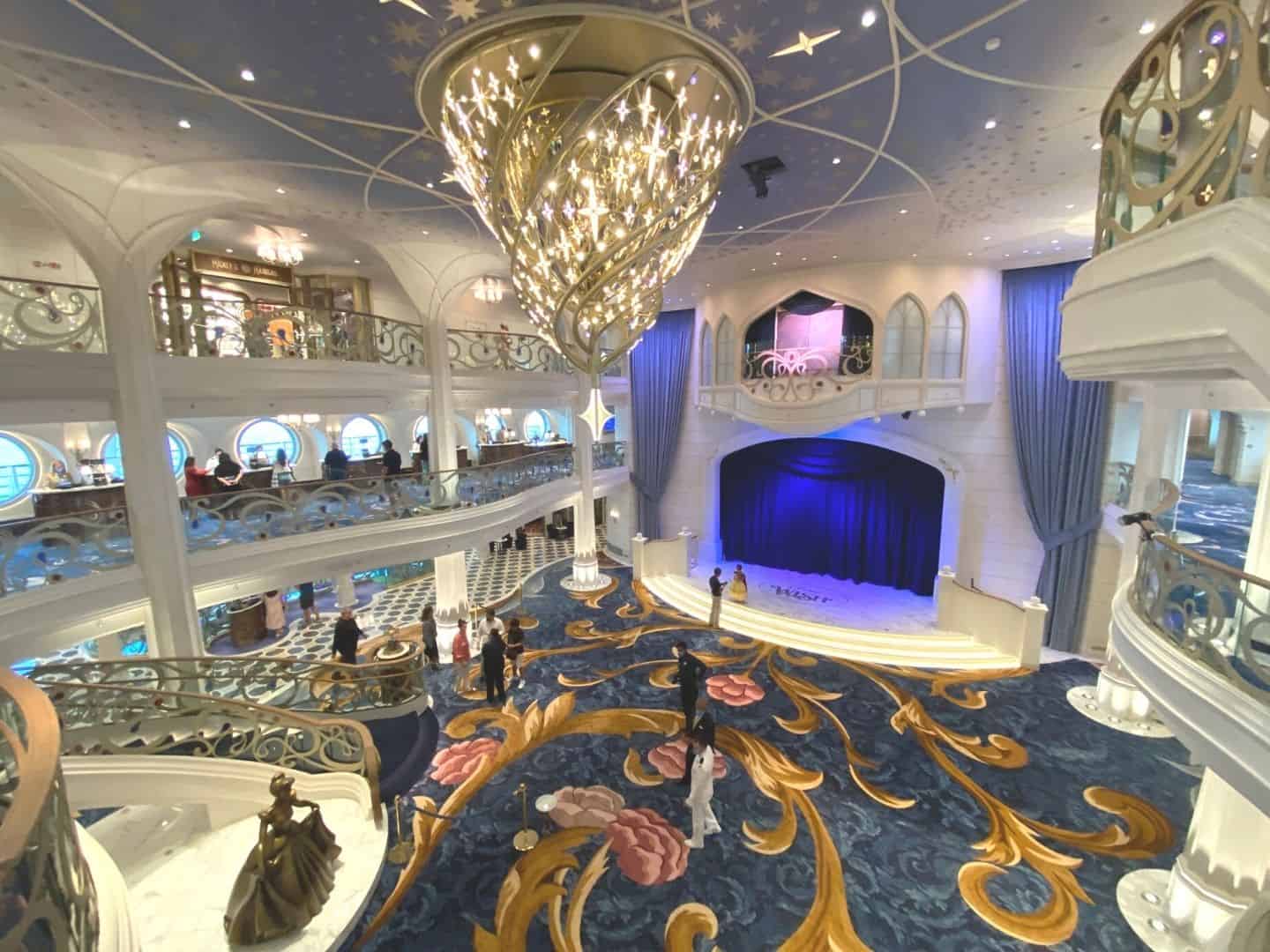 During a panel about the design of the Disney Wish the directors and leaders described how the ship is different than all the previous Disney ships. Rather than showcasing the golden age of cruising, the Disney Wish is pure enchantment.
It is a cruise ship that only Disney could make. And its interior is like walking into a modern Cinderella Castle that happens to sail the high seas.
How big is the Disney Wish cruise ship?
At 144,000 gross tons the Disney Wish is the largest Disney Cruise ship, though just slightly larger than the Dream and the Fantasy. It can carry 1,555 crew members and has a total passenger capacity of 4,000.
There are 1,254 total staterooms, the bulk of which have either oceanview windows or verandahs.
Disney Wish Staterooms
The new look of the staterooms on the Disney Wish may be the greatest change for loyal Disney Cruise fans. The previous ships all had rich colors and nautical decor.
Now the Disney Wish presents a softer color palette, light-colored woods, and less brass. Most importantly, each stateroom is themed after one member of Disney royalty. You may have a Frozen-themed room, Sleeping Beauty, Cinderella, Princess and the Frog, and more.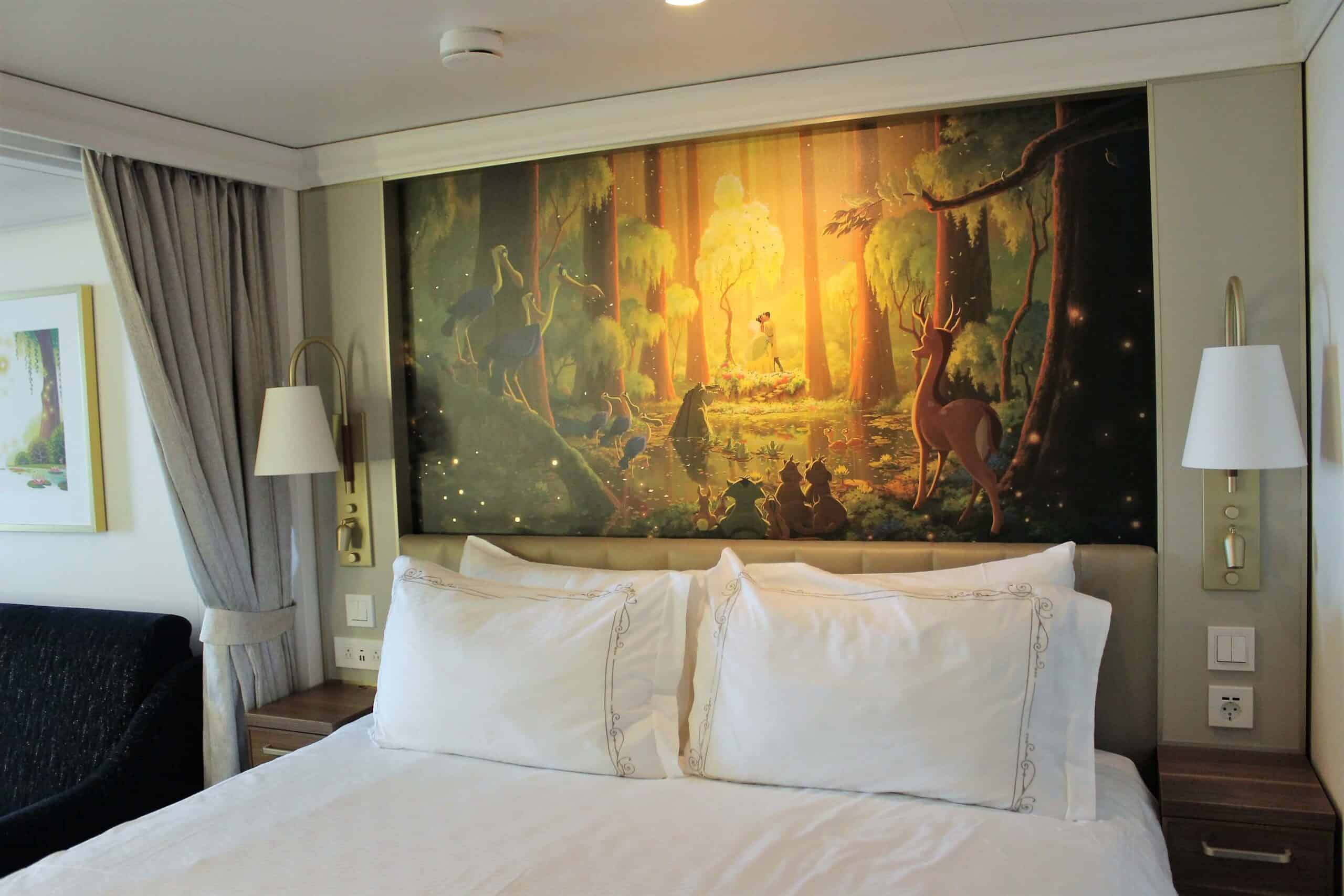 During our media sailing, we enjoyed a Deluxe Family Stateroom with Verandah which offered 284 sq. ft. of space, including the verandah. We did not spend much time in the stateroom since we needed to explore the ship and uncover every detail.
Still, as someone who has sailed with Disney many times before, I loved this new stateroom design. I thought I would miss the nautical feel, but instead, the unique enchantment of the Wish won me over.
I will say there are hardly any drawers and instead lots of shelves. Everything stayed on the shelves just fine, but the lack of drawers surprised me.
Pools on the Disney Wish
A big change on the Disney Wish are the pools. Now there are six pools for families, plus a Toy Story Splash Zone and wading pool. And there is a traditional waterslide, and the first Disney attraction at sea – the Aqua Mouse. Oh – and one more pool for families in a quiet spot.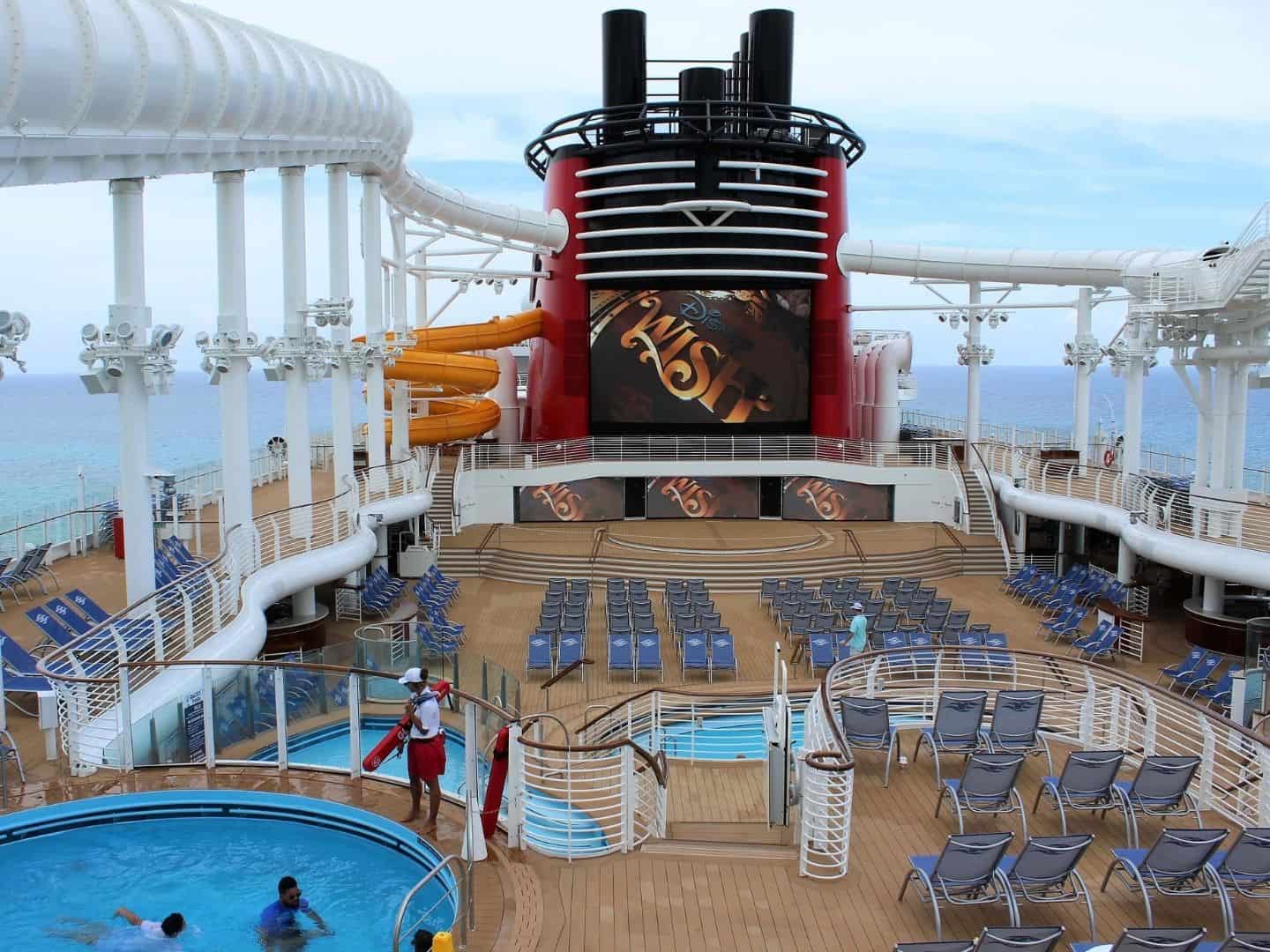 Plus, adults get to enjoy the first-ever infinity pool on Disney Cruise Line.
The six pools for families are much different than previous Disney Cruise ships and are on tiered levels. And there is an additional pool towards the front of the ship on deck 14 available for everyone. I highly recommend reading our guide to the Disney Wish pools because you're going to want to know what to expect and plan ahead.
READ: What's So Different About the Pools on the Disney Wish
Star Wars Hyperspace Lounge and other adult lounges
This time around kids aren't the only ones who get to have some Star Wars fun. Adults can enjoy the Star Wars Hyperspace Lounge. It is a must-visit for any Star Wars fan. The drinks and the atmosphere are unlike anything else on the ship. And it's only on the Disney Wish.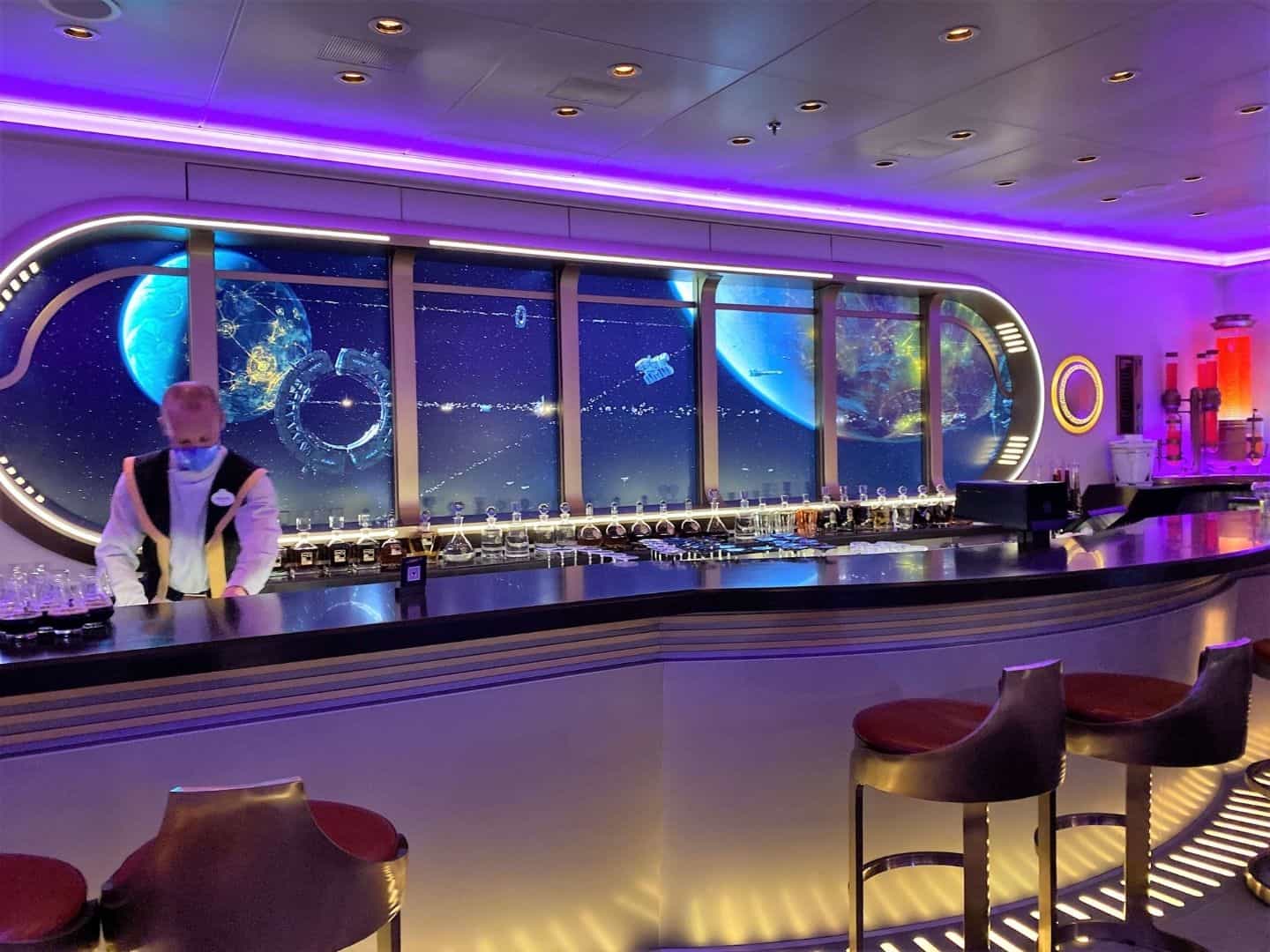 In fact, the design and layout of all the adult lounges on the Disney Wish are a big improvement. Head over to one of our sister sites, OrlandoDateNightGuide.com for a full review on the adult lounges.
There are also more coffee shops that double as relaxed lounges.
RELATED: 5 BIG Changes on the Disney Wish Cruise Ship for Adults
Where does the Disney Wish sail to?
Disney's newest ship, the Disney Wish, will leave from Port Canaveral for the foreseeable future. Disney Cruise Line usually has its newest ship stick to Port Canaveral during its first year or so, doing 3 night and 4 night sailings.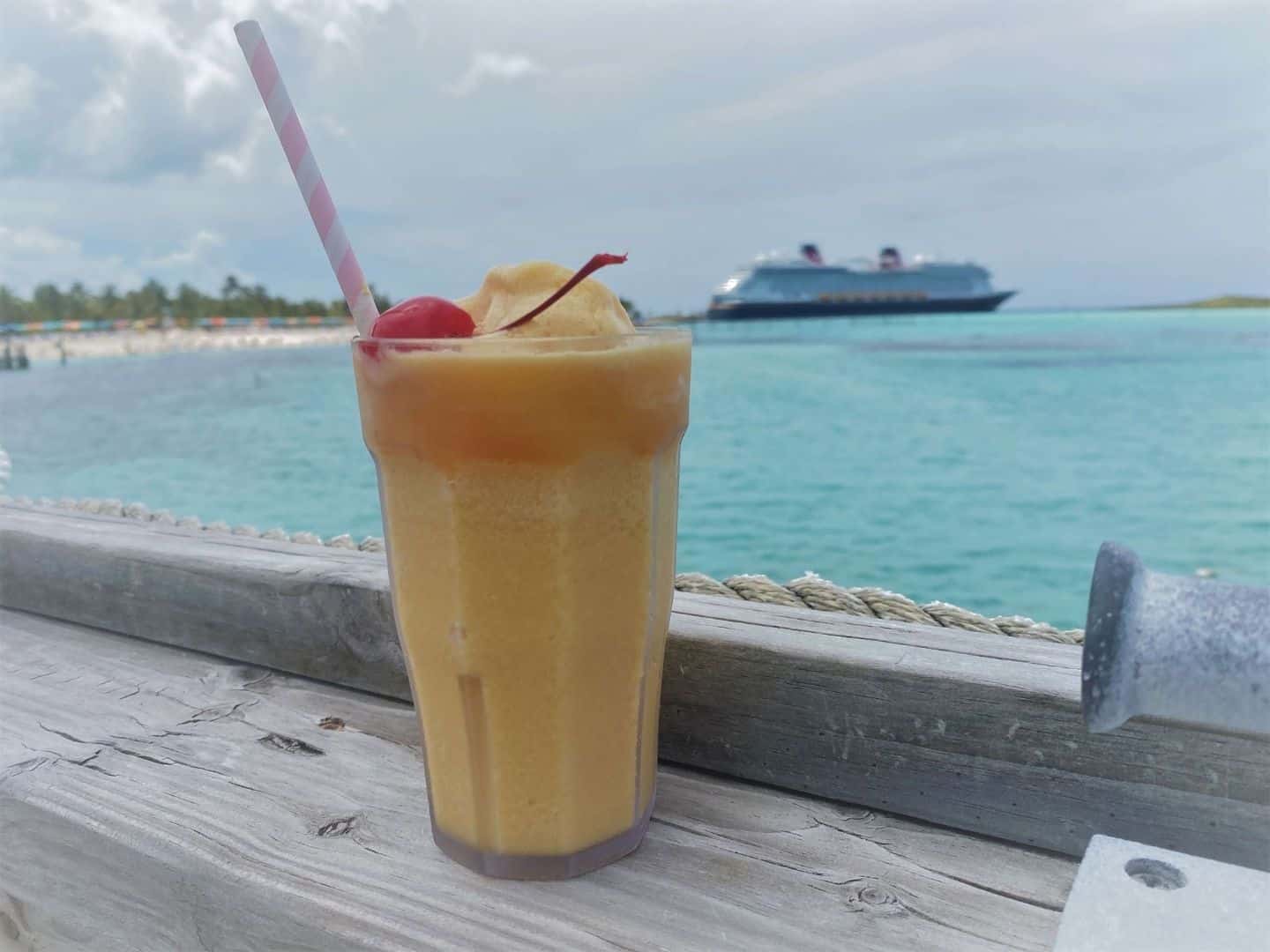 The Disney Wish continues this tradition, sailing to Nassau and Castaway Cay – Disney's private island. On 4 night sailings you'll get to enjoy an extra day at sea.
A day at sea with Disney Cruise Line is never boring. There are always plenty of things to do. And if all you want to do is relax and take it easy, that wish can be granted too.
Two Movie Theaters
To give guests more variety, there are now two movie theaters on the Disney Wish. The Wonderland Theater and the Neverland Theater are beautifully themed and right across from each other.
In fact, they are also near the Walt Disney Theater, creating a theater district on the Disney Wish.
No Midship Elevators
We'll wrap up with something that is missing. There are no midship elevators on the Disney Wish.
The other Disney cruise ships have 3 elevator banks: forward, aft, and midship. Not having any midship elevators on the Wish concerned me. But the elevators were quite efficient.
And, not having three elevator banks actually caused less confusion on my part. I had one less choice to think about when determining how to get from one place on the ship to another.
And even on the moments that resulted in a slightly longer walk, I didn't mind. The Wish is truly spectacular and I enjoyed having a few extra moments to bask in its beauty.