Easy Back to School Lunch Ideas and Best Lunch Boxes for Kids
It's the most wonderful time of the year! (Well, the second most wonderful.) As we get ready to send our kids back to class, we asked Jenny P of @lunchboxmafia to dish on easy school lunch ideas, including her favorite lunch boxes for kids.
Don't forget–we're also turning to sleep experts on how to establish back-to school sleep routines, how to choose the best backpack for your child, and more Back-to-School related stories curated by local experts in their fields.
Easy, go-to school lunches for kids
Check out these family favorites that are quick and easy to assemble:
Protein roll-ups are always a big hit. Roll up sliced turkey and Colby jack cheese or sliced salami with mozzarella string cheese.
DIY Lunchables are always on high rotation over here. They're easy to eat and fun to pack. Use pretzel crisps, naan or pita chips if they get bored of crackers.
Pasta never disappoints. Whether it's mac and cheese or penne pasta with Alfredo sauce, I send it at least once per week.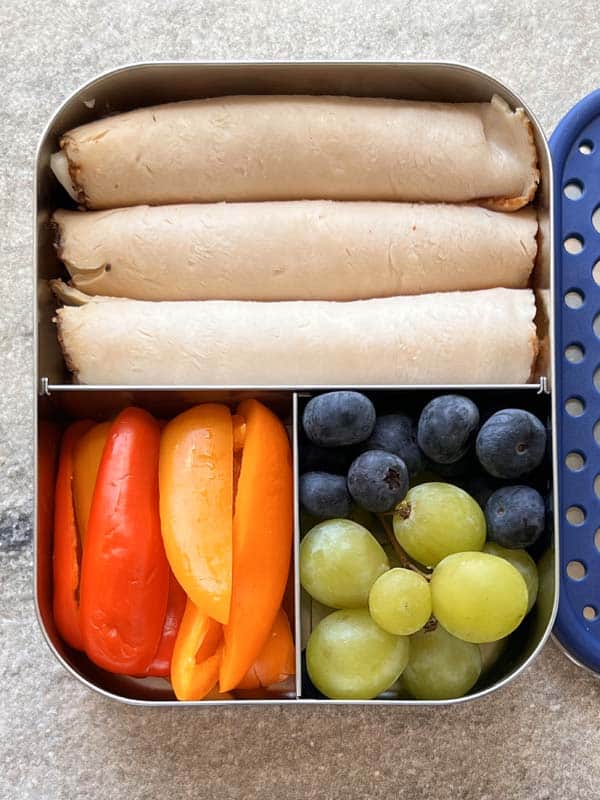 Easy back-to-school lunch food prep ideas
These are some kitchen shortcuts that work for us so that we don't have to carve out time later for food and meal prep:
When you're cutting up veggies for dinner, prep extra and store for lunches.
Portion out leftover proteins and sides as you clean up from dinner to give you a head start on lunches for the next day.
Boil eggs (nine minutes is perfect) and store them in the fridge for up to seven days. Use them in salad, sandwiches or just add them to your lunchbox with a dash of everything bagel seasoning.
When you grill chicken, grill extra and use it in pasta, salads , and sandwiches during the week.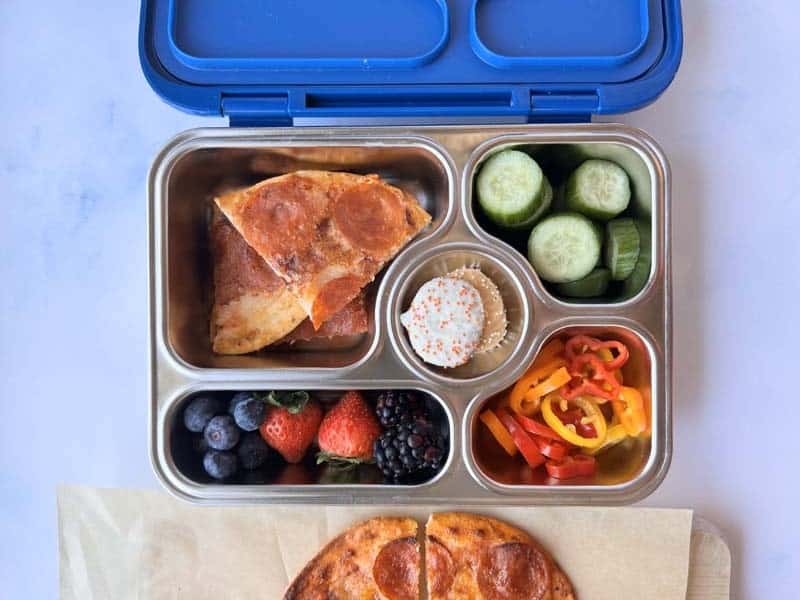 Tips for packing hot lunches
I'm sharing these suggestions that can help keep that yummy food warm:
Always preheat your thermos with boiling hot water. Put the lid on and set it aside while you prepare or reheat the food.
When you're reheating rice or pasta, add a few teaspoons of broth or water to the rice and pasta sauce to the pasta so that it warms through evenly.
Reheat sliced pizza on the stove! Add your pizza to a pan on medium heat for 2 minutes. Sprinkle a couple drops of water and cover with the lid. Heat for another 2 minutes. To pack, let it come to room temperature and pack it with a napkin underneath to absorb any moisture and keep the crust crisp!
Check out the school menu and recreate something that your kiddo's friends usually enjoy.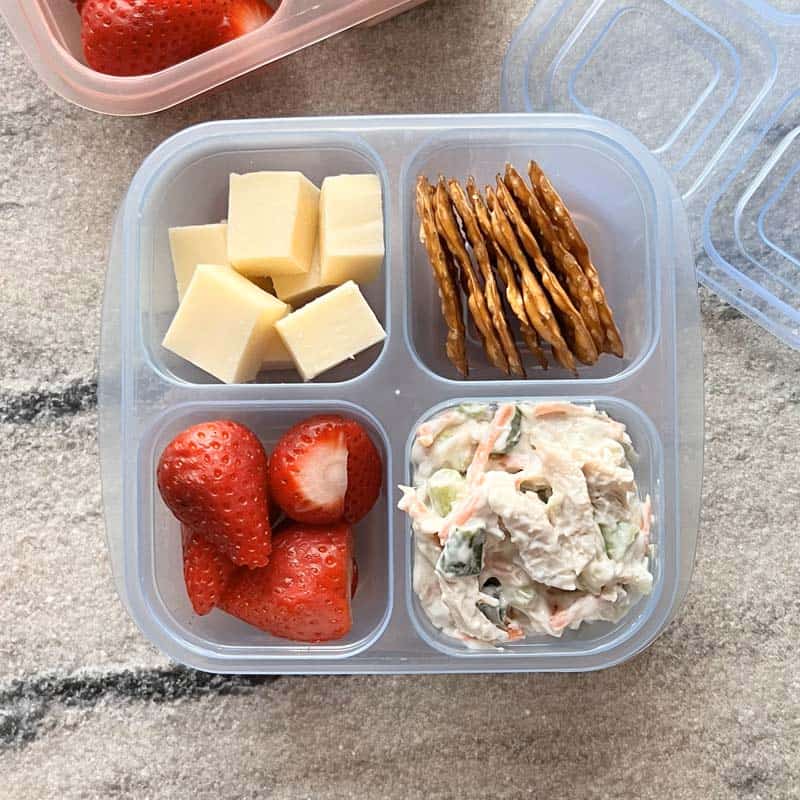 How to pack leftovers for school lunch
I love cooking and my kid loves home-cooked meals. Here are some ways to re-purpose leftovers for lunches.
Make quick fried rice with any extra white or brown rice.
Add leftover chicken to wraps and salads.
Mix veggies into pasta, soup , or rice.
Convert garlic toast into a delicious personal pizza.
To leftover pasta, add Italian dressing with a handful of veggies for an easy kid-friendly pasta salad.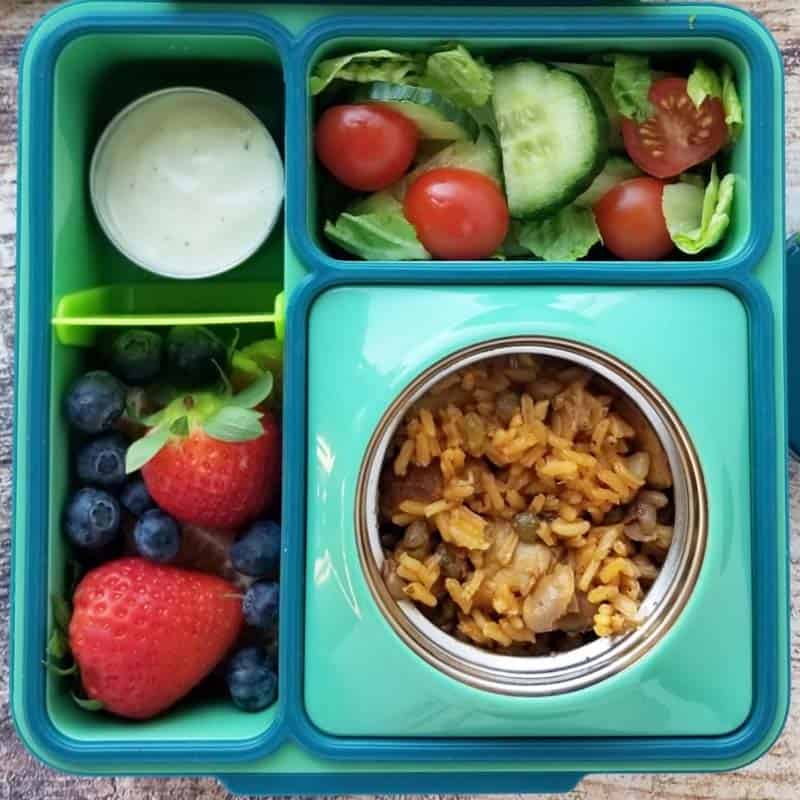 Easy ways to upgrade your pantry staples
Add these pantry items to stretch hot lunches:
Shredded carrot to boxed mac and cheese.
A handful of frozen corn to leftover fried rice.
2 tablespoons of frozen peas to 1 cup of pasta.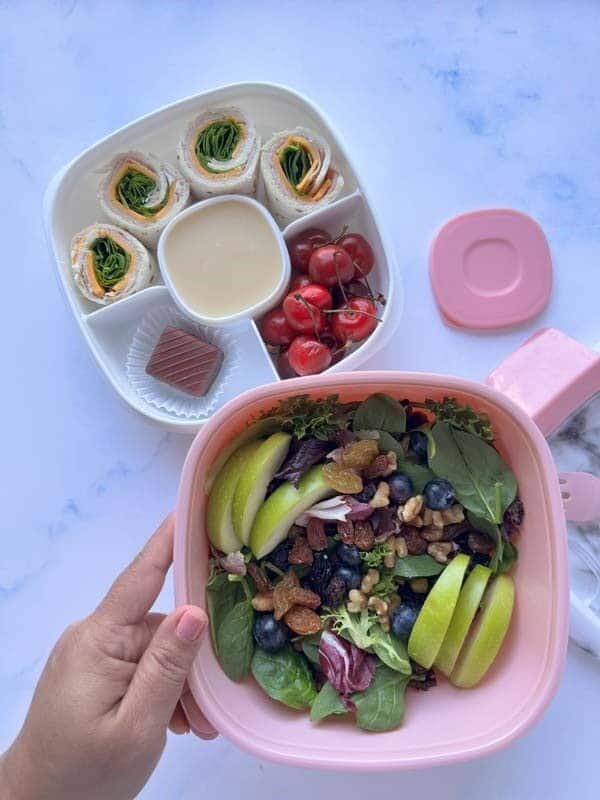 Best Lunchboxes for Kids
What you put your lunch in can be as important as what they eat! Here are some things to keep in mind when shopping for lunch gear:
Younger kids (Pre-K and elementary) need an easy-to-open container. Bigger latches and handles are great for little hands. Check out Easylunchboxes, Bentgo, and Yumbox for bentos.
Older kids (middle school and beyond) would enjoy the sleek and low-profile Lunchbots and Easylunchboxes. The Bentgo stackable bento and salad bowl is available at Target. The bowl is great for packing salads with toppings.
Kids usually can't reheat their food at school. If you want to send hot lunches, get a thermos. Check out Thermos Brand and Yumbox for thermos options. My go-to lunchbox for hot lunches is OmieLife bento with a built-in thermos.
EasyLunchboxes (four-compartment snack box) is great for

snack-style

 lunches and protein boxes. It's simple and straightforward.
Target has great lunch bags, water bottles, and accessories.
Cookie cutters are great for making sandwiches fun!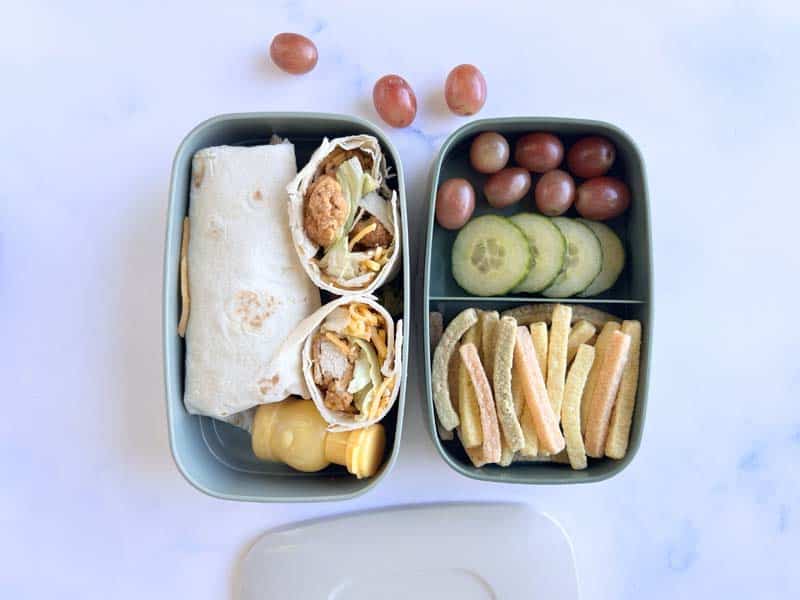 Visit my page for more lunchbox ideas, packing tips, video tutorials, and easy recipes. Check out these items from my Amazon link on Instagram. I hope you're inspired!
Wishing you a happy return to school, Jenny @Lunchboxmafia 
---
Originally published in the August 2023 issue of Tampa Bay Parenting Magazine.