The BEST Ice-Cream Shops in Tampa Bay! 
Ice-cream and Florida go together like…well, all things that are supposed to go together! It just makes sense.
There's no better way to cool off when the temperatures rise than a big scoop of ice-cream!. This is why we're sharing some of our favorite ice-cream shops in Tampa Bay for you and the family to enjoy.
Our Favorite Ice-Cream Shops in Tampa Bay:
South Tampa: 3813 S Manhattan Ave, Tampa -original location
Seminole: 5994 Seminole Blvd, Seminole

Why we love it: The nostalgia.
This ice-cream shop is a South Tampa icon, serving families since 1958. The Mueller family of Tampa took over a few years ago and have given this sweet spot new life with a retro theme that will make you feel as if you've stepped back into the 1950's to order up a scoop of old-fashioned ice-cream. Not only are they known for their scoops and shakes, but they also offer a classic banana split that's not to miss and non-dairy options. There is also a second location in Seminole and a play version of the ice-cream shop inside Glazer Children's Museum.
Sparkman Wharf: 615 Channelside Dr. Tampa
Why we love it: It's fresh ingredients and unique flavors.
Jeni's has made quite an impact in the ice cream industry. The ice cream comes in an array of unique flavors and boasts a smooth, buttercream texture. They have an array of unique flavors like Brambleberry Crisp, Maple-Soaked Pancakes, and Gooey Butter Cake.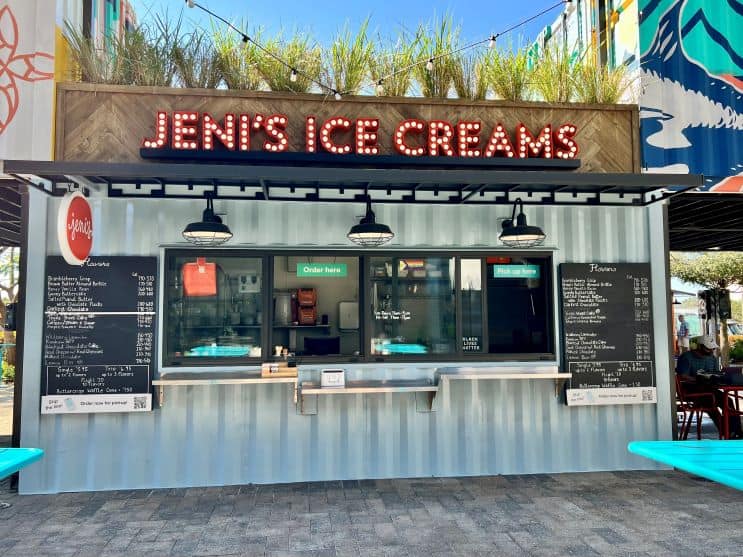 Hyde Park Village: 718 S Village Circle, Tampa
Why we love it: The creative and tasty ice-cream options!
New York has arrived in Tampa! OddFellows is a small batch ice-cream shop which means they're scooping some pretty unique flavors such as Strawberry Basil Lemonade Sorbet, Olive Oil Jelly Donut, and Coquito. But don't worry…you can still order the classic scoop of vanilla. There's a cool story behind the creation of this company – they say it started with the one of the founder's wife's pregnancy cravings for savory ice-cream.  So, grab a scoop of your pick of ice-cream and enjoy at the fountain in Hyde Park Village.
Seminole Heights: 6701 N Florida Ave.,Tampa
Tampa: 4032 W Kennedy Blvd., Tampa
Brandon: 220 W. Brandon Blvd., #104, Brandon
Why we love it: The quirky vibe and funky flavors!
Revolution Ice Cream Co. has an eclectic lineup of flavors complimented by fun-to-say names. Try the Callie's Hotcakes – a buttered pancake ice-cream topped with syrup, or the Porky's Delight – vanilla ice-cream loaded with bacon and bacon brittle. Parents can enjoy a scoop of the Drunken Brownies – a chardonnay caramel ice cream with brownie bits and those with adventurous taste buds should definitely try The One That Started It All – goat cheese and habanero ice-cream with a raspberry ribbon. They have three locations to choose from and you can also savor some scoops at several local restaurants.
Ybor: 1910 E 7th Ave., Tampa, FL 33605
South Tampa: 3302 Way to Bay Blvd., Tampa, FL 33629
South Howard: 1205 A. Howard Ave, Tampa, FL 33606 (in the Epicurian)
Water Street: 1061 Water St., Tampa, FL 33602
Why we love it: The chill vibe, of course!
This family-owned business started with the idea of a laid-back neighborhood place for people to chill out at and enjoy delicious ice-cream. Their signature custard base is made with just 5 ingredients in their Ybor City kitchen. Their menu includes an array of mouthwatering flavors such as Mad Vanilla Bean, Oatmeal Cookie, Tampa Banana, and Belgian Brownie. They have a rotating menu of seasonal flavors that include Mint Stracciatella, Frosted Carrot Cake, and Blueberry Buckle, and they also whip up vegan ice-cream as well.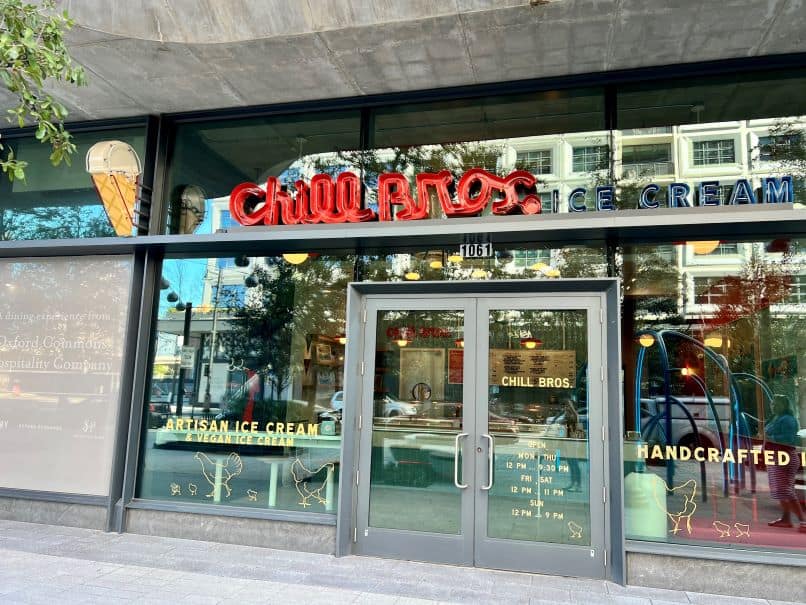 Oldsmar: 4058 Tampa Rd #8, Oldsmar
Why we love it: Cloud cones, mermaid cones, and unicorn sundaes!
Ice Cream Theory in Oldsmar serves up giant scoops of creamy, sweet goodness. Kids (and kids at heart) will swoon over their cloud cones – a waffle cone topped with cotton candy, and unicones – a cone dipped in sugar and topped with a candy unicorn horn. Their milkshakes are also worth a sip – you don't wanna skip out on their mermaid shake or s'mores shake.
Hyde Park Village: 702 S Village Cir., Tampa, FL 33606
St. Pete: 627 Central Ave., St. Petersburg, FL. 33701
Why we love it: So many fun popsicle flavors!
Though it's not technically an ice-cream shop, The Hyppo is on our list thanks to the sweet, refreshing gourmet ice pops they serve up. Starting with a fresh fruit base, the flavors are fun and simple (they've created 450 of them over the years!). While you can't find all 450 of them in one place, they always have a great rotation of flavors to indulge on like Cherry Key Lime, Mango Mojito, Pumpkin Cheesecake, Blackberry Lemonade, Guava Mango, and Strawberry Basil.
Water Street: 505 Water St., Tampa (located inside Tampa Marriott Water Street)
Why we love it: High-quality ingredients and locally sourced ingredients
Bright Ice is not your typical old-school ice cream shop. They specialize in a select number of small-batch ice creams with unique flavor profiles that use locally sourced ingredients. Indulge in their Caramelized Bananas with Peanut Butter and Honey, Coffee Toffee, Key Lime Pie, or Roasted Strawberries with Brown Sugar and Balsamic Vinegar.
More AWESOME ice-cream shops: 
Astro Ice Cream Co at Armature Works
1910 N Ola Ave.
Tampa, FL. 33602
Cassis (yummy gelato!!)
170 Beach Dr.
St. Petersburg, FL. 33701
Paciugo Gelato & Caffe (more yummy gelato!)
300 Beach Dr NE #120
St. Petersburg, FL 33701
Old Farmer's Creamery
2531 4th St N
St Petersburg, FL 33704
Strachan's Ice Cream & Desserts
105 Alt. U.S. 19, Palm Harbor
310 Main St., Dunedin
2332 FL-580, Clearwater
35 Below Handcrafted Ice Cream and Boba Tea
1155 S Dale Mabry Hwy., Ste 11
Tampa, FL 33629
Mr Penguin
1920 W Platt St.
Tampa, FL 33606
Twistee Treat
Multiple locations in Tampa Bay! Just look for the giant ice-cream cone!
Cold Stone Creamery
Multiple locations in Tampa Bay!
Stefano's Gelato Coffee & Desserts
201 E Twiggs St.
Tampa, FL 33602
Yogurtology
1202 S Church St., Tampa
3017 Gandy Blvd., Tampa
3042 4th St., St. Petersburg
Jeremiah's Italian Ice
825 E. Bloomingdale Ave., Brandon
4051 S Dale Mabry Hwy., Tampa
14320 N Dale Mabry Hwy., Tampa
Snowrolls
19651 Bruce B Downs Blvd.
Tampa, FL  33647
D'Lites Emporium
1906 S Dale Mabry Hwy.
Tampa, FL 33629
and
3629 49th St. N
St.Petersburg, FL. 33710
Ice Dreammm Shop 
23912 SR-54, #2
Lutz, FL 33559
Campbell's Dairy Land
200 S Parsons Ave.
Brandon, Florida 33511
Bo's
7101 N Florida Ave.
Tampa, FL  33604
Dairy Kurl
1555 Gulf to Bay Blvd.
Clearwater, FL 33755
Larry's Old Fashion Ice Cream
6595 Gulf Blvd.
St. Pete Beach, FL  33706
Old Farmer's Creamery
2531 Fourth St. N.
St. Petersburg, FL 33704
Shake Shack
11920 Gulf Blvd.
Treasure Island, FL 33706
Super Scoops  
11025 Gulf Blvd.
Treasure Island, FL 33706
The Mint Fox Cookies & Ice Cream
483 Mandalay Ave, #114
Clearwater, FL  33767
Ice & Cream Creamery
460 Mandalay Ave
Clearwater Beach, FL 33767
Coneheads Ice Cream
421 Gulfview Blvd.
Clearwater Beach, FL. 33767
Gelato Bello
490 Mandalay Ave
Clearwater, FL 33767
Haze Ice Cream
20001 Gulf Blvd. #13
Indian Shores, FL  33785
Ice Rolls
2454 McMullen Booth Rd.
Clearwater, FL 33759
Tropical Ice Cream & Coffee
435 Gulf Blvd.
Indian Rocks Beach, FL 33785
Amish Creamery Company
211 150th Ave.
Madeira Beach, FL 33708
Dairy Rich
3109 Alt 19
Palm Harbor, FL 34683
Don't see your favorite ice-cream shop on this list? Tell us about it! Email us at editor@tbparenting.com!
MORE Favorites from Tampa Bay Parenting: